Serena Williams Uses Petra Kvitova to Send a Message to WTA Challengers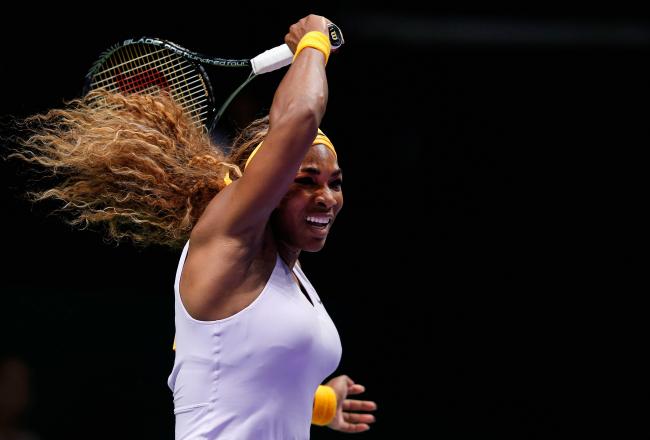 Serena Williams at WTA Championships.
(Photo by Dean Mouhtaropoulos/Getty Images)
Serena Williams wanted to send a message at the WTA Championships in Istanbul, and she used Petra Kvitova as the carrier pigeon.
Yesterday, Williams crushed Kvitova 6-2, 6-3 and became the first player to earn a spot in the semifinals. She also put the rest of the field on alert. She was giving them a preview of what they can expect if they are unfortunate enough to face her in the future.
No meltdowns or letdowns. Williams played with purpose. She appeared determined to dismiss Kvitova as a speed bump on the road to another trophy. Williams told Sports Illustrated's Beyond the Baseline:
You know, when I play top players or a Grand Slam winner, such as Kvitova who has such a dangerous game, you've got to go in there knowing that anything can happen and I have to be really focused. ... That was just what I did.
Kvitova entered the tournament on a roll. She had won eight of her last nine matches, including the Pan Pacific title in Tokyo.
Prior to the championships, each of the eight participants were asked who could hit as hard as Williams. They all pointed to Kvitova as the biggest threat. If that was the biggest threat, then the rest of the field might as well pack up and go home.
It's not like Kvitova played poorly. That's part of the message from Williams; your best isn't good enough against me.
Williams, 32, understands she's fighting Father Time and a field of younger, talented players eager to drive her into retirement. Her message to them: Not now. Not yet.
What better way to send that message than to dominate the one younger player who was considered a dangerous challenger? Williams walked onto the court all business. Kvitova tried to project confidence. She was also trying to become only the third player born in the 1990s to defeat Williams. Only Sloane Stephens and Caroline Wozniacki have accomplished that feat.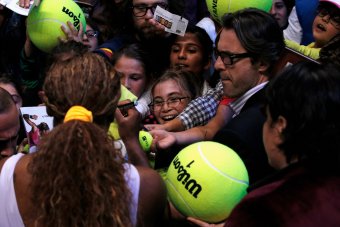 /Getty Images
Kvitova sought to impose her killer forehand on Williams. But Williams just sent that stuff right back at Kvitova, with more pace and greater precision.
Through Kvitova, Williams seemed to be reminding the rest of the field of how she arrived at No. 1. And just when Kvitova thought she'd entered a slugfest, Williams changed the pace and direction.
More than overpowering, Williams outsmarts opponents. She seems to know exactly when to drive hope from the hearts. She fires an ace at break point and chases down what they thought was a clear winner.
Against Williams, Kvitova struggled to maintain belief. You could see the confidence evaporating from her face with each Williams winner. Meanwhile, Williams remained regal and resolute.
Williams hasn't dropped a set at the WTA Championships in two years. She has the second-longest win streak in WTA Championships history. She is tied with Chris Evert and Monica Seles, who both won 12 matches in a row. She hasn't lost to another player besides her sister Venus since 2007.
Williams is using Istanbul to punctuate her record-setting season. She appears determined to widen the gap between herself and the rest. She has no plans of letting up on her relentless domination.
While dishing out a beatdown, Williams served notice.
This article is
What is the duplicate article?
Why is this article offensive?
Where is this article plagiarized from?
Why is this article poorly edited?