Konnan Dishes on CM Punk During a Radio Interview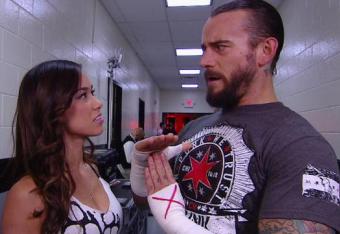 (wwe.com)

Former WCW wrestler Konnan recently sat down for a radio interview in Mexico. During the interview, the topic of CM Punk came up. Konnan went on to discuss such things as Punk's love life and his backstage perception.
In regards to his love life, Punk has been romantically linked to WWE Diva's in the past. Previous reports have linked him to the likes of Lita and Beth Phoenix.
According to Konnan, the "Best in the World" is currently dating none other than the WWE Divas champion, AJ Lee. In a recent article posted on prowrestling.com, Konnan reveals that the two are seeing each other.
"I would also like to say that I found out that AJ Lee is dating CM Punk; I don't know if that's public knowledge," Konnan said during the interview.
Konnan continued in the interview by commenting on Punk's backstage perception. Konnan claimed that some perceive him to have a "huge head" and that he once "hated" John Cena for similar behavior.
I was told by my source in WWE that CM Punk has a big head and he's conceited. To me, it's like, alright, you waited all this time to become a big star, and all those guys that had a big head that you hated, like Cena. Then, now you have a big head. You need to bring your s**t down back to the ground.
Obviously the stuff about Punk's backstage perception is just that, perception. Punk's stock within the company has sky-rocketed over the past few years. With success there will always be those trying to knock you down. There are always two sides to every story and the truth usually falls somewhere in the middle. In this case, I am sure that the truth does indeed fall somewhere in the middle.
When you have the top spot or are considered to be one of the top guys, you have to carry yourself a bit differently. Some might see that as confidence and his right, others might see that as ego and being conceited. Konnan also didn't cite his sources. It's one thing if his source is a veteran guy like Christian or Mark Henry; it's another thing if it's someone like a Heath Slater.
As far as dating AJ goes, it's hard not to believe it because of his track record. Given the fact that he has been linked to other Diva's in the past, it's no stretch to think he would be dating one currently. WWE also doesn't seem to have any issue with Superstars and Diva's dating one another. The real life relationships of the Bella twins with Cena and Daniel Bryan are common knowledge.
I guess the only question moving forward is whether or not we will see AJ and Punk's on-screen storylines mix. I for one hope this doesn't happen.
This article is
What is the duplicate article?
Why is this article offensive?
Where is this article plagiarized from?
Why is this article poorly edited?