WTA Championships Fashion Hits and Misses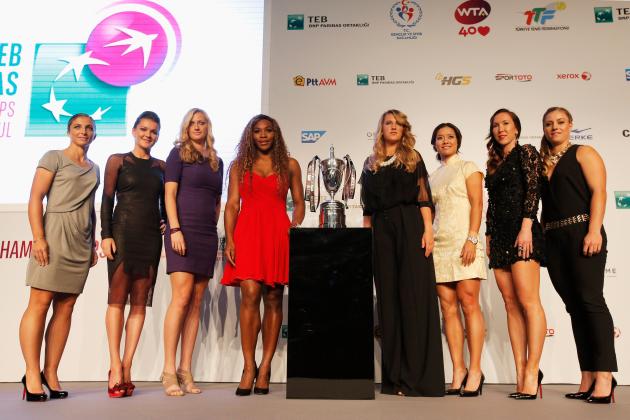 Dean Mouhtaropoulos/Getty Images
The eight players participating in the 2013 WTA Championships.
One of the highlights of the WTA Championships is the pre-tournament Draw Ceremony. It's a chance for the top players on tour to put their athleticism on the shelf and release their inner "girlie girls."
As part of the event, the WTA brings in hairstylists and makeup artists to get the players red carpet-ready for the big evening.
Some players wowed, while others left us wondering, what the...? Here's a look at the fashion hits and misses from the weekend at the WTA Championships.
Begin Slideshow

»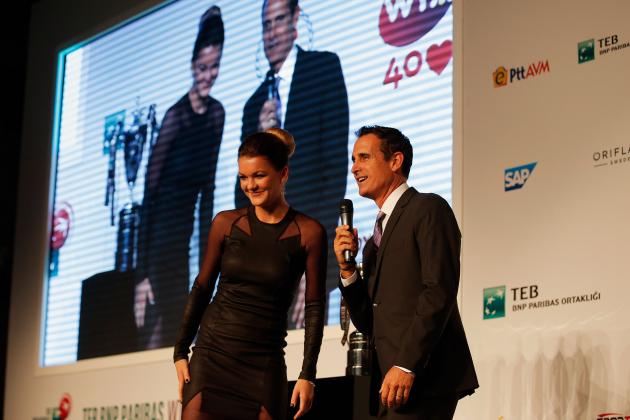 Dean Mouhtaropoulos/Getty Images
Agnieszka Radwanska at the WTA Championships.
Agnieszka Radwanska has made some risky style choices this year. First she posed nude for ESPN The Magazine's Body Issue. Then she bleached her hair blond.
Back to her radiant brunette hair, Radwanska looked daring in this black number. The fit and cut remind you of a comic strip vixen. The flirty sheer elements add elegance. From the innocent-looking nude poses to this little black dress, Aggie walks the fine line between good girl/bad girl.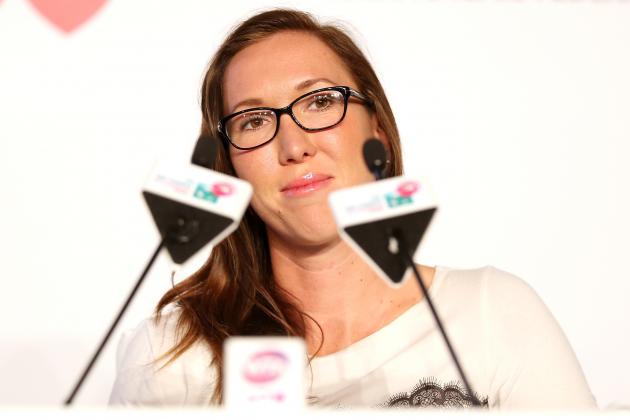 Matthew Stockman/Getty Images
Jelena Jankovic at WTA Championships press conference.
Jelena Jankovic loves experimenting with fashion. But this secretarial look just doesn't work. Does she need glasses? Can't remember ever seeing her wear them before. They are a cute pair, but with the safe hairdo, she looks more prepared for taking dictation than taking on the world's best players.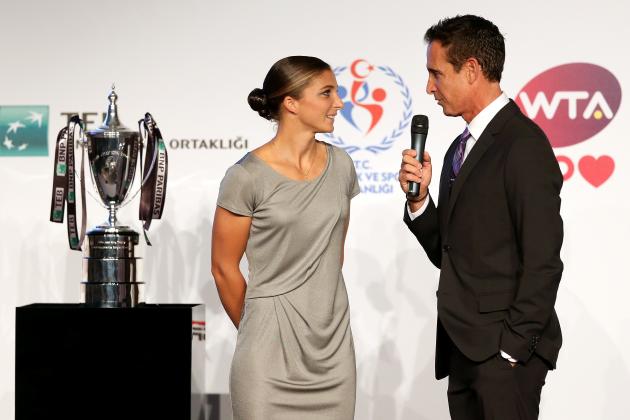 Matthew Stockman/Getty Images
Sara Errani at WTA Championships drawing event.
Last year Sara Errani wore what could best be described as a purple prom dress. Perhaps unsure of what to expect, Errani played it way too safe last year. She looked uncomfortable and unhappy standing next to all those tall divas.
This time Errani chose a flowing and flattering satiny silver dress. Her makeup looked natural, soft and pretty. Most importantly, she appears happy and at ease in the outfit.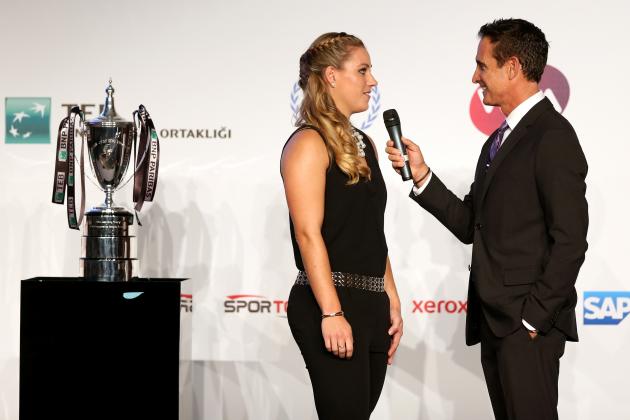 Matthew Stockman/Getty Images
Angelique Kerber is interviewed at WTA Championships event.
Angelique Kerber is an attractive young woman. But she went wrong on this outfit. First, it seems way too casual when compared with what the other players are wearing. Second, it does nothing to flatter her figure. The sleeveless shirt makes her arms look massive. The cropped pants and metal belt cut her 5'8" frame into pieces.
This outfit is more Harley than haute.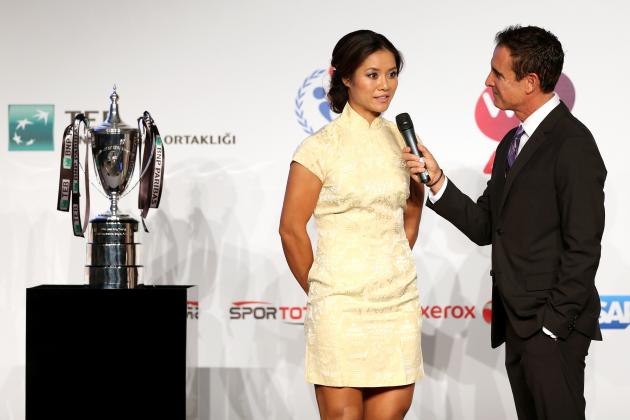 Matthew Stockman/Getty Images
Li Na
Li Na looked sensational in this lovely cheongsam dress. Her loosely done hair is soft, yet refined. The dress accentuates her curves in a modern, yet modest way.
Li's look is the essence of less is more.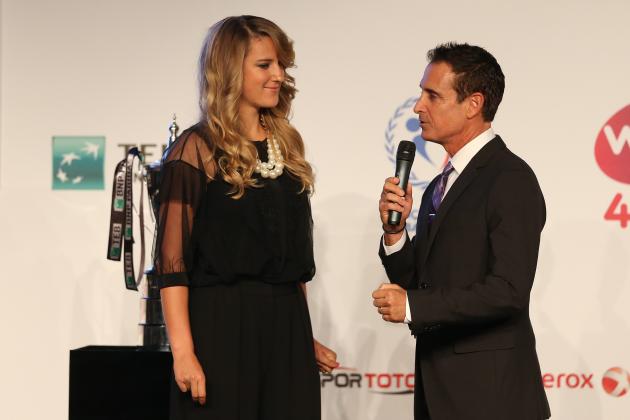 Matthew Stockman/Getty Images
Victoria Azarenka
Yo Vika, granny wants her pearls back.
Sometimes the women who have it all care the least about flaunting it. Victoria Azarenka is 6'0" and built like your average supermodel. She has long lean legs and beautiful long hair. So it's disappointing that at age 24 she chose to dress like someone's grandma.
The oversized black frock layered with Barbara Bush pearls looks ridiculous. Standing next to red-hot Serena Williams, considered the senior citizen on tour, you wonder if Vika is the one feeling old these days.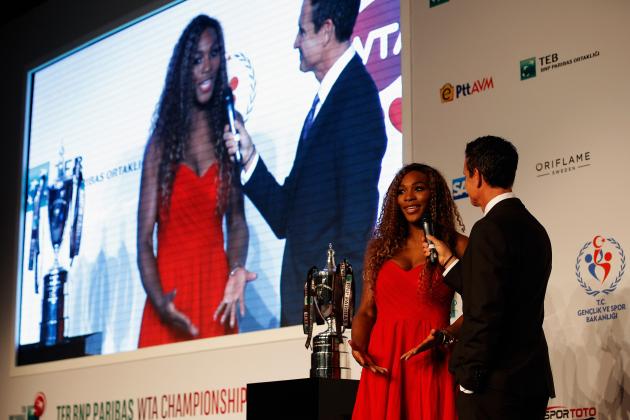 Dean Mouhtaropoulos/Getty Images
Serena Williams
Red may seem risky. But it's a safe choice if you want to stand out and turn heads. Williams wowed in a red dress last year. This one is shorter and a lot more revealing.
However, it's fun and festive. Instead dressing for the party, Williams' dress screams "I am the party."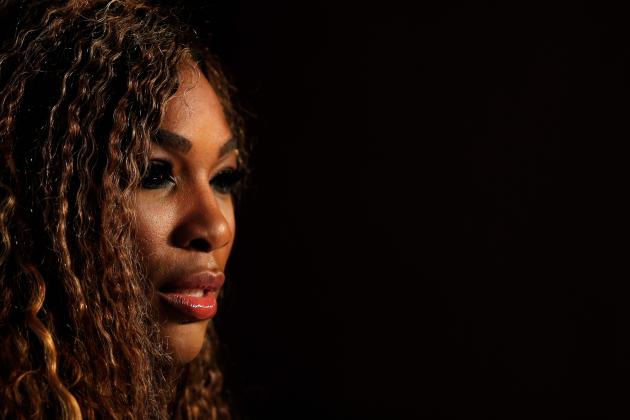 Dean Mouhtaropoulos/Getty Images
Serena Williams at WTA Championships.
Everyone knows Williams loves doing her own makeup, nail polish and all things associated with beauty and fashion. But sometimes she needs to trust the professionals to do their job.
Brow shaping is a big trend. But not brows this big. It's unfortunate because you take away the brows and that's a nice look for Williams. She needs to remember that brows should frame the face, not overpower it. The moment someone notices your brows, that's when you know you've gone too far.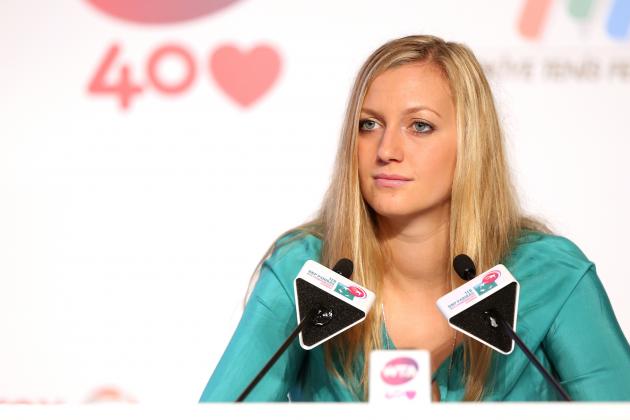 Matthew Stockman/Getty Images
Petra Kvitova at press conference.
Petra Kvitova can sometimes look lanky and awkward. When she won Wimbledon in 2011, she seemed like she was still growing into her 6'0" frame.
She was never an ugly duckling. However, she transformed into a knockout at this year's championships. Her hair and makeup are fresh, and she rocked that blue dress.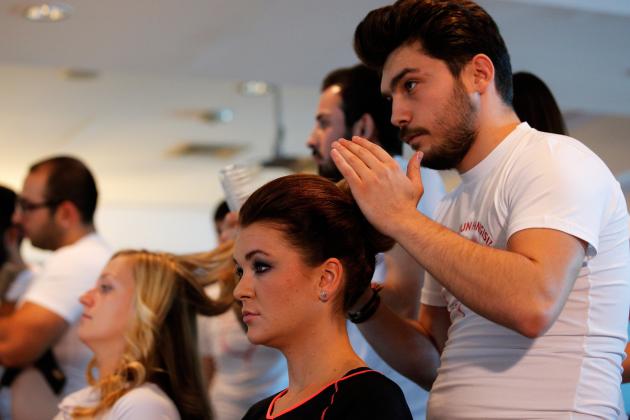 Dean Mouhtaropoulos/Getty Images
Stylists get players ready for the drawing ceremony.
The WTA players are women first, and like most ladies they enjoy a bit of pampering. Kudos to the WTA for providing this pre-tournament experience for the top players. Because nothing says a job well done like a day of beauty treatments.