Rafael Nadal's Return to No. 1 Brings Added Element to Novak Djokovic Rivalry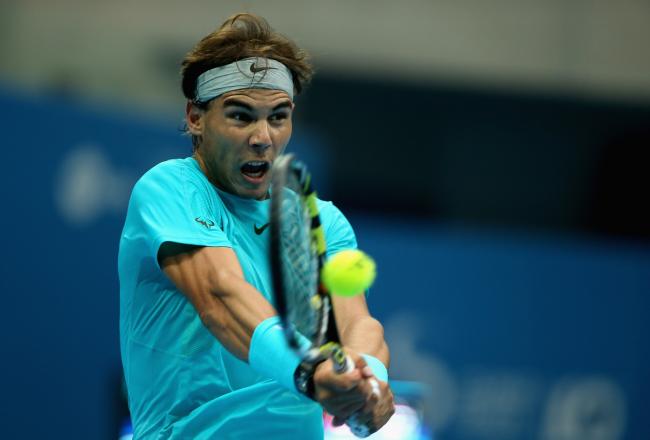 Feng Li/Getty Images
Novak Djokovic may have won the battle, but Rafael Nadal is winning the war. Tennis' top two stars clashed against each other on Sunday in Beijing for the latest reprisal of their historic rivalry, and even though Djokovic claimed a 6-3, 6-4 victory in the tournament final, Nadal has reclaimed the No. 1 ATP world ranking.
Following the match, Djokovic told ATPWorldTour.com, "I needed this win today. I really wanted to get my hands on the trophy and win against Nadal, who has been the best player so far in 2013."
Indeed, Nadal has made a scintillating comeback from a left knee injury that forced him to miss seven months of action and that had many questioning if he'd ever be able to recapture his top form. But Nadal has laid all of those doubts to rest, leaving peers like Roger Federer impressed.
Nadal's return is great for the sport of tennis. With 13 Grand Slam singles titles, he's already cemented himself as one of the best of all time, but more than that, his ascension means we still get to watch the rivalry between him and Djokovic.
Rivalries have long been a major part of the worldwide tennis landscape, and the Djokovic-Nadal saga is becoming one of the best ever. Looking at the ATP world rankings, Nadal and Djokovic are in a class by themselves, far ahead of world No. 3 Andy Murray.
The duo provided an instant classic in July at the U.S. Open, when Nadal outlasted Djokovic in a three-hour, 21-minute affair that ended under the lights, winning 6-2, 3-6, 6-4, 6-1.
Need any proof for how much the win meant to Nadal? Just look at his reaction to the final point. He collapsed to the ground and fought back tears before running to the net and putting his head on Djokovic's shoulder as they congratulated each other, providing another one of those timeless tennis moments.
Nadal leads the all-time series 22-16, one that's been marked by thrilling high-stakes matchups, including six Grand Slam finals. They've recently had two epic meetings on clay, including the 2013 French Open semifinal and the 2012 Australian Open final. It was a five-hour, 53-minute epic, the longest of any final in the Open era.
Since February, Nadal has made the final in 13 of his 14 events and has won 10 of those. He also claimed two of the three Grand Slams he competed in (French Open and U.S. Open), with his stunning first-round exit from Wimbledon serving as his only major blemish this year.
That all adds up to a No. 1 ranking.
"A great year, one of the best years of my career without any doubt," Nadal recently told reporters in Beijing, per Reuters (via Yahoo! Sports). "Sure is special be back to the top position of the rankings after more than a half year without playing tennis. At the end, it's just a number... What (makes) me happy is (everything) I did to be back where I am today."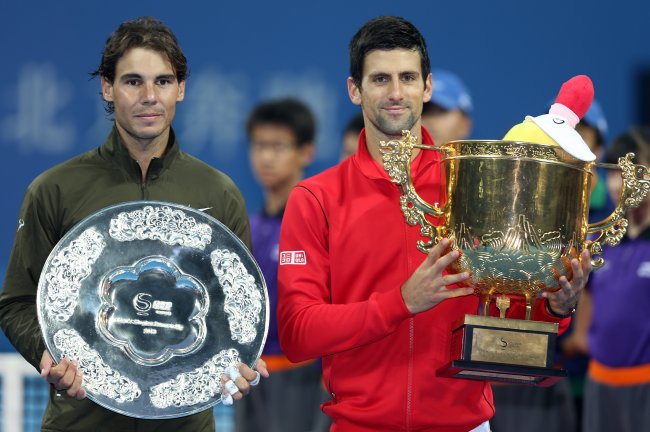 Matthew Stockman/Getty Images
Nadal continued to tell reporters that he's been most pleased with his "complete" year, as evidenced by his dominance on all surfaces. He's now 27-1 on hard courts this year with the loss to Djokovic, complementing his unmatched ability on clay.
It's good to see that Nadal's knee can hold up on the hard surfaces and that his powerful forehand hasn't gone anywhere. But he only holds a slight 40-point margin over Djokovic, who held a 101-week run at No. 1 with his pure power, athleticism and ability to return serves. In 2013, Djokovic has posted a 47-9 record and won six tournaments including the Australian Open, when Nadal was still out with his injury.
Both players are in their primes right now, but for how much longer? Nadal, 27, and Djokovic, 26, are each approaching the age when players start to lose a step on the court and some oomph on their serves, so we should enjoy this as long as it lasts.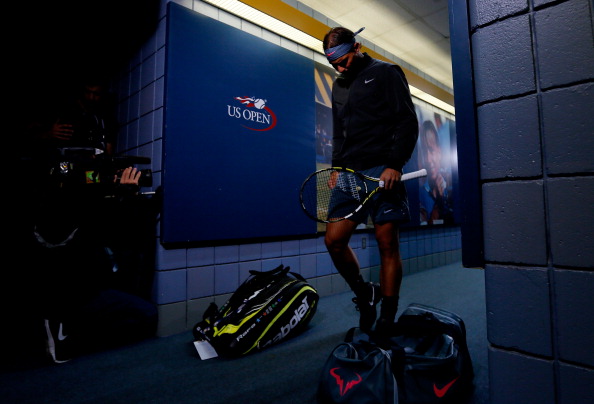 Mike Stobe/Getty Images
Health is paramount for Nadal going forward, who has been able to establish himself as one of the best athletes tennis has ever seen. Strength is key to Nadal, who possesses a physical style that perhaps only one man in this world can answer. That man is Djokovic.
Perhaps spurred by his battles with Nadal, Djokovic made a new commitment to his physical conditioning in 2011 and also developed a strong two-handed backhand that is crucial in returning Nadal's relentless forehand. They've helped shaped each other's careers, and they figure to be fighting for the No. 1 spot for years to come, as long as they stay healthy.
This article is
What is the duplicate article?
Why is this article offensive?
Where is this article plagiarized from?
Why is this article poorly edited?