Rafael Nadal captured his 13th career Grand Slam title on Monday, beating No. 1 seed Novak Djokovic in the 2013 U.S. Open Final in Arthur Ashe Stadium 6-2, 3-6, 6-4, 6-1.
ONE NAME REMAINS: The #usopen draw on Day 15. #Rafa pic.twitter.com/jedrnbdFJy

— US Open Tennis (@usopen) September 10, 2013
The 27-year-old Spaniard has several years of good tennis ahead of him, barring injury, and the career record for Grand Slams seems well within reach.
Longtime rival Roger Federer holds the all-time mark with 17 titles in tennis' biggest tournaments, but he's tumbled all the way to No. 6 in the ATP rankings and as low as seventh, winning only one singles title in 2013 in the process.
Meanwhile, it seems Nadal is as great as ever:
Match point! @RafaelNadal overcome w/ emotion after winning the 2013 #USOpen. Presented by @Heineken_US: - http://t.co/0j6BqF0bml

— US Open Tennis (@usopen) September 10, 2013
This marked his 10th title of the year and improved him to a perfect 22-0 on hard courts, with preceding triumphs in Montreal and Cincinnati Masters events.
Any concern about Nadal's injury issues with his knees had to be at least somewhat put to rest amidst such a phenomenal hard-court campaign. Those have been well-documented in the past, and surfaced again when he was bounced in the opening round at Wimbledon.
A hiatus of over a month away from competition followed Nadal's shocking loss at the year's third Grand Slam tournament, which occurred just after he had captured his unprecedented eighth championship trophy in the French Open at Roland Garros.
Nadal has only lost once in his entire career on the world-renowned clay courts of Paris, so he figures to be a prohibitive favorite in the near future in that tournament—especially if he's still playing as he has recently.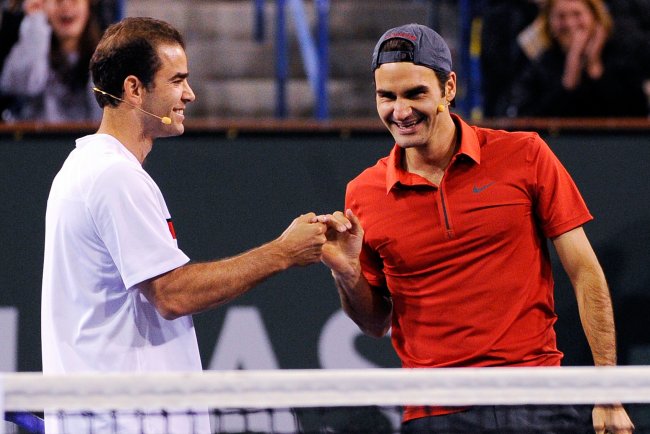 Kevork Djansezian/Getty Images
Such a big part of Nadal's game on that surface is his ability to slide, which he has an uncanny knack for. It puts him in great position to succeed, but it's something he can't do on the hard surface or on grass.
In spite of that, he has adjusted his game to be an all-court player, fortifying that notion with a tour-de-force performance in New York.
When he is on, it seems Nadal is unbeatable. His phenomenal effort on virtually every point was on display against Djokovic at Flushing Meadows, and by the fourth set, it appeared the Serbinator's will was broken.
A 54-shot rally that Djokovic won in the second set broke Nadal's serve for just the second time in the tournament:
IN CASE YOU MISSED IT: The stunning 54-shot rally between #Djokovic & #Nadal. Presented by @Heineken_US. WATCH - http://t.co/hipcZCqWQd

— US Open Tennis (@usopen) September 10, 2013
Just about any other player in the history of the sport would have a difficult time recovering, but Nadal broke Djokovic back the very next game. Although Djokovic returned the favor and won the set—then broke to open the third—the biggest challenge Nadal faced occurred later.
Nadal was down 0-40 at 4-4 in the third set, and if Djokovic won any of the following three points, he would go on serve to take a two-to-one advantage in sets.
A furious rally was followed by Nadal breaking Djokovic and stealing the set:
Get you some of that. #USOpenFinal #nadal comes back from 0-40 wins game then breaks to steal the 3rd set. Confidence from defense.

— Craig O'Shannessy (@BrainGameTennis) September 9, 2013
It's hard to blame Djokovic for suffering a letdown from that point onward, because, you know, he's human. The otherworldly focus Nadal has on each individual point is what separated him from even an elite player like Djokovic.
Further Grand Slam accolades likely await, but Nadal tried to live in the moment in an emotional win in which he collapsed in tears on the court shortly after:
#Nadal about chasing tennis history: "Let me enjoy today ... 13 is an amazing number." (Smiles) #usopen

— US Open Tennis (@usopen) September 10, 2013
The resilience and reckless abandon Nadal displays on the court is apparently how he attacks whatever rehabilitation and recovery necessary to battle back from his medical setbacks.
How many more Grand Slam events will Nadal win?
Nadal looks better than ever, and with his second U.S. Open title, he has proven an increased prowess on hard courts. That should allow him to continue thriving at this most recent tournament as well as the Australian Open in addition to Roland Garros, where he is the King of Clay.
Even a mere couple of months ago, the notion of Nadal capturing the Grand Slam singles title record seemed like a long shot, primarily due to health concerns. In light of his virtuoso outing at the U.S. Open, the proposition seems far more feasible for Nadal.
Although the threat of another injury is a factor based on Nadal's history, it will only make Nadal's quest for ultimate tennis history that much more compelling.
After all, history also proved on Monday that Nadal climbs back to the top of the sport no matter what adversity he faces.