The Biggest Regrets and Missed Opportunites of Cubs' 2013 Season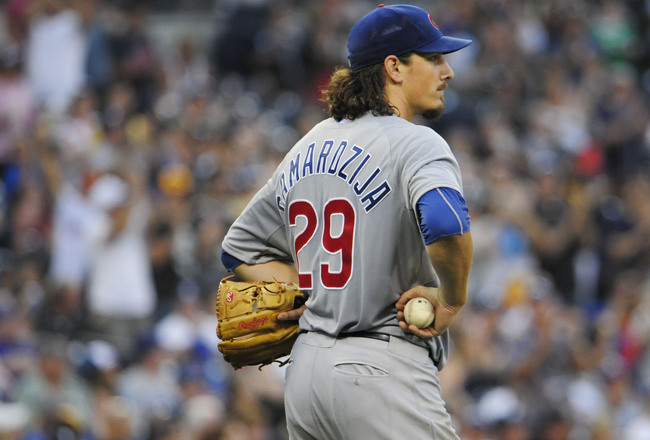 Denis Poroy/Getty Images
It's been an uneventful 2013 for the Cubs with their season going as expected. The long anticipated Matt Garza trade finally went through and the team also unloaded Alfonso Soriano, David DeJesus and Scott Hairston after a short stay, to name a few.
That said, the Cubs brass and fans had expectations and of course some disappointments. Whether it was the former top prospect emerging somewhere else or the current prospects not moving as quickly as expected. Several Cubs prospects played very well this season, but they are in the lower levels and are still a few years away.
That is perhaps why this season has been so uneventful, especially with the lack of movement at the upper levels of our system.
Let's explore some of the missed opportunities for the Cubs this season.
Carlos Marmol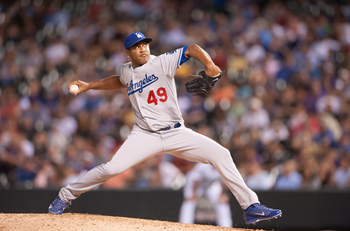 Dustin Bradford/Getty Images
Carlos Marmol was given an ultimatum this season. Save games or get lost.
The Cubs may have been brash, but the addition of Kevin Gregg and his early success made cutting Marmol loose not as big of deal. The Cubs and Dodgers made a deal for Marmol, acquiring Matt Guerrier, who after 15 games was lost for the remainder of the season.
Guerrier is in the final year of a 3 year, 13 million dollar deal so it is possible the Cubs will re-sign him at a reduced price and allow him to rehab his way back, something the Cubs have had success at in the past.
He looked good with the Cubs in his brief stint, sporting a 2.13 ERA in 12.2 innings.
It's unfortunate Marmol's tenure had to end the way it ended; hopefully the Cubs can salvage something from the trade so it wasn't all for naught.
Kyuji Fujikawa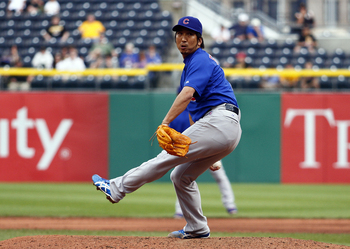 Justin K. Aller/Getty Images
Speaking of the closer situation, the Cubs hoped Japanese closer Fyuji Fujikawa could provide some steady relief at the back-end of the bullpen, possibly even closing if Marmol didn't get off to a good start.
Fujikawa has 218 career saves over the course of eight seasons and had a stellar career 1.29 ERA since 2005. The Cubs certainly felt he could hold his own as a closer if the opportunity presented itself, but he sustained an injury to his elbow that required Tommy John surgery, ending his season in May.
He's still under contract for the 2014 season so he will get another shot at it, especially if Gregg remains available.
Chris Archer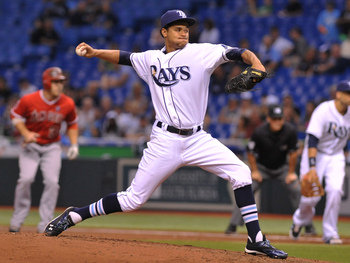 Al Messerschmidt/Getty Images
When the Cubs first acquired Matt Garza, the key to the deal was top pitching prospect Chris Archer. He projected as a top of the line starter with a mid-90s fastball and above average secondary pitches.
Archer pitched well in Triple-A Durham, posting a 5-3 record through 10 games with 52 strikeouts and a 3.96 ERA. Since his call up he's been excellent, posting an 8-7 record in 19 games with a 3.19 ERA and 77 strikeouts. He also has two complete game shutouts.
His progress and numbers only support the scouting reports on him, and he looks like he will slot right in the middle of the Rays rotation in 2014.
In trading Garza to the Rangers, the Cubs acquired a similar prospect in CJ Edwards, who just finished off an excellent 2013 season. He finished 8-2 with a 1.86 ERA through 24 games at High-A. He has a similar style and projection as Archer and given they both were involved in Garza trades, it will be hard to not make comparisons.
Arodys Vizcaino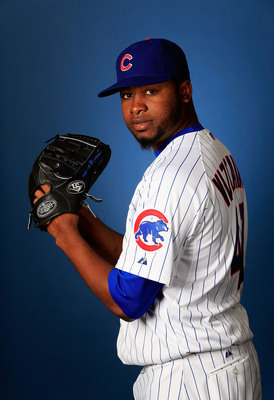 Jamie Squire/Getty Images
Acquired in the Paul Maholm trade in 2012, Vizcaino was still recovering from Tommy John surgery from March and was hoping to pitch for the cubs sometime in mid-2013. However, a setback in his rehab led to further surgery—to remove calcium buildup—ending any chances of pitching in 2013.
He last pitched in 2011, posting a 3.06 ERA through 97 innings with 100 strikeouts and a 1.13 WHIP. He's been on many teams radar and the Cubs hope he can be a mid-rotation starter in the near future.
Still, the setback in rehab is all too familiar for Cubs fans and disappointing nonetheless. Vizcaino is expected to join the Mesa Arizona Fall League team and ready to suit up in 2014.
Ryan Sweeney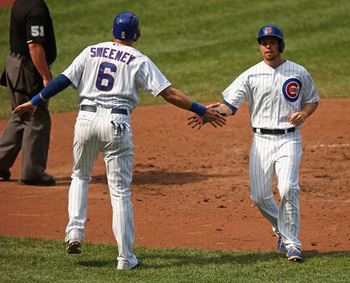 Jonathan Daniel/Getty Images
Was it just me or did Ryan Sweeney look great before he got hurt?
In 44 games in May and June, he hit .295 with 4 home runs, 15 RBI, and a .359 OBP. He then suffered a left-rib fracture crashing into the outfield wall and was placed on the 60-day disabled list.
It was unfortunate timing that led to a revolving door in the Cubs outfield, especially after the David DeJesus trade to Washington.
Sweeney will be given an opportunity to play regularly down the stretch, especially with the uncertainty in the Cubs outfield in 2014.
The former top prospect and impending free agent may be given an opportunity to earn a spot with the Cubs next year unless he pursues other opportunities.
Brett Jackson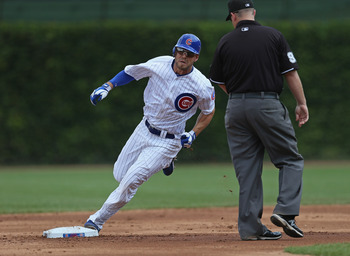 Jonathan Daniel/Getty Images
Outfielder Brett Jackson certainly took a step back this season.
Strikeouts continued to be a problem for the left-hander and injuries prevented him from really settling in for the 2013 campaign. He played 61 games at Triple-A and hit .223 6 home runs and 23 RBI. He struck out 77 times to 21 walks and had 10 extra-base hits.
He was ultimately sent down to Double-A where he hit .200 in 30 games with no home runs and 37 strike outs to 13 walks.
The Cubs probably thought the change of scenery would help and the demotion would maybe light a spark under him. Unfortunately, the Cubs are forced to reevaluate his future prospects.
Jackson's struggles were at the forefront of a rough 2012 audition, where he hit .175 in 44 games and four home runs. Strike outs were an issue again as he struck out a combined 217 times in 150 games between Triple-A and the majors. For some perspective, Mark Reynolds set the record with 223 in 2009.
Jackson will likely begin next season in Triple-A and he will need to seize the moment to be in consideration for the Cubs' long-term plans. The 25-year old got passed by Junior Lake and minor league addition Ryan Sweeney on the organizational depth chart.
Josh Vitters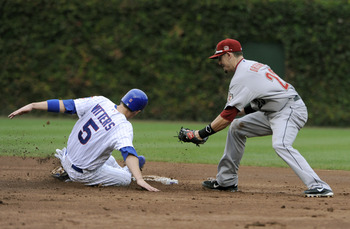 David Banks/Getty Images
A very similar case to Brett Jackson, Vitters was hit hard by injuries that cost him the majority of the season.
When he was healthy he actually played well, hitting .295 in 28 games with 5 home runs and a .380 OBP. He showed more patience at the plate and appears to be doing what he's done his whole career, slowly make adjustments and succeed at each level.
The 24-year-old is still on the Cubs radar, but over the course of this season the Cubs drafted the top hitting prospect in the draft, third baseman Kris Bryant, and acquired the talented corner infielder and former Rangers prospect Mike Olt.
Bryant is still at least a season away so Vitters will have a shot in 2014, but it won't be without competition.
Even thought Olt struggled in 2013 the Cubs acquired him to be apart of their future, so he will likely get as good of a shot as Vitters in spring training next year. Can either them play the outfield? It remains to be seen, but both players have very limited outfield experience.
The Cubs have also held onto Luis Valbuena since they picked him off waivers and the Cubs seem content with him holding the position until a young player emerges.
They may look to add a scrappy veteran in the offseason but for now they have a few internal options.
Jeff Samardzija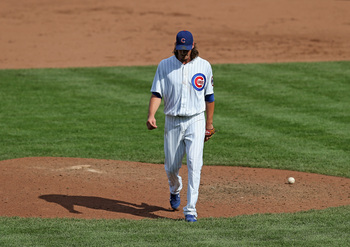 Jonathan Daniel/Getty Images
Jeff Samardzija is now the ace of the Cubs rotation. He's had consistency issues this year, and like last year is on everyone's radar as a breakout candidate. With the Garza trade, Samardzija became the face of the rotation; however, he struggled to seize the opportunity.
He is proving to be a reliable arm who can pitch late into games. He sometimes brings electric stuff, but other times is off or implodes.
An interesting stat from ESPN discusses Samardzija's ERA in losses compared to Travis Wood:
A statistic that might be telling is Samardzija's ERA in his losses. Naturally one would expect it to be higher than for a win, but at 6.75 it indicates his team has little chance to win the game.Travis Wood, for example, has a 4.50 ERA in his losses. Though Wood is on the losing end, he's just not handing the game over. Samardzija needs that kind of battle, as it's not happening for him right now.

Samardzija owns a 4.71 ERA since the All-Star break, struggling with his command at times. After a mediocre first half, Cubs fans and front office hoped to see him start to turn it around.
That hasn't happened yet, but he is under team control until 2015 and there is no question he will be leading the Cubs rotation in 2014. Hopefully he can make steps to improve from the last two seasons and earn that long-term contract he is seeking.
Keep Reading

Chicago Cubs: Like this team?