US Open Tennis 2013 Men's Final: Nadal vs. Djokovic Preview and Prediction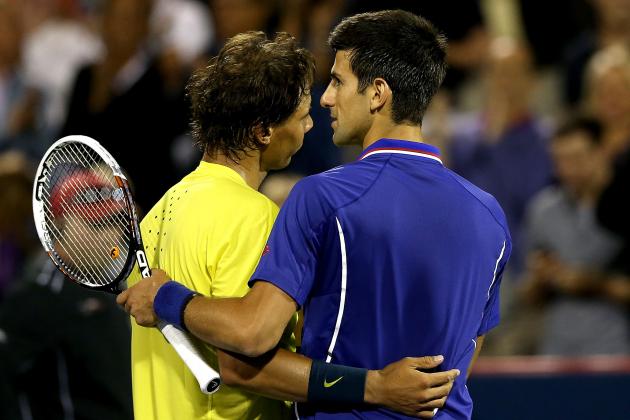 Matthew Stockman/Getty Images

Rafael Nadal vs. Novak Djokovic will decide the 2013 U.S. Open winner. It was inevitable that the world's best two players navigated through the other 126 contestants. They will wage yet another grueling battle in the warfare of their career rivalry. It is the rubber match to see who pulls ahead, after splitting U.S. Open titles in 2010 and 2011.
Will it be the top-ranked Djokovic who continues his superlative consistency? He wants this title to reassert his dominance on hard courts and keep a firm hand on the No. 1 ranking.
Will it be the No. 2-ranked Nadal who continues his astonishing renaissance? He wants to complete the North American triple crown and prove he is the world's best player.
One player will be the ultimate winner. The other will feel painful misery.
Begin Slideshow

»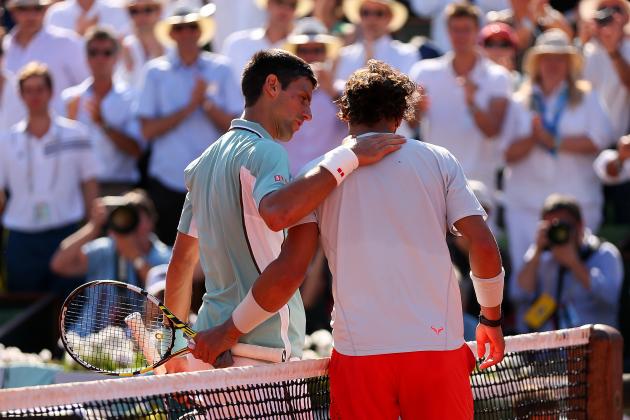 Clive Brunskill/Getty Images

There are so many different periods over the course of their career 36 meetings (Nadal leads 21-15). Time and again, they have had to defeat each other for big trophies. Their 2013 meetings have been tremendous examples of why there is very little to separate these two in their evolving rivalry:
In April, Djokovic scored one of his career ambitions by defeating Nadal on Monte Carlo's red clay. It ended the Spaniard's eight-year streak as champion there.
Nadal struck back with, perhaps, the match of the year, an epic Roland Garros semifinal grind that lasted five sets and featured shifting drama. It was his key to another French Open title.
Nadal then surprised most tennis observers at Montreal, eking out a semifinal win and showing the duel for hard-court dominance was now on. He showed several aggressive hard-court adjustments, and Djokovic was uncharacteristically wild with his forehand and serving.
Each is seemingly built to challenge the other, and neither will give in. Now they face off in their most important match of 2013. This match will decide who is the Grand Slam king of 2013.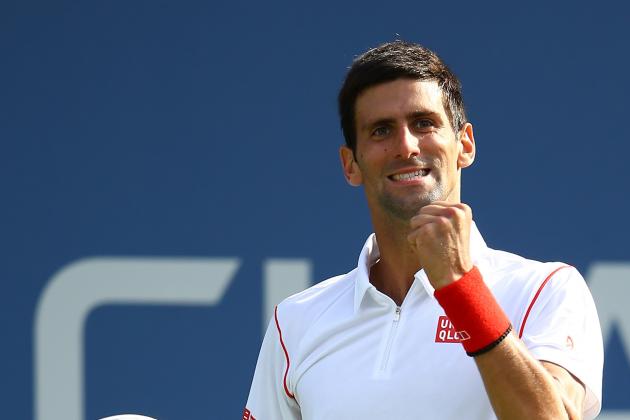 Al Bello/Getty Images

The early rounds of Grand Slam tournaments have rarely tested Djokovic. In the quarterfinals, he finally lost a set to Mikhail Youzhny.
The semifinals was more than he bargained for. He trailed two sets to one against inspired and hard-hitting Stanislas Wawrinka. Often, Wawrinka hit his groundstrokes to the middle of the court and successfully stretched the Serbian at the corners. It resulted in several weak replies that did not clear the net.
But Djokovic picked himself up, endured losing a fifth-set game that lasted over 20 minutes and proved his endurance and toughness once again. But will it be costly?
Djokovic's long semifinal match could be a factor if he is expected to endure four-plus hours against Nadal on Monday. Tennis Grand Slam finals have often been lost when a semifinalist has a lengthy test. This was a problem for him at the finals of the 2012 U.S. Open and 2013 Wimbledon.
But despite the semifinal struggle, Djokovic is in the final with a great chance to defeat Nadal for the title. He will relish the opportunity.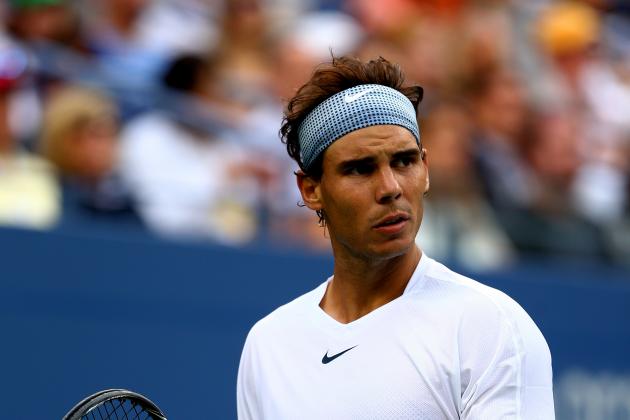 Elsa/Getty Images

It's been one of his finest displays of hard-court tennis in an epic career. Never mind that he has won Montreal and Cincinnati. He has ripped through a tough U.S. Open draw, losing only one set and dropping serve only one time.
To most tennis fans, Nadal has played himself into the role of favorite, despite being away from his beloved red clay. He has augmented his technical adjustments with an increased fervor of intensity and concentration.
In the second-set tiebreaker against Richard Gasquet, he all but destroyed his opponent by imposing his strength in winning big points. There was a major mental difference in attitude and belief.
Nadal is now looking for his second U.S. Open title. It would be his third Grand Slam title on hard courts. He cannot claim the No. 1 ranking by winning Monday, but it would position him for a huge advantage to soon take the top spot and hold it after the year-end WTF.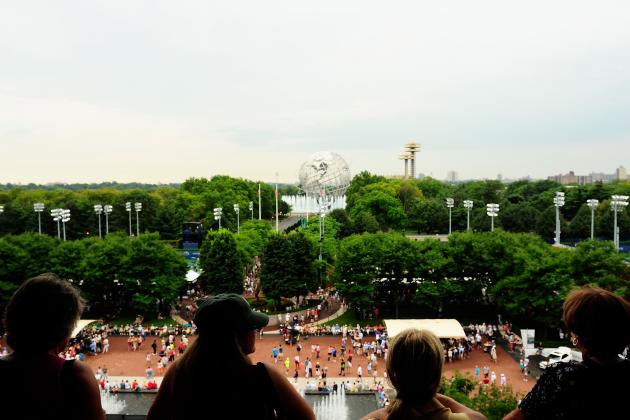 Maddie Meyer/Getty Images

Adjustments
Both of these players know each other inside and out. Djokovic knows he must attack the Nadal backhand and find short balls to put away. Nadal knows he must stretch Djokovic to the forehand corner and be the aggressor.
But who will find another edge to make life difficult for the other? Djokovic has shown he can follow up his big groundstrokes with net finishes, something that closed out Andy Murray at Australia. Nadal has looked for more variety on his serves and spins to set up weak replies and finishing forehands. Will he go for broke on more backhands as well?
Sharpness
Djokovic is more dominant on hard courts when he is playing his A-game. However, he has also been shakier with his forehand and serve.
He cannot afford lapses like this against Nadal and expect to win three of five sets. He will need consistent aggressiveness. Too much risk on his groundstrokes in an attempt to be the aggressor could also backfire. It's a fine line because he does need to attack.
Nadal's career-winning formula borders more on safety and patience than risk. He is more likely to stay the course with things he does best, but against Djokovic, this will not be enough. Can he be just as sharp by stepping onto the baseline more often and looking for flatter setup shots and winners?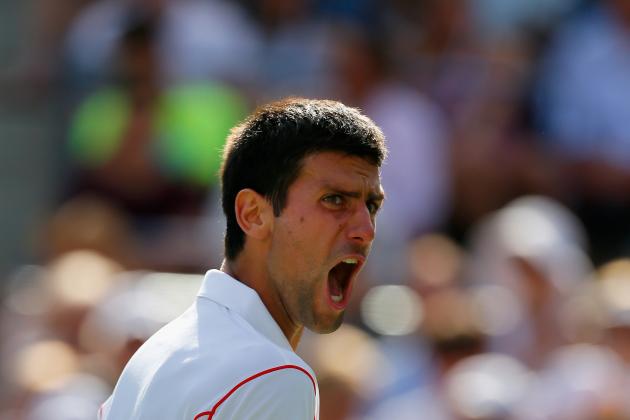 Mike Stobe/Getty Images

Djokovic must do more than avoid forehand errors and clean up untimely double faults. He must also deal more effectively with groundstrokes at the middle of the baseline. He is more reluctant to hit as hard without the angles and up-the-line options.
What he can do is be less complacent and predictable here. He doesn't need to only attack the Nadal backhand, but rather he can use the middle to play the corners, back and forth.
He can get Nadal running more often, goad him into trying more winners when his feet are not firmly set and insert some uncertainty into Nadal's game plan. Plus, it will keep the Serbian focused on playing more aggressively and keep looking for Nadal to hit short sharps.
Djokovic is an incredibly tough matchup for Nadal. He still has his big backhand and the defensive tenacity to retrieve shots. Nothing will be easy for Nadal, and if the Serbian is sharp, he will be the winner.
One final key is for him to be resilient. He has dropped a lot of big matches in Grand Slam play outside of Melbourne and must not let the doubts enter his mind. He must forget about momentary setbacks and move on to the next point.
He must respond better than he did when he blew a crucial fifth-set overhead smash in their French Open semifinal meeting. Sometimes a short memory and a dose of confidence is the difference.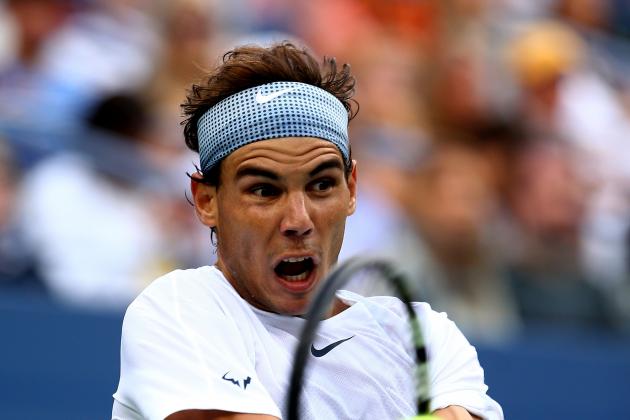 Elsa/Getty Images

Nadal must not believe that his win against Djokovic at Montreal will be enough. He deservedly won the match with aggressive adjustments in the first set and a dominant third-set tiebreaker, but escaped against Djokovic's subpar performance.
He also lost his way a bit in the Montreal match in the second set. One, he quit attacking the center of the court. Two, he got burned on some slice backhands, not a very good option in this matchup. Three, he retreated deeper behind the baseline which took away his backhand effectiveness and angles.
Nadal has done well in using both sides of the court, but especially from inside the deuce corner. By attacking the Djokovic forehand, he can keep Djokovic from teeing off with his backhand. Nadal will usually be able to follow up deuce corner-approach shots and open up the ad side on his own terms.
The Spaniard must continue to be crafty with his serving. He has consistently banged in above 70 percent of his first serves in order to set up his forehand. It's been nearly unbeatable, and if he continues to mix up his forehand replies to both sides of the court, he will keep Djokovic from setting his feet.
He likes to serve to Djokovic's backhand on the deuce court, but at Montreal, he served a lot to Djokovic's forehand on the ad court. He often has excellent sense for when to change up his patterns as needed. This must continue.
Nadal is the most focused player on the ATP tour from one point to the next, but he does have a tendency to suffer through rough patches against his rival. This is largely because Djokovic is so great. The key is for Nadal not to get ruffled, but to keep up his capacity to be a forward thinker and problem solver.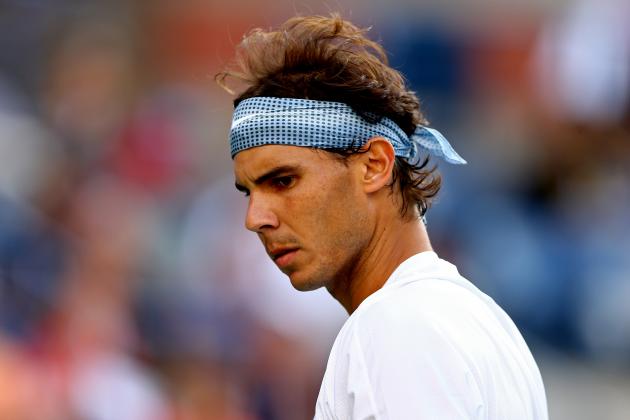 Elsa/Getty Images

A week ago, I wrote that Djokovic was the favorite if they met in the final. He still has a more proven game on hard courts and is the one player who can take Nadal away from his best strengths.
But Djokovic's struggles against Wawrinka could prove costly. It's less about playing five sets (they do have a day off on Sunday.) and more about the loose play Djokovic showed. He was good enough to win, but not great. He must play a lot better on Monday, and it's fair to question if he will.
Nadal has been playing more consistent great tennis the past several weeks. He has executed nearly to perfection with his serve and game plans, and the odds are good that he will continue to play at a high level on Monday.
Nadal is in the kind of tennis zone that not only defies losing, but has also looked very dominant. It's the kind of peak tennis seen at the U.S. Open from the likes of 1994 Andre Agassi, 1995 Pete Sampras and 2007 Roger Federer. Nadal will be very tough to beat.
Both players are fully capable of winning the final, and it would not be an upset either way. It would not be surprising at all if Djokovic played dominating tennis and forced Nadal into difficulties. He could very well win.
Still, I like Nadal's momentum and will choose him to win the U.S. Open title in four very tough sets. After three years, he will be back holding a non-French Open Grand Slam title with an eye on the No. 1 ranking. There will be many red and yellow flags flapping at the post-match ceremonies.