Roger Federer had a perfect 10-0 record against Tommy Robredo heading into their fourth-round match at the 2013 U.S. Open.
The Spaniard was evidently tired of having those numbers thrown in his face.
Robredo broke Federer's serve in the first game of the match, setting the tone for a dominant straight-sets victory. With his 7-6 (7-3), 6-3, 6-4 victory, Robredo made sure Federer was eliminated before the quarterfinals at Flushing Meadows for the first time since 2003.
ATP World Tour's Twitter account confirmed the stunning upset with this post:
.@TRobredo claims 1st career win over @RogerFederer with 76 63 64 victory at #usopen More http://t.co/H3fHiW6P6d #atp

— ATP World Tour (@ATPWorldTour) September 3, 2013
Ben Rothenberg of The New York Times added his own commentary on the outcome:
No19 Tommy Robredo, previously 0-10 against Roger Federer, puts the GOAT to pasture in straight sets, 7-6(3), 6-3, 6-4. A stunner. #usopen

— Ben Rothenberg (@BenRothenberg) September 3, 2013
Federer had nearly as many unforced errors (43) as he did winners (45) in the match. He was unable to find a consistent return game and converted only two of 16 chances to record break points against his opponent.
SNY's Adam Zagoria had a Federer quote after the match, and the five-time U.S. Open champion shouldered all of the blame when looking back at the way he finished his 2013 Grand Slam season:
Fed: "I kind of feel like I beat myself without taking any credit away from Tommy..kind of self destructed which is very disappointing."

— Adam Zagoria (@AdamZagoria) September 3, 2013
Are we seeing the end of an era?
Federer is without a doubt one of the greatest tennis stars of all time, but he's looked human during a season in which we've all been waiting for him to pull out the Superman cape.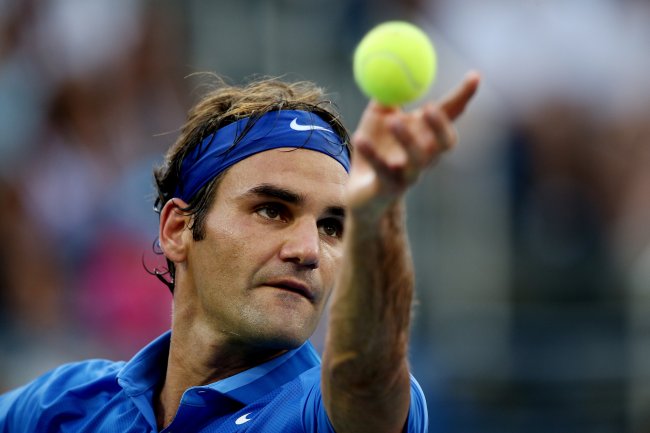 Clive Brunskill/Getty Images
As the U.S. Open's Twitter account noted, it was a packed house at Armstrong Stadium on Monday night, and Fed's upset didn't mellow the rocking atmosphere:
FULL HOUSE: Fans packed in to watch #Federer & #Robredo on #Armstrong. #usopen #OpenScenes pic.twitter.com/vs3gOeBs1z

— US Open Tennis (@usopen) September 2, 2013
Boasting his unbeaten record against Robredo and three straight impressive victories to reach the Round of 16, many in attendance figured Federer would cruise against his opponent and wait patiently for his next foe, which would've been decided later in the evening.
That thought was quickly negated.
Live Tennis made sure to post this screenshot of the early scoreboard when Robredo got on the board by breaking Federer's first service game:
It's started with a break for Robredo. Will this be Federer's first big test? pic.twitter.com/dpm19PZNMc

— Live Tennis (@livetennis) September 2, 2013
It was a sign of things to come.
After winning a tiebreaker to take the first set, Robredo did not let up in the final two frames. Federer was close to making things interesting several times, but couldn't come up with a signature shot or serve to keep Robredo from increasing his sets lead.
All that said, a poll taken during the match still favored Fed to avoid the upset:
A whopping 80% of our fans think that @RogerFederer WILL come back to win. Result: http://t.co/HDYiKBJLFy #YesHeCan #NoHeCant

— US Open Tennis (@usopen) September 2, 2013
As Sports Illustrated's Beyond the Baseline Twitter account noted, though, it's hard to win matches when you give away chances to pick up break points. That's exactly what Federer did as Robredo drew even early in the third set:
Unbelievable. Roger Federer blows 5 break points, is now 2/16 in the match, and Robredo holds to 2-2. #usopen

— Beyond The Baseline (@SI_BTBaseline) September 2, 2013
Robredo went on to break Federer's serve again in the final set and win the match without much resistance.
The all-time record between the two men still favors Federer by nine matches, but it doesn't take away from the sting of an early exit and the reality that the Swiss star will not appear in a Grand Slam final for the first time since 2002.
Whether you choose to believe it or not, the 17-time major-championship winner continues to show signs of slowing down.
Will Federer ever win another Grand Slam title?
Robredo will now face the winner of the match between Rafael Nadal and Philipp Kohlschreiber in the quarterfinals. The 31-year-old Robredo had never been past the fourth round of the U.S. Open as of Monday morning, but when he awakes on Tuesday, that will have changed.
Just like the zero in the win column of his head-to-head record against Federer.
Follow B/R's Ethan Grant on Twitter.