How soon until the roof is on Arthur Ashe Stadium?
That's the question many tennis fans were asking after a long rain delay at the 2013 U.S. Open. The fourth round in the women's singles draw was set to conclude sometime Monday afternoon, but that didn't happen after Mother Nature interrupted.
According to the CBS broadcast, play was suspended at 12:19 p.m. ET, and it didn't resume until four hours and 21 minutes later.
As a result, there are some matches that have been pushed to Friday, as the US Open Twitter account pointed out:
The #Azarenka/#Ivanovic match and the #WilliamsSisters doubles match will not be played today. http://t.co/VRO6eYPzvC #usopen

— US Open Tennis (@usopen) September 2, 2013
Here are the results from the early Day 8 action at the U.S. Open.
Roberta Vinci Beats the Rain, And Camila Giorgi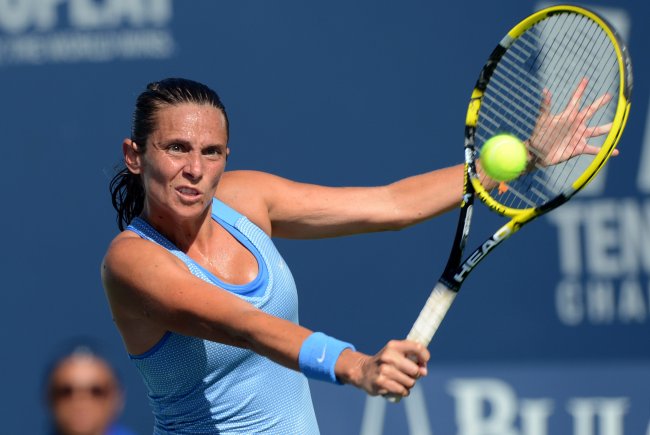 Jayne Kamin-Oncea-USA TODAY Spor
The biggest winner among the early match participants was easily Roberta Vinci. Among the three matches in the women's singles draw early on Monday, Vinci's was the only one who was able to finish:
Raindrops on #Grandstand let up long enough for #Vinci to thank the crowd. Light drizzle now. #umbrellasout #usopen pic.twitter.com/Ch5wXDHSC1

— US Open Tennis (@usopen) September 2, 2013
Vinci defeated her countrywoman Camila Giorgi, 6-4, 6-2, to reach only her second career quarterfinal:
Qualifier Camila #Giorgi falls to Roberta #Vinci, 6-4, 6-2. Vinci into her 2nd career QF (other: 2012 #usopen). #grandstand

— US Open Tennis (@usopen) September 2, 2013
Giorgi established a 4-1 first-set lead on her 10th-seeded opponent, and it looked like she might be able to pull off the major upset. However, Vinci found her groove and won the next five games to take the set.
From there, it was clear how the rest of the match would unfold. Vinci was dominant in the second set and made quick work of Giorgi, despite the crowd getting behind the unseeded 21-year-old:
Giorgi turned into her own worst enemy, as she had 35 unforced errors to Vinci's nine. Vinci was also fantastic on second serve, winning 68 percent of her second-service points. Limiting mistakes and winning more than 60 percent of the time on second serve is a surefire recipe for victory.
Because of the rain delay, Vinci would have to wait quite a while to see whom she would play in the quarterfinal, as she would face the winner of the Simona Halep vs. Flavia Pennetta.
Flavia Pennetta Starts Strong after Delay, Finishes off Simona Halep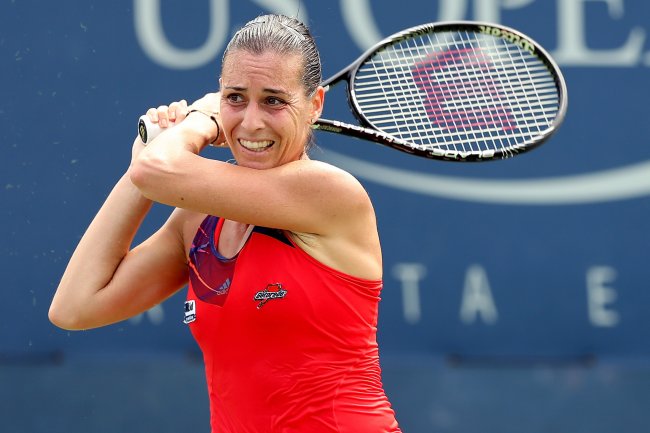 Matthew Stockman/Getty Images
That winner would prove to be Pennetta after she beat No. 21 Halep in straight sets, 6-2, 7-6 (7-3). It's the fourth time the Italian has reached the quarterfinal of the U.S. Open:
#Pennetta d. #Halep, 6-2, 7-6, for a place in the QF, will face fellow Italian #Vinci. #armstrong #usopen pic.twitter.com/9vVJe31NX5

— US Open Tennis (@usopen) September 2, 2013
Following the rain delay, Halep was in a great position to push this to a third set. She was on serve and had a 5-4 lead in the second set but struggled to get going once she stepped back on the court, per ESPNTennis:
After the delay, Halep loses three straight points and it's now back on serve 5-all against Pennetta. #USOpen #ESPNTennis

— ESPNTennis (@ESPNTennis) September 2, 2013
To have been that close and end up losing the game really seemed to take it out of Halep. Once she lost that game to tie the set a 5-5, it was only a matter of time before Pennetta took the set.
It was the first-service play that ended up deciding the match. Although Halep hit 75 percent of her first serves in, she only won 47 percent of those points. Compare that to 77 percent and 45 percent, respectively, for Pennetta. Although she wasn't accurate with her serve, the 31-year-old Italian was deadly when getting the point going.
This was a case of the rain delay coming at the exact wrong time for one player, and the exact right time for the other. Halep had all of the momentum before the long break, but after almost five hours of being off the court, she lost it all, which opened the door for Pennetta.
Daniela Hantuchova Books Her Place in Quarterfinals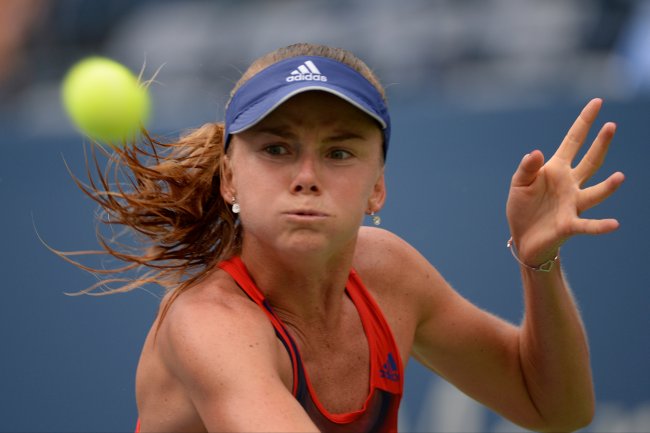 Robert Deutsch-USA TODAY
Alison Riske fought hard, but it wasn't enough to overcome Daniela Hantuchova in the fourth round. The veteran won in three sets, 6-3, 5-7, 6-2.
Sports Illustrated's Beyond the Baseline pointed out how it was the old guard who prevailed on Monday over their younger counterparts.
This has been a tournament for veterans. Pennetta into the QF and now Hantuchova is through, d. Riske 63 57 62. #usopen

— Beyond The Baseline (@SI_BTBaseline) September 2, 2013
Like the Halep/Pennetta match, Hantuchova and Riske had to wait until after the rain delay to conclude their match. Of the two, Hantuchova seemed to be the one more affected. Riske was able to come out and win the second set:
TO THE 3RD: #Riske levels the match vs #Hantuchova on #Ashe. Presented by @Heineken_US. #usopen WATCH - http://t.co/CzgnsypS9p

— US Open Tennis (@usopen) September 2, 2013
Douglas Robson of USA Today was pleasantly surprised with the way Riske was willing to take the match right to her more experienced and decorated opponent:
Excellent, aggressive game from Riske to break Hantuchova at love for 7-5 and even match at 1-set all. #usopen

— Douglas Robson (@dougrobson) September 2, 2013
That second-set loss woke up Hantuchova, though, as she breezed through the third set.
Sports Illustrated's Jon Wertheim noted how much money the Slovakian star was able to gain by advancing to the quarterfinals:
Fourth round=$165k. QF=$325k. Not that they're thinking this way, but Riske-Hantuchova playing one set for $160k right now.

— Jon Wertheim (@jon_wertheim) September 2, 2013
This is the second time Hantuchova has reached the quarterfinals at Flushing Meadows, and she'll meet the winner of the Ana Ivanovic vs. Victoria Azarenka match.