A day after inclement weather pushed some notable matches back, Tuesday's opening-round action at the 2013 U.S. Open righted the ship.
The women's field has officially been pared in half, with an overwhelming majority of the world's top players advancing. Victoria Azarenka, Sara Errani and Caroline Wozniacki were all given their opportunities to join Serena Williams, Agnieszka Radwanska and others for a chance to move forward.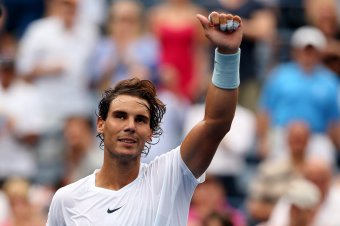 Matthew Stockman/Getty Images
The men, meanwhile, still have a little bit of waiting to do for their larger field to get sliced down. Roger Federer and Novak Djokovic finally got their shot at returning to USTA Billie Jean King National Tennis Center a day after Rafael Nadal and David Ferrer punched their tickets.
For the most part, Tuesday, like Monday, mostly stuck to the script.
The Federers and Djokovics of the world took center stage and commanded their opponents, advancing without incident before a rather subdued crowd. While spectacular in their execution, it's hard to get excited about someone pulverizing an overmatched opponent repeatedly.
Then again, we're never without notable storylines as we barrel forward in the year's final Grand Slam. All it takes is one major upset to send the crowd into a tizzy, or at least to wake them up from their slumber.
And for one lucky 17-year-old, that time to shine was Tuesday.
With that in mind, here is a complete look at Day 2's scores and results, highlighting a couple specific takeaways from the event.
Day 2 Results, 2013 U.S. Open
Men's Seeded Results

| | | |
| --- | --- | --- |
| Men's Winner | Men's Loser | Score |
| (1) Novak Djokovic | Ricardas Berankis | 6-1, 6-2. 6-2 |
| (7) Roger Federer | Grega Zemlja | 6-3, 6-2, 7-5 |
| (22) Philipp Kohlschreiber | Collin Altamirano | 6-1, 6-3, 6-1 |
| Maximo Gonzalez | (14) Jerzy Janowicz | 6-4, 6-4, 6-2 |
| (12) Tommy Haas | Paul-Henri Mathieu | 6-4, 6-4, 6-1 |
| (31) Julien Benneteau | Michal Przysiezny | 6-4, 5-7, 6-4, 6-4 |
| Denis Istomin | (15) Nicolas Almagro | 6-3, 6-1, 4-6, 6-3 |
| Joao Sousa | (25) Grigor Dimitrov | 3-6, 6-3, 6-4, 5-7, 6-2 |
| Florian Mayer | (28) Juan Monaco | 6-4, 6-2, 3-0 (ret.) |
| (13) John Isner | Filippo Volandri | 6-0, 6-2, 6-3 |
| (5) Tomas Berdych | Paolo Lorenzi | 6-1, 6-4, 6-1 |
| (10) Milos Raonic | Thomas Fabbiano | 6-3, 7-6 (8-6), 6-3 |
| (26) Sam Querrey | Guido Pella | 7-6 (7-3), 4-6, 6-1, 6-2 |
USOpen.org
Women's Seeded Results

| | | |
| --- | --- | --- |
| Winner | Loser | Score |
| (7) Petra Kvitova | Misaki Doi | 6-2, 3-6, 6-1 |
| (6) Caroline Wozniacki | Ying-Ying Duan | 6-2, 7-5 |
| (22) Elena Vesnina | Annika Beck | 6-1, 6-1 |
| Julia Glushko | (20) Nadia Petrova | 6-3, 6-4 |
| (26) Alize Cornet | Maria Joao Koehler | 6-3, 6-2 |
| (21) Simona Halep | Heather Watson | 4-6, 6-4, 6-2 |
| Su-Wei Hsieh | (31) Klara Zakopalova | 6-3, 6-3 |
| (27) Svetlana Kuznetsova | Mallory Burdette | 6-3, 7-5 |
| (10) Roberta Vinci | Timea Babos | 6-4, 6-2 |
| (17) Dominika Cibulkova | Elina Svitolina | 6-4, 6-3 |
| (14) Maria Kirilenko | Yanina Wickmayer | 6-1, 6-1 |
| (13) Ana Ivanovic | Anna Tatishvili | 6-2, 6-0 |
| (4) Sara Errani | Olivia Rogowska | 6-0, 6-0 |
| Victoria Duval | (11) Samantha Stosur | 5-7, 6-4, 6-4 |
| (2) Victoria Azarenka | Dinah Pfizenmaier | 6-0, 6-0 |
USOpen.org
Check out the remainder of Day 2's results at the U.S. Open's official website
Djokovic, Federer Cruise as Chalk Rules Day (Again)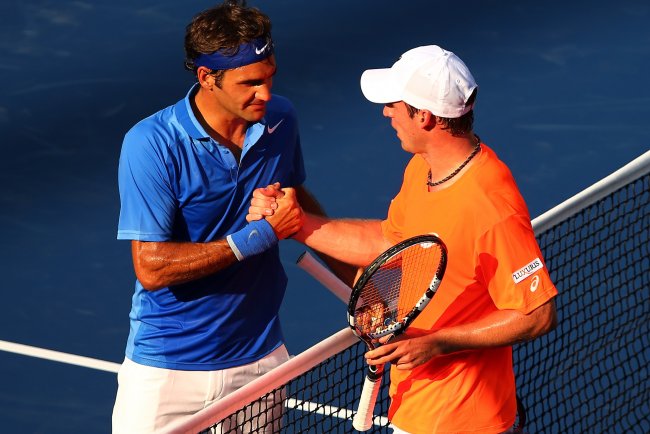 Elsa/Getty Images
There is something amazing about the way tennis tournaments work. There are times in these major tournaments when everything goes to plan, when the top seeds all move along their merry way and mainstream fans hit the snooze button until quarterfinals time.
Other times, things go topsy-turvy early, and you never know when a top seed is going to go down (e.g. Wimbledon this year).
Thus far, it seems like the 2013 U.S. Open is headed toward the former result. A day after the biggest on-paper "upset" of Round 1 came from unseeded Venus Williams, chalk mostly prevailed again Tuesday.
The most notable among those players making chalkboards screech were Djokovic and Federer, both of whom advanced easily in straight sets.
Djokovic, looking for his second career U.S. Open title, made slight work of unseeded Ricardas Berankis in a 6-1, 6-2, 6-2 romp. The match was an exercise in pure precision for Djokovic, the world's top player who is looking to make his fourth straight final at Flushing Meadows.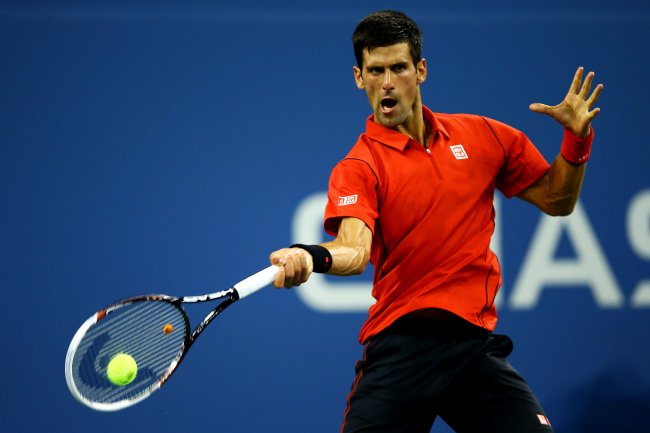 Al Bello/Getty Images
He hit an innumerable amount of crushing tactical shots from the baseline, sending Berankis scrambling and forcing him into unforced errors. The match took all of 82 minutes, as Djokovic committed only nine unforced errors.
Drawing the seventh seed for the U.S. Open, these are strange times for Federer.
Staring at age 32 and without a championship in this event in a half-decade's worth of tournaments, one had to wonder whether he'd face a fate similar to the ones he's seen plenty this year in major events. His only Slam semifinal this year was at the Australian, and a second-round ouster at Wimbledon had to have been dancing around in his head.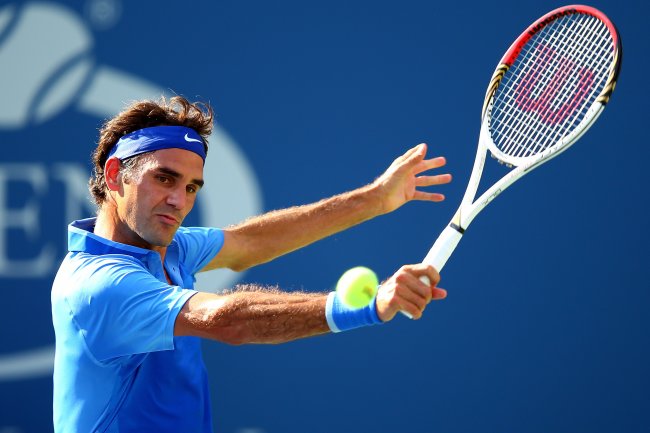 Al Bello/Getty Images
You just wouldn't have known it Tuesday.
Federer, whose match was rained out a day prior, finally got his chance to take down Grega Zemlja and did just that, winning 6-3, 6-2, 7-5. The Slovenian pushed his seventh-ranked Swiss counterpart at different points of the match, lasting a respectable 93 minutes as the heat came down.
But Federer looked in midseason form against Zemlja, winning 85 percent of his first services and hitting a surprisingly stout 12 aces.
#DayFederer wins the match at #Ashe today. #NightFederer leads your hashtag votes. WATCH match point: - http://t.co/VOo0Dhq1eI

— US Open Tennis (@usopen) August 27, 2013
Elsewhere among the favorites, second-seeded Victoria Azarenka gave Dinah Pfizenmaier the old "goose-egg" treatment, winning 6-0, 6-0 in a snoozefest. Also advancing in straight sets was sixth-seeded Caroline Wozniacki and fourth-seeded Sara Errani, the latter of whom matched Azarenka's perfect performance.
Overall, it was relatively ho-hum. Seven seeds went down, but none of them had single digits next to their names. On the men's side, Maximo Gonzalez defeating 14th seed Jerzy Janowicz was the biggest surprise of the day.
On the women's side, well, that deserves its own section.
17-Year-Old Victoria Duval Shocks No. 11 Samantha Stosur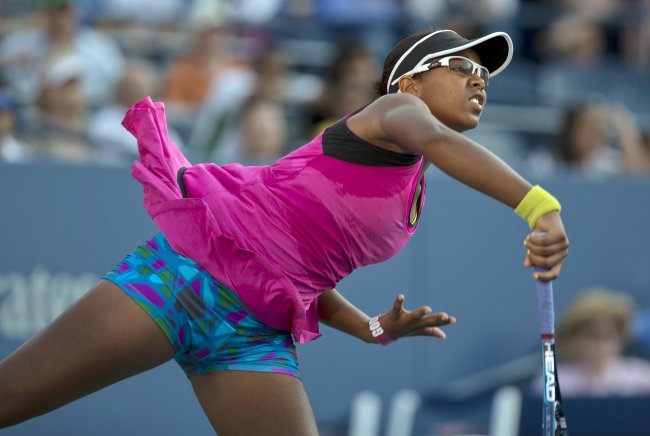 Susan Mullane-USA TODAY Sports
Okay. Ho-hum. Except for one.
Heading U.S. Open qualifying, Victoria Duval was ranked No. 296 in the world. While not horrible whatsoever for someone of high school senior age, her odds to even qualify for the big-girl tournament seemed long at best. She had appeared in only one Grand Slam championship (last year's U.S. Open), and her best career finish was a runner-up run last summer at an ITF Circuit tournament.
And then came Flushing Meadows.
Duval earned a qualifying spot, winning every set in her three matches to set up what is undoubtedly the biggest accomplishment of her professional career.
Though she was on the ropes after losing a hard-fought first set 5-7 to 11th-seeded Samantha Stosur, Duval fought back. She caught a break in the second and again in the third, taking the final two sets 6-4, 6-4 to come away with easily the most shocking upset of this event thus far.
Duval is matching 2011#USOpen champ Stosur shot-for-shot! Amazing set point takes it to the 3rd. #Armstrong WATCH - http://t.co/HAz1TmWS5a

— US Open Tennis (@usopen) August 27, 2013
Overwhelmed after the match—the 2011 U.S. Open champion was the first top-20 player Duval had ever faced—the teenager couldn't help but express her glee post-match.
"I just tried to stay in the moment," Duval said, per CBS Sports' Evan Hilbert. "I don't know, I'm just really excited right now."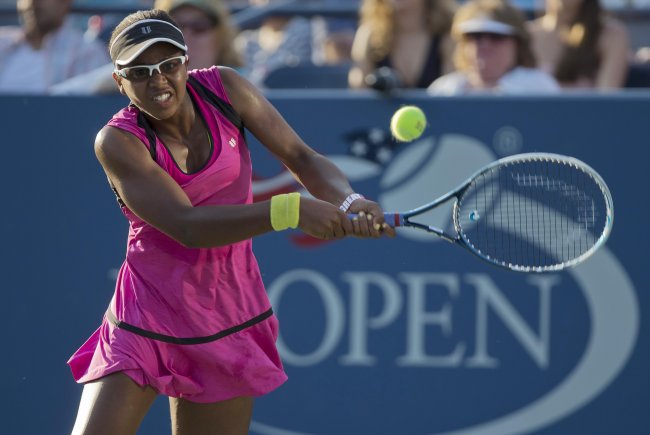 Susan Mullane-USA TODAY Sports
If she doesn't have a Twitter account at the moment—I couldn't find one using my crack research device—she may want to get one soon. Plenty of celebrities reached out following the win to offer congratulations:
Congrats to Victoria Duval on her 1st major match win @usopen, 17 years old long career ahead. Tennis is in great hands. Congrats. #USOPEN

— Amar'e Stoudemire (@Amareisreal) August 28, 2013
Nice win Victoria Duval! Keep it up

— Lil Wayne WEEZY F (@LilTunechi) August 28, 2013
Again, Victoria Duval has a .gif message for all you haters who counted her out against Sam Stosur. http://t.co/OXCgvn8ZSW #USOpen

— Ben Rothenberg (@BenRothenberg) August 27, 2013
Duval's win should also shed an even brighter light on her inspiring backstory. As reported by the New York Daily News' Wayne Coffey in 2012, the Miami-born youngster spent much of her childhood in Haiti before returning after being held hostage by armed robbers at age seven.
Both of her parents are doctors, and her father kept a practice in Haiti after the family left. That led to another tragedy in 2010, when Duval's father was buried alive under rubble following an earthquake. He survived despite having to dig himself out and suffering multiple internal injuries.
Nonetheless, Duval's is a story worth telling. The longer she lasts in this tournament, the more we may get to know about this budding young star.
Follow Tyler Conway on Twitter: