Logan Thomas: Everything You Need to Know About Virginia Tech's Star QB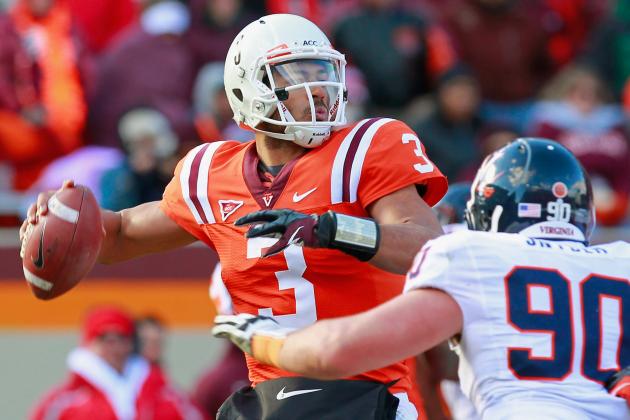 Geoff Burke/Getty Images

No one player can determine the outcome of a game quite like a quarterback. If a team has a good one, it will win a lot more than it'll lose. If a team has a bad one, well, he may not even finish the season.
Virginia Tech senior quarterback Logan Thomas has experienced a little bit of both. As a sophomore in 2011, Thomas was outstanding. He completed 60 percent of his passes for 3,013 yards. He also tossed 19 touchdowns versus only 10 interceptions.
Thomas took a step back in 2012, completing only 51 percent of his passes, and his interceptions rose from 10 to 16.
The team took a major step back, too. The Hokies were 11-3 in 2011 and played in both the ACC title game and the Sugar Bowl. The Hokies finished 7-6 in 2012, their worst record in 20 years.
The Hokies' failures in 2012 weren't all due to Thomas, however. Offensive line woes were the biggest culprit, and that trend could continue this season.
Here is a comprehensive look at Virginia Tech's best and most important player in 2013.
Begin Slideshow

»
Height: 6'6"
Weight: 254
Position: Quarterback
Year: Senior (RS)
Awards/Watch Lists for 2013: Davey O'Brien Award (Best QB), Maxwell Award (player of the year) and Walter Camp (most outstanding player).
Logan Thomas came to Virginia Tech in 2009 as the centerpiece of an excellent recruiting class that also featured David Wilson. However, Thomas wasn't recruited to Blacksburg as a quarterback. Thomas was one of the top tight end prospects in the entire country, according to Rivals.com.
Thomas played quarterback in high school, but he wanted to be a wide receiver/tight end in college. The offensive coaches saw Thomas' raw athleticism and strong arm and felt he needed to touch the ball on every play.
In 2010, Thomas backed up ACC Player of the Year Tyrod Taylor at quarterback. He attempted only 26 passes that season, most in mop-up duty.
During 2011, his first year as the starter, Thomas excelled. He led the Hokies to the Sugar Bowl where they lost to Michigan in controversial fashion. The highlight of Thomas' first season as starter was his performance against Miami. Thomas was 23-of-25 for 310 yards and three touchdowns throwing the football. He also ran for 38 yards and two touchdowns, including the game-winner with 56 seconds left.
Thomas took a major step backward in 2012. Much of it was due to what he lacked around him, though. VT routinely shuffled the offensive line all season, couldn't run the ball, and receivers struggled to run the correct routes.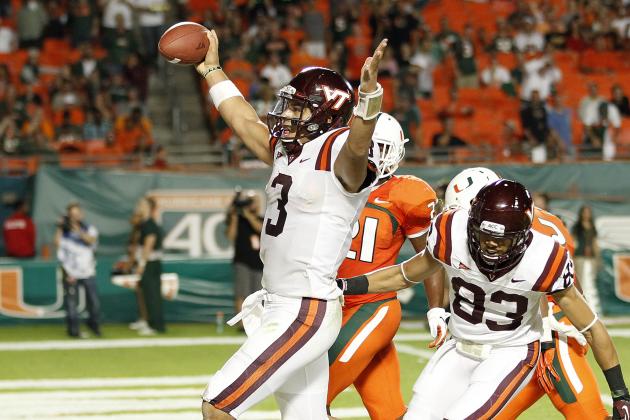 Joel Auerbach/Getty Images

Some of the better young quarterbacks in the NFL combine elite size with terrific athletic ability. Cam Newton and Colin Kaepernick immediately come to mind. Thomas, while not quite the athlete that those two are, possesses similar size.
In an era where NFL teams are employing more zone-read concepts, a talent such as Thomas is rare because not only can he run that style of offense, he can also throw the football. Thomas has the combination of size and athletic ability that NFL scouts love. Even after a down 2012 season, ESPN's Mel Kiper said Thomas would still be a first-round draft choice.
Despite the aforementioned struggles throwing the football in 2012, Thomas led the Hokies in rushing yards and touchdowns. He was often the only reason the team could move the ball. He can keep his team in the game, even when he's struggling.
There are many qualities to admire about Thomas. Yes, his accuracy issues are troubling, but Thomas has the type of ability to carry a team any given week. And that isn't just potential talking; he has done it before.
August 31 vs Alabama
This game is big for Thomas and the Hokies. Defeating the No. 1 team in the country would not only go a long way for the Hokies in 2013, but it would be an excellent showcase game for Thomas against the most dominant program in college football.
October 5 vs. North Carolina
The Tar Heels defeated the Hokies last season. Many expect UNC or Miami to win the Coastal Division in 2013. If the Hokies defeat the Heels, they will be in good position to represent the Coastal in the ACC title game.
This game will feature a pair of good senior quarterbacks with Bryn Renner representing UNC.
November 9 at Miami
Regardless of what happens up to this point, this game will be a big one for the Hokies.
The Hurricanes defeated the Hokies last year, but this series has been a bit lopsided in favor of VT over the past decade. Just like the matchup with North Carolina, Miami is also led by a good senior quarterback in Stephen Morris.
If the Hokies win the meeting against the Tar Heels in October, this game will likely determine the Coastal.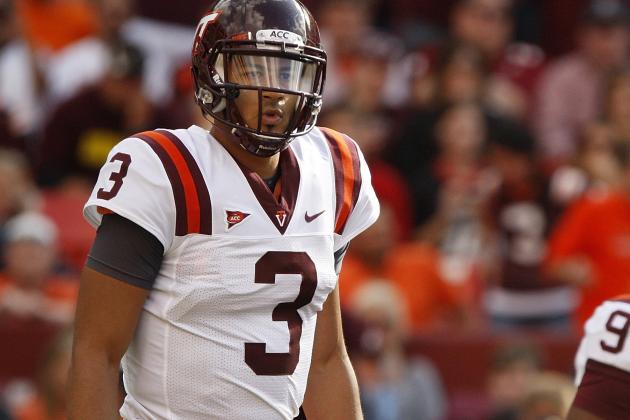 Jonathan Ernst/Getty Images

Offensive coordinator Scot Loeffler, who has coached Tom Brady, Chad Henne and Brian Griese, among others, had this to say about Thomas last week, via Andy Bitter of The Virginian-Pilot: "Every great one that I've been around, they run the show. It's their team. And I see that in him."
Phil Steele, author of Phil Steele's College Football Preview:
"I think Logan Thomas will be one of the most improved players in the country this year." - Phil Steele

— Kyle Bailey (@TheClubhouseKB) June 18, 2013
Thomas, known for his laid-back demeanor, has toughened up this year, according to teammate D.J. Coles via the Associated Press (h/t the Boston Herald):
It will mean a lot. If he's able to get on guys now in 7 on 7, then when we're on the field, in a game, if somebody makes a mistake and he gets on them, they won't take it as something negative, but as something positive and come back and make the play next time.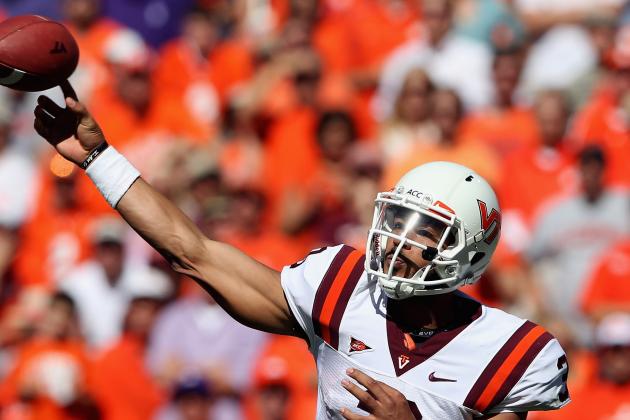 Streeter Lecka/Getty Images

What should we expect from Thomas in 2013?
No one truly believes the Hokies have an opportunity to compete for a national championship in 2013. They do, however, have a chance to win the ACC title and compete in a BCS game. To do that, though, Thomas will have to have a big year.
Expect Thomas to be much improved this season. Loeffler has worked on Thomas' mechanics, and he feels a sense of pride to get the Hokies back on a winning track. It may be foolish to believe in Thomas if we were only to base our projections off his 2012 season, but he was terrific in 2011. Why can't he get back to being that same player?
Clemson's Tajh Boyd and Sammy Watkins are likely the top two contenders for ACC Player of the Year, and rightfully so. But if Thomas can get the Hokies to the ACC title game, he will certainly be in consideration for the award as well as first-team All-ACC quarterback.
Look for Thomas to throw between 18 and 20 touchdowns while lowering his interceptions drastically. He will not lead the team in rushing again, either. Loeffler likes to feature the quarterback in a more traditional, dropback role. That, too, will aid his development.