The 2013 Solheim Cup finishes up in Parker, Colorado, on Sunday, with Team USA needing an unprecedented comeback in singles matches to avoid losing the event for the second time in a row.
Team Europe has a commanding 10.5 to 5.5 lead in the standings, courtesy of a dominant sweep in the four-ball session that ended Saturday's action. The Europeans need only 14 total points to retain the trophy, while the Americans need to storm back just to make the outcome respectable.
Below is a general overview of the points and how they have fluctuated on a day-to-day basis, followed by a recap of what happened Saturday at Colorado Golf Club.
Solheim Cup Scoring

| | | |
| --- | --- | --- |
| USA | | Europe |
| 3.0 | Day 1 | 5.0 |
| 2.5 | Day 2 | 5.5 |
| | Day 3 | |
| 5.5 | Total | 10.5 |
http://www.lpgascoring.com
Day 2 Recap
Round 3 - Foursomes

| | | |
| --- | --- | --- |
| Result | Team USA | Team Europe |
| Europe, 2 & 1 | Morgan Pressel & Jessica Korda | Anna Nordqvist & Caroline Hedwall |
| USA, 1 Up | Stacy Lewis & Paula Creamer | Azahara Munoz & Karine Icher |
| Halved | Brittany Lincicome & Lizette Salas | Catriona Matthew & Caroline Masson |
| USA, 2 & 1 | Michelle Wie & Brittany Lang | Suzann Pettersen & Beatriz Recari |
SolheimCupEurope.com
The United States team of Morgan Pressel and Jessica Korda was 1 Up through 13 holes before letting the match slip away. Anna Nordqvist and Caroline Hedwall stormed back down the stretch, winning three of the next six holes to put a European flag on the board.
Nordqvist ended the match in dramatic fashion with a hole in one on the par-3 17th hole.
Great picture showing Anna Nordqvist's reaction to her historic Solheim Cup hole-in-one. pic.twitter.com/tKrHI1t97H

— Sky Sports Golf (@SkySportsGolf) August 17, 2013
Stacy Lewis and Paula Creamer also suffered a similar fate for the Americans. They were 4 Up through 10 holes when Azahara Munoz and Karine Icher began to mount a comeback. They fought back to even with four holes to play.
Video Credit: Ladies European Tour
Luckily for Team USA, Lewis and Creamer were able to pull out the victory by winning the final hole with a birdie. Two early defeats would have been crushing to a team already playing from behind.
The Americans did allow a half-point to get away in the morning's third match. Brittany Lincicome and Lizette Salas took the lead on the second hole and kept the red, white and blue flag on the board all the way until the final hole when Europe squared the match.
Catriona Matthew and Caroline Masson won each of the final two holes to earn a draw for the Europeans.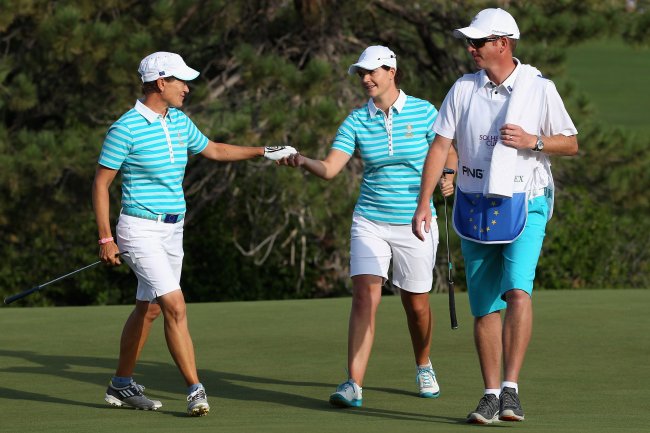 Doug Pensinger/Getty Images
It was the United States who pulled off the comeback in the final Saturday foursomes match. Michelle Wie and Brittany Lang were down two at the turn, but won five of the next holes holes to earn another full point for the American squad.
While it was ultimately a successful session for Team USA, winning 2.5 of four possible points, it could have easily been a clean sweep. Instead, Europe was able to salvage the session and maintained its overall lead, which stands at 6.5 to 5.5 after the morning rounds.
Day 2 Four-Ball Matches

| | | |
| --- | --- | --- |
| Result | Team Europe | Team USA |
| Europe wins 2 Up | Jodi Ewart & Charley Hull | Paula Creamer & Lexi Thompson |
| Europe wins 1 Up | Azahara Munoz & Carlota Ciganda | Gerina Piller & Angela Stanford |
| Europe wins 2 & 1 | Caroline Hedwall & Caroline Masson | Michelle Wie & Jessica Korda |
| Europe wins 1 Up | Beatriz Ricari & Karine Icher | Cristie Kerr & Morgan Pressel |
Source: www.solheimcupeurope.com
That momentum generated from staving off a sweep in the morning certainly translated well to what happened in four-ball.
The first match was headlined by a battle between two of the most gifted teenagers in recent memory in women's golf. The USA's Lexi Thompson and opponent Charley Hull, all of 18 and 17 years old respectively, put on a show on the front nine:
Charley Hull and Lexi Thompson each make four birdies on front nine. They are a COMBINED 35 years old. #SolheimCup

— Ron Sirak (@ronsirak) August 17, 2013
Ultimately, the tandem of Thompson and Paula Creamer loss 2 Up after conceding the final hole. Creamer was in a fairway bunker on the par-five 16th, but elected to take a fairway wood and smash it onto the green in two.
When an impressive two-putt for birdie squared the match, it was time for the teens to take center stage again.
After Thompson stuffed her approach to the subsequent par-three, Hull hit it even closer. Thompson failed to convert; Hull buried it. Unfortunately for the Americans, it was a sign of things to come.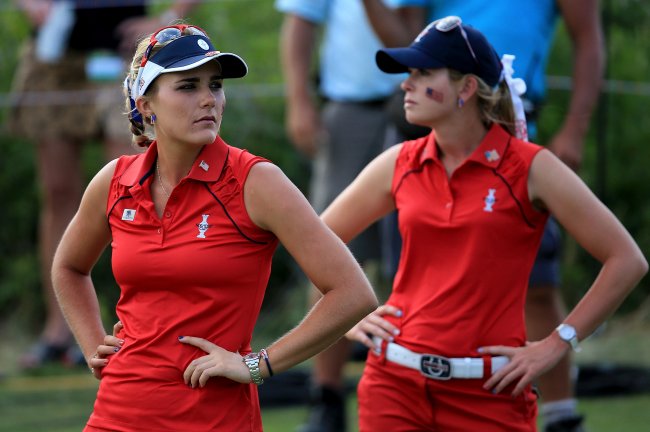 David Cannon/Getty Images
Angela Stanford is a seasoned veteran like Creamer in the Solheim Cup, but she lost her sixth consecutive match overall with partner Gerina Piller. It was essentially up to Piller to get it done down the stretch, but she failed to convert several golden opportunities.
A missed birdie putt on the 17th proved costly with the match all-square, as Carlota Ciganda drained a birdie on the next hole to win with former Arizona State teammate Azahara Munoz 1 Up.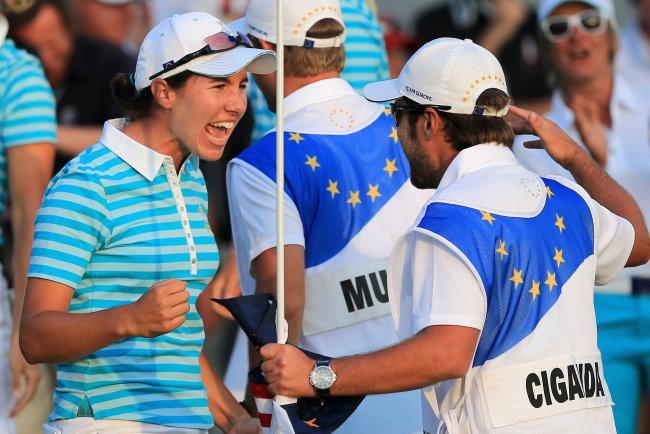 Doug Pensinger/Getty Images
Despite the best efforts of captain's pick Michelle Wie, who birdied the 16th hole to extend the match, she suffered her first loss of the 2013 Solheim Cup at the hands of Caroline Hedwall and Caroline Masson.
Cristie Kerr and Morgan Pressel fought to the end in their match, digging out of a 3 Down deficit after 10 holes, only to come up short. A birdie on 18 wasn't good enough to earn the half point, and it was a fitting end to the dominant display by the Europeans.
It looks as though this will be a year of unwanted firsts for Team USA at the Solheim Cup.
Never has the U.S. lost twice in a row, nor lost when hosting the event. No team has ever come back from more than two points down entering the final day to win, so the Americans have their work cut out for them to say the least.
Day 1 Recap
Team USA's bid to win back the Solheim Cup in 2013 got off to a rough start on Friday morning, as the European side won three of four matches in foursomes at Colorado Golf Club to take a 3-1 points lead.
If not for clutch putting from captain's pick Morgan Pressel, the United States could have posted a goose egg in the early going. However, the 25-year-old came through in the alternate shot format—she and partner Jessica Korda defeated Catriona Matthew and Jodi-Ewart Shadoff 3 and 2.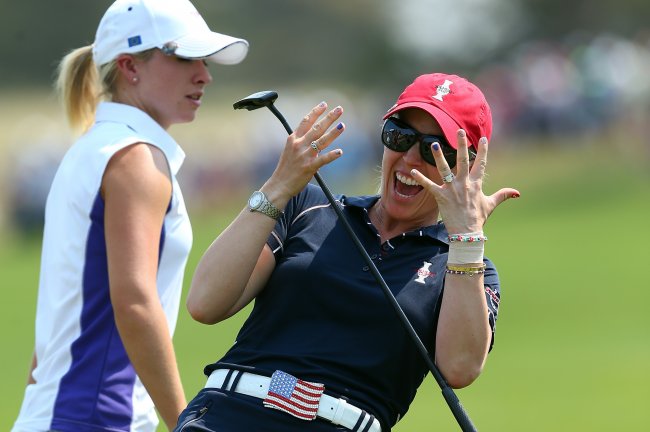 Andy Lyons/Getty Images
The rest of the matches ended well in Europe's favor. Below is an overview of the early results:
2013 Solheim Cup Day 1 Foursome Results

| | | |
| --- | --- | --- |
| Team Europe | Team USA | Result |
| Anna Nordqvist & Caroline Hedwall | Stacy Lewis & Lizette Salas | Europe wins, 4 & 2 |
| Suzann Pettersen & Beatriz Recari | Brittany Lang & Angela Stanford | Europe wins, 2 & 1 |
| Catriona Matthew & Jodi Ewart-Shadoff | Morgan Pressel & Jessica Korda | USA wins, 3 & 2 |
| Azahara Munoz & Karine Icher | Cristie Kerr & Paula Creamer | Europe wins, 2 & 1 |
Source: solheimcupusa.com
Paula Creamer and Cristie Kerr had never lost as a tandem in the Solheim Cup, but poor work with the flatstick cost them a chance at victory, which Creamer alluded to on the Golf Channel telecast after the match.
Momentum is always huge in this impassioned battle, which is essentially the women's equivalent of the Ryder Cup. Given how formidable a duo Creamer and Kerr have been, Golf Digest's Ron Sirak suggested the loss was akin to handing the Europeans two points:
Biggest surprise of morning session is relatively easy win by Munoz-Icher over Creamer-Kerr. Almost like winning two points.

— Ron Sirak (@ronsirak) August 16, 2013
Even though this is Creamer's fifth Solheim Cup, captain Meg Mallon made it known that she would stick with the hot hand. Mallon sat the veteran in the afternoon, per Golf Channel's Jay Coffin:
Paula Creamer will sit this afternoon. Can't imagine that was the original plan.

— Jay Coffin (@JayCoffinGC) August 16, 2013
The fact that Pressel sat too was a bit surprising given her strong form in the morning, but Coffins suggests that Mallon may be pushing all the right buttons.
Who will win the Solheim Cup?
Something definitely worked when afternoon fourball matches got underway. In these showdowns, teams of two take the individual player's best score on the hole, and the Americans made a push to come back from the early 3-1 deficit.
The tandem of Brittany Lincicome and Brittany Lang defeated Anna Nordqvist and Giulia Sergas 4 and 3 to give the Americans a much-needed victory. With their teammates struggling and the Europeans showing no signs of slowing down, Lincicome and Lang brought the overall score back to 3.0-2.0.
A rejuvenated Michelle Wie helped to continue that momentum for Team USA, teaming with Kerr to take down Catriona Matthew and Charley Hull 2 and 1. The Americans needed that point, as they fell into a deep hole and may not have been able to recover without it.
Wie and Kerr have become Team USA's day one heroes.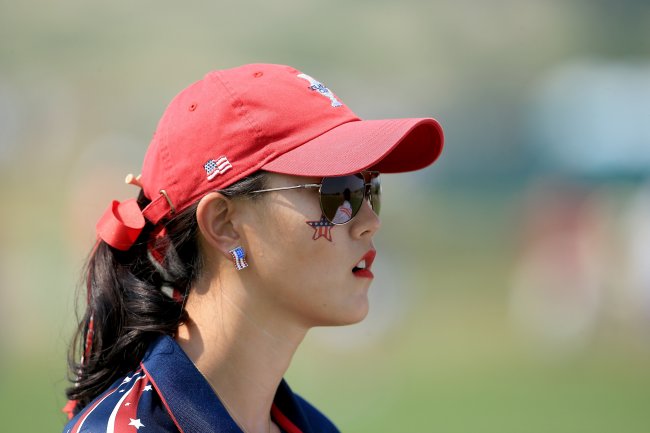 David Cannon/Getty Images
Unfortunately, more American superstars struggled, as Stacey Lewis and Lexi Thompson lost to Suzann Peterson and Carlota Ciganda. The European squad defeated Team USA 1 up, fighting off a furious mid-round rally by Lewis and Thompson to extend Europe's edge.
To make matters worse, Caroline Hedwall and Caroline Masson defeated Gerina Piller and Angela Stanford 2 and 1 to give Europe yet another win. The victory gave the Europeans 5.0 points on the first day and a comfortable lead.
Team USA has an uphill battle from here on out.