Manchester United: 6 Reasons They'll Be a Stronger Team This Season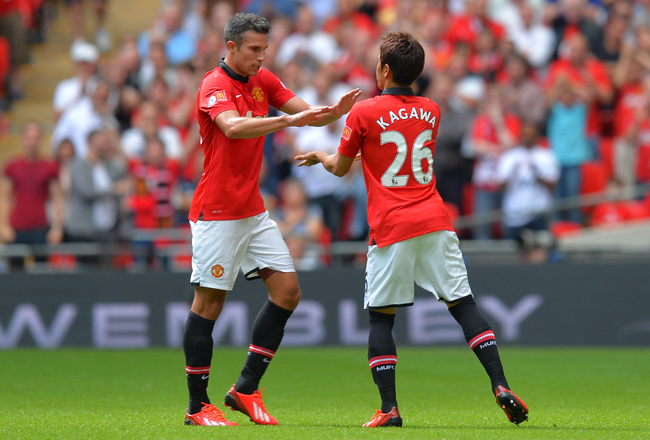 Mike Hewitt/Getty Images
It doesn't take much for the casual football fan to write off Manchester United.
Without legendary manager Sir Alex Ferguson at the helm, there is a genuine belief in some quarters that the Red Devils will struggle to even break into the top two in the Premier League next season.
Granted, in many ways United will suffer from the departure of such an influential and transcendent presence.
But the team will improve in other departments under David Moyes.
There is certainly apprehension as to how the side will fare next term, but here are six reasons they'll be a stronger team.
Shinji Kagawa in His Element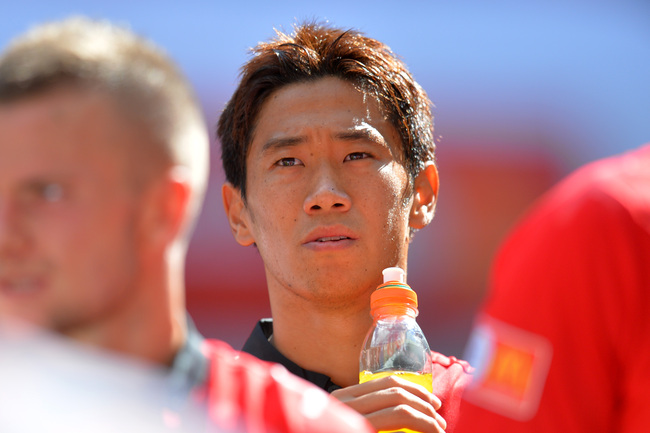 Mike Hewitt/Getty Images
Shinji Kagawa was shifted onto the flanks at times last season. He also had to face extended periods on the sidelines due to injury.
In spite of the odd rousing individual display, the Japanese playmaker had an underwhelming debut campaign at Old Trafford.
This should not be a comment on his talent. Kagawa is one of the best trequartistas in European football.
Under David Moyes, there is a high likelihood he will return to his preferred position, creating havoc between the midfield line and Robin van Persie in attack.
Wayne Rooney's time as the second forward should be done. Kagawa deserves to be given a chance to thrive.
Youngsters Coming Through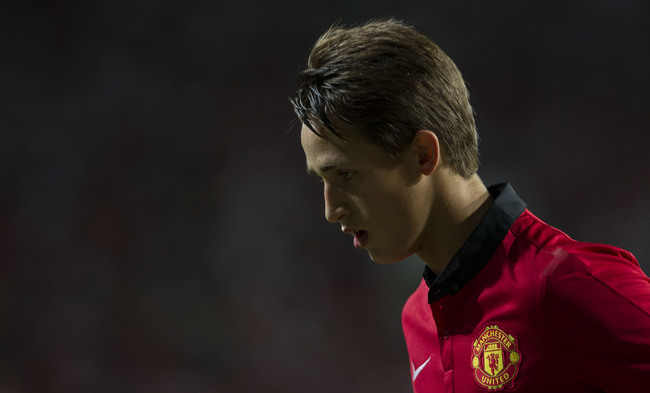 Victor Fraile/Getty Images
It has been a while since there has been such a prolific batch of youngsters coming through the ranks at Old Trafford.
In fact, the current vintage may be the club's best since Fergie's Fledglings emerged in the early '90s.
The standouts from the class of 2013 include Adnan Januzaj, Nick Powell, Jesse Lingard and new signing Wilfried Zaha.
These technically gifted players will stand the Red Devils in good stead going forward.
In the meantime, they will add an immediate boost to the first team and push the more established senior players for places in the starting XI.
Higher Pressure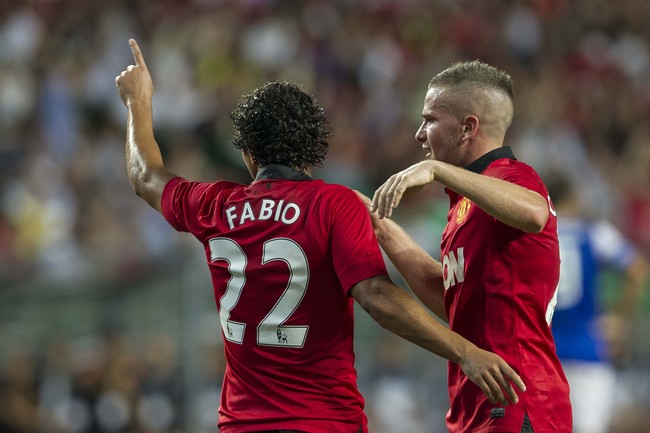 Victor Fraile/Getty Images
David Moyes could perhaps be accused of over-thinking Manchester United's tactics against Wigan Athletic in the Community Shield last weekend.
The side looked a little too rigid and devoid of creativity going forward.
But there was a very welcome tactical change to the way the Red Devils played. One that will come as a massive relief to fans of the Red Devils.
One of the biggest criticisms of United in previous seasons is the side's apparent unwillingness to put pressure on their opponents higher up the pitch.
Wigan struggled to create space in midfield and the final third because of this on Sunday.
More of the same please, David.
Robin van Persie Set for More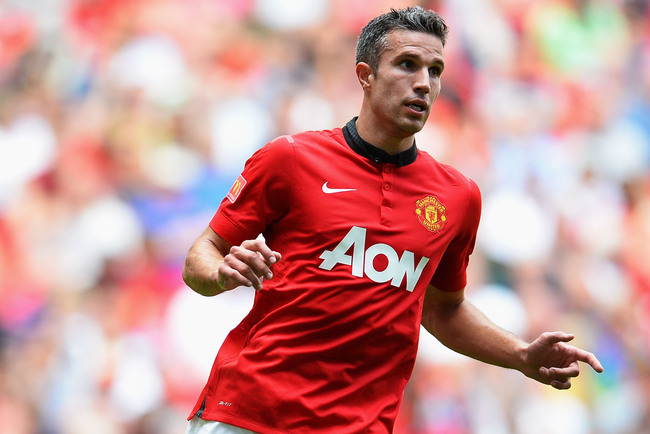 Laurence Griffiths/Getty Images
It seems absurd to suggest that Robin van Persie will improve next season.
The Dutch striker scored 30 goals in all competitions and looked the most technically adept player to grace the Old Trafford pitch since one Eric Cantona.
But there was a significant period of last season, most notably in February and March, where he looked completely off the boil.
His lack of form was most noticeable in the side's doomed Champions League clashes with Real Madrid.
Having had a year to bed-in, Van Persie should prove a more consistent, equally prolific goalscoring threat next term. A total of 30 goals is the least fans can expect.
New Challenge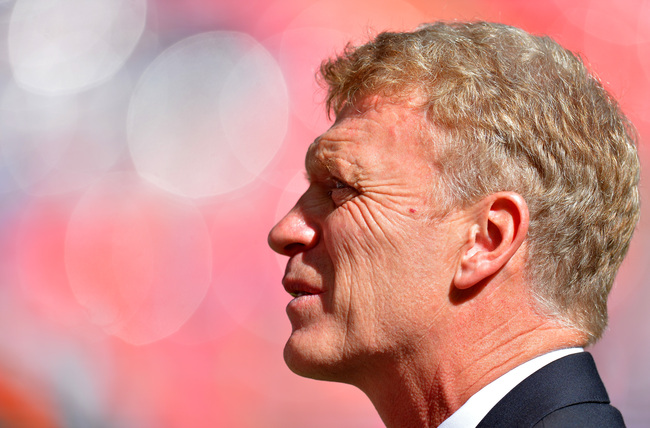 Mike Hewitt/Getty Images
In a way, David Moyes' appointment at Manchester United has created a nervous energy at the club.
Sure, Sir Alex will be missed, but the club is entering a new era. There is a great section of United fans who have never seen another man coach their favourite club.
He will bring his own ideas to the table and ask certain players to step outside their comfort zone.
This should excite the squad, rather than alienate them.
Sir Alex will never be forgotten at Old Trafford, but now is the time to embrace the new, rather than mourn for the old regime.
Defensive Improvement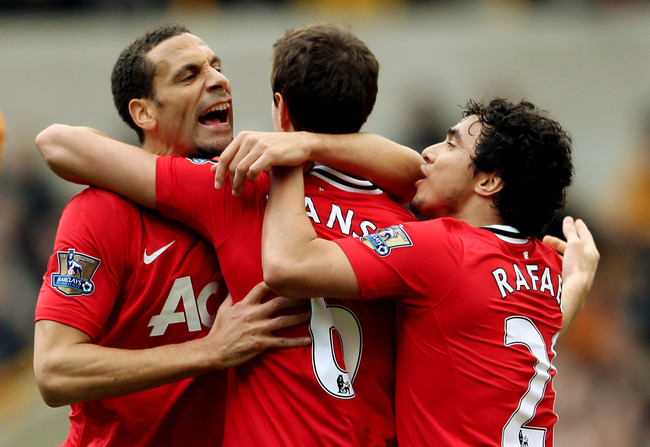 Scott Heavey/Getty Images
For all of United's domestic dominance last term, the side's defensive failings in the first half of the season were forgotten.
Goals were shipped at an alarming rate. Even Reading managed to put three past the Red Devils at one point.
For all David Moyes brings to the table as a manager, his ability to develop a reliable, tactically sound defensive structure is the most significant.
Rio Ferdinand and Nemanja Vidic remain world-class players. Moyes will get the best out of them with the likes of Phil Jones, Chris Smalling and Jonny Evans waiting in the wings.
Don't expect the team to concede over 40 goals in the Premier League again.
Keep Reading

Manchester United: Like this team?