Are Chicago Bulls Really Championship Contenders?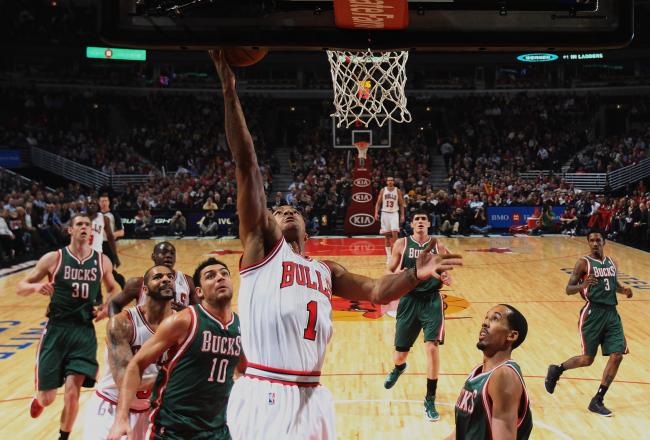 Jonathan Daniel/Getty Images
Are the Chicago Bulls truly championship contenders? There seems to be some controversy over that question.
If you're listening to the betting public, then it would seem they are. VegasInsider.com has them listed as having the third best chance of winning. If you listen to Chris Sheridan, they are only the 10th best team in the league, and they need to overhaul their roster to add Pau Gasol if they want to win.
As of now, most of the experts haven't established their favorites or predictions yet, but overall, I get the sense from radio and TV that they are expected to be competitive with the Indiana Pacers and Brooklyn Nets for second in the Eastern Conference and to win around 55 games.
Since Tom Thibodeau has become the head coach of the Bulls, the team has consistently exceeded expectations, at least in the regular season. In the 2010-11 season, a panel of ESPN experts predicted the Bulls would win 50 games. They won 62.
In the strike-shortened 2011-12 season, the panel predicted the Bulls would win 48 games, and they won 50, in spite of the injury woes starting with Derrick Rose.
Last season, they were expected to make a late charge after Rose returned and win 45 games. They won that many, but without Rose returning, and with the rest of the rotation combining to miss 113 games. They met expectations, but under those conditions, meeting expectations meant exceeding them.
The Bulls have been underrated in recent history, so there's a decent chance they are being sold short again. They will win over 60 games, and they will be a contender for the championship if three things happen: They need to remain healthy, Jimmy Butler must take the next step to stardom and Derrick Rose has to return to MVP form.
If all that happens, they shouldn't just be contenders, they should be favorites. If you're a Bulls fan, the good news is they should.
Staying Healthy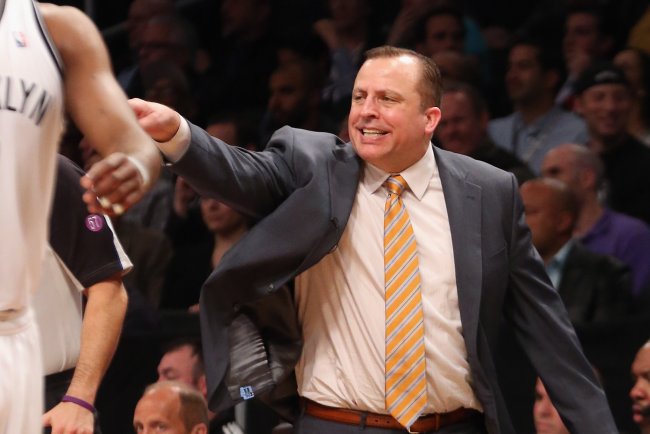 Bruce Bennett/Getty Images
To say that the Bulls have had injury issues over the last three years is so obvious that it doesn't need a simile, it should be a simile. "I need another parking ticket like the Bulls need another injury!"
In the last three seasons combined, they've had their preferred starting lineup actually start just 44 out of 230 games, and they've been without two or more starters 78 times.
There has been an assortment of reasons for this. Bad luck causes some of the injuries (Carlos Boozer tripping over his gym bag), just ordinary basketball causes others (Derrick Rose hurting his ankle when Anthony dove for the ball) and some are a result of surplus minutes (Luol Deng playing 48 minutes on a bad hamstring).
I address that discussion in detail here, but in sum, it seems there is a cyclical effect.
The more players play, the more they get hurt, and the more they get hurt, the more the other players have to play.
Thibodeau, right now, may possess the deepest bench he's had yet (at least at the front part of it). Newly acquired Mike Dunleavy is the most complete sixth-man candidate of the Bulls' present era. He's a better ball-handler than many credit him for being, an underrated passer and an outstanding shooter. He's also a better team defender than Maco Belinelli or Kyle Korver.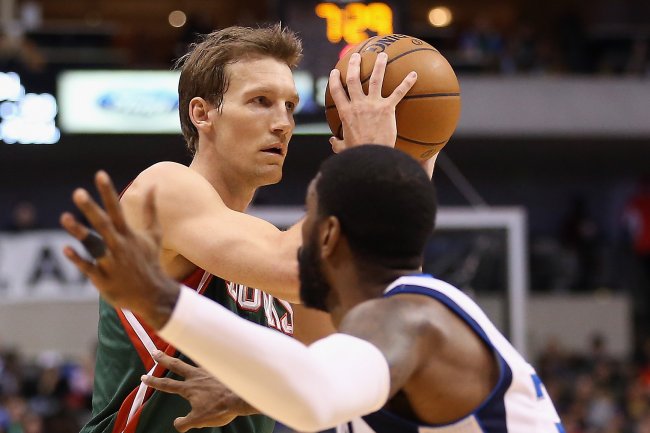 Ronald Martinez/Getty Images
Most importantly, Tom Thibodeau loves the signing. The key to the Bulls not running into colossal injury issues is going to be Thibodeau playing his rotation from the start, and that depends on him trusting his players.
Taj Gibson, one of the league's elite defenders, has been a staple on the Bulls bench the last three years, and his advanced stats are some of the best in the league.
Kirk Hinrich is able to hit the three and run the offense semi-effectively. He plays solid defense by giving tremendous effort.
They have a developing player in Marquis Teague, who showed much more in this year's Summer League than last year, averaging 18 points and five assists.
They have Nazr Mohammed, whose biggest contribution may be just logging meaningful minutes. He averaged almost six points and rebounds each in 20 minutes over the last 22 games of the season last year. He should see more playing time, having learned the system and earned the trust of Thibodeau a little bit more.
Having a deep and trustworthy bench for Thibodeau to turn to should help the Bulls keep the injury rate down.
The good news is that when the Bulls have been healthy, they've been almost unbeatable. In games where they've had Rose, Deng, Boozer and Noah, they've gone 50-9, a rate which would translate to 69 wins if they could stay healthy.
That doesn't mean they are guaranteed to win 69 games, but it does make 55 look pretty short-sighted. Winning in the neighborhood of 63 is a reasonable projection. After all, it's just one more win than they had in 2011, with a slew of injuries to Noah and Boozer.
Jimmy Butler Taking the Next Step
Can the Bulls get past the Miami Heat and go on to win the NBA Championship? I'll answer that question with a question. Is Jimmy Butler better than Keith Bogans?
Butler is starting to steal some of the thunder from Rose's return. His breakout performance the second half of the season, his highlight-reel, dinosaur-slaying dunks and his feel-good story make him an easy player to like.
The buzz is that he's working hard to get even better so he can fulfill his promise as the Bulls next starting shooting guard. In that role last season, he averaged 14.5 points, 6.4 rebounds, 2.9 assists and 1.9 steals a game, although he took 42.4 minutes a game to do all that.
Adjusting those numbers to a more reasonable 36 minutes would give him 12.3 points, 5.4 boards, 2.5 assists and 1.6 steals. Even if we round those numbers down to 12, five and two, that's a significant improvement over what Rose has gotten from his starting shooting guard in the past.
The closest anyone came was Richard Hamilton, who averaged 11.6 points, 2.4 rebounds and 3.0 assists in the 2012-13 season. The Bulls were 15-2 in games Hamilton started with the other four starters. That translates to 72 wins in a season. Of course, the Bulls aren't going to win 72, but it bodes well for hitting the 63-win mark if they can get the same production from the much more durable Butler.
After all, this is a core that won 62 games with Keith Bogans as the starting shooting guard, and (get ready for the least controversial phrase ever typed in the history of the Internet), Jimmy Butler is better than Keith Bogans.
Finding his three-point shot last year was huge. He shot .528 from deep as the starting shooting guard. He shot .475 after the All-Star break. If you want to dismiss that as just a hot streak, his 38 percent on the season is a respectable number.
Furthermore, as I detail here, the Bulls are 61-13 in games Rose starts and they get just one three point shot from their starting shooting guard. That translates to a 68-win season. In games where they got just two, the Bulls were 27-2. That translates to 76 wins.
There's a basketball reason behind that record. Rose's drives open up three point shots for his shooters because defenders collapse in on him. Correspondingly, when his shooters make those shots, it forces defenders to step out and guard them, which stretches the court for Rose.
The hidden thing about Butler's emergence is that his role in the offense didn't change. His usage percentage after he was made the starter was 15.3 percent, barely over his season rate of 14.6 percent. In fact, on the season, he was last on the team in usage (yes, even behind Vladimir Radmanovic).
That's much closer to Bogans in 2011 (11.4 percent) than Hamilton in 2012 (24.5 percent). The relevance of this is that it points to a high likelihood of Butler being able to maintain, or even improve on his splits as a starter from last season. There is much more room for him to develop offensively.
There are a lot of optimistic predictions for Butler, but he doesn't need to be the next Paul George or Scottie Pippen to help the Bulls win a title. He just needs to be the first Jimmy Butler. If he gives his normally spectacular defense, 12 points, six boards and a couple of assists per game, the Bulls will be tough to beat.
If he gives more than that, they'll be almost invincible.
Derrick Rose Needs to Be Back to MVP Form
Since he last played, Rose has lost his MVP award, dropped out of the top-10 players in the league and is no longer even a top-five point guard. Well you'd think so anyway, the way that conversation has gone.
Rose isn't merely going to be back; he might be better than ever—particularly as the season goes along. He's going to be playing with a sizable chip on his shoulder, and he's better playing with a chip. (Bumper sticker idea: The chip means a 'ship!)
He should be in the MVP hunt again, and there are specific reasons why.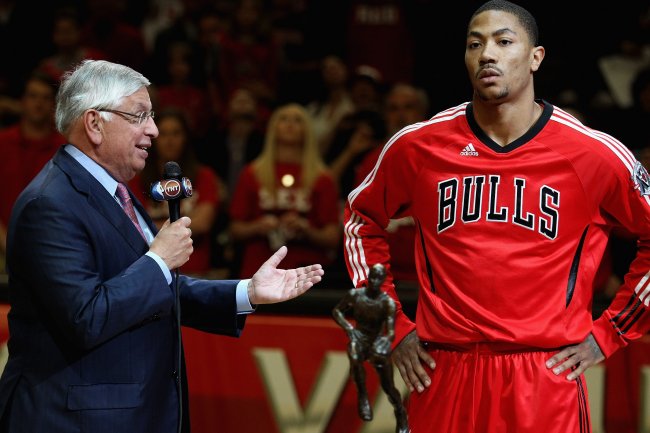 Jonathan Daniel/Getty Images
First, physically, there's nothing to be concerned about. He hasn't had any setbacks in his recovery, and there's a consensus between his doctors, his coach and himself that he is ready to play. Those who have seen him in practice have been universally impressed with what he's doing.
This is crucial to understand if we want to project the Bulls true chances of winning a championship. You'll often hear, "He might say he's 100 percent, but he has to prove it on the court first!" which is pure sophistry.
Either he is or isn't 100 percent. He doesn't need to prove it to be it; he needs to be it to prove it. This distinction is more than some anal fixation on the correct sequence of cart and horse. It's relevant.
While practice doesn't mean "everything," it's selling it short to say it doesn't mean "anything."
It's also not as though Rose is a prospect wowing scouts with a workout. He's a former MVP entering the prime of his career. He's already shown he can play when he's healthy. All he needs to show in practice is that he's healthy enough to play.
Do his practices make it an empirical fact that he's going to be the same? No, but it makes for a reasonable conclusion. And reasonable is the best you can have when forecasting something.
It will take time to shake off the rust, but he'll have plenty of time to do that before the postseason starts. He should also be able to get back into rhythm more quickly as a result of his extended recovery time.
Second, he's honed his two biggest weaknesses while he's been out. Most players don't have the opportunity to get better while injured.
He worked on his jump shot. One unnamed Bulls' official said he has improved it "significantly," according to Gary Woelfel of Racine Sports Zone. According to Marc Spears of Yahoo!, Rose has more confidence in his three-point shot.
In 2012, he shot just .357 on his jump shots. In his MVP season, he shot just .359. He's been hitting just under a third of his three-pointers over the same span.
By raising those averages to a reasonable level of .400 overall and .360 from deep (Courtney Lee territory by comparison), he would add 1.1 points per game to his scoring average, assuming the same number of jump shots.
His other weakness has been an over-reliance on his physical prowess, forcing shots instead of trusting his teammates. He showed some progress in that area during his intermittent performances in 2012. Then last year he spent a lot of time watching film and learning, according to Joe Cowley of the Chicago Sun-Times.
That means there's a reasonable chance that his assist numbers should go up, especially when you consider he's also passing to Butler instead of Bogans.
Rose averaged about 25 points and 7.8 assists his MVP season. Keeping the same scoring numbers and adding two assists is not impossible.
Rose has a genuine chance to reach 25 points and 10 assists this year. That seems like a ridiculous projection, but that's because that's how ridiculous Rose's talent is. Remember he already almost hit those numbers, with Keith Bogans as his starting shooting guard. It's only two assists more than in his MVP season.
If his improved IQ just means one assist a game, and having Butler means just one more, that's two per game. I repeat, 25 and 10 is a real possibility.
If he does that, not only is it possible that he could return to his MVP form, it's possible he will win his second MVP.
Compound-Versatility
The Bulls have a number of players who can play multiple positions. In fact, Teague is probably the only one-position player they have. Here's a table detailing the height of all the different players, and the positions they play.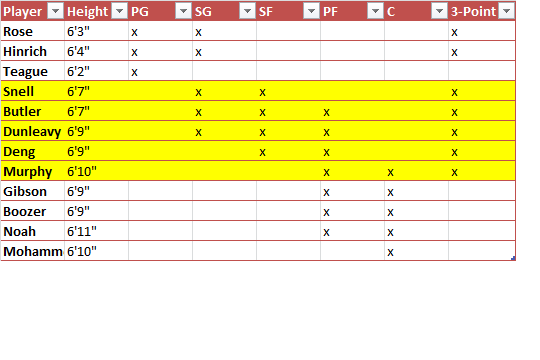 Focus on the highlighted portion. The Bulls have five players who are at least 6'7" and can hit a three-point shot. That's a massive difference from last season, particularly when you consider that Deng will finally have a healthy wrist and thumb.
The best way to effectively stretch a court is with the assisted three point shot. Teams that do that make defenses run, and run a lot.
Last season, their best three-point shooter was Nate Robinson, with 141. He was also their main shot creator. Marco Belinelli made 79, Deng, 75, and Hinrich, 71. According to Hoop Data, about 20 of Belinelli's and 10 of Hinrich's were unassisted. That means about half the three-point shots the Bulls made last year were from the primary ball-handler on the play, and they were already the second-worst team in hitting the three.
The Bulls' offense struggled stretching courts last year, but this year that changes.
Running a lineup with Rose, Butler, Dunleavy, Deng and Noah, the Bulls can stretch a court. Some would call that going small, but in reality, it's still long. Rose, big for a point guard, would be by far the smallest player in the lineup.
How many games will the Bulls win in 2013-14?
The Bulls have a great conventional starting five, but they can also go small now. That's the Bulls' versatility, and it's important that they can throw that kind of sharp-shooting, catch-and-shoot lineup out there.
In games from 2011-12 that Rose played, when they made just seven three-pointers (slightly below last year's league average, 7.1), they were 44-6. That works out to a 72-win season.
Again, I don't assume they're going to win that many games, based on that, but it suggests 55 wins might be a tad too pessimistic. Their versatility suggests they should win over 60 games.
The Bulls don't just have ordinary versatility either; they have "compound-versatility," a term I made up to describe what they have, because it is so unique.
When other teams go small, they actually have to go small, meaning they give up a size advantage somewhere else on the court. They're running with a 6'7" power forward, or a center that's not a true center. They do that so they create a mismatch, but they also give a mismatch on the other end.
They're saying, "we can do more with our mismatch than you can with yours."
The beauty of the Bulls "compound-versatility" is that they can go "small" without actually being small. In fact, they can go small without giving up any of the advantages of being big on the other end of the court.
Butler and Deng both defend larger players extremely well. Dunleavy plays intelligent and sound team defense. Noah is a perennial candidate for Defensive Player of the Year. Taj Gibson is an elite defender.
Derrick Rose is a vastly underrated one whose Synergy numbers are as good as Rajon Rondo's. Tony Snell, the Bulls first-round pick, is coming in with a reputation as a ball hawk.
The striking thing about the Bulls roster is they have so many players who can play and defend multiple positions. It will be difficult to create a mismatch against them, but it will be easy for them to create a mismatch against almost anyone.
You can always bank on the Bulls being an elite defensive team, but this year they also can be an elite offensive team.
With their improved depth, they are a complete team, so Thibodeau isn't likely to lean on the starters as hard as he has in the past. Jimmy Butler should continue to improve. And Derrick Rose will be coming back with a chip on his shoulder.
Any one of those things would be enough to make them a threat to win 60 and be legitimate contenders, but all of them combined should make them more than that.
The Bulls aren't just contenders this year; they should be favorites. They'll have the best defense they've had in the Thibodeau era, and they'll also have one of the three most efficient offenses in the league.
The Bulls have scrapped and won and struggled and lost. They've been injured and healed, hoped and been heart-broken. They've been through the wringer together. The core has endured. This is the year it all comes together. Look for them to win 65 and the title.
This article is
What is the duplicate article?
Why is this article offensive?
Where is this article plagiarized from?
Why is this article poorly edited?

Chicago Bulls: Like this team?