Winners and Losers of NASCAR Sprint Cup Series at Pocono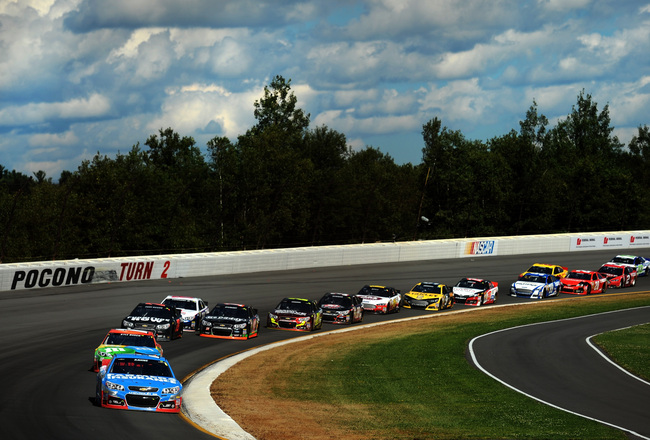 Kasey Kahne proved to be the biggest winner of NASCAR's return trip to Pennsylvania.
Jared C. Tilton/Getty Images
The face of Sunday's NASCAR Sprint Cup Series race at Pocono Raceway changed completely with the caution on Lap 78.
Until then, it was Jimmie Johnson's race to lose. He walloped the wall after suffering a flat tire exiting Turn 1, necessitating heavy repair on pit road. Suddenly, the race was thrown into tumult and Johnson tossed into our "Losers" list.
It gave Kasey Kahne his shot to win and the rest of the field a feeling of hope where beleaguered doubt had previously stood. And it ultimately changed the course of the race for many, both good and bad. Here are this week's winners and losers.
Loser: Jimmie Johnson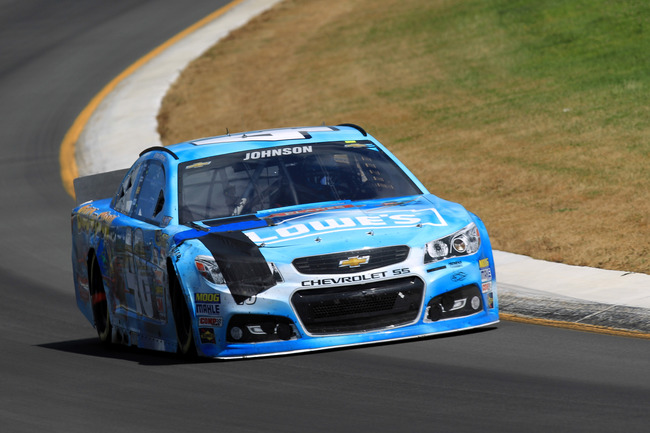 Jimmie Johnson had two setbacks in Sunday's race.
Matthew O'Haren-USA TODAY Sports
There really appeared to be no doubt that Jimmie Johnson was capable of notching his fifth win of the 2013 season and taking the season sweep of Pocono Raceway on Sunday. Then, his tire blew. But that wasn't his only dose of bad luck.
Through the dynamic guidance of crew chief Chad Knaus and the afforded time of caution laps at Pocono, Johnson managed to stay on the lead lap as the car was repaired to a state resembling the one that had led 43 of the race's early laps. He returned to the race, however, and couldn't find the speed he had before the Turn 1 incident. For a while, it seemed the impact just had taken the performance from his car.
But his team did some more troubleshooting during the race's final throes and found that the crash had knocked a spark plug wire from his engine. That meant he had been trying to stage a comeback on an engine with just seven of eight cylinders firing.
Johnson, mired previously around 25th in the running order, suddenly found speed. He finished 13th and had to wonder what might have been.
Winner: Kasey Kahne's Hero Moves
There's little doubt that winning is a pretty good way of making the good side of this list. The way Kasey Kahne won Sunday's race guaranteed it.
Kahne, second on the race's final restart after getting beat himself on the previous one by teammate Jeff Gordon, made an improbable and impeccable pair of moves to pass his Hendrick Motorsports shopmate with just two laps to go.
Kahne rallied from a bad jump at the green flag to get alongside Gordon in Turn 1 in a move that hardly looked like it would stick. Then, with the outside position and a flick of the steering wheel to the left to put Gordon in a tough spot entering the narrow and extremely fast Turn 2, Kahne took sole possession of first and drove off into the Pocono afternoon to easily score the checkered flag.
It was deflating for Jeff Gordon. It was astonishing for Kahne. And it was one heck of an ending.
Loser: Danica Patrick's NASCAR Reputation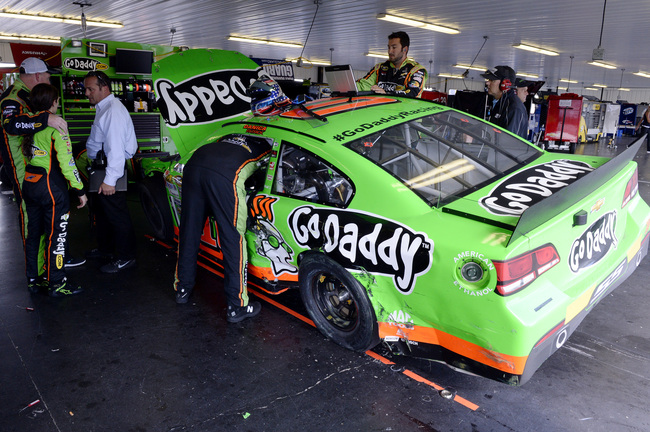 Danica Patrick started a multi-car wreck on Lap 110.
John Harrelson/Getty Images
There's little doubt that Danica Patrick has received more scrutiny than is really necessary in her rookie Sprint Cup season. But on the same token, Patrick's level of notoriety and too-fast succession to the sport's highest ranks has been a certain cause for the criticism.
She didn't help herself on Sunday when she lost control underneath Travis Kvapil's car and triggered a multicar wreck in Turn 2. The crash basically ruined the races of Kvapil, Patrick, Jeff Burton and Paul Menard.
Patrick was plenty honest in her post-crash assessment that the incident was her fault. In fact, she handled the thorny interview situation well. But the wreck was the third major one she's caused in three races.
That's not a trend that can continue, even if she's a blame-taking rookie. The stakes in the sport are just too high.
Winner: Kurt Busch's Finishing Ability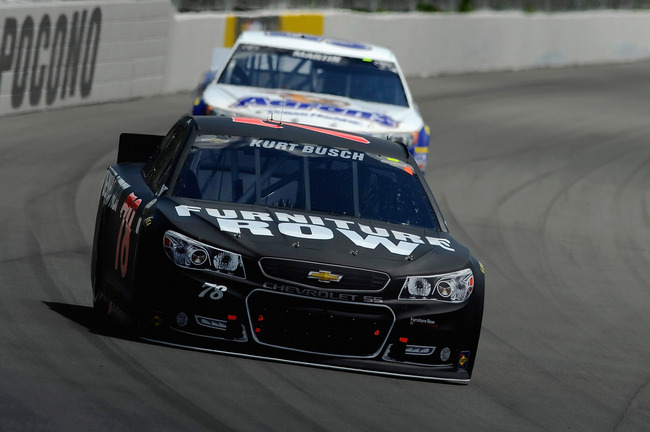 Kurt Busch got the complete race he's been looking for from his team.
Jared C. Tilton/Getty Images
The level of performance turned in by Kurt Busch in his first full season with Furniture Row Racing was at first impressive considering where his new team had once been among NASCAR's competitive ladder. But as the season has progressed, Busch has become a mainstay near the front.
Finishing there, however, has been the thorn in the team's side. Sunday at Pocono, it finally wasn't.
Busch played a central role in the final restart when a bump from behind helped propel Kahne past Gordon on the restart. Busch wanted to win, sure, but he also was pleased by that point because his team had played the right strategy, performed workable pit stops and stayed current with the car's handling needs.
The result was a third-place finish, tying for Busch's best of the season.
Loser: Goodyear Tires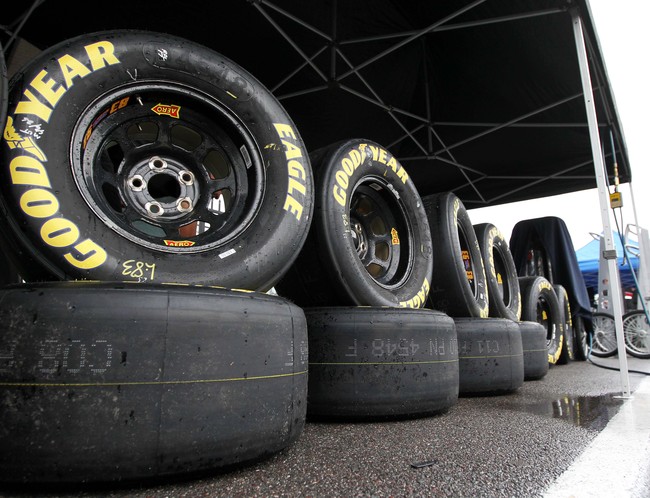 Sunday's race at Pocono featured several tire failures.
Matthew O'Haren-USA TODAY Sports
There hasn't been a reason or common theme for why a list of drivers suffered tire failures during the second NASCAR visit to Pocono Raceway in 2013. Regardless, they were numerous and a factor in Sunday's race.
Most notable among the list was Jimmie Johnson's tire failure that sent his No. 48 into the Turn 1 wall as he led Sunday's race. But he was joined by David Gilliland, David Stremme and Aric Almirola. Gilliland blew a tire and whacked the Turn 2 wall. Stremme lost a tire along the fronstretch and hit the Turn 1 wall. Almirola appeared to cut his left-rear tire and looped the car in Turn 3.
Goodyear did, however, announce that it was taking the remains of Johnson's blown out tire back to a lab at its Akron, Ohio headquarters for further examination.
Winner: Hendrick Motorsports
Sunday was another stout effort for Hendrick Motorsports.
Will Schneekloth/Getty Images
Kasey Kahne? He finished things with a celebratory burnout. Jeff Gordon? Dejected, but still second. Dale Earnhardt Jr.? Fifth for his first top-five finish since the first Pocono visit in June. And Jimmie Johnson? He wrapped up 13th despite a blown tire and a comeback stunted by an unplugged spark plug wire.
Sunday marked the second straight week of great finishes for a Hendrick Motorsports team that suddenly is much more than Jimmie Johnson and three supporting band members. All four cars were seventh or better at Indianapolis last week.
Just imagine "what could have been" had Johnson not cut the tire during Sunday's race.
Loser: Juan Pablo Montoya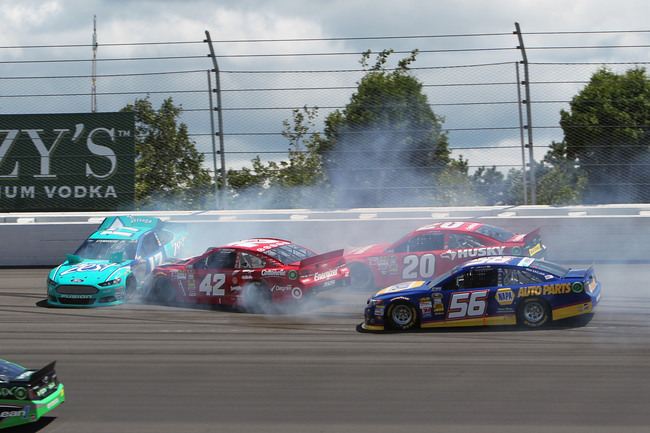 Juan Pablo Montoya caused a first-lap crash at Pocono.
Matthew O'Haren-USA TODAY Sports
Ricky Stenhouse Jr. wasn't having a great weekend at Pocono Raceway. Juan Pablo Montoya didn't make it any better.
It was the first lap and the first corner when Montoya dove into the corner aggressively underneath Stenhouse. The red No. 42 wiggled, washed up the track and caught Stenhouse's No. 17. They both made heavy contact with the wall.
It was a reminder Montoya's ever-aggressive ways (and in the current era of NASCAR where track position is often a trump card over speed, it's hard to blame him) and also a setback for a driver who really should be a regular Chase contender. Montoya wasted a start on a track where he's fared modestly before and now stands 23rd in the point standings. He still lacks a contract for 2014.
Winner: Pocono Race Experience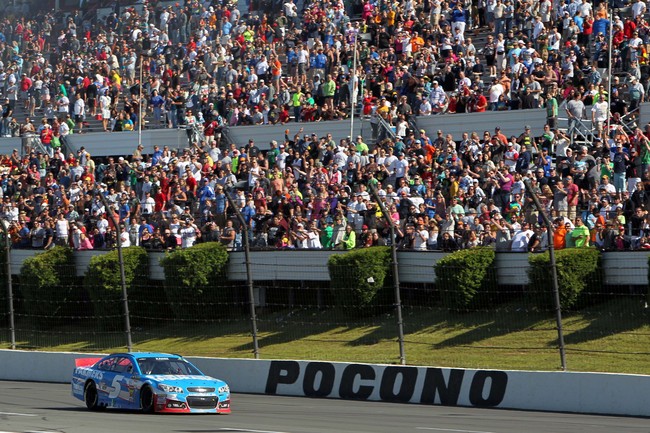 Kasey Kahne celebrates in front of a good-sized Pocono crowd.
Matthew O'Haren-USA TODAY Sports
Last season was the first for Pocono Raceway to shorten both of its summertime Sprint Cup events by 100 miles, from 500 miles to 400. The move was twofold: It enabled the race to fit better in a television window, and many fans and competitors had long complained that the 500-mile race around the 2.5-mile track was just simply too long.
With the change, Pocono hoped a sense of urgency during the race's middle parts would spur excitement, drama and just generally improve the show for fans in person and on TV. But it came at a risk: Would fans sour to the idea that a race was shorter and ultimately less of a product than they were used to?
Sunday's crowd at Pocono shunned that idea as the track's large frontstretch grandstand looked plenty full. And then Sunday's race provided plenty of early, middle and late drama to keep fans in every place entertained. The 400 miles seems to work pretty well at the rural Pennsylvania speedway.
Loser: Denny Hamlin's 2013 Season
Denny Hamlin had aspirations of returning from his crushing early season back injury to make an unprecedented run back to contention for the Chase for the Sprint Cup. It was a noble idea that was certainly possible, but the progress he needed just never came together.
Another poor finish reared its ugly head Sunday for Hamlin when he brought out the race's second caution with a spin in Turn 3 that crashed his car against the outside wall. Hamlin finished 43rd, and several aspects his race car's performance just weren't on par.
Now 25th in the point standings, the season is basically a loss for Hamlin unless he goes on a terrific tear in the final weeks before the Chase. The performance of his No. 11, though, appears to make that impossible.
Keep Reading