This weekend, Jake White's Brumbies travel to Waikato with a favourable shot at redemption as they look to prevent the Chiefs from winning back-to-back Super Rugby silverware.
Last season saw the Canberra franchise miss out on the playoffs by just a single point as South African clubs claimed three places in the postseason fixtures to Australia's solitary spot.
This campaign ran a slightly different course, however. White's side look far superior to that of a year ago, even with the notable absence of the mercurial David Pocock.
Managing to obtain a third-place finish in the table, this term saw the Brumbies impress in a way not seen by their fans for some time, unluckily missing out on a top-two placement.
Such is the impact made by White, who led South Africa to the World Cup in 2007. Upon taking over the side in 2011, the Brumbies had just come off the back of their worst Super Rugby campaign: to imagine that two years later the same side would be in the Grand Final of the competition seemed laughable.
However, White has replenished his outfit with a certain sense of belief, one lacking since their title successes in 2001 and 2004 and three unsuccessful final appearances around the same time.
It's exactly that feeling within the squad which Clyde Rathbone tweeted about following last weekend's major victory:
Can't remember being more proud of a rugby team. Huge heart & belief in this group. 1 more to go! pic.twitter.com/pOJMDJRIzE

— Clyde Rathbone (@ClydeRathbone) July 28, 2013
There are not many question marks hanging over the standard of the visitors' squad. Packed to the rafters with international quality, the Brumbies back-row is particularly strong.
George Smith, Ben Mowen and Peter Kimlin are about as fierce a threesome as you can find in Super Rugby and will be a tough unit to overcome at the breakdown.
Can the Brumbies pull off an underdog win this weekend?
Factor in the talents of Christian Lealiifano, Joe Tomane, Stephen Moore, Jesse Mogg and other Wallaby stars and the gap between them and the Chiefs begins to seem minimal.
In his coaching staff, White has recruited Stephen Larkham and Laurie Fisher, both of whom were part of the franchise (in different capacities) around that time of storming success.
The Australians will now look to defy the odds against their New Zealand counterparts, who only finished six points ahead of the Brumbies in the regular season.
Beating the Bulls in last-minute fashion last week showed the resilience the Brumbies possess as a team, something they'll need to recall this weekend if they're to pull another underdog upset out of the bag.
This fixture is somewhat of an unknown. The sides did not meet in this regular season—March 2012 was their last encounter. On that occasion, it was the Chiefs who emerged as victors before going on to secure the Super Rugby title months later.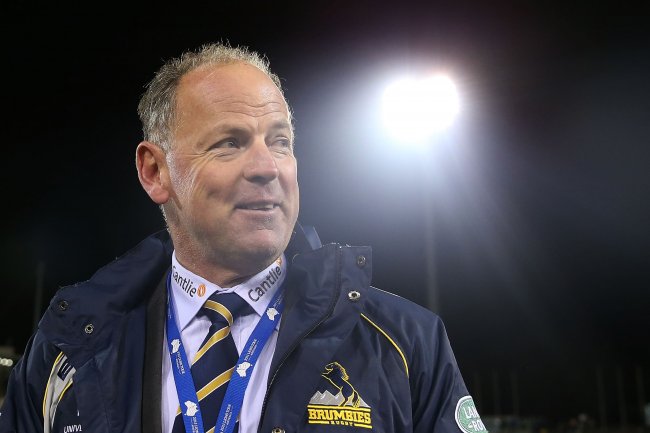 Mark Metcalfe/Getty Images
Coincidentally enough, the last three British and Irish Lions hosts have all won the Super Rugby title of that season, per Fox Sports' Iain Payten: Bulls (2009), Crusaders (2005), Brumbies (2001). Twelve years later and the Brumbies will hope to keep that particular tradition alive against the tournament favourites.
There's no question that White and his men have an uphill struggle on their hands—but last week's meeting in Pretoria shows what this Brumbies side have in their locker when it comes to overcoming the odds.