WWE Summerslam 2013: 6 Feuds That Must Deliver for PPV to Be a Success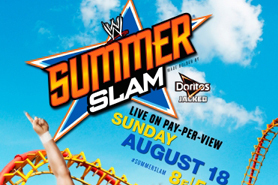 Photo courtesy of WWE.com
SummerSlam 2013 is picking up a lot of steam already, but that doesn't mean WWE's "Biggest Party of the Summer" is on an infallible track.
If a few things go wrong, the whole pay-per-view could end up being a dud.
Whether it will or not rests on the shoulders of a few core storylines that the event is being built around.
These are the matches that will sell the tickets and be the true focal points that people are not only looking forward to, but will look back upon to judge the event's value.
Peripheral matches are important, but it is the following six feuds that will make or break the pay-per-view.
Begin Slideshow

»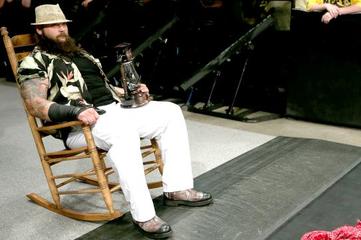 Photo courtesy of WWE.com
One of the biggest angles going into this event is the attack by the Wyatt Family on Kane.
We've seen him wrestle as Husky Harris, but with this new character, Bray Wyatt needs to have a strong outing to keep his momentum going.
So far, he has sat off on the sidelines a bit. Now, it's time for him to come to the forefront and impress even more than we've witnessed in the past few weeks.
If the first feud for Bray Wyatt doesn't deliver, not only will it hurt the SummerSlam event, it will also severely hurt his career's future itself.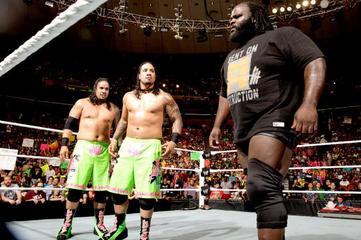 Photo courtesy of WWE.com
Since winning their respective titles, the three members of The Shield have taken a step back. Once one of the main focal points of Raw, the group has lost quite a bit of steam.
This cannot be any more the opposite when it comes to their opponents.
Mark Henry is riding a wave of popularity after his fake retirement speech and The Usos have more stock to their careers than ever before.
This feud is as simple as it possibly can get, with virtually no reason for The Shield's attack on Henry being fortified as the story's structure, but it's working based purely on the audience's interest in these people.
Despite this being a rather bland setup, the fans are nonetheless excited to see more.
SummerSlam needs to give these six men a chance to shine in some capacity or risk disappointing all those fans.
Once you put a sour taste in the mouth of a fan during a pay-per-view, you have to then fight an upward battle to win them back—which is what every event should strive to avoid.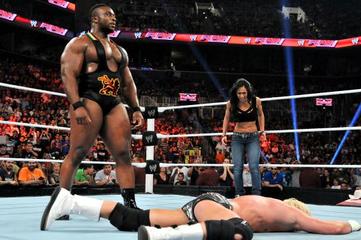 Photo courtesy of WWE.com
Dolph Ziggler cannot catch a break, but he desperately needs to at SummerSlam.
There have been multiple times in the past where Ziggler was in the midst of a push, only to find himself losing and starting from the drawing board.
Every time this happens, his spot in the main event is filled by someone else and his fans must wait several more months before he starts to make headway into taking that spot back.
This match will most likely fill a midcard slot, but by no means does that allow it to come off as a filler.
If this feud is not properly advanced before the event, it will seem as though it is an afterthought, hurting it's credibility to be on the card as well as Ziggler's credibility as a potential future world champion.
In order to maximize its potential, earn its spot on the card and not drag everything else down with it, Ziggler and Langston need to do their best to put on a great show.
Since Night of Champions is the pay-per-view that directly follows SummerSlam, the likelihood that these two will continue their feud until then is minimal outside of possibly some filler matches on Raw.
To make SummerSlam seem more important in retrospect, this match needs to be more than that.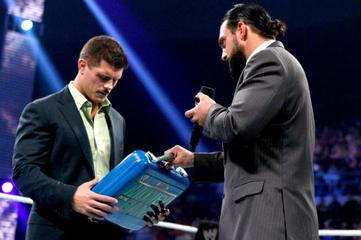 Photo courtesy of WWE.com
The reaction Cody Rhodes received at Money in the Bank should continue and boost SummerSlam's energy as well.
His feud with Damien Sandow showcases a match that fans haven't seen before in a method that fans have seen a million times: two friends splitting with one of them turning on the other.
SummerSlam's card would benefit extremely well from having these two pull out all the stops and prove why they are considered the future of WWE.
On top of this, if Sandow and Rhodes are booked early enough in the event, no matter which one walks out of the match holding the briefcase, it should bring a lot of attention to the looming threat of the Money in the Bank cash-in.
With Alberto Del Rio having no strong feud at the moment going into the event, the possibility of watching the blue case come into play may be the key to bringing some interest into the World Heavyweight Championship scene for SummerSlam.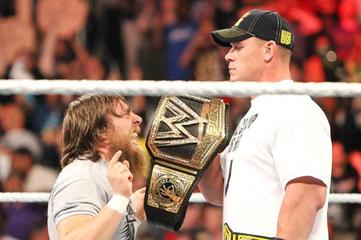 Photo courtesy of WWE.com
When something is served to you on a golden platter, it's tough to screw it up, but if WWE finds a way to do that with this match, it will ruin the entire pay-per-view for a large portion of fans.
The angle is already red hot, so the only aspects in question are the quality of the match and the way WWE books the story to go.
It appears as though most people are sold on ordering this event purely with the expectation in mind that Daniel Bryan will be winning the WWE Championship in one of the best matches of the year.
If this does happen, SummerSlam could be viewed in high praise similar to CM Punk's victory over John Cena at Money in the Bank 2011.
If this doesn't happen, the event could be considered a blundering disaster no matter what else happens for the remainder of the night.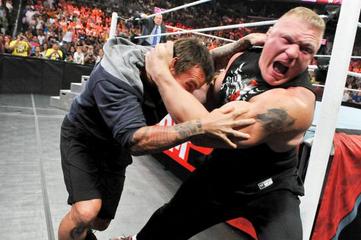 Photo courtesy of WWE.com
Whereas Daniel Bryan vs. John Cena is targeted towards one facet of the audience, this match exists for a different side of the crowd.
WWE no doubt is hoping to receive a lot of media coverage for this event because of this match, considering the popularity of both CM Punk and Brock Lesnar.
Imagine how the pay-per-view will look if this somehow winds up being as bad as Lesnar's match with Goldberg at WrestleMania XX?
In comparison, if this match delivers at the level that it should, it will be one of the two strongest anchor points to making this pay-per-view a triumphant venture.
Whether or not SummerSlam goes down in history as a success or failure rests on the shoulders of this match and the WWE Championship bout more than any others, but all of these feuds will have a hand to play in determining the quality of the show.
So far, everything is looking good, however, we will only know for sure what the end result is when its all said and done on August 18, 2013.
What do you think will happen? Are you confident that these matches will make the pay-per-view or do you think they will make it suffer?
Tell us your thoughts in the comments below!
Anthony Mango is the owner-operator of the wrestling website Smark Out Moment as well as the host of its YouTube podcast show Smack Talk. You can follow him on Facebook and elsewhere for more.