The Beaten Path: MMA Prospects Who Have Advanced Most in 2013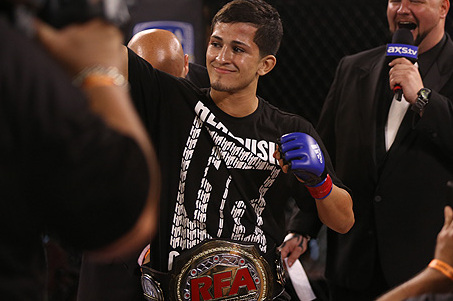 Flyweight Sergio Pettis defeated Dillard Pegg in June to win the inaugural RFA flyweight title (Photo credit: Dave Mandel/Sherdog)
MMA prospecting is a fun, rewarding and relatively low-risk hobby. You put your metaphorical money on your metaphorical horse and hope it all pans out in your favor.
This slideshow from The Beaten Path prospect series here at Bleacher Report is going to do something a little different. Of all the various prospects in the starting gates at the beginning of 2013, who has moved the furthest ahead here at the halfway mark?
Here's a list of the year's top performer in each weight class. Remember: These aren't necessarily the best or most promising prospects in each division, but rather are those who have done the most to advance their resume in the first half of 2013.
Think of them as the biggest chart-movers on the prospect scene this year.
Begin Slideshow

»
Promotion: Resurrection Fighting Alliance
Age: 19
Record in 2013: 2-0
A late-breaking curveball couldn't confound Sergio Pettis in his first career title fight. On June 12, Jeff Curran pulled out of RFA's first-ever flyweight title fight. That's nine whole days' notice.
That's not a lot of notice. In steps Dillard Pegg, a lesser competitor to be sure but one who offered a more polished stand-up game than Curran. Pettis won by first-round knockout to get his first belt and a whole lot of UFC rumors. He has said before—in an interview with The Beaten Path, thank you so very much—that he's comfortable for now in RFA. And at age 19, that's a reasonable stance.
Promotion: Pacific Xtreme Combat
Age: 22
Record in 2013: 2-0
Anyone who thinks a grappling-heavy game plan is boring should take in the stylings of Michinori Tanaka. Once the judoka has you where he wants you, he goes about efficiently erasing the boundaries between his being and yours.
He's not exactly well rounded at this point and thus is probably not ready for the big shows, but he does know how to take care of someone with a contradictory skill set. That's evidenced by his May win over hard-striking Crisanto Pitpitunge, which netted Tanaka the PXC belt.
This video shows him at work in his other 2013 fight, a second-round chokeout of Caleb Vallotton.
Promotion: UFC
Age: 25
Record in 2013: 1-0
This might have been the easiest call on the slideshow. Conor McGregor, the extremely brash, extremely likable and extremely talented Irish phenom, dispatched Marcus Brimage in the very first round of his UFC debut, garnering Knockout of the Night honors in the process.
On New Year's Eve, McGregor defeated Ivan Buchinger (see video) in the Cage Warriors promotion to become a two-division champ under its banner. That may have happened after midnight local time, so maybe that counts, as well. Either way—pretty good.
Promotion: Bellator
Age: 24
Record in 2013: 3-0
Edging out Nick Newell and Khabib Nurmagomedov is Bellator's David Rickels, who is 3-0 so far in 2013 and is Bellator's newest lightweight tournament champion.
No one thought a great deal of Rickels when the tournament started or, for that matter, as the tournament progressed. Saad Awad captured plenty of attention for his violent, swarming knockouts and became a dark horse on a lot of scorecards.
In the finals, Awad was handling Rickels early, but "Caveman" showed toughness and came on as Awad began to flag. A heavy TKO came at the same moment the second-round horn sounded, and Rickels received a controversial (but, to me, fairly clear) TKO victory.
That's how you're gonna beat 'em, Caveman. People just keep underestimating you.
In this video, Rickels finishes Jordan Smith in 2012.
Promotion: Cage Warriors
Age: 25
Record in 2013: 2-0
Cathal Pendred greatly advanced his position this year by capturing and then defending the Cage Warriors title. In the defense, he used a characteristic combination of clinch work and ground-and-pound to stifle UFC veteran Che Mills, who was ultimately forced to stop because of an injury.
Pendred suffered some disappointment when the UFC failed to sign him for its first card on UFC on Fox Sports 1, scheduled for August in Pendred's birthplace of Boston. Here's hoping they bring over the talented Pendred at some point, as he has shown he's ready to face, and beat, UFC talent.
Promotion: King of the Cage
Age: 21
Record in 2013: 2-0
Sean Strickland is one of the most exciting prospects anywhere in the middleweight division. So far this year he has twice defended his KOTC belt: first by first-round knockout and then with a unanimous decision over Yusuke Sakashita in the Philippines.
Strickland is now 12-0 as a pro. He's mainly a striker but is well rounded and has deadly ground-and-pound. It would be no surprise at all to see a big promotion snap up Strickland in the coming months.
Promotion: Bellator
Age: 29
Record in 2013: 3-0
With apologies to Ilir Latifi, Emanuel Newton definitely did the most of any light heavyweight prospect to raise his profile in the first half of 2013.
First, of course, came that spinning backfist knockout on Muhammed Lawal. But then he finished the job and the underdog story when he outlasted Mikhail Zayats to win the season's light heavyweight tourney. Now he gets a shot at champion Attila Vegh, who defeated Newton by controversial decision in July 2012.
Here's a shot of the spinning backfist that started Newton's run to the top of the Bellator heap.
Promotion: UFC
Age: 28
Record in 2013: 1-0
He has only fought once this year, but he made it count, knocking out Ricky Shivers at Legacy Fighting Championship 18. It ran his unbeaten streak to six (including a knockout of fellow up-and-comer Jared Rosholt) and earned him a call from the Zuffa offices.
He's now set to face Strikeforce alum Nandor Guelmino in August.