The Washington Redskins exploded on to the scene in 2012, led to the playoffs by rookie sensation Robert Griffin III. Griffin may have been most notable addition, but Garcon has also shown that he is one of the true difference makers on this team.
When Garcon played, the Redskins went 9-2, including their playoff loss. In both losses, the Redskins had the lead in the fourth quarter. And in both, Robert Griffin III left the game early due to injury.
In games where neither Griffin nor Garcon were injured, the Redskins are 7-0. We can't forget about the Ravens overtime comeback tag-teamed by Griffin and Kirk Cousins, or the Cleveland victory engineered by Cousins.
Robert Griffin III came into the league with what some would say were above average expectations. A first impression can last a lifetime.
How did Robert introduce himself?
Garcon was the target for Griffin on his first pass, his second pass and his third. The next drive, Garcon took a high pass and raced 88-yards to the end zone for Griffin's first touchdown throw.
The bond was instantly noticeable.
That touchdown play is a perfect symbol for the 2012 season. It started with incredible excitement and success, and in the end Griffin is lying on the ground, but the Redskins have their fingers pointed to the sky.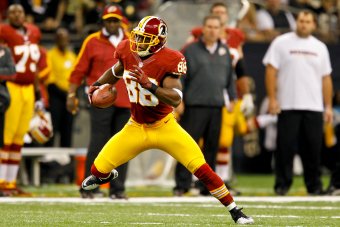 Derick E. Hingle-USA TODAY Sports
It is unfortunate that on that very play, Pierre Garcon suffered a torn ligament in his toe that limited his effectiveness for the rest of the season. Although he was able to play out the rest of the season after the bye week, Garcon never fully healed.
Garcon was unable to participate with the team in practice at the Redskins minicamp this June. The injury occurred on September 9, 2012. 10 months later, there's no clear indication as to whether or not Garcon will be able to begin practice with the rest of the team in just two weeks.
Opting to forgo toe surgery, Garcon decided to rely on his body to heal itself after doctors were unable to assure him that surgery would help it heal.
In a TV interview with NFL network, Garcon insists that he could play tomorrow if necessary. If we were talking about Griffin, would anyone be pushing to have him back on the field at anything less than 100 percent to start the season. Should Pierre Garcon be put in any more jeopardy than Robert Griffin?
How will Pierre Garcon perform next year?
Garcon claimed to have new shoes that would help him to recover and stay healthy. It was hard to tell how much of his response was honest and how much was just a pitch for Russell Athletic.
Regardless of whether or not Garcon is healthy enough to start the season, the real question is whether or not he can remain healthy enough to finish it.
Garcon has only played in all 16 games in one of his first five seasons in the league. Although Garcon has never suffered a major injury, the pressure is on to stay on the field and produce at a rate consistent with a No.1 receiver.
My fear is that Garcon, unlike Griffin, will play before he has fully recovered and reaggravate the torn ligament in his toe. Garcon has proven that when healthy, he can make game-breaking plays with the best of them. The next step for the young receiver is to provide consistency on the field.