The Boston Bruins are reportedly trading Tyler Seguin to the Dallas Stars, according to TSN's Darren Dreger. The Stars are sending Swedish winger Loui Eriksson to Boston in exchange for the 21-year-old starlet, with a number of other pieces involved.
Seguin, Peverly and Button to Stars. For Eriksson, J.Morrow R.Smith and Matt Fraser.

— Darren Dreger (@DarrenDreger) July 4, 2013
The Bruins reportedly shopped Seguin ahead of the NHL draft but pulled him off the market after Nathan Horton opted to test free agency. In a shocking turn of events, the second overall pick in the 2010 draft seems to remain available.
After leading the Bruins in both goals and points in his second NHL season, Seguin dropped off considerably this year. He totaled just 16 goals and 16 assists for 32 points in 48 games. Once patiently expecting Seguin to become a superstar, the Bruins are now considering a change of course.
Bruins GM Peter Chiarelli challenged Seguin's professionalism at the draft in the wake of the winger's poor postseason that included just one goal. According to CSNNE's Joe Haggerty, Chiarelli said the following about the slumping youngster:
He's gotta commit his mind and focus. He's gotta be more of a pro.
Dallas management, now headed by former Detroit Red Wings GM Jim Nill, seems willing to give him the opportunity to do just that. Desperate to get back in the playoff hunt, the Stars are apparently willing to part with winger Eriksson to give Seguin a fresh start.
Ronald Martinez/Getty Images
The 27-year-old Eriksson surpassed the 70-point plateau for three consecutive seasons before stumbling a bit in the lockout-shortened 2013 campaign. He scored 12 goals and totaled just 29 points in 48 games, but he looked spectacular at the World Championships in May. With 10 points in 10 games, Eriksson led Sweden to gold, likely inspiring the Bruins' confidence.
Seguin will likely be given the opportunity to return to his natural position at center after spending three years on the right wing in Boston. The prospect of playing the pivot role on one of Dallas' top two lines must be mouthwatering for Seguin, who has been under intense scrutiny since his arrival in Beantown.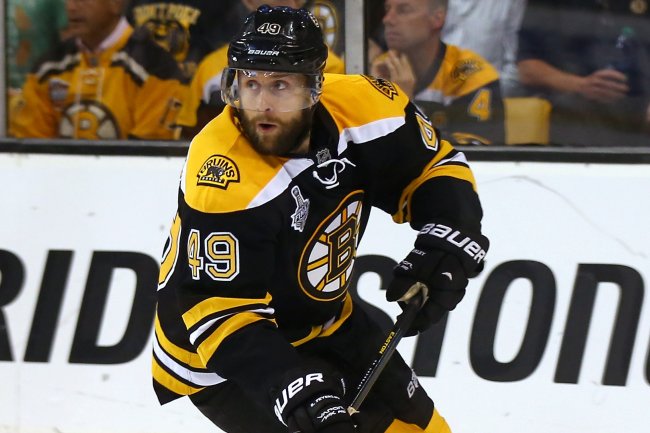 Elsa/Getty Images
In Boston, Loui Eriksson will likely be a better fit in Claude Julien's system. The winger can play in any situation, and he should see time on both the power play and the penalty kill. According to ESPN's Pierre Lebrun, Eriksson has waived his no trade clause to set the deal in motion
Rich Peverley will join Seguin in Dallas. After Peverley's abysmal 18 point season, the Bruins were desperate to move his $3.25 million cap hit. 2011 first round pick Joe Morrow will go the other way along with young wingers Reilly Smith and Matt Fraser. Morrow will reload the Bruins prospect cupboard on defense, and Smith and Fraser could provide offense down the line.
NESN's Dale Arnold tweeted the following about Morrow:
Joe Morrow, 2011 1st round pick of PGH --- likely will push Krug and Bartkowski for a job on B's D. B's also have 9 million in cap space.

— Dale Arnold (@DaleEArnold) July 4, 2013
Perhaps a Seguin trade suggests more to come for the Bruins. With Seguin and Peverley headed out of town the Bruins are saving a fortune, and they man now go after the likes of Daniel Alfredsson and Jarome Iginla in free agency.
With the free agent market opening Friday, this could be the first of several big moves by the Bruins.