July 4th may be the United States' Independence Day, but the date has also become synonymous with the Nathan's Hot Dog Eating Contest.
Which eater is more dominant in their respective division?
The 2013 edition of the event will be the most spectacular to date.
Some of the biggest names in the sport of competitive eating will be flexing their stomach muscles on Thursday, but the real winner will be those watching live or at home.
Let's break down the details for this year's hot dog showdown and provide you with all the need-to-know information. More details can be found at Major League Eating's website.
When: Thursday, July 4
Time: Women's Championship, 11:30 a.m. ET; Men's Championship, 12:30 p.m. ET
Where: Coney Island
Watch: ESPN 2 (Live at 12 p.m. ET), ESPN (tape delay at 1 p.m. ET)
Live Stream: ESPN3.com
Prize Money
While the truly elite competitive eaters do it for the love of the sport, there is little doubt that the cash prizes help the hot dogs go down easier. As announced by IFOCE.com, this year's competition will feature $40,000 in total prize money.
Nathan's hasn't broken down how the prize money will be distributed, but the governing body of the event allotted $20,000 for both the men and women in 2012, per IFOCE.com, and will likely do the same once again this year.
As if the competing for the glory of a championship belt and the admiration of the millions of fans that will watch this event wasn't enough, via Joseph Gallivan of the New York Post, the added prize money more than makes up for the upset stomach.
Contestants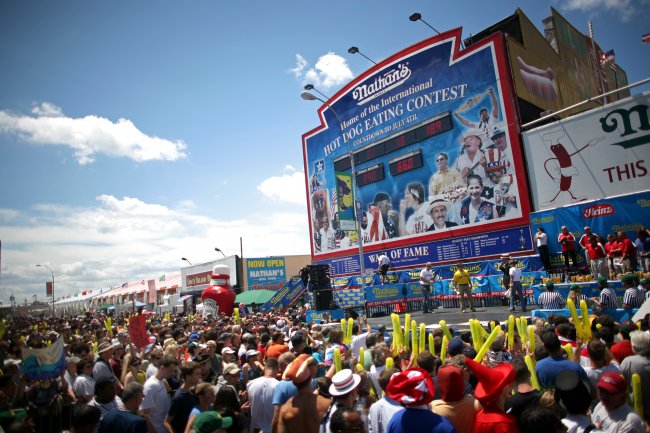 Yana Paskova/Getty Images
While an official list of competitors was not released for the event, it is clear that both of the 2012 champions will return to Coney Island this year to defend their mustard-yellow and Pepto Bismol pink Nathan's championship belts.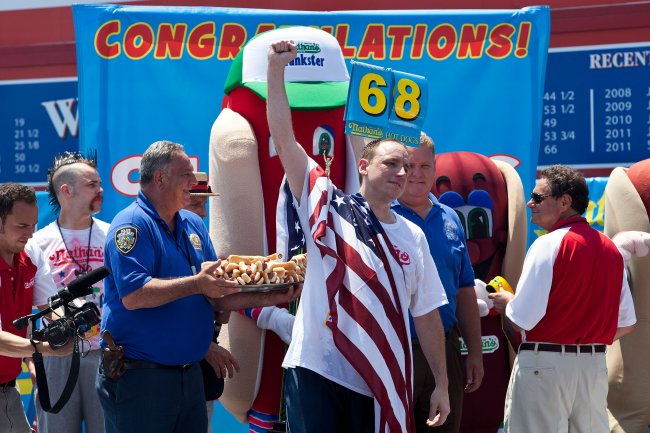 Andrew Burton/Getty Images
Man to Watch: Joey "Jaws" Chestnut
There is no better competitive eater in the world than Joey "Jaws" Chestnut. While he was unable to beat his old record in 2012, Chestnut managed to tie it by eating 68 hot dogs and buns in just 10 minutes.
Chestnut has won six straight Nathan's Hot Dog Eating Contests and looks to assert his dominance on the sport of competitive eating once again. While the rest of the field will bring their best, there hasn't been a eater yet that has proven they have what it takes to stop Jaws.
While the drama with former champion Takeru Kobayashi was the focus of the Nathan's Hot Dog Eating Contest in 2009 and 2010, via CNN.com, Chestnut has given the American people a star they can depend on.
Expect a valiant effort by Chestnut and the rest of the competitive eaters on Thursday.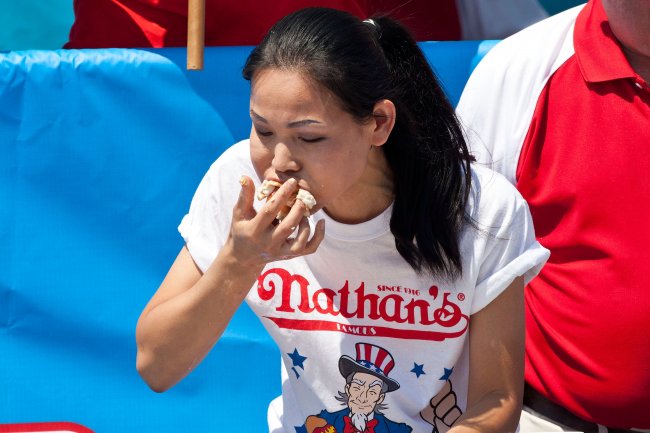 Andrew Burton/Getty Images
Woman to Watch: Sonya "Black Widow" Thomas
While at first glance, Sonya Thomas doesn't look like a menacing, competitive-eating machine at just five feet tall and 98 pounds, do not underestimate the ability of the female champion.
Not only has Thomas dominated almost every eating competition she has ever entered—regularly squares off against men and trounces the field—but in the two years that Nathan's has officially held a separate women's competition, the eating phenom has won both handedly.
While Thomas has proven how great she is, she will have a hard time outdoing herself this time around after setting a women's world record in 2012 by eating 45 hot dogs and buns.
Talk about setting the bar high.