Philadelphia Flyers 2013 NHL Draft Picks: Grades, Results and Analysis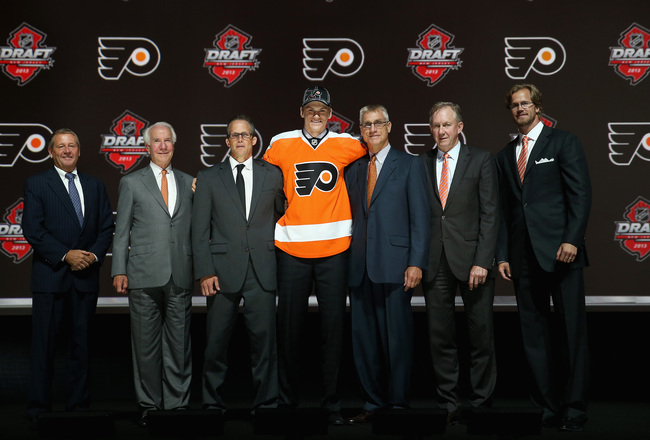 Bruce Bennett/Getty Images
The 2013 NHL draft is finally upon us. The Philadelphia Flyers currently have the 11th pick in the first round, and I'll be updating this slideshow for each pick.
Rumors have been swirling all weekend, and some moves should finally be made leading right up to and during the actual draft.
The Flyers currently have picks in the first, second, third, fifth and sixth rounds, although that is obviously subject to change.
As picks are made I will update each slide with that player and their grade, and I'll also post updated rumors at the bottom of this intro slide.
For this article, I use NHL Central Scouting rankings, which are sorted into North American and European Skaters and Goalies.
UPDATE 6:25 P.M.: Flyers potentially have a shot at signing Vincent Lecavalier, per HockeyBuzz.com's Eklund
.
UPDATE 9:12 P.M.: Paul Holmgren and Oilers GM Craig MacTavish have been talking all night, according to TSN's Ryan Rishaug. The Oilers reportedly have a deal on the table for Braydon Coburn.
Round 1, Pick 11: Samuel Morin, D, Rimouski Oceanic (QMJHL)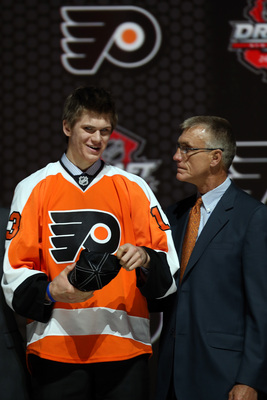 Bruce Bennett/Getty Images
With their first pick, the Flyers selected Samuel Morin of Rimouski Oceanic. Morin is a towering 6'6" defenseman who needs to develop his all-around game.
He's a big, physical presence on the ice who plays with a mean streak and can really be a punisher, which fits the Philadelphia mold well.
His offensive game is average at this point, although he skates pretty well for his size. His decision making needs to improve a lot, as he is prone to making mistakes in his own zone.
He was only ranked as the 76th best North American skater at the midterm rankings, but jumped all the way up to 23rd by their final ranking, which is a testament to his solid season with Rimouski.
I like Morin, and he's still only 17, but he just needs a lot of work and is a little bit of a reach at 11. There were a few really talented players still on the board, but this was still a pretty decent, albeit unexciting pick.
Grade: C+
Round 2, Pick 41: Robert Hagg, D, Modo (SWE)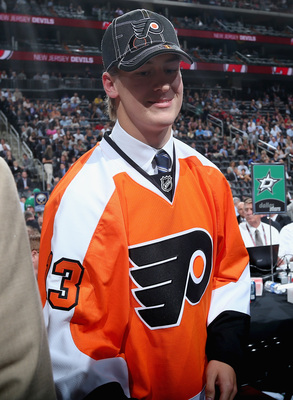 Bruce Bennett/Getty Images
With their second pick, the Flyers selected defenseman Robert Hagg. He's a talented two-way defenseman who is solid in all aspects of the game.
No one attribute of Hagg's really stands out, but he has a solid 6'2", 201 lbs frame and combines a blend of smooth skating and physical prowess.
Although he isn't really a dynamic offensive talent, the 18-year-old plays within himself, and won't make many mistakes with the puck.
He has the intelligence and stick skills to play the point on the power play, and that is just one way that the Swede reminds me a little of Kimmo Timonen.
Hagg is bigger, more physical, and a little less offensive than Timonen, but I see a few similarities in how the two play and carry themselves on the ice.
Grade: A
Round 3, Pick 72: Tyrell Goulbourne, C, Kelowna Rockets (WHL)
With their third pick, the Flyers selected Tyrell Goulbourne, an under-the-radar forward from the Kelowna Rockets of the Western Hockey League.
Goulbourne is more than just under the radar, he's barely on it at all, topping out as the 151st ranked North American skater by Central Scouting.
It's hard to find any scouting reports or non-fighting videos of Goulbourne, but from what I can tell he's a high-energy kid who is a decently strong skater and plays a physical game.
He's a sturdy 5'11", 195 lbs., and is regarded as a scrappy player who can really hit and fight with the best of them. He was a plus-7 with 27 points in 64 games with Kelowna, so it seems like he has some positive qualities outside of his fighting.
With a few high-upside, talented players like Jordan Subban and Pavel Buchnevich on the board, I'm not sure why the Flyers took a guy who seems like a 4th line agitator.
Grade: D+
Round 5, Pick 132: Terrance Amorosa, D, Holderness High School (NH)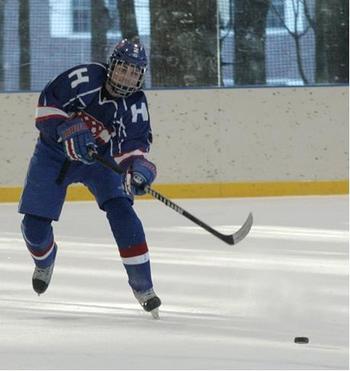 Photo via facebook
Bruce Bennett/Getty Images
With their fourth pick, the Flyers selected defenseman Terrance Amorosa out of Holderness High School in Plymouth, New Hampshire.
He's listed at 6'2", 190 lbs. on his high school roster.
I can't find literally any information on this kid through Google or YouTube or anything else, he's not rated in the top 210 North American skaters either.
UPDATE: Amorosa is committed to the University of New Hampshire, according to Broad Street Hockey.(UPDATE): The Flyers official website says that he is "seeing interest from several colleges".
UPDATE: Amorosa will play for Sioux City of the USHL next year, per Anthony SanFilippo.
Grade: D
Round 6, Pick 162: Merrick Madsen, G, Proctor Academy (NH)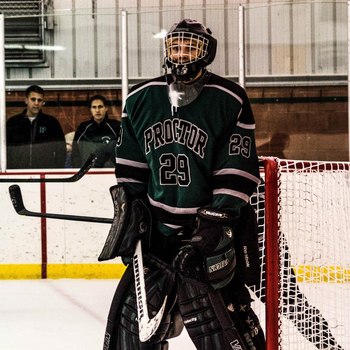 Photo via asdb.com
With their sixth pick, the Flyers selected their first goalie of the evening, Merrick Madsen. The 6'4" 17-year-old is an intriguing prospect who played in the same high school league as Philadelphia's fifth-round pick Terrance Amorosa.
Ranked as the 26th North American goalie, Madsen has some upside as a big, rangy netminder who will play for the Des Moines Buccaneers of the USHL next year before matriculating at Harvard.
He seems like an impressive kid with a bit of upside, and as the Flyers know by now, you can't have too many goalie prospects.
Here is a great background piece on Madsen by SB Nation.
Grade: B+
Round 7, Pick 192: David Drake, D, Des Moines Buccaneers (USHL)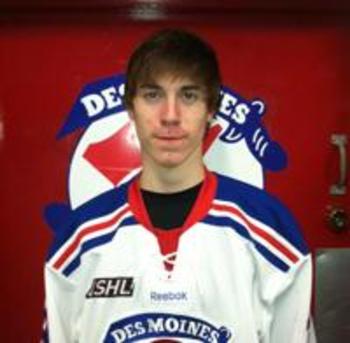 Photo via bucshockey.com
With their final pick of the draft, the Flyers selected David Drake, a defenseman most recently from the Des Moines Buccaneers of the USHL.
Drake is a 6'4", 170 lbs. defenseman who scored one goal in 12 games with the Bucs this season. The Illinois native also played 40 games for the Chicago Fury U18 of the MWEHL.
Grade: C
Keep Reading

Philadelphia Flyers: Like this team?