UCLA drew first blood in the opening game of the College World Series championship series in Omaha, and it finished the job on Tuesday evening with a 8-0 victory over Mississippi State to take the series in back-to-back games and secure its first baseball national title. ESPN noted before the game:
The UCLA Bruins have 108 titles across all sports, but they've NEVER won the College World Series. That might change tonight.

— ESPN (@espn) June 25, 2013
Despite entering the game hitting just .183 for the tournament, the Bruins got some key production throughout their order, including five RBI from right fielder Eric Filia.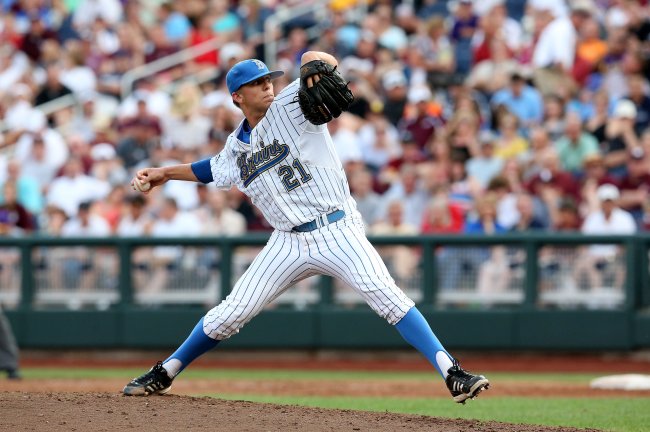 Stephen Dunn/Getty Images
UCLA opened-up scoring in the bottom of the first inning, courtesy of a hit and two Mississippi State errors—a run that probably seemed like a lot more to a Bulldogs squad facing one of the best pitching staffs in the nation.
Both teams went scoreless in the second, but UCLA struck again in the third inning, this time with two runs on an Eric Filia sacrifice squeeze and a Pat Valaika double, as noted by Baseball America's Aaron Fitt:
UCLA executes a perfect safety squeeze with No. 3 hitter Eric Filia, who continues his huge postseason. Then Valaika hits RBI double. 3-0.

— Aaron Fitt (@aaronfitt) June 26, 2013
Small ball contributed to the Bruins tacking on two more runs in the fourth as well, as Fitt detailed with this tweet:
UCLA manufactures another run in the 4th on a hit-by-pitch, a sac bunt, a bouncing single up the middle. 4-0 #UCLA, and still threatening.

— Aaron Fitt (@aaronfitt) June 26, 2013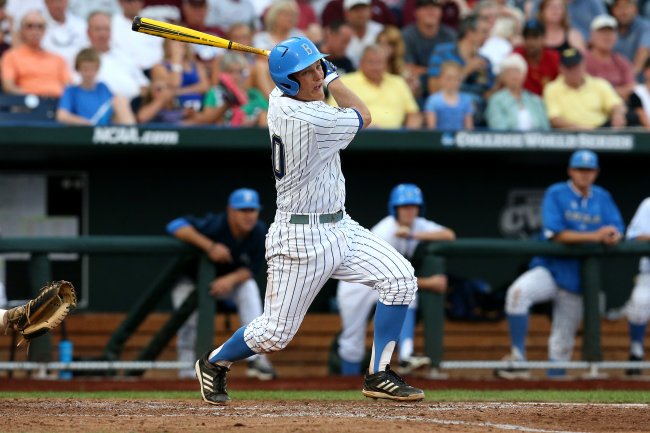 Stephen Dunn/Getty Images
Facing an absolutely dominant UCLA pitching staff, Mississippi State's five-run deficit seemed like a nearly insurmountable lead. Bruins starter Nick Vander Tuig was masterful through five innings, allowing just four hits and striking out five in that span, including back-to-back strikeouts to end the fifth, as noted by Ryan Rosenblatt:
Groundout, strikeout, strikeout and Nick Vander Tuig does it! He gets out of the fifth and #UCLA still leads 5-0. The junior came up huge.

— Ryan Rosenblatt (@RyeUCLAbaseball) June 26, 2013
Brad Locke of BulldogsSportsRadio.com highlighted Vander Tuig's line through six innings after the starter sat the Bulldogs down in order in the sixth:
A 1-2-3 T6th for Vander Tuig, who's thrown 85 pitches, 60 for strikes.

— bradlocke (@bradlocke) June 26, 2013
However, not every Bulldogs supporter was willing to give up on their team down 5-0. Alabama quarterback A.J. McCarron was pulling for his SEC brethren in the contest:
Come on Mississippi state!!! I'm pulling for them hard right now.. Let's get it goin. #hailstate I think that's how they say it

— AJ McCarron (@10AJMcCarron) June 26, 2013
But in the bottom of the sixth, UCLA tacked on another insurance run on a Filia single up the middle—his third RBI of the evening. With a 6-0 lead and just nine outs remaining for Mississippi State's offense, things began to look awfully bleak for the Bulldogs.
The Bruins relied on their pitching and defense to reach the championship, and neither faltered Tuesday night. As Creighton SID Rob Anderson humorously noted, UCLA's pitching staff was tremendous throughout the CWS:
Probably just a coincidence that UCLA pitching has walked 8 men and allowed just 4 runs in 42 innings at the CWS so far.

— Rob Anderson (@_robanderson) June 26, 2013
It looked like Vander Tuig might be pushed from the contest in the eighth, when Adam Frazier singled to start the inning and subsequently swiped second, but the UCLA hurler struck out Alex Detz and got Hunter Renfroe to fly out to the warning track in left field. Despite being well over 100 pitches, Vander Tuig made it through the inning without allowing a run and brought UCLA within three outs of a national title. Ryan Kartje of the Orange County Register:
Eight shutout innings for Nick Vander Tuig -- the most dominant of his career -- and UCLA is three outs away from a national title.

— Ryan Kartje (@Ryan_Kartje) June 26, 2013
UCLA added two more runs in the bottom of the eighth to increase its lead to 8-0, effectively ending Vander Tuig's night. The Bruins brought in closer David Berg to seal the deal in the ninth, which he did in three successive batters.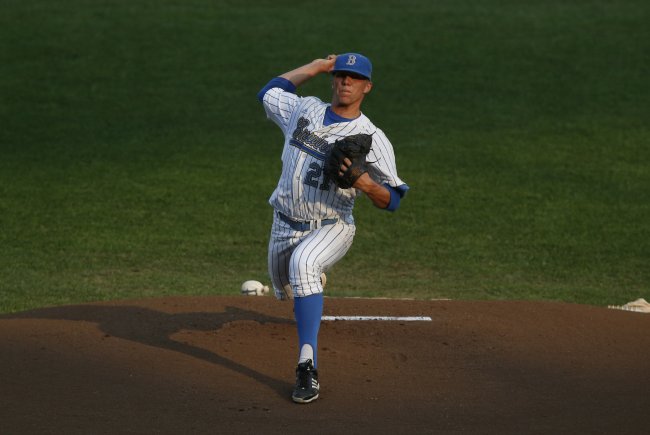 Derick E. Hingle-USA TODAY Sport
As Ryan Finley of the Arizona Daily Star noted, UCLA's victory was the fourth Pac-12 baseball title in the last eight years:
Assuming UCLA holds on, the Pac-12 will have won four of last eight CWS titles -- and that's with USC and Stanford struggling.

— Ryan Finley (@ryan_finley) June 26, 2013
It was also the 109th title in school history, but, again, the first for the school's baseball program (via SportsCenter):
UCLA wins College World Series for 1st time in school history. Bruins have a record 109 team NCAA championships in 17 sports.

— SportsCenter (@SportsCenter) June 26, 2013
Mississippi State gave a valiant effort throughout the tournament, but UCLA ran the table on the shoulders of tremendous pitching, defense and some timely hitting. The Bruins were the better team on Tuesday, and the result was a triumphant end to a terrific College World Series.
Nick Vander Tuig, A+
Dave Weaver-USA TODAY Sports
For as well as UCLA played throughout the tournament, Vander Tuig was the biggest reason for the baseball program's first NCAA championship.
In the biggest game of his life, the righty tossed eight scoreless innings, allowing just five hits and walking one.
The junior ran into very few issues throughout the game, but he did have to work out of some trouble in the fourth and fifth innings. It was those particular innings that showed how dominant Vander Tuig was, coming up big when his team needed him most.
Jonathan Holder, Mississippi State, B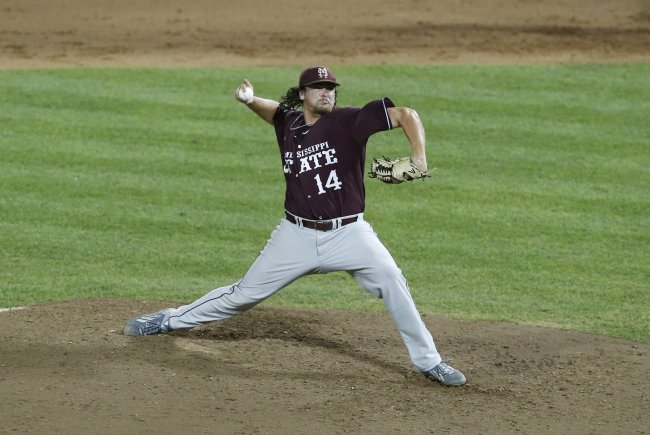 Derick E. Hingle-USA TODAY Sport
Closers aren't often asked to pitch four innings, but Jonathan Holder did his best to limit the damage Tuesday night.
Holder did give up seven hits, but most of the damage came in the bottom of the eighth inning, when his pitch count was well past his normal workload. In all, he did his job to keep his Bulldogs in the contest.
Eric Filia, UCLA, A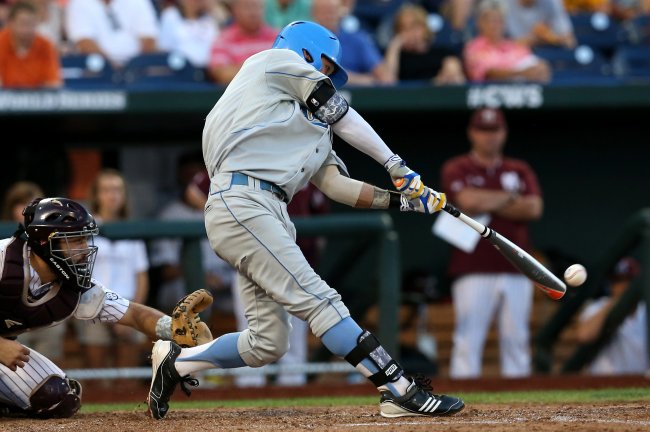 Stephen Dunn/Getty Images
UCLA was a poor offensive team throughout the tournament, and in order to notch a pair of wins in the championship, someone had to step up.
In Game 2, Filia was that player, knocking in five runs on two hits in five at-bats. Despite facing several pitchers, Filia never lost his rhythm. He picked up hits at the perfect times throughout the game, and he gave UCLA the offensive boost it needed to upend Mississippi State in two games.
Hunter Renfroe, Mississippi State, B-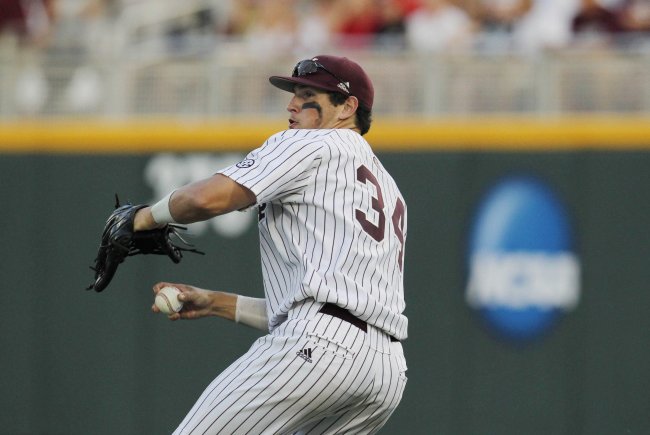 Bruce Thorson-USA TODAY Sports
To be fair to Renfroe, no one fared well against Vander Tuig. But the 13th pick in the 2013 MLB draft was yoked with some lofty expectations, and he failed to deliver, going 0-for-4 for the game.
The right fielder did come close to giving his team new life in the eighth inning, when he flied out to the warning track in left field (on a field notoriously deep to all areas of the park), but it wasn't quite enough to make its way over the fence.
Renfroe did make a couple of nice defensive plays, though, including a dart from right field to the plate in the bottom of the eighth that catcher Mitch Slauter couldn't hold onto. In all, it wasn't a bad performance from the San Diego Padres prospect, but it wasn't enough to lead his team to a victory.