NHL fans are the most loyal group of supporters in sports, maybe even to a fault.
They came back to the league following a lockout that wiped about half of the games from the 1994-95 season, they filled arenas in huge numbers following the shocking developments of the 2004-05 lockout that led to a canceled season, and they once again returned to the sport this year after a third lockout in 20 years threatened the 2013 season.
For a group of people whose loyalty and passion are taken advantage of time and time again by the greed and petty agendas of the teams and players they love most, hockey fans care about their game too much to watch it suffer when lockouts threaten its growth and popularity.
"We have great fans. There's no doubt about that," said NHL commissioner Gary Bettman before Game 1 of the 2013 Stanley Cup Final (via Kukla's Korner). "You see their passion. You see the way our buildings are night after night, more alive than the fans in any other sport."
Bettman continued:
I believe our fans tend to be, and the research shows this, our fans are more connected to this game than they are the fans of any other sport.

[...]

I think our fans understand that we care passionately about the game. We want to give them the best possible experience. We're doing the best that can be done to deal with the issues that all sports over the last few years have dealt with, for better or for worse.

[...]

The ultimate resolution of [labor issues] is what determines how the fans come back. If they're comfortable that you've come to a place that makes the games healthy and stable going forward, they tend to be more forgiving than if they think you put a Band-Aid on it.
Were you more or less excited for the NHL season following the lockout?
When the game finally returned on Jan. 19 after a frustrating work stoppage, the players, to their credit, gave fans plenty of reasons to forgive those responsible for the labor struggle. This was most evident during the 2013 NHL playoffs, which will go down as two of the most exciting months of hockey ever played.
The best way to win fans back is to provide them with the best, most heart-pounding playoff hockey possible. In the end, that's exactly what they got.
Through four rounds, there were three exciting series featuring "Original Six" matchups, two of which were decided after a thrilling overtime in Game 7. Each of the 15 series included one or more overtimes, a total of five Game 7s were played, eight series were six games or longer and the past four Stanley Cup champions all advanced to the conference finals.
It's difficult to pick just one moment from this postseason that stands out because there are so many that we will never forget.
The Boston Bruins staged a stunning comeback against the Toronto Maple Leafs in Round 1 by becoming the first team to win a Game 7 when trailing by three or more goals in the third period. The Bruins tied the game 4-4 in regulation with two goals in the final minute and then won 5-4 in overtime.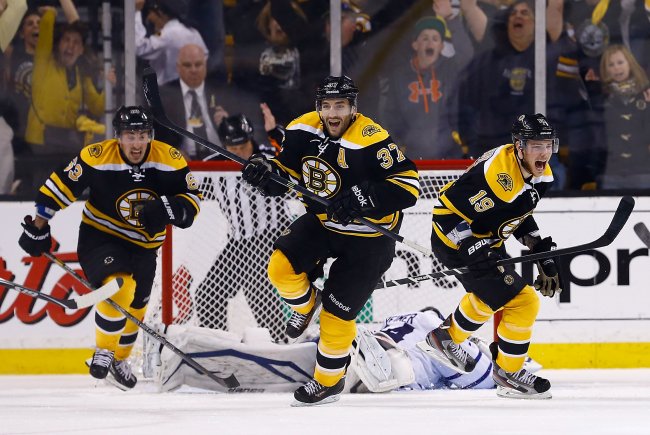 Jared Wickerham/Getty Images
The Chicago Blackhawks came back from a 3-1 series deficit for the first time in franchise history to eliminate the Detroit Red Wings in Round 2. They carried that momentum into the conference finals with an exciting five-game series triumph over the defending champion Los Angeles Kings. And they'd finally overcome a 2-1 series deficit in the final versus the Bruins.
The best series of the playoffs was certainly saved for last, and it was truly fitting that the 2013 playoffs ended in dramatic fashion with a Stanley Cup Final for the ages.
The Chicago Blackhawks clinched their fifth Stanley Cup title and second in four years by becoming the first team to win a Stanley Cup-clinching game in regulation time by overcoming a one-goal deficit in the final two minutes of Game 6.
Chicago scored two goals in a 17-second span in Game 6 to go from flying back home for a Game 7 to traveling to the Windy City with the Lord Stanley's Cup in tow. This is the kind of drama that even the best writers in Hollywood couldn't come up with.
The Bruins and Blackhawks' series included three overtime games (including a triple-OT classic in Game 1), four of six games decided by one goal and a highlight reel of memorable moments that will be replayed countless times.
Unlike the previous Stanley Cup Final following a lockout-shortened season, when the New Jersey Devils swept the Red Wings in 1994-95 with their boring trap-style hockey, the league was fortunate to have an all-time championship series between two Original Six franchises. It helped bring diehard fans back to the game and draw new fans captivated by its breathtaking action.
For proof that fans forgave the NHL and its players by supporting the league during the playoffs, look no further than the exceptional television ratings of NBC, the network carrying the league's national TV rights that broadcast every single the game of the postseason across several of its channels.
Per an official press release:
NBC is averaging 3.428 million viewers for its coverage of the 2013 Stanley Cup Playoffs, up 50% vs. the same time period in 2012 (2.283 million). For the entire playoffs, including last night's game, NBC, NBC Sports Network and CNBC have combined to average 1.342 million viewers per game, up 15% vs. last year (1.164 million).
Prior to Game 6, more people had watched the cup final than any championship series in almost 20 years, per NBC.
2013 Stanley Cup Final has averaged 5.4 million viewers, ranking as most-watched Stanley Cup Final on record through 5 gms, data since 1994

— NBCSportsPR (@NBCSportsPR) June 24, 2013
Regular-season ratings were equally impressive for NBC, according to TVbytheNumbers:
More viewers watched the NHL regular season on NBC Sports Network this year than in any previous year since the channel began televising games in 2005-06. The 2013 NHL regular season on NBC Sports Network was also the most-watched season on cable in nearly two decades, and up 18 percent vs. last year.
From a revenue standpoint, the league also did quite well. Fans were willing to spend their hard-earned money and put it into the pockets of those responsible for the lockout.
Said Bettman (again via Kukla's Korner)
I don't think yet we've come to rest on the numbers. I think it's fair to say that we did better than the proportionality of how much of the season actually got played.

[...]

But we did better than 58% of our revenues, we believe. It's not done yet and there's still some revenues to be generated over the next couple weeks. But we believe we did better than a strict percentage would have you think.
The NHL rebounded in a major way this season following a tumultuous lockout that threatened to plunge the sport to new lows in fan interest and popularity.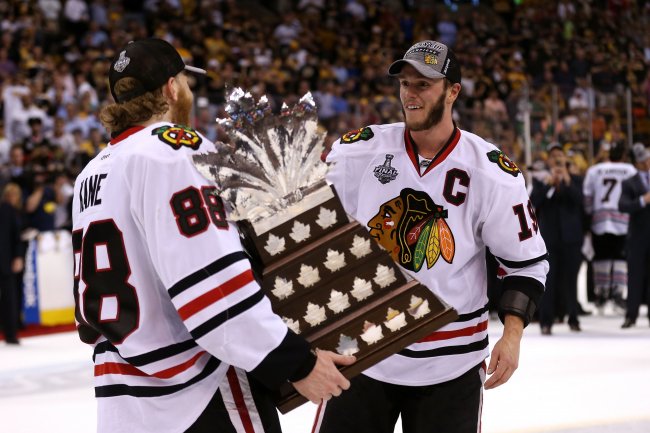 Bruce Bennett/Getty Images
The owners and players likely had a strong feeling that the fans would flock to the sport as soon as the arena doors opened for business. To see them support the league with fantastic attendance (26 of 30 teams played to 90 percent capacity or better, per
ESPN
) and substantial television ratings helps prove how entertaining the on-ice product is each night.
When the quality of the hockey played is strong, which was certainly the case throughout the regular season and playoffs, it's easier for fans to forgive and forget, which is exactly what they did in this shortened season.
With this kind of fan support, the NHL has a bright future, one that won't be interrupted by another lockout anytime soon.
The 2013-14 season cannot arrive fast enough.
Nicholas Goss is an NHL Lead Writer at Bleacher Report. He is also a credentialed writer at the 2013 Stanley Cup Final in Boston. All quotes obtained firsthand or from NHL media notes.