Wimbledon 2013: Perennial Lawn Losers to Look For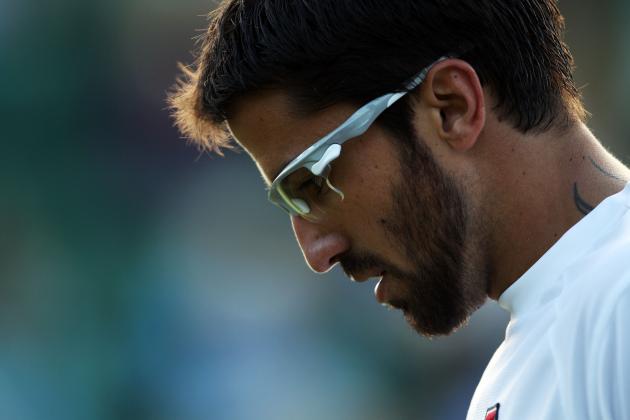 Clive Rose/Getty Images

Some seeds refuse to grow, even when planted in the lush grass of the All England Lawn Tennis and Croquet Club.
While Roger Federer, Novak Djokovic and Rafael Nadal largely live up to lofty expectations, a startling number of seeded players simply resist blooming in London. Though upsets are part of the excitement and attraction of all Grand Slams, the men's draw cannot be too far off in its predictions, can it?
It can, and it will. Like the draws of 2012 and 2011, the first week will be littered with dashed hopes. A simple formula explains why.
When looking at the results of the past two Championships, one only has to compare players' seedings with their actual results to determine whether he met, exceeded or failed expectations. For example, if the top seed lost in the first round of this 128 player draw, he would end up placing 127 spots below seeding. If he lost in the second round, he would be minus-63, and so on.
Here are the five gentlemen who, based upon their last two Wimbledon appearances, are most likely to leave the lawns early.
Begin Slideshow

»
Jan Kruger/Getty Images

Last year's trip to Wimbledon was not kind to Andreas Seppi. Seeded No. 23, he needed to only step on the grass once before exiting once more, losing to Denis Istomin, 7-6, 4-6, 6-3, 3-6, 6-8.
As an unseeded player in 2011, he did manage to maintain his honor (and his seeding, or lack thereof) by advancing to the second round before bowing out to Marcos Baghdatis.
Maybe this means that there is not enough seeding experience to be down on Seppi. More likely, it means that fans of the Italian won't be staying around long.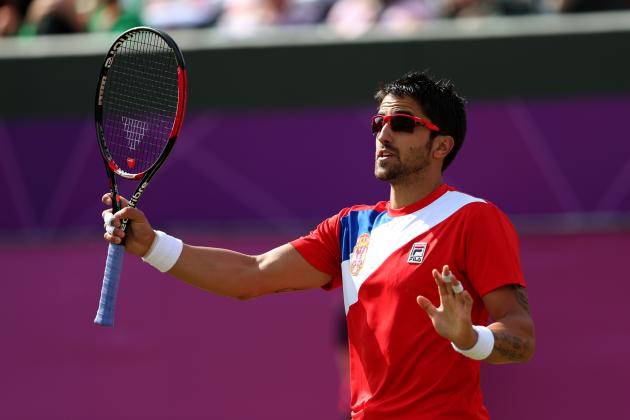 Clive Brunskill/Getty Images

Janko Tipsarevic is always fun to watch, with his fashion flair and enthusiasm on the court. He is especially fun to watch at Wimbledon if you are expecting an upset.
Though seeded in the top 15 this year, he is a consistent underachiever on the grass courts of SW19. Then again, he only missed his seeding last year by 24 places, which is better than 2011, where he missed the mark by a mere 105 spots.
Despite this apparent step in the right direction, an early departure is in the making.
***UPDATE***
Tipsarevic loses to Victor Troiki in the first round, 3-6, 4-6, 6-7(5).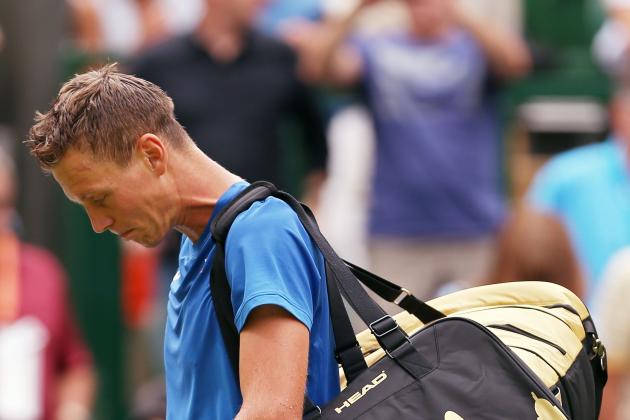 Clive Brunskill/Getty Images

Tomas Berdych remains an enigma in the men's game. He has turned in just as many memorable positive moments on the courts as he has negative ones. His sheer talent and power encourage his fans every year to look to the future. However, the future may be quite short here at Wimbledon this year.
Averaging minus-66 spots against his seeding in the last two Championships, he may want to concentrate on two years ago, which only contributed 10 of those places. His loss to Ernests Gulbis of Latvia last year in the first round disappointed his expectations by a mere negative 122.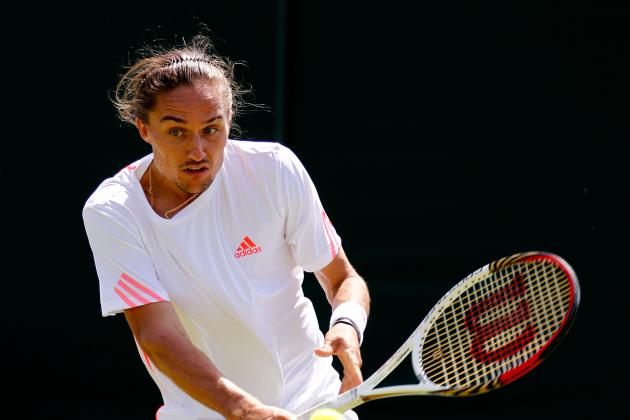 Paul Gilham/Getty Images

Perhaps, this will be Alexandr Dolgopolov's year in London. The game, especially at staid Wimbledon, could really use a youthful shot in the arm. And after all, he is on a roll here.
In 2011, he lost 106 spots against expectations, while in 2012, he only missed the mark by 42. If he cuts that loss in half again, he will only short himself and his fans by 21 spots. That would mean a second-round loss...which unfortunately would mean success for the "Dog."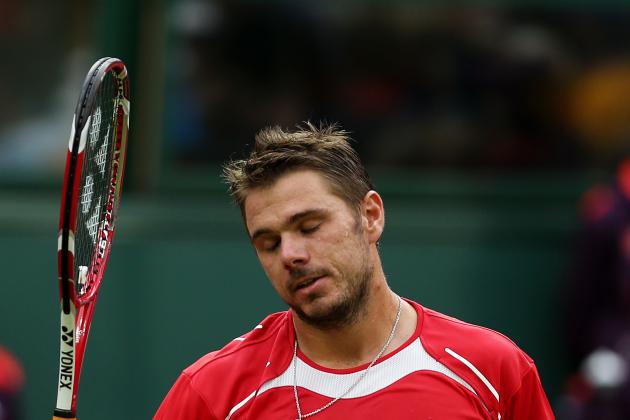 Clive Brunskill/Getty Images

Leading the pack of perennial frustration at the Championships Wimbledon is Switzerland's Stanislas Wawrinka. He comes into the 2013 tournament seeded No. 11, but don't let that fool you. The grass is his nadir and likely will be for the duration of his career.
The seeding committee took another gamble on Stan, ignoring the fact that he has provided two straight years of ruffles in their feathers. A heartbreaking first-round loss to Jurgen Melzer last year as the No. 25 seed was even worse than the year before, when he lost to Simone Bolelli in the second round, although his expectations were greater as the No. 14 seed.
What's next on the agenda for Wawrinka this year? Despite the lofty seeding, it would be ludicrous to expect anything but an early flight home to Switzerland.
***UPDATE***
Wawrinka loses to Lleyton Hewitt in the first round, 4-6, 5-7, 3-6.