Steve Darcis' victory over No. 5 Rafael Nadal in the first round at Wimbledon is great for his resume and confidence, but he's still a long way from being considered a contender.
Darcis entered the first-round matchup with slim-to-none odds of upsetting Nadal, the two-time Wimbledon champion. An early upset seemed improbable for Rafa coming off his eighth French Open title.
Nadal said losses like this are not ones to remember, according to the official Twitter account of BBC Sport:
#Nadal "This is a sport of victories, not a sport of losses. Nobody remembers the losses. I don't want to remember" pic.twitter.com/aRMw4DHyak

— BBC Sport (@BBCSport) June 24, 2013
Rafa struggled physically, according to ESPN, and Darcis took advantage of every point possible. The Belgian became the first player to defeat Nadal in the first round of a Grand Slam, according to ESPN Stats & Info:
Rafael Nadal: loses in 1st round of a Grand Slam for 1st time in career (34-1)

— ESPN Stats & Info (@ESPNStatsInfo) June 24, 2013
The ESPN broadcasting team of Patrick McEnroe and Darren Cahill praised for Darcis for a well-deserved victory over Nadal:
Darcis has never had much success at Wimbledon, or any Grand Slam for that matter. He's qualified for the tournament three times in his career coming into 2013 and only made it out of the first round once. He fell in the first round a year ago to Guillaume Rufin. Darcis has a pair of tournament titles under his belt, but he's never made it to the fourth round at a Grand Slam.
Now that Darcis has passed one of the biggest tests of his career, how will he perform once he takes the grass court for the second time at Wimbledon this year?
The Belgian will be taking on Lukasz Kubot, who defeated Igor Andreev in straight sets. Darcis comes into the match having played better in the first round. Kubot, however, has done better at Wimbledon in his career. Kubot made it to the fourth round at Wimbledon two years ago, losing to Feliciano Lopez.
In reality, the match between Darcis and Kubot will be a coin flip.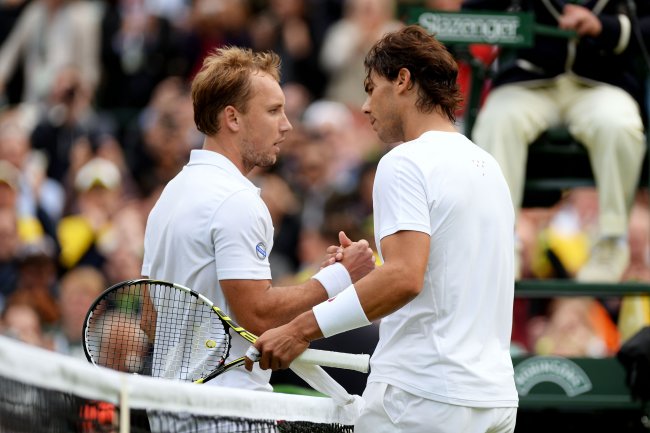 Mike Hewitt/Getty Images
If Darcis gets past Kubot he can expect to face a major challenge in the third round.
If all goes according to plan, No. 25 Benoit Paire will be waiting in the third round and he'll definitely be favored in a matchup with Darcis. Paire defeated Darcis a few months ago in the second round at the Open Sud de France Montpellier.
Darcis will forever be in the history books for taking out one of the world's top tennis players in the first round of a Grand Slam, but he's going to be ousted from Wimbledon in the third round.