UCLA vs. Mississippi State: Dates, Start Times, Live Stream, TV Info and More
Use your ← → (arrow) keys to browse more stories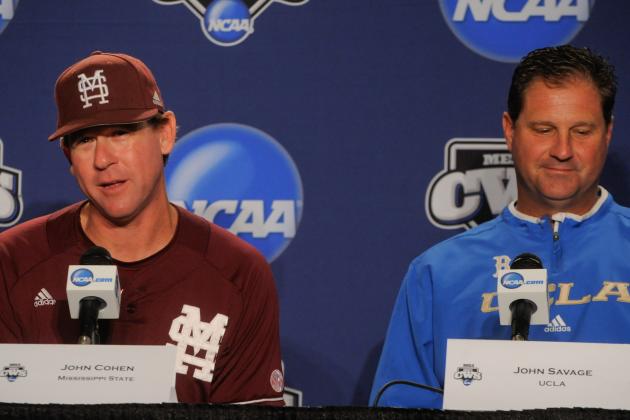 Dave Weaver-USA TODAY Sports
Head coaches John Cohen (Mississippi State) and John Savage (UCLA) will try to deliver their schools a first national championship on the diamond in Omaha beginning on Monday.
The UCLA Bruins and Mississippi State Bulldogs will meet in the 2013 College World Series finals beginning on Monday evening, with both programs vying for their first national title in school history.
Neither club ranked amongst the top eight national seeds entering this tournament, yet each somehow found their way in going up against formidable foes. Both advanced on Friday to the championship showdown in Omaha, Nebraska, with 4-1 semifinal victories.
The Bruins knocked off the top-seeded North Carolina Tar Heels, not allowing the high-octane offense of their opponents onto the scoreboard until the final inning.
Mississippi State toppled No. 3 Oregon State thanks largely to a three-run homer by the Bulldogs right fielder Hunter Renfroe in the fifth inning. That gave MSU plenty of insurance to clinch its maiden trip to the finals.
Let's take a look at the information and some predictions for this impending best-of-three series to decide college baseball's ultimate champion.
When: Monday, June 24 through Wednesday, June 26 (all games begin at 8 p.m. ET)*
Where: TD Ameritrade Park, Omaha, Nebraska
TV: ESPN
Live Stream: Watch ESPN
*Game 3 will only be played if necessary on Wednesday, June 26.
What Gives—UCLA's Stout Defense, or MSU's Top CWS Offense?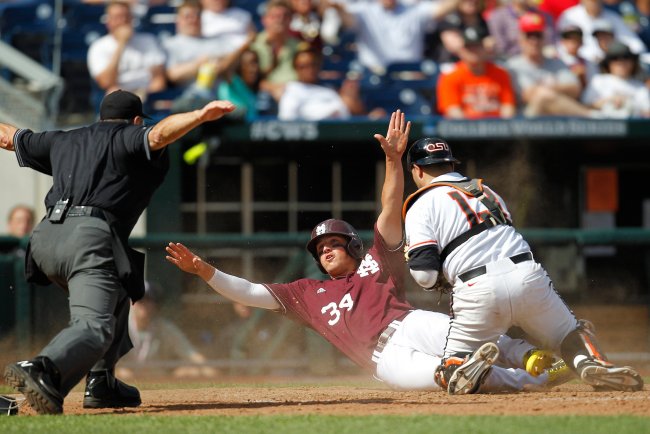 Bruce Thorson-USA TODAY Sports
The biggest problem that the Bulldogs present is how deep their lineup is. Incredibly, no one struck out in the semifinals against the Tar Heels. Having that type of ability to get the ball in play so frequently puts a lot of pressure on the opposition not to make a mistake in the field.

Thankfully for the Bruins, fielding is their strong suit; they rank tops in the postseason with a .983 fielding percentage, according to Douglas Kroll of NCAA.com.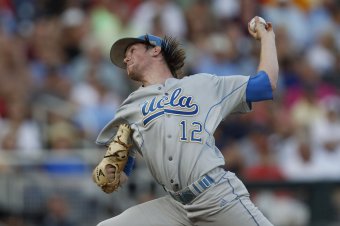 Bruce Thorson-USA TODAY Sports
In seven of eight wins, UCLA has gotten stellar starting pitching. The trio of Vander Tuig, Adam Plutko and Grant Watson have accounted for winning decisions, with Berg getting the only other one. UCLA's team ERA is 1.36. Watson has an 18-inning scoreless streak going, too.
So something has to give between the incredible work the Bruins are doing away from the dish as they attempt to stymie the Bulldogs' bats, which have been formidable in hitting .297 as a team in the previous three CWS games.
Somehow, though, the Bruins have found a way to remain undefeated despite just eight total runs and a .182 average. Their resolve will be tested against a team that isn't necessarily powerful, but knows how to put the bat on the ball consistently.
Marquee Matchup: P David Berg (UCLA) vs. P Jonathan Holder (Mississippi State)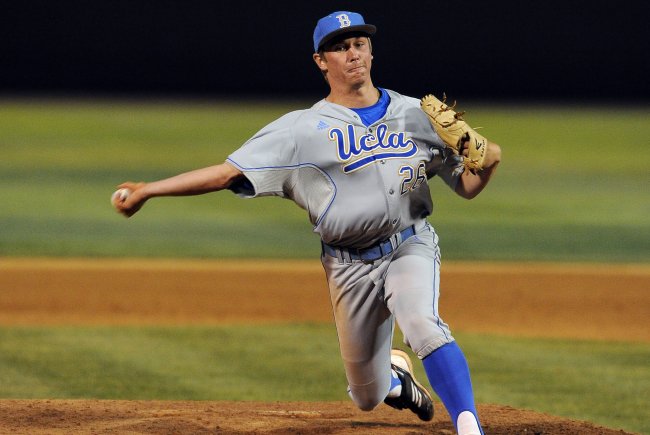 Jayne Kamin-Oncea-USA TODAY Sports
Both pitchers are closers who essentially slam the door by thwarting clutch aspirations for prospective late-game heroics.
Berg is a sidearm right-handed hurler, and the sophomore's unconventional delivery throws hitters for a loop.
Five postseason saves have allowed Berg to match the all-time single-season record of 23. However, it did take him 35 pitches to get out of the ninth inning in facing North Carolina, which showed rare vulnerability.
Then there's Holder, whose surname is rather appropriate with regard to his job description for the Bulldogs in the sense that he rarely lets a slim lead get away.
The Clarion-Ledger's Michael Bonner highlighted the history that the second-year righty made in closing out the club's most recent triumph over the Beavers:
Jonathan Holder picks up his 21st save of the season, his 30th of his career, which is a new program record.

— Michael Bonner (@MikeBBonner) June 21, 2013
Considering that this is the ultimate battle of strengths, each game should be tight, with the team whose bullpen is strongest likely having a significant advantage. Thus, these big-time closers figure to play a huge role in determining the outcome of the series.
Projected National Champion: Mississippi State Bulldogs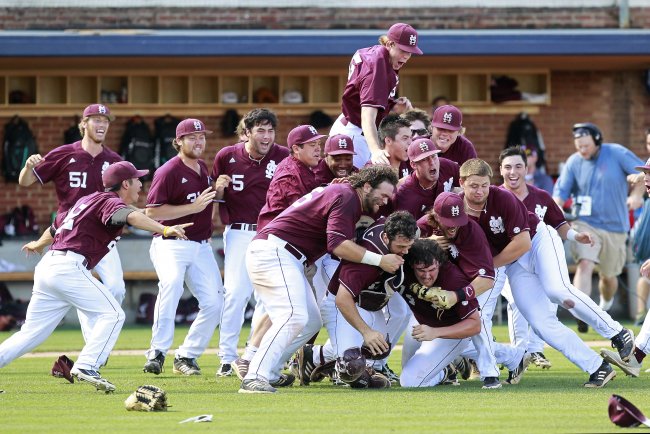 Geoff Burke-USA TODAY Sports
Great starting pitching and defense is the key to success in baseball rather frequently, but even a slightly off day on the bump for the Bruins spells doom in the College World Series.
If UCLA can't generate more run support, it's going to be a tough road to nabbing the hardware in Omaha.
Dealing with dangerous hitters such as semifinals hero Renfroe,—the No. 13 overall pick of the San Diego Padres in the MLB draft (h/t MLB.com)—Alex Detz, Wes Rea, C.T. Bradford and Brett Pirtle promises to pose significant problems no matter how sound the Bruins are once contact is made.
Who will win the College World Series?
The latter four players had at least two hits in Friday's win over Oregon State, while Bruins junior first baseman Pat Gallagher has four of UCLA's eight CWS hits entering the finals—all of which are singles.
Thus, it's not as if the Bruins can take one swing of the bat and get themselves back into the game. They're gritty, and should push the series to Game 3 with at least one very low-scoring contest.
In the end, though, the Bulldogs' superiority at the plate will be good enough for them to raise the trophy.
Note: Statistics, unless otherwise indicated, were obtained from NCAA.com's numbers breakdown and articles by the site's Mark Spoor and Douglas Kroll.