No tournament is more laden with tradition than Wimbledon: the all-white dress code, the middle Sunday, strawberries and cream, British hopes crashing and burning in heartbreaking fashion....
The dress code, the schedule and the strawberries will appear again in 2013, but the last of those four traditions may end this fortnight. Last year's Wimbledon finalist Andy Murray restarts his quest to become the first British man to win Wimbledon since Fred Perry in 1934.
Murray has produced consistently impressive results at Wimbledon, reaching the semifinals or better four times. But events over the last twelve months suggest that this year marks his best chance yet to claim the title at his home major.
Just a few weeks after he lost the 2012 Wimbledon final to Roger Federer, Murray shouldered the pressure of national expectations with poise at the Olympics.
The All England Club, the venue for Wimbledon, also hosted the Olympics last year. British fans flocked there to see Murray defeat Novak Djokovic and Federer en route to a gold medal. That achievement proved that he could break through on home soil despite the pressure that has undone earlier British stars.
Perhaps even more important, Murray ended his career-long futility in major finals last September at the U.S. Open, where he defeated Djokovic in five sets. For the first time, then, Murray arrives at Wimbledon as a major champion. That elite status should remove the extra layer of pressure created by attempting to accomplish something so significant for the first time.
The experience of playing last year's final also may benefit Murray, even though he lost it. Sometimes a player needs to learn how to lose that type of match before he can win it. With the memory of playing on the second Sunday at Wimbledon behind him, Murray will know better what to expect and how to prepare himself.
In terms of preparation, Murray may hold an advantage over several of his key rivals. A back injury incurred in Rome last month forced Great Britain's leading man to end his clay season early and withdraw from the French Open.
While his injury caused concern at the time, Murray arrived on grass fresher than he would have if he had ground through the grueling fortnight at Roland Garros. He chose caution last month to maximize his fitness for Wimbledon, and that decision already has reaped rewards.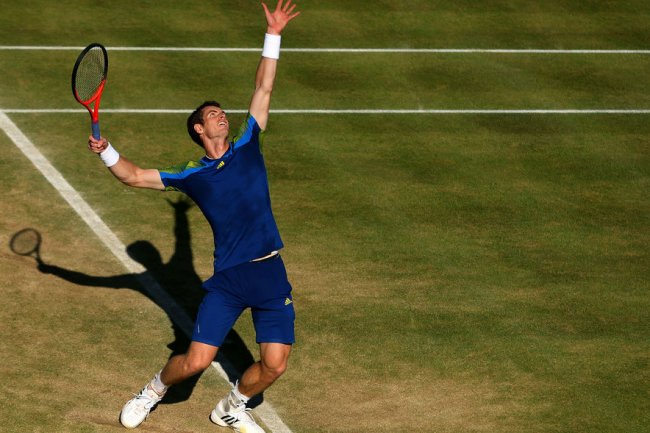 In the week after the French Open, Murray tested his recovering back by entering the Queen's Club grass tournament in London. He surely surpassed whatever expectations he brought to that week by winning his second Queen's Club title in a field that included four members of the top 10.
Murray did not play his best tennis at that tournament, falling behind early against both Jo-Wilfried Tsonga and Marin Cilic. But the elements of his game that make him dangerous on grass reappeared, from his imposing first serve to his pinpoint passing shots and his crisp volleys.
An efficient first week at Wimbledon would allow the world No. 2 to conserve his energy for clashes with his leading rivals later in the tournament. In addition to his solid grass preparation, a comfortable early draw should help Murray achieve that goal.
The Wimbledon men's draw has placed Murray amid a group of clay specialists and fading veterans, opponents who lack the firepower, the durability or the belief to threaten him in a best-of-five format. Not until the quarterfinals would he meet a serious threat in Jo-Wilfried Tsonga, whom he defeated in a four-set semifinal last year.
How will Andy Murray do at Wimbledon this year?
Murray's competition thus builds gradually in quality from one round to the next, ideal for a player seeking to build his form throughout the tournament. Moreover, he need not worry about former Wimbledon nemesis Rafael Nadal, who lost in the first round to Steve Darcis.
Plenty of challenges on both physical and mental levels lie ahead for Andy Murray during the fortnight ahead. But his recent history and fortuitous circumstances, such as his draw, suggest that he may have the tools to master them.