What's at Stake for Every Remaining Star at 2013 Wimbledon?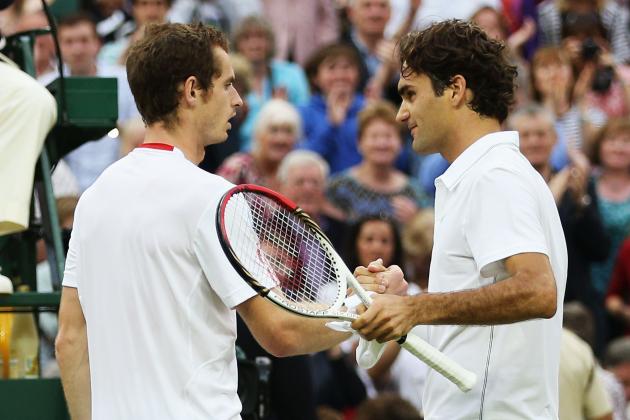 Clive Brunskill/Getty Images

Wimbledon has not only served as tennis' "holy cathedral of tennis religion," but as the traditional proving ground that forms stars and finalizes their legacies. There is an acclaimed mystique to winning on grass, a surface rarely seen or utilized in most players' upbringing. Winning Wimbledon is the emblem of tennis greatness and the enshrinement to its history.
But Wimbledon 2013 may not be so predictable. Rafael Nadal has already been ousted in the first round, and other stars will face a more competitive and open field. Dark-horse players can also create their own immediate sense of history. There are plenty of storylines and legacies to be shaped during these two weeks.
Which players will enhance their careers? Which players will lose their opportunities for greater fame? There is much at stake for the following stars.
Begin Slideshow

»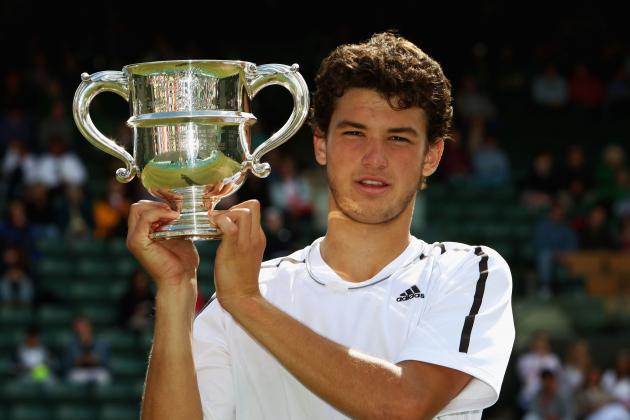 Ryan Pierse/Getty Images

Wimbledon Failure
The roulette wheel continues to spin for young players like Grigor Dimitrov, Jerzy Janowicz and Milos Raonic. So far, none of them have seen their number called. Tennis fans grow weary of their potential and are more centered on their collective disappointments.
These hopefuls have relatively little resistance in advancing to at least the third round. Anything less for these players will be another missed opportunity with probably very little press.
Wimbledon Legacy Builder
Raonic has a golden ticket to the David Ferrer bracket. If he serves big and controls his offense, his hurdles to the semifinals include possible matches against Ferrer and a winnable quarterfinals match against Kei Nishikori, Dimitrov or Juan Martin del Potro. A semifinal appearance versus Novak Djokovic could elevate his stock dramatically.
Dimitrov would need to vanquish the inconsistent del Potro in the third round for a clear opportunity to the quarterfinals. So far, his greatest achievement at Wimbledon was his 2008 Juniors trophy.
Janowicz might be the favorite over Nicolas Almagro on grass, should they meet in the third round. Then he would have the eyes of the world on a fourth-round Roger Federer opportunity. Federer has been particularly excellent against potential stars, but if Janowicz were to complete this Herculean win, all of Poland may go dancing in the streets.
It won't be easy, but there is a good chance one of these players advances to the quarterfinals. A semifinal appearance would boost his young legacy and confidence, perhaps making him a more legitimate Grand Slam contender. There are rewards aplenty here, but he must win.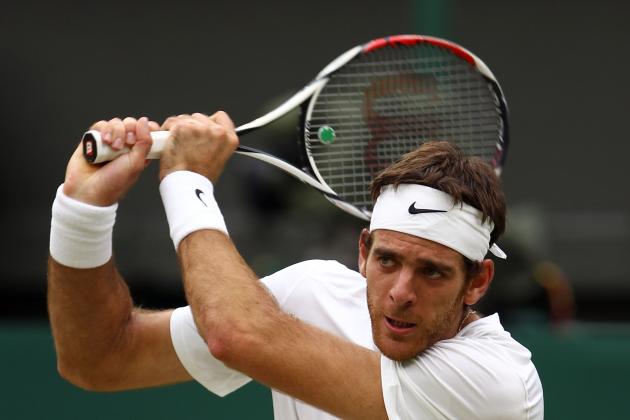 Clive Brunskill/Getty Images

Wimbledon Failure
Del Potro has been surprisingly immune from the kinds of criticisms that have plagued Tomas Berdych, though he has usually been more inconsistent. Some of this is because his 2009 U.S. Open title has shown that he can win the big one, hence he is not labeled as mentally weak. Furthermore, his longtime wrist injury has given him a pass well into 2013.
If Del Potro cannot crack the quarterfinals, it's time for us to accept that he is exactly what he has been the past few years: a fringe top-10 player capable of upsetting the top players, but no longer a legitimate Grand Slam contender.
Wimbledon Legacy Builder
The draw to the semifinals is, perhaps, his easiest route ever at SW19. The quarterfinals could pit him against the indefatigable David Ferrer, but it's time for Del Potro to reenter the discussion of beating elite players. A trip to the final in not impossible, especially in lieu of his 2012 Olympics grass-court win over Novak Djokovic. It's fair to ask: Does he have the heart to win big?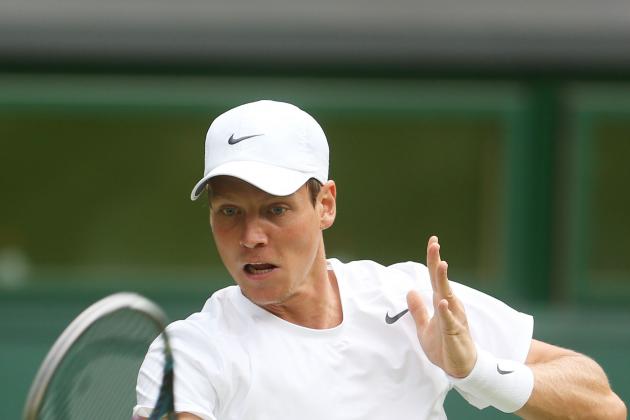 Julian Finney/Getty Images

Wimbledon Failure
Which version of Tomas Berdych will show up? "Good Berdych" is the strong, clean hitter who can overpower Roger Federer and Novak Djokovic en route to the 2010 Wimbledon final. "Bad Berdych" thinks too much under pressure and will collapse like a cheap lawn chair.
If Bad Berdych comes calling at London, he could be out by the third round. His legacy would be virtually sealed as he rapidly approaches 30. There will likely be a sense he should have won more, even in the age of Federer and Nadal. He won big matches, but could not string them together for Slam titles would be his legacy.
Wimbledon Legacy Builder
Berdych has no historical chance to be the greatest player ever born in the Czech Republican. Ivan Lendl is safe. That doesn't mean it's too late to pick off a Grand Slam and be remembered like Richard Krajicek, the 1996 Wimbledon winner who defeated Pete Sampras along the way.
Can Berdych defeat Djokovic in the quarterfinals and help redeem his disappointing efforts against Rafael Nadal in 2010? A Wimbledon title could change his life and the perceptions tennis fans have for his career. It might even buoy him to other Slam titles, but first things first.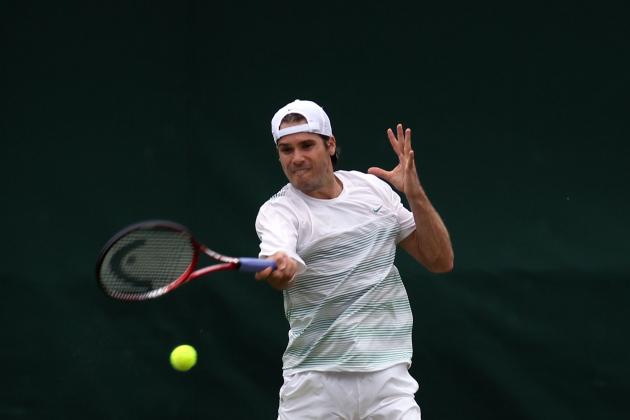 Clive Rose/Getty Images

Wimbledon Failure
Tommy Haas's tragic marriage with injury robbed his prime of its potential. He can hang his hat on a 2009 Wimbledon semifinal appearance, and at 35 years old, he has been one of the great feel-good stories. There's more gravy than gristle in evaluating anything Haas does. If he wins, he is popular and heroic. If he loses, most people will chalk it up to Father Time.
Haas has a great chance to reach the fourth round, but there, he would likely meet Novak Djokovic. If he loses, he goes on to the hard-courts tour with no real loss of dignity or legacy. He can continue to enjoy the ride.
Wimbledon Legacy Builder
He did defeat Djokovic at Miami, but the Serbian trounced him at the French Open quarterfinals. The grass surface should help Haas more than Djokovic, allowing him to serve and volley or hit low slice shots.
He has the tools and composure to compete with the No. 1 player. What a story this would be for the final Sunday. His legacy would not only receive an immediate jolt, but a career revisionist interpretation of "What if Haas had been Healthy?"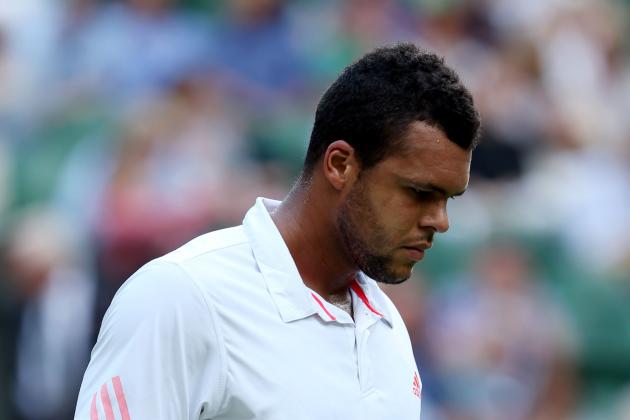 Julian Finney/Getty Images

Wimbledon Failure
A semifinal appearance at Wimbledon no longer helps Jo-Wilfried Tsonga's legacy. The past two Wimbledon appearances resulted in missed opportunities after falling to Novak Djokovic in 2011 and Andy Murray in 2012.
His task is to avoid the upset from dangerous players like Ernests Gulbis and Julien Benneteau and to get revenge on Murray (who will have all of Great Britain in his corner). This would still only land him in the semifinals, probably against Roger Federer.
Judgment can be harsh, but anything less than an appearance in the final leaves tennis fans with the usual perspective of Tsonga's career: great talent and power, but incapable of Slam titles.
Wimbledon Legacy Builder
Suppose Tsonga gets his fairytale final and defeats Djokovic. It would be the biggest French invasion of Great Britain since the Battle of Hastings. That's almost a thousand years of history, language merges, wars and cultural rivalries, all wiped away with the greatest tennis title of all.
Is it too late for Tsonga to reel off a few Grand Slam titles and one day make an appearance at Newport, R.I.?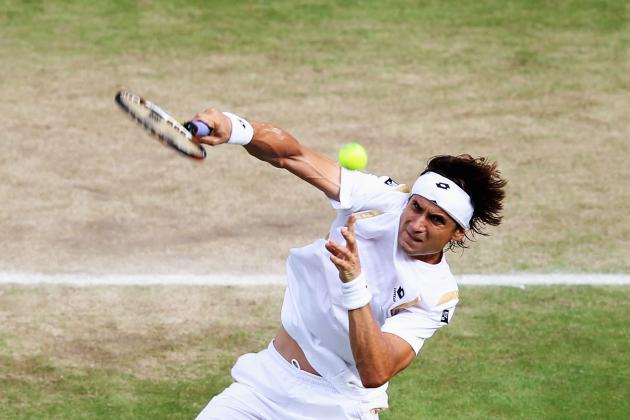 Clive Rose/Getty Images

Wimbledon Failure
Once upon a time, clay-courter David Ferrer became a threat on hard courts. In 2012, he made it to the Wimbledon quarterfinals. Even as he ages into his 30s, he keeps breaking new ground for his career with an astonishing increase in consistency and winning.
Suddenly, Ferrer is the fourth seed and gifted with a favorable draw. If he doesn't get to the semifinals, it will be a disappointment.
Wimbledon Legacy Builder
If Ferrer wins Wimbledon, it would be a bigger surprise than wild card Goran Ivanisevic winning the 2001 title. It would possibly rival Michael Chang's astonishing 1989 French Open title.
Imagine the astonishment in Spain if you would have said one of their native sons would win Wimbledon and it would not be Rafael Nadal. It's a lot to digest at this point, and unlikely on grass, but Ferrer cannot be dismissed if he plays in back-to-back Grand Slam finals.

Mike Hewitt/Getty Images

Wimbledon Failure
One would think that Andy Murray's 2012 summer would relieve him from all pressures. He was a Wimbledon finalist, the men's gold medal winner at London and the U.S. Open champion. No, there is only one achievement that will satisfy the voracious British media: win Wimbledon.
Murray has also reinforced his own priorities for this title, even back in February, while other players were thinking about clay. It's cruel, but because of British tennis futility at Wimbledon, and Murray's great success last year, anything less than the title will be disappointment at least and utter failure at worst.
More Murray articles are now surfacing with the theme of "prove it to us, Andy." It's feast or famine with no consolation.
Wimbledon Legacy Builder
To many tennis fans, Murray is already a Hall of Fame player. A Wimbledon title would seal this debate and bury all negative references to Fred Perry.
Someday, in about 50 years, some other young Brit can try and step out of the shadows of the watchful gaze of an Andy Murray statue that would undoubtedly be erected near the entrance to The All England Lawn Tennis and Croquet Club.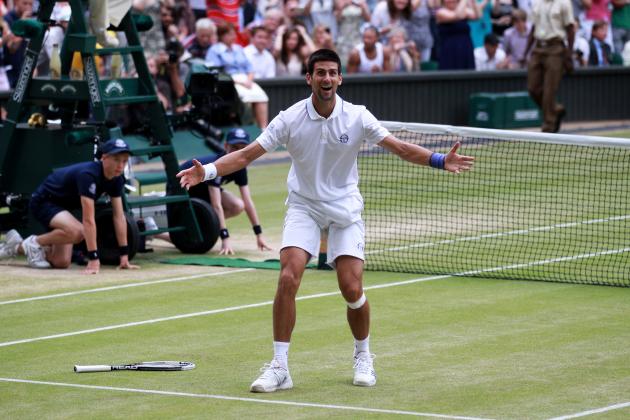 Julian Finney/Getty Images

Wimbledon Failure
Last year, Novak Djokovic was drubbed by Federer in the Wimbledon semifinals. Don't expect this to sit well with him as he wipes off the perspiration of French Open agony against Nadal.
Great players often rue their missed opportunities more than they enjoy their wins. Djokovic has shown plenty of youthful enthusiasm for victory, but may find the alternative colder than he had anticipated.
Anything less than the title will be a failure to the expectations of Djokovic and his team. He has a terrific draw all the way to the final.
Wimbledon Legacy Builder
A second Wimbledon title would all but assure him the No. 1 ranking for a third straight year and put him in pole position for another three-Slam season.
A seventh Grand Slam title would tie him with John McEnroe and move him past Boris Becker and Stefan Edberg. Each Slam win is another move up the top-10 ladder of greatness, and tennis historians might begrudgingly refer to this period as "The Age of Novak."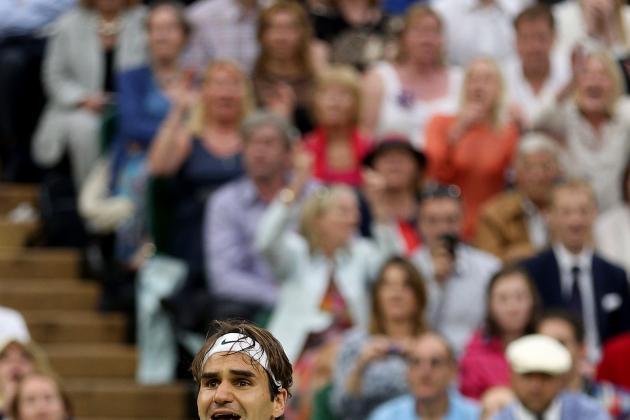 Clive Brunskill/Getty Images

Wimbledon Failure
Since 2003, Roger Federer is 64-3 at Wimbledon with seven titles. It's championship or bust for the "Swiss Maestro," and really, that is the standard and mindset for Federer.
Now that Rafael Nadal has been erased from the first round, Federer is a strong favorite to reach the semifinals for an expected battle against Andy Murray.
Much of the talk may be about Murray's chance at redemption, but Federer has some scores to settle with Murray as well. He lost the gold medal match at the 2012 Olympics and was defeated in a five-set match at the Australian Open.
Wimbledon Legacy Builder
Federer recently reminded media and fans not to look for a second Roger Federer. New champions and styles will come along as aged stars eventually slide gracefully into their next phases of life.
Federer's great legacy at Wimbledon is already secure. At some point, he will no longer compete at Wimbledon, but for now, he stands an excellent chance of holding a record-breaking eighth title. If he wins, it will launch another thousand articles. Just another year of more legacy building for "Roger the Great."