Roger Federer will look to become the greatest Wimbledon champion ever at the 2013 installment of the Grand Slam tournament, attempting to eclipse the tie he currently holds with both Pete Sampras and William Renshaw—all three men have seven wins in London.
Federer, currently the reigning champion after his triumph at the All England Lawn Tennis and Croquet Club in 2012, is coming off two disappointing finishes in the first two Grand Slams of the 2013 season, but he still earned a No. 3 seed in the draw.
Looking at that draw, it's a good time to lay out an ideal path to the championship for the man who has 17 such Grand Slam wins so far in his storied career.
Losing in the semifinals at the Australian Open and in the quarters at the French Open, questions are starting to creep up again about the fragility of the 31-year-old's game heading into a tournament he has largely owned since 2003.
FedEx won five straight Wimbledons from 2003-2007, lost to Rafael Nadal in the finals before he could break the tie with Bjorn Borg for most consecutive Wimbledon wins in 2008, rebounded with a title in 2009 and did the same with another last year.
The Swiss star will need to be in rare form if he wants to tie Nadal for most wins at a major championship.
Coming off a win at the Gerry Weber Open, Federer is saying and doing all the right things in preparation for his favorite of the four major championship tournaments:
After winning his 77th career title in Halle, Roger Federer says he's fit, fresh and excited for the rest of the year http://t.co/1ROEgBfD2q

— TENNIS.com (@tennis) June 17, 2013
He took down Tommy Haas and Mikhail Youzhny en route to the title in Halle, but this is Wimbledon—and the draw couldn't be any more difficult for the one player who has the most to gain from taking home the brass.
FedEx will likely have to beat three of the four best (the other being himself) players in the world to do so.
The way the ATP World Tennis Rankings sit now, Novak Djokovic has retained the top spot with Andy Murray leapfrogging Federer to grab No. 2. David Ferrer, who actually lost to Nadal in the final at the French Open, sits in fourth with Nadal right on his heels in fifth.
Since Federer has the No. 3 seed and Nadal has the No. 5, the two could be facing each other in the quarterfinals, according to Wimbledon:
#Draw2013 potential quarter-final match-ups: Djokovic vs. Berdych, Ferrer vs. Del Potro, Nadal vs. Federer and Tsonga vs. Murray #Wimbledon

— Wimbledon (@Wimbledon) June 21, 2013
Andy Murray is at the bottom of the same side of the draw, meaning that if things go smoothly, he'll face one of those two men in the quarterfinal.
On the top half, Djokovic remains the man to beat with Ferrer, Richard Gasquet, Tomas Berdych and Haas as potential stop-gaps. Either way, Federer wouldn't see any of these men until the final.
So from the quarterfinal on, FedEx might have to take out top players one-by-one if he wants that eighth trophy for the mantle and the prestige that will come with it. As Darren Cahill notes, he's done it once before:
Federer may need to defeat Nadal, Murray & Djokovic to win Wimbledon. He's done it once before to win the 2010 World Tour Finals in London.

— Darren Cahill (@darren_cahill) June 22, 2013
Although that's the situation we're in, it's not the most ideal for a man who has a winning percentage of over 90 (66-7) in his career in London on grass.
Which potential opponent poses the biggest threat to Federer's eighth Wimbledon title?
Federer's first opponent will be Victor Hanescu, a player who, in five career meetings dating back to 2004, has never taken a set from Federer. A quick win against Hanescu would allow Federer to grab some early rest after his opening-round match.
In his current section of the first-round draw, six other players hold rankings higher than 30, besides Nadal, who Federer could see before or in the quarterfinals. Hopefully, some of those players find a way to slip up before it ever comes to that. A mix of Nicolas Almagro, Jerzy Janowicz and Fabio Fognini losing before the fourth round would help Federer's cause.
All roads, however, lead to Nadal and his strong play posing too much of a challenge for his outmatched opponents on way to the quarterfinals. Knowing this, a mixture of strong play and quick matches before the quarterfinals would serve Federer well.
Post-quarterfinals, it looks like Murray is the opponent to beat with respect to getting to the semifinals. Jo-Wilfried Tsonga poses the biggest threat out of those who should give Murray a strong run for his money, but before that, keep an eye on Marin Cilic, who just lost to Murray in the final at the AEGON Championships this week.
Looking even further ahead, Djokovic appears poised to give the field a huge run for its money in pursuit of his second Wimbledon title. Since that fateful day in 2011, Djoker has ascended to No. 1 in the rankings, hasn't been outside of the semifinals in any Grand Slam appearance and won the Australian Open earlier this year.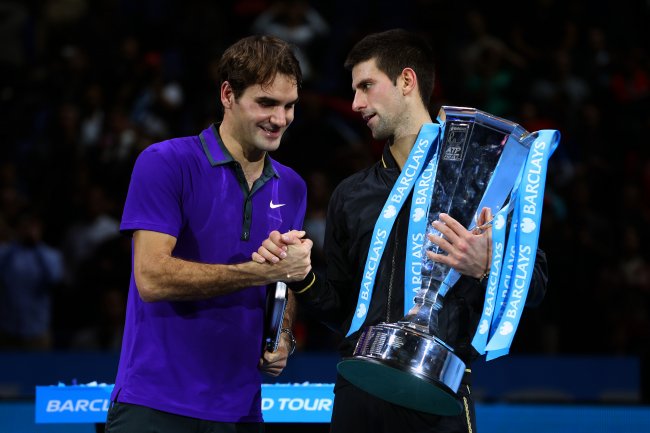 Julian Finney/Getty Images
Needless to say, things aren't going to be easy for Federer.
Ideally, a slew of quick matches against his early opponents will help give him some early rest. An upset or two before Nadal reaches the quarterfinals would be nice, too, and if any of the "Big Three" mentioned as potential opponents slip up before their respective matchups with Federer, then the road becomes much wider.
It all starts on Monday with Hanescu, and after that we'll start to gauge whether or not we're looking at a title contender or a guy just trying to survive and compete against players ready to eclipse his greatness in the near future.
Either way, this is Roger Federer at Wimbledon we're talking about. Just like Nadal at the French Open, you don't want to miss his matches—or dare count him out of the title contention—until the final point has been won on Centre Court.
*For a complete look at the Wimbledon draw, click here (courtesy Wimbledon.com).
Follow Bleacher Report FC Ethan Grant (@DowntownEG) on Twitter.