The "Greatest" Tennis Debate Ends Here
May 5, 2009
It's ok. You are forgiven. You have all debated who the greatest tennis player of all-time is.
Was it Pistol Pete Sampras, with his ATP-record 14 Slam titles? My great-grandpa could beat him on clay. Wrong, to the stocks with you!
No, maybe it is Rocket Rod Laver, with his two calendar Grand Slams? Who? That guy who played with a badminton racquet? Not if hell froze over. Into the river you go, face first please.
It has to be John McEnroe then, right? I mean, look at all those shiny singles and doubles hardware he won. Throw in his god-like 1984 season and he has to be the answer. Nein, again! Off to be tarred and feathered!
Or maybe you are a part of the faction that believes a greatest of all-time does not exist. Shame on you, too. In reality, the Great Debate should not even be a discusion.
The answer is staring you in the face.
Billie Jean King said she was "The greatest singles, doubles and mixed doubles player who's ever lived."
Her records are literally untouchable. Want some proof? Current world No. 1 Rafael Nadal sits peacefully with 35 career titles to his name, with his seasonal high being 11. He would need that kind of season every year until he turned 35 to even have a thought about matching her.
I won't even bother mentioning how she even has more doubles trophies than singles ones.
If you haven't guessed it by now, our mystery immortal is of course Martina Navratilova.
Martina was born on a court in Bratislava, Slovakia, on July 23, 1973. Well, not literally, but that was the hallowed grounds of her first WTA title. The 16-year-old native wonder girl won the doubles trophy alongside countrywoman Renata Tomanova, beginning an unprecedented era of dominance over women's tennis.
The Czechoslovakian International Open would be the first of 353 more trophies bearing the inscription "MARTINA NAVRATILOVA" on them. Take out the holidays and she has a trophy for every day of the year.
To put that statistic into concept, she has more career titles than any other two players in history put together.
She completed the "boxed set" in 2003. What in hell is that? She is the only player in the Open Era to accomplish the feat.
For those of you who are unsure, let me define what it is.
Boxed Set: Winning all four Grand Slam events in singles, doubles and mixed doubles.
As for the great Sampras, he is a mere housefly on Martina's mantelpiece. As just about everyone in the tennis world is aware for one reason or another, Pete Sampras holds the ATP record with 14 career Grand Slam titles won. The vast majority of those were Wimbledon crowns.
Ha!
The smooth-swinging shotgun southpaw quadruples that mark with 59. If you want to be technical, 18 of those are singles titles, which also happens to put Sampras to shame. But enough of that.
The truly impressive part of her trophy case didn't get there in the 1970's. Or the '80's. Or even the '90's. In 2006, as a 49-year-old still bounding with energy, she won the U.S. Open mixed doubles crown alongside American doubles master Bob Bryan.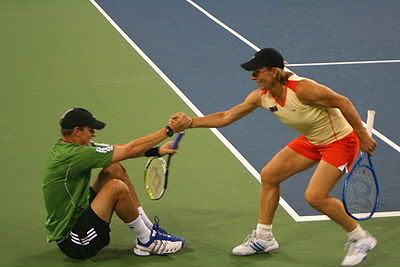 The insane feat capped off a career that spanned 33 years of incredible success.
I'd like to see Bjorn Borg come back and try to win a Grand Slam doubles tournament. Better start training for Wimbledon now, huh? We'll even be nice to him and let him play with current world No. 1 Cara Black.
Of all the career Slams she won, none truly define her either. Look to Chris Evert for that.
It was Navratilova versus Evert, also known as the Greatest Rivalry in Tennis, and possibly one of the greatest ever in sports. The modern "rivals", Federer and Nadal, have met up 19 times in ATP events. Martina and Chris met 80 times.
Between 1973 and 1988, the edge went to Martina - 43 to 37. The yin and yang of each other in terms of playing style, they could still walk off court and play doubles together later in the day.
And were they ever a team.
But enough of the titles jabber. If your mind isn't blown yet, do not panic. We'll go at you rapid fire now.
Between singles and doubles, she won 2,189 career matches. Most players, past or present, don't play half that many matches in their career.
She won 78 percent of her matches against the WTA Top 10.
Argentine Guillermo Vilas holds the ATP record for all-court match win streaks, with 46. Hmpth. Martina won 74 straight.
From 1982-1984, she held a singles record of 258 wins and six losses, capped off by an 86-1 mark in 1983. Just for the statistician, that would be your everyday 97.7 winning percent. Are you sure those aren't her stats from high school?
Forget that 74 match winning streak. She topped that later, winning 109 straight doubles matches over a three-year span with Pam Shriver.
What's the deal? All of those are tops in the history books. Numbers don't lie, and Navratilova dominated them for three decades. We're lucky to see a player dominate for three years now.
In her days, she beat the likes of Evert and King, or Lindsay Davenport and Jennifer Capriati. She toppled stars of today, yesterday, and everywhere in between. Any player who has risen to the pinnacle of women's game, chances are she was beaten by Martina.
Even more, she took on any challenger, including Jimmy Connors. The two faced off in Las Vegas in 1992, a match where Connors won in straight sets.
Her doubles resume is just as impressive. She has defeated tennis royalty in Borg, doubles demigod Todd Woodbridge and current world No. 5 Venus Williams. She also teamed up with the other Woodie, some guy named Federer, and Ilie Nastase.
She gets around.
"I've been in the twilight of my career longer than most people have had a career."
She was even inducted into the International Tennis Hall of Fame before she won her final Slam title!
Even more incredible, the numbers and victories might not have been the most impressive part of her illustrious career. She got her start primarily on clay courts, where she attacked the net with ruthless abandon.
Despite raising eyebrows at the 1973 French Open as a 16-year-old, her weight and fitness were a major question mark. Experts didn't figure a 5-foot-7, 165 pound pudgy Czech girl could keep up with the pace of the professional game.
No doubt she had the will and drive to get better, though.
Her commitment to better herself despite winning is something very rarely seen today.
She was not a natural grass player, so all she did was refine her game and go on to win something like nine Wimbledon crowns.
She was criticized for her physical fitness, so she dedicated herself to becoming one of the most fit players on tour. And she succeeded. Read her book, Shape Your Self.
As a testament to her physical stamina and endurance, she won 100 or more matches (singles and doubles) in a year on 12 separate occasions, with an unreal 160 wins in 1982. As the game evolved, so did Martina.
You don't just sit around on top of the world for 332 weeks by gambling with house money.
For those of you playing along at home, that is equal to six years and five months.
She played the part perfectly, playing with the utmost intensity on court. She even had a little McEnroe in her, arguing calls while joking along with the fans. But personality aside, she just knew how to WIN.
"The mark of a great sportsman is not how great they are at their best, but how good they are at their worst."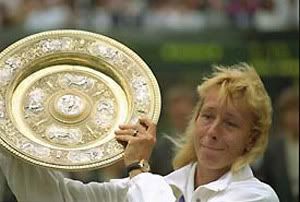 Maybe we would know how great Martina Navratilova really was if she ever had a bad day.