Serena Williams was unstoppable on the red clay at Roland Garros, winning the 2013 French Open in impressive fashion. The scary thing about her performance in France is that clay is her worst surface, as noted by Ben Rothenberg of The New York Times, who marveled at her perfect record on clay in 2013:
Serena Williams just went 23-0 this year on clay, her worst surface by far. Can't recall anyone else doing anything like that, ever. #rg13

— Ben Rothenberg (@BenRothenberg) June 8, 2013
Williams is superb on grass, and it's going to take nothing less than a miracle for someone to beat her at the All England Club in London.
The younger Williams sister is on a legendary tear right now.
She famously lost in the first round of the French Open last summer to Virginie Razzano—an embarrassing loss and her first (and only) first-round loss in a Grand Slam event.
But the loss was a salient moment in Williams' career. Since that time, she's compiled an otherworldly record of 74-3—her last loss coming when she withdrew from the Dubai Championships in mid-February with a back injury.
Since February, Williams has been flawless, compiling a record of 31-0, as noted by Tennis.com:
Serena Williams has won 31 straight matches; Rafael Nadal has won 22 in a row. Can anyone stop them at Wimbledon? http://t.co/meCfUVTAKT

— TENNIS.com (@tennis) June 10, 2013
The answer to Tennis.com's question, as far as Williams is concerned, is an emphatic "No!"
Nobody's capable of stopping her on grass surfaces when she is at the top of her game.
Period.
A five-time champion at Wimbledon, Williams has won a title in London three times in the last four years.
Furthermore, Williams is playing with a renewed passion and fervor these days, and her form is perhaps as good, if not better, than she's ever shown.
Just one day removed from her second career victory at Roland Garros, Williams was already looking ahead to Wimbledon. She spoke with USA Today Sports' Douglas Robson, who visited her in her home in Paris:
I feel like my career is almost beginning again or something. I'm already focused on Wimbledon...I'm playing better. I'm working harder. I'm doing more things. And I feel like I deserve to win because I'm honestly working very hard.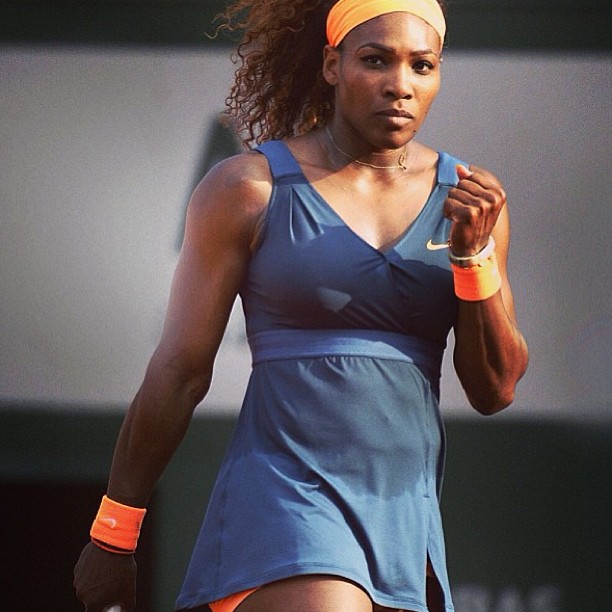 Williams' hard work is paying off right now.
She is in phenomenal physical condition, and her game is honed to a razor's edge.
Serena will _____ at the 2013 Wimbledon Championship.
A powerful server who hits the ball harder than any other woman on tour, Williams' game is suited to the speed of grass surfaces. She will plow through her competition in the early rounds at the All England Club in even more impressive fashion than she did at Roland Garros.
At this point, it seems as if the only person who can stop Williams is Williams herself.
Judging by recent history, that's not an outcome anyone should expect.
Williams will claim her 17th Grand Slam victory by winning the Venus Rosewater Dish at Wimbledon this summer.
Follow me on Twitter @JesseReed78