Stefan Gordy is set to begin an earnest attempt to qualify for tennis' final major of the year: the U.S. Open.
If you, like I was, don't think you are familiar with Gordy, yes you are:
That's right, he is more commonly known by his stage name, Redfoo. And I have a hard time believing anyone with access to the internet and ability to view this article could possibly have not run across one of LMFAO's overplayed hits.
As SI.com passes along, Gordy will be playing this week at the sectional qualifying tournament in Salinas, Calif.
Now, his participation in qualifying for the U.S. Open could go one of two ways for the sport. If Gordy was out there dancing and singing in spandex while simply using this stage as a chance at self promotion, this would be less than ideal for tennis.
However, that isn't the case. Although, I wouldn't be totally shocked to see him playing in a crazy spandex suit. But he will certainly be taking the tennis seriously. Mr. Redfoo loves the sport.
The 37-year-old is currently dating WTA No. 2 Victoria Azarenka, and he is often seen in the crowds cheering her on.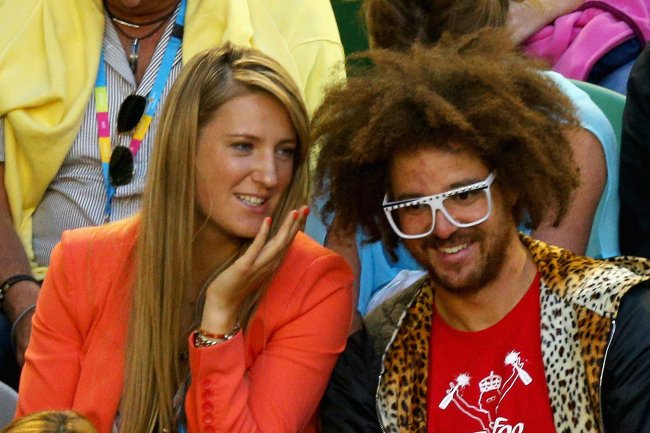 Lucas Dawson/Getty Images
He also has an extensive background playing the game.
In a story by ESPN's Charles Curtis earlier in the year, Redfoo mentions he was, "top-40 in Southern Cal in 16's." Also, that Boris Becker would come over to his father's house while Gordy was growing up.
He also made it known that he still loves to play. Gordy, via Curtis:
Every time I tour, I find a pro—I go to the local tennis center in that country, wherever it is and I play. I played with a Davis Cup player, he's 19 but he's on a Davis Cup team in Malaysia. I don't even want to tell you the score.
He's definitely got a decent stroke. Here he is playing a bit with Serena Williams during the BNP Paribas Showdown in New York in March:
Is Redfoo's participation in qualifying good for tennis?
However, it's not that I think Redfoo has a shot at qualifying that leads me to saying this is good for the sport. He doesn't need to qualify to make a positive impact.
Redfoo has a fanbase that includes numerous people who would likely never give tennis a second of their thoughts. However, his passion for, and now participation in, competitive tennis will introduce a whole host of new fans to the game.
This will help add numbers and youth to the tennis fanbase. That is a great news for a sport struggling for relevancy in an ever diversifying sports landscape.