Wimbledon Tennis 2013: Championship Odds and Predictions for Top Contenders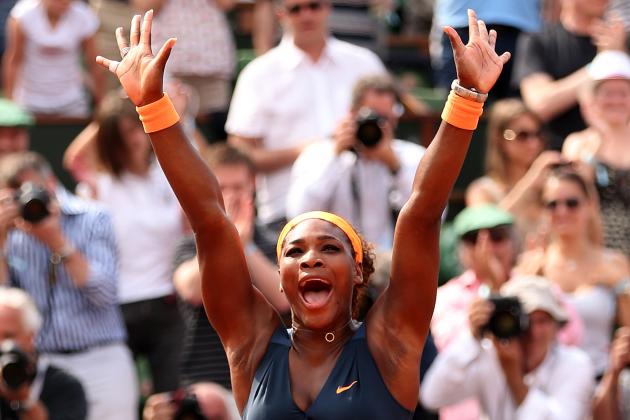 Clive Brunskill/Getty Images
Serena Williams
French Open champions Rafael Nadal and Serena Williams are the hottest players coming into Wimbledon, which starts Monday. But the outlook for those two on the grass of the All England Club is very different.
Friday's draw will be much more significant for the men's event than for the women's tournament. Nadal is ranked only fifth at the moment, and he will be seeded No. 5 at Wimbledon, despite the formula that allows Wimbledon officials to deviate slightly from the rankings when making their seedings.
Nadal will be in line to face Roger Federer, Andy Murray or Novak Djokovic in the quarterfinals, and he might have to beat all three to win the title. Winning three consecutive matches against players who have won 24 major titles, including seven of the past 10, would be a major accomplishment, even for Nadal.
The possibility of somebody completing a Grand Slam in 2013 has already been eliminated, with Djokovic and Victoria Azarenka having won the Australian Open singles titles in January.
We'll count down the top six Wimbledon contenders for both the men's and women's singles, listing the least likely to win first and the most likely last.
Begin Slideshow

»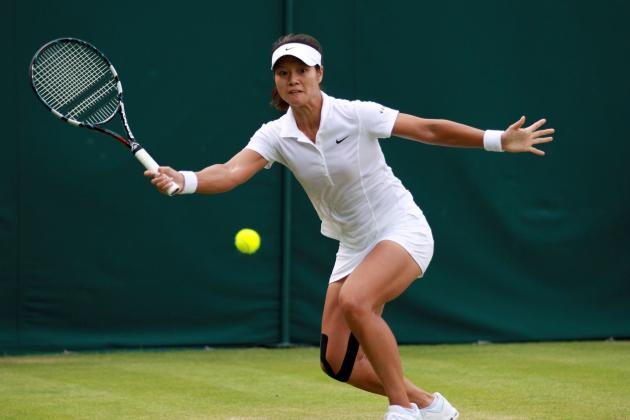 Clive Brunskill/Getty Images

Odds to Win the Tournament: 20—to—1
Li Na has not played particularly well since reaching the finals of the Australian Open in January. Before this week's grass—court tournament at Eastbourne, England, she had lost in the first or second round of her last three tournaments, twice losing to players ranked outside the top 60.
Li is 31 years old, so it's starting look more like a decline than a slump.
Her game seems suited to grass, but she has never gone past the quarterfinals at Wimbledon and lost in the second round the past two years.
Predictions: When Li is playing well, she is capable of beating the top players. When she's playing poorly, though, it can get ugly. It's been more of the latter lately, and we're betting that trend continues.
Li would do well to get to the quarterfinals. An earlier loss is more likely.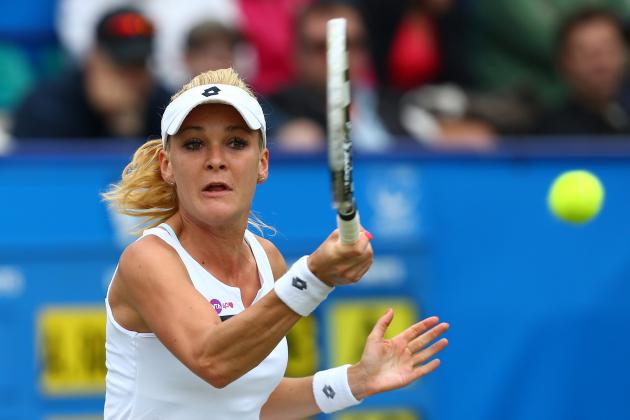 Jan Kruger/Getty Images

Odds to Win the Tournament: 15—to—1
Agnieszka Radwanska was the 2012 Wimbledon runner up, and she took a set from Serena Williams in the finals. That alone should label her as a contender at this year's Wimbledon. However, she benefited from a favorable draw last year. She did not beat any of the top seven seeds and defeated only one top—15 seed en route to the finals.
That's the only time she's been past the quarterfinals of a Grand Slam event, and her first-round loss to 41st—ranked Jamie Hampton in the grass—court tournament at Eastbourne, England, this month could not have helped her confidence.
Prediction: Radwanska won her first two tournaments of 2013, but has not reached the finals in any of her nine tournaments since. Unless the Wimbledon draw opens up for her like it did last year, Radwanska is unlikely to get any further than the semifinals. And she will do well to get that far.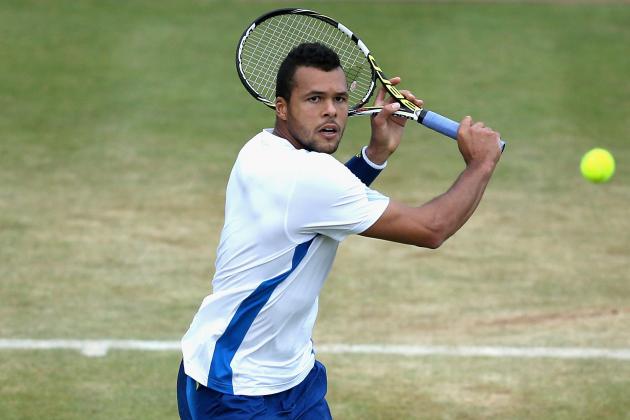 Clive Brunskill/Getty Images

Odds to Win the Tournament: 12—to—1
Jo—Wilfried Tsonga has never won a Grand Slam event, and has reached the finals of only one. That was back in 2008 at the Australian Open on hardcourts.
His performance in the French Open showed why he could contend for a Wimbledon title, but also demonstrated why he might not ever win a major title. He blew through the competition in the first five rounds without losing a set. That included a straight—sets victory over Roger Federer in the quarterfinals. And that was on clay. Tsonga's big game should be better suited to grass, and he got to the semifinals at Wimbledon each of the past two years.
However, his lackluster loss to David Ferrer in the French Open semifinals showed how difficult it is for Tsonga to maintain a high level of play throughout a major tournament.
Tsonga is 1—0 on grass against both Federer and Rafael Nadal, but is a combined 0—6 on that surface against Novak Djokovic and Andy Murray.
Prediction: Betting on Tsonga is a high—risk, high—reward proposition. He is capable of beating any of the top players, and if he gets on a roll, he could be the surprise of the tournament. But he has not reached the finals in any of his last seven tournaments this year, and we don't expect him to put together a run that will end that streak. A third straight semifinal berth at Wimbledon is his limit.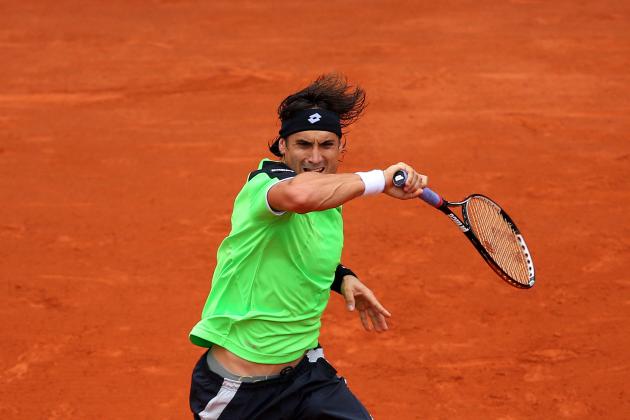 Clive Brunskill/Getty Images

Odds to Win the Tournament: 10—to—1
The odds listed above are very different from those of most bookmakers, who list Ferrer as a very long shot. It's easy to see why few expect him to do well. Even though he got to the French Open finals, he did not have to beat any top—five players to get there. And that event was on Ferrer's best surface, clay.
His style, which depends on a relentless backcourt game, does not seem suited to grass. That belief is substantiated by the fact that he has never gone past the quarterfinals at Wimbledon and lost in the first round to 60th—ranked Xavier Malisse in the grass—court tuneup event in The Netherlands.
There are reasons to believe he might fare well at Wimbledon, however. He is unusual in that he still seems to be improving at age 31. His best Grand Slam results have come over the past two years, as he has reached at least the semifinals in four of the past five majors. Last year's quarterfinal berth was his best result at Wimbledon.
Prediction: Based more on a feeling than on logic, we expect Ferrer to do well at Wimbledon. He seems to be getting better on all surfaces, even grass, despite his advanced tennis age. His dogged determination should allow him to get deep into the tournament.
He does not have the weapons or style to win the event, but we predict he will get at least to the quarterfinals and perhaps the semis.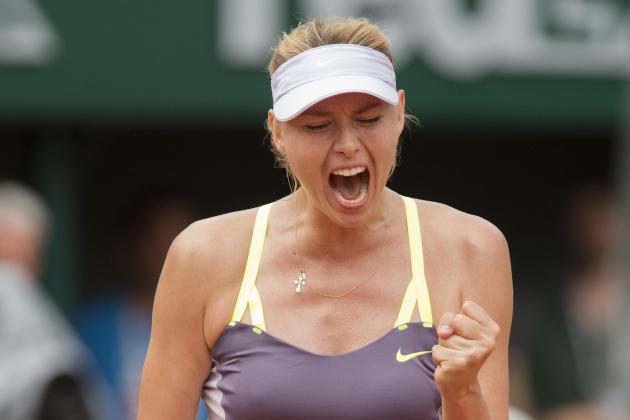 Odds to Win the Tournament: 8—to—1
Maria Sharapova has had an outstanding year. She has lost on the court to only one player in her seven tournaments since the Australian Open. But she has lost to Serena Williams four times in that stretch.
Sharapova beat Williams at Wimbledon in 2004, but has lost 13 straight matches to Williams since 2005. That includes two losses on grass, one of which was a 6—0, 6—1 defeat at the All England Club in the Olympic finals last summer.
Her first Grand Slam singles crown came at Wimbledon, but her one and only Wimbledon title came nine years ago, and she has reached the finals only one time since then.
Predictions: Sharapova's only chance for a title is to have someone else knock off Williams. She has little chance against Williams on grass and has a 50—50 shot against either Victoria Azarenka or Petra Kvitova. She rates as a favorite against anyone else.
Look for Sharapova to get to the semifinals, with an opportunity to get to the finals if Williams is in the other half of the draw.
Clive Brunskill/Getty Images

Odds to Win the Tournament: 8—to—1
Petra Kvitova won the Wimbledon title in 2011, and her only two Wimbledon losses the past three years came against eventual champion Serena Williams. Kvitova was even competitive in those two defeats.
Her third—round loss to Jamie Hampton at the French Open was not encouraging, but she is clearly a better player on grass than on clay.
Her big left—handed serve and aggressive style are effective at Wimbledon. She had 36 aces and 222 clean winners while winning the 2011 Wimbledon tournament, according to The National. Inconsistency is her weakness, as indicated by this article at Tennis.com.
Prediction: Kvitova is the player with the best chance of upsetting Serena Williams. Whether she can be consistent enough to get that chance is the question. She has stretches where she plays poorly and could lose early.
She has failed to get past the quarterfinals in any of her past four tournaments this year, losing twice to players ranked outside the top 50 in that stretch.
But we expect her best tennis to be on display at Wimbledon. She has never lost to either Victoria Azarenka or Maria Sharapova on grass, but has never beaten Williams on that surface. We anticipate that Kvitova will advance until she meets Williams. That will be the end of the line for her, though.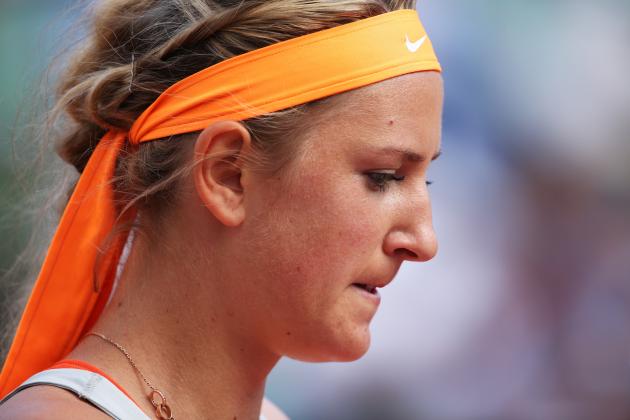 Clive Brunskill/Getty Images

Odds to Win the Tournament: 6—to—1
No. 2—ranked Victoria Azarenka won the 2013 Australian Open and is the last person to beat Serena Williams, knocking her off on hardcourts in Qatar in February. Those two accomplishments make her a factor at Wimbledon.
A more significant hint that she's a contender at Wimbledon is her steady improvement in Grand Slam events. Before reaching the 2011 Wimbledon semifinals, she had never gone past the quarterfinals of a major. Now she has reached at least the semifinals in six of the past eight, including the breakthrough in Australia.
Azarenka turns 24 on July 31, so she figures to continue her steady ascent.
She did not play a grass—court warmup event this year, but did not play one last year either when she advanced to the Wimbledon semifinals.
Predictions: Azarenka is seeded second at Wimbledon, which will put her on the opposite side of the draw from Serena Williams. That's a blessing.
Because she has never taken a set off Williams in their three career grass—court matches, Azarenka has to hope someone else eliminates Williams before the finals. That's unlikely, so we predict Azarenka will get to the finals, but lose there.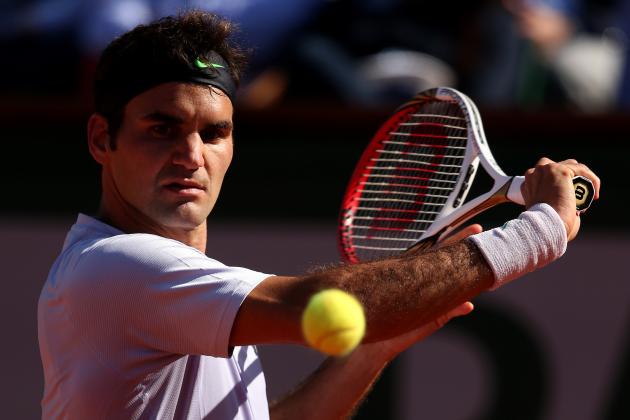 Clive Brunskill/Getty Images

Odds to Win the Title: 6—to—1
There are two ways to look at Roger Federer's chances of winning Wimbledon.
On one hand, he has won Wimbledon seven times, tied for the most in history, and he is the defending champion. He was named the greatest player in history by the Tennis Channel, and is still ranked No. 3 in the world. Federer is coming off a victory in the warmup grass—court event in Halle, Germany last week. Of the four elite players in the men's game, Federer's game is probably best suited for success on grass.
On the other hand, Federer has not beaten a top—five player this year. His only 2013 win over a top—10 player came back in January in the Australian Open against No. 8 Jo—Wilfried Tsonga, who beat Federer in straight sets in the quarterfinals of the recent French Open. Federer has reached the finals of only two of the past 13 Grand Slam events, and he lost in the Wimbledon quarterfinals in 2010 and 2011. At age 31, his career is clearly on the decline.
Prediction: This may be Federer's last chance to win an 18th major title, and he has scaled down his schedule so he will be rested and healthy for the attempt. A favorable draw could give him an advantageous path to the finals, and he is likely to have the support of the crowd against anyone other than Andy Murray.
Nonetheless, his results this year suggest he will not win Wimbledon and will not even get to the finals. We expect him to get no further than the semifinals, and he may fall before that.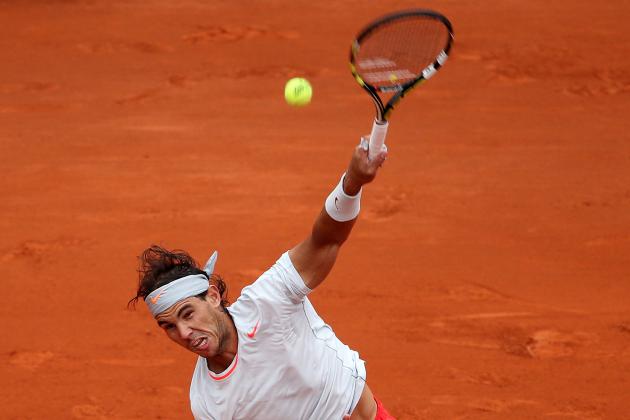 Clive Brunskill/Getty Images

Odds to Win the Tournament: 4—to—1
Despite his current No. 5 ranking, Rafael Nadal has been the best men's player in 2013. He has reached the finals of all nine tournaments he's played this year, and won seven of them, including the last four in a row. He has won 22 straight matches and is coming off an impressive straight—sets victory over David Ferrer in the French Open finals.
However, there remains apprehension about his troublesome knee, which kept him sidelined for seven months until his return in February.
"It's true that in Barcelona [in April] my feeling was very negative about my knee. So I am still going week by week, day by day. I will take a look after here," Nadal said after the French Open, according to an Agence—France—Presse article.
Concerns about the knee prompted him to pull out of the grass—court tuneup at Halle, Germany, and Nadal had played grass—court warmup events before winning each of his two Wimbledon titles in 2008 and 2010.
Predictions: Last year's second—round loss to 100th—ranked Lukas Rosol can be explained away because Nadal was severely hampered by his aching knee. But not playing a warmup event on grass this year is a significant factor for Nadal, who needs to adjust his game for the faster surface.
Although he won an eighth French Open title, he was not quite as dominant in Paris as he's been in the past. His grit alone could get him a third Wimbledon title, but there are too many concerns. We expect him to fall just short.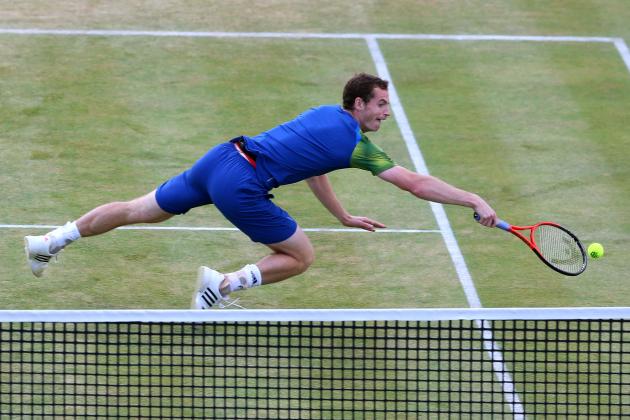 Julian Finney/Getty Images

Odds to Win the Tournament: 7—to—2
Andy Murray seems to be inching his way up the elite ladder. Two years ago he was clearly No. 4 among the Big Four of Rafael Nadal, Novak Djokovic and Roger Federer. But he currently is ranked No. 2 and has reached the finals of the last three Grand Slam events he's played. That includes his breakthrough title at last year's U.S. Open and a runner—up finish in last year's Wimbledon, where he lost in four sets to Federer.
The back injury that forced him to withdraw from the French Open seems to be healed, as evidenced by his victory in the Queen's Club grass—court event earlier this month. It appears the groin injury he suffered in the finals at Queen's Club is nothing serious, but it bears watching.
The one concern is tournament toughness. Heading into the Queen's Club event, Murray had played just six tournament matches since April 1. Winning seven best—of—five matches at Wimbledon requires a mental and physical sharpness that seldom can be achieved on the practice court.
Prediction: We like the upward trend of Murray's career, and, at age 26, he should be approaching his prime. The recent paucity of tournament competition might be countered by the fact that he should be refreshed and eager for Wimbledon, where he will get plenty of crowd support.
Winning at Queen's Club was a favorable omen, and we expect him to get to the finals at Wimbledon. Beating Djokovic in the finals would be a challenge, though. Murray beat Djokovic in their only grass—court encounter in last year's Olympics at the All England Club, but Djokovic has won their last three matchups. The lack of tournament toughness is likely to catch up to Murray against Djokovic.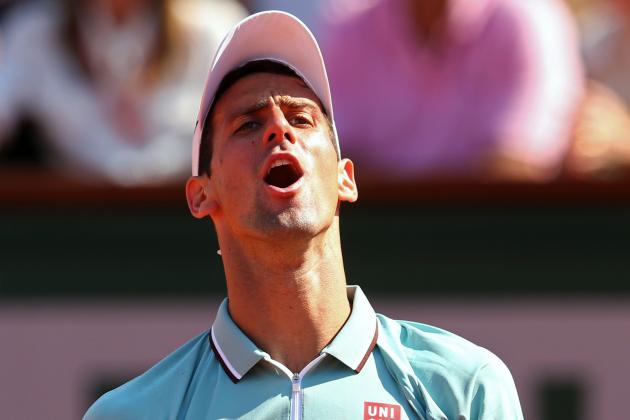 Julian Finney/Getty Images

Odds of Winning the Tournament: 2—to—1
No. 1—ranked Novak Djokovic has won five of the past 10 Grand Slam events, and reached at least the semifinals in 12 straight majors. He won the Australian Open this year and played Rafael Nadal to a virtual standstill in the French Open semifinals before losing 9—7 in the fifth on clay, Nadal's best surface.
However, Djokovic has won Wimbledon only once, in 2011, and he reached the finals of only one of the six 2013 tournaments he's played since February.
Djokovic has not played a tournament since the French Open, but he did not play a grass—court tuneup event in 2011 when he won Wimbledon.
Prediction: Despite the loss to Nadal in Paris, Djokovic's performance in that match makes him the favorite at Wimbledon. He nearly beat Nadal on clay, and should be better—equipped to handle Nadal on grass. Roger Federer is not playing as well as he was last year when he beat Djokovic in the Wimbledon semifinals, and Andy Murray may not be as sharp with his recent layoff.
A difficult draw could increase the challenge for Djokovic, and he is by no means a shoo—in. But his consistent success in recent Grand Slam events and his improvement on grass in recent years make him our pick to win it.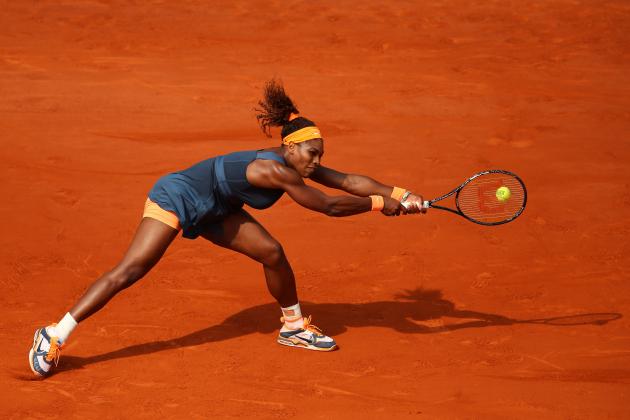 Julian Finney/Getty Images

Odds to Win the Title: 1—to—2
Thirty—one is the magic number for No. 1—ranked Serena Williams. She's 31 years old, and she's won 31 consecutive matches. In fact, she is 74—3 since her inexplicable loss to 111th—ranked Virginie Razzano in the first round of the 2012 French Open.
Williams' skill on grass is unquestioned. She is the defending Wimbledon champion and has won the event five times, including three of the past four years. Williams also won the Olympic gold medal on the grass at the All England Club last summer.
A recent Rolling Stone article called her the most dominant figure in sports today.
Prediction: Although her age suggests her career should be on the decline, Williams shows no signs of a downturn. She has dominated her three most likely challengers on grass. Williams has a combined 5—0 record in grass-court matches against Victoria Azarenka and Petra Kvitova, and she's won the past two on grass against Maria Sharapova. Sharapova's only grass—court victory over Williams was in 2004, and Williams has beaten Sharapova 13 times in a row since 2005.
An injury or a loss of focus may be the only things that can prevent Williams from winning Wimbledon. Neither is likely, and we expect Williams to pick up her 17th Grand Slam singles title.