2013 NHL Draft: Potential All-Stars Who Will Go Outside of the Top 3 Picks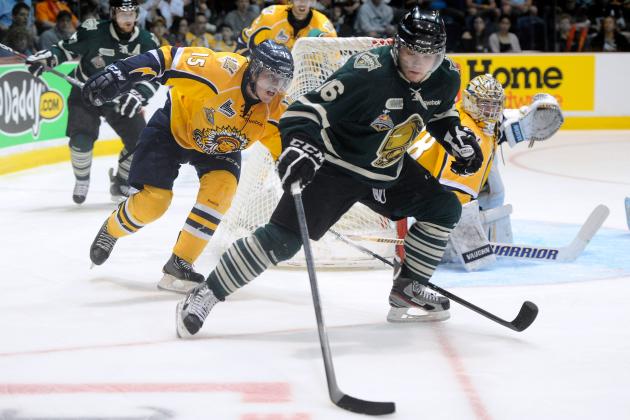 Richard Wolowicz/Getty Images
Max Domi has the skill set needed to be an effective forward at the NHL level if he can overcome his small stature.
All the chatter heading into the 2013 NHL draft seems to center around the "big three" of Seth Jones, Nathan MacKinnon and Jonathan Drouin. While all three of those players have the talent and drive needed to be NHL All-Stars, there are a few other players that could reach that level of success in the pros as well.
Every draft class features players that should have gone higher, but it's always easier to look back and say, "Well, maybe we should have selected Ryan Getzlaf or Corey Perry" than it is to accurately project which players will evolve into All-Stars.
Through all the hoopla that surrounds the draft sometimes, it's easy to forget that these players are teenagers, after all.
This is just a glance at a few players who will likely be selected in the first round that could reach stardom in the NHL. A player not having his name on this list in no way signifies that he doesn't have that potential or chance.
Begin Slideshow

»
Final ISS Ranking: No. 1 European skater
Projected Draft Range: Top-five selection
Why He Could be an All-Star: Just making it to the SM-liiga at 16 is an impressive feat in and of itself, but Aleksander Barkov didn't just make it to Finland's top pro league—he excelled there. After posting 16 points in 32 games at 16, he built on that success as a 17-year-old in 2013.
His 48 points in 52 games were good enough to crack the top 10 in league scoring while playing against adults.
Barkov is a power forward that can dictate the pacing of the game with his skill and size (6'2'', 205 lbs). His vision is uncanny and there may not be a better playmaker available in the draft this season. He's poised with the puck and doesn't tend to make bad choices, regardless of defenders trying to take away his time and space.
Final ISS Ranking: No. 12 North American skater
Projected Draft Range: Middle of the first round
Why He Could be an All-Star: Ryan Pulock sank a bit in the final ISS rankings, falling from No. 6 at midterm to No. 12, but that doesn't mean there isn't a lot to like about this offensive-minded defenseman.
Puck-moving defenders are an integral part of any successful team in the NHL, and Pulock is just that. His ability to pass the puck up the ice to streaking forwards is outstanding, and he has a good sense when it comes to jumping up in plays or sitting back a bit.
Pulock's biggest weapon is his slap shot, however. It could be the hardest shot in the draft and he delivers it well through traffic. He's excellent on the power play and is in the process of rounding out his defensive game.
He's a few years away from the bigs, but with some seasoning, Pulock could be a steal in the middle rounds of this draft.
Final ISS Ranking: No. 6 European skater
Projected Draft Range: Middle of the first round
Why He Could be an All-Star: For a team looking to land a remarkably talented (yet raw) forward toward the middle of the first round, they won't need to look farther than Andre Burakovsky. When we look back at the 2013 draft and consider who went where, Burakovsky could be a good candidate for the "should have gone higher" club.
His biggest strength is his quickness and ability to make above-average plays at top speed. While he could stand to get stronger, Burakovsky also brings a healthy portion of grit and determination to the table to match his skill game.
Heading into 2013, some had Burakovsky pegged as a top-10 selection. While that isn't likely at this point, he does posses game-breaking ability and could be a top-flight NHL forward if he continues to work on his decision-making and gets stronger.
Final ISS Ranking: No. 5 North American skater
Projected Draft Range: Top-10 selection
Why He Could be an All-Star: There are some forwards available in this draft that will dazzle you with speed and dekes galore. Then there's Sean Monahan, who plays a simple north-south game with great success.
He's a born leader and reminds some scouts of Shane Doan with his style of play. Monahan played on a weak Ottawa 67's team and was the focal point of defenses over the last two years, but he still managed to pile on the points via assists and a handful of goals.
His biggest strength is far and away his vision and patience, and he has a knack for waiting out defenders and hitting teammates with slick passes. Monahan's mix of skill and intangibles will likely make him a fan favorite wherever he lands, and his hockey IQ could put him firmly on the path to stardom.
Final ISS Ranking: No. 3 European skater
Projected Draft Range: Top-10 selection
Why He Could be an All-Star: Elias Lindholm is the embodiment of the Swedish school of hockey, playing the game with patience and intelligence on a nightly basis. He plays a strong puck-possession game, and the flow in the offensive zone tends to revolve around him.
This was never more apparent than it was during the WJC tourney, where Lindholm schooled defenders with his strength and ability to rag the puck in the offensive zone.
Lindholm's play away from the puck is also outstanding, as his defensive game is almost as polished as his offensive game. Some scouts like to compare him to Henrik Zetterberg, and that ceiling is certainly attainable for Lindholm if he continues to develop on his current path.
Final ISS Ranking: No. 2 European skater
Projected Draft Range: Top-five selection
Why He Could be an All-Star: There isn't a European available that possesses the sheer "it-factor" that Valeri Nichushkin does. Scouts haven't shied away from comparing him to Evgeni Malkin, and upon watching him play, it's easy to see why.
He's an absolute beast with the puck and can do some incredible things at top speed after entering the offensive zone. Nichushkin may be Russian, but don't mistake him for some all-skill-no-brawn type. He's a power forward and is tough to knock off the puck, whether the battle is occurring along the boards or in front of the net.
Nichushkin is an electric goal scorer and has above-average hockey IQ. He could be the steal of the draft, even if he goes as high as No. 4 or 5.
Final ISS Ranking: No. 19 North American skater
Projected Draft Range: Middle of the first round (but don't be shocked if he cracks the top 10)
Why He Could be an All-Star: Everyone loves the feisty underdog. Max Domi has top-five skill, and the only question mark surrounding his game is his diminutive size. Generously listed at 5'10'' and 190 pounds, Domi faces questions about his ability to execute his style of play at the next level against bigger and stronger players.
His lack of size hasn't slowed him down to this point, though, and his offensive skill set is dynamite and sizzles out on the ice.
Among the slickest players available in the draft, Domi could eventually evolve into a less talented version of Martin St. Louis. The two have more in common than their diminutive size, as Domi has a penchant for ducking checks at the right time and finishing any opportunity he has to make a play toward the net.
Final ISS Ranking: No. 6 North American skater
Projected Draft Range: Top-15 selection
Why He Could be an All-Star: NHL fans love to see goals scored, and Hunter Shinkaruk could be the best pure finisher available in this draft. He wires pucks into the corners from all angles and doesn't need a lot of space to make opposing teams pay for not covering him tighter.
When he does have a shadow, he's capable of defending the puck well (for a smallish forward) and can make sound passes while under pressure.
Shinkaruk has been one of the best goal scorers in the WHL over the last few years, and despite his small size, he has shown a willingness to get to the corners to make something happen. His hands are outstanding, and Shinkaruk possesses enough speed to push defenders off and away before he cuts and dashes to a different part of the ice.