Whitney Zelee Emerging as the Finest Running Back in All of Women's Football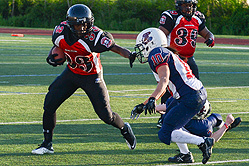 Photo by Mark Stern

Competing in the Women's Football Association, Whitney Zelee is emerging as the association's premier running back. Lining up in the backfield for the Boston Militia, she was one of six Boston players to be named a 2013 WFA First Team All-American.
Like many women competing in football, her athletic background as a youngster came in another sport. As a student at the Winsor School, she was captain of the soccer team. After watching a friend play men's semi-pro football, her interest in the game was fuelled. Zelee would join the Militia as a rookie in 2011 and made an impact when she was named Most Valuable Player of the 2011 WFA National Championship game.
Playing against the undefeated San Diego Surge, she scored a three-yard touchdown in the second quarter to give the Militia a 14-6 lead. She would add to Boston's lead with a 12-yard touchdown pass from Allison Cahill for a 20-6 halftime lead.
Another touchdown for Zelee would come in the third quarter for a 34-13 advantage. With the final score 34-19 over San Diego, Zelee finished with 101 rushing yards as her three touchdowns made the difference in the 2011 national championship game.
With two WFA seasons under her belt, the 2013 campaign would prove to be her coming-out party. On April 13, 2013, Boston opened its season and the first play from scrimmage was a sign of things to come. To begin Boston's season, Zelee had a 59-yard touchdown run versus the New York Sharks. It would be the first of 11 touchdowns scored by Boston in a 70-0 victory. Zelee would finish the game with five touchdown runs and a 193-yard rushing performance.
Two weeks later, an April 27 match between the Militia and the DC Divas solidified Zelee's status as an elite running back. In a battle of two undefeated teams, fans at the Prince Georges Sporting and Learning Center in Landover, Maryland were about to witness one of the greatest running performances in WFA history.
Sharing the running back duties with Stacey Tiamfook, Zelee's four-yard score on the opening drive (she would log 28 yards on the drive) gave Boston the lead. Although DC regained the lead with a 7-6 advantage, Zelee would prove her worth as the best running back in the WFA. She would reply with an eight-yard run and the two-point conversion. On their next possession, Boston extended its lead as Zelee charged into the end zone with a 30-yard score.
In the third quarter, Zelee would score two more touchdowns as DC trailed by a 34-28 score. Accounting for every touchdown that Boston would score in the first three quarters, Zelee was not finished yet. To begin the fourth, she had a run of 20 yards, followed by a 40-yard run (along with scoring the two-point conversion) for her sixth score of the game for a 42-28 lead.
Zelee's six touchdowns would prove to be the factor in the game's outcome as Boston prevailed by a 56-35 final. She would finish the game with 26 carries for 339 yards. For her efforts against the DC Divas (20 carries, 370 yards), she was named WFA Player of the Week.
History would be made in a June 1 victory against the Central Maryland Seahawks. Not only did the win extend the Militia's winning streak to seven games, it helped Zelee eclipse the 2,000-yard mark. The milestone was enhanced by Zelee running for daylight with four touchdown scores (including two runs of 50 and 54 yards, along with a game-best 73-yard score).
By reaching the 2,000-yard mark in only seven games (with 123 carries for an average of 16.4 yards per carry), she set a new league record. Credit for her milestone season also goes to her offensive line, which features First-Team All-Americans Sherese Woodfine, Amanda Alpert and Second Team selection Stephanie Jeffers. Oshodi Kehinda and Beth Kaleta complete the line.
A June 8 confrontation against the defending IWFL World Champion Montreal Blitz resulted in Zelee carrying the ball six times for 122 yards, giving her 2128 yards for the season. Stacey Tiamfook would make her mark in the rushing game for Boston as her eight carries resulted in three touchdowns.
By defeating the IWFL champion Blitz, it made a huge statement as Boston (riding the remarkable rushing season of Zelee) finished its regular season with an undefeated 8-0 mark.
Every game in this magical season has emerged as an opportunity for WFA fans to witness Zelee make history. As Zelee and her teammates head into the postseason, the chance to finish the dream season by adding a 2013 WFA National Title is the final objective. With the records that Zelee has shattered, her legendary season will stand forever as one of the greatest in WFA history, with or without the title.
This article is
What is the duplicate article?
Why is this article offensive?
Where is this article plagiarized from?
Why is this article poorly edited?