The 16 Greatest Wimbledon Champions in One Draw: Who's the Best of All Time?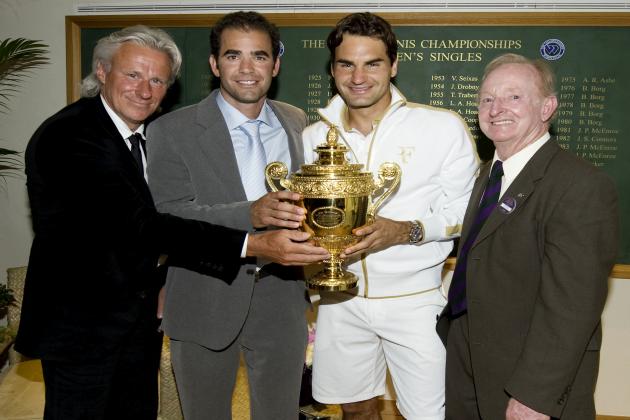 Pool/Getty Images

Wimbledon's grass court champions are the most revered players in tennis history. Since the Open Era began, grass tournaments have become rare, but winning Wimbledon still requires athletic reflexes and the ability to finish quick points.
Two months ago, we presented a draw of 16 great French Open champions.
Last summer, we presented a draw of 16 US Open champions.
We are ready to do this with the most recent 15 Wimbledon champions and Rod Laver. Though it's not possible to match champions through the past four decades, there are plenty of ways to hypothesize player strengths and weaknesses. How would they attack each other? Who would win?
It is impossible to simulate fair conditions and technology, but we will play this out at 2013 Wimbledon with today's slower and more durable grass-court conditions. This will allow for more variety of player styles and matchups.
The rackets will be limited to late '80s graphite and strings, sort of a compromise from the extremities of Bjorn Borg's wooden racket and the super Babolat racket and strings Nadal uses to rip freakish topspin.
Feel free to debate these particulars.
The following is a playoff format to test these champions. We can only choose between the years a player actually won Wimbledon, even if, for example, Goran Ivanisevic was better in the mid-1990s than 2001.
There will be four top seeds determined by Wimbledon success. The top half of the draw will feature No. 1 seed Pete Sampras and No. 4 seed Rod Laver (who will be the most difficult to imagine with a modern racket against modern athletes). The bottom half of the draw will include No. 2 seed Roger Federer and No. 3 seed Bjorn Borg.
All of the matchups below were randomly drawn, so this is only one of many possible brackets.
Top Half
1. '95 Pete Sampras vs. '89 Boris Becker
'11 Novak Djokovic vs. '01 Goran Ivanisevic
'96 Richard Krajicek vs. '10 Rafael Nadal
4. '69 Rod Laver vs. '02 Lleyton Hewitt
Bottom Half
3. '79 Bjorn Borg vs. '91 Michael Stich
'74 Jimmy Connors vs. '92 Andre Agassi
'90 Stefan Edberg vs. '87 Pat Cash
2. '06 Roger Federer vs. '84 John McEnroe
Here is a look at how the players may have tried to attack each other in the opening matches and then in later rounds at this Wimbledon dream bracket.
Begin Slideshow

»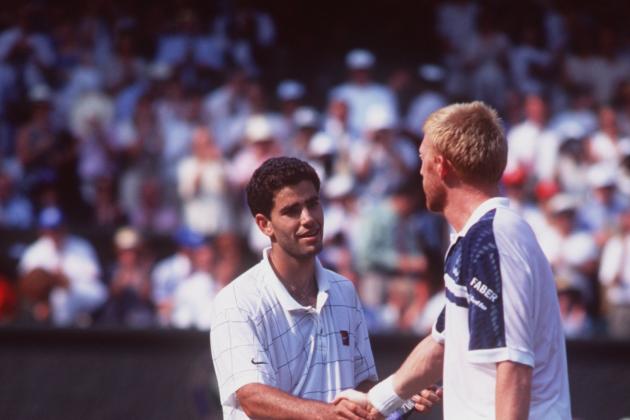 Gary M. Prior/Getty Images

Tough opening match for Boris Becker. By the late 1980s, Becker had the most powerful serve and volley combination, supplemented by athleticism and big-match toughness. The problem for him playing Sampras is that the American is basically an upgraded version of Becker, kind of like going from green screen Apple computers to Microsoft Windows and the internet.
They met three times at Wimbledon grass with Sampras winning in 1993, 1995 and 1997. Sampras won nine of 11 sets, dropping two close tiebreakers and mostly dominating the other sets.
Following his defeat to Sampras in the 1995 Wimbledon final, Becker acknowledged the gap between the champions, via the New York Times: "Unfortunately, he owns the Center Court now... If there's one role model in tennis, it's Pete Sampras; he's behaving perfectly on the court, he's a real nice fellow off the court, and he doesn't have a bad shot in his game"
Huge Advantage to Sampras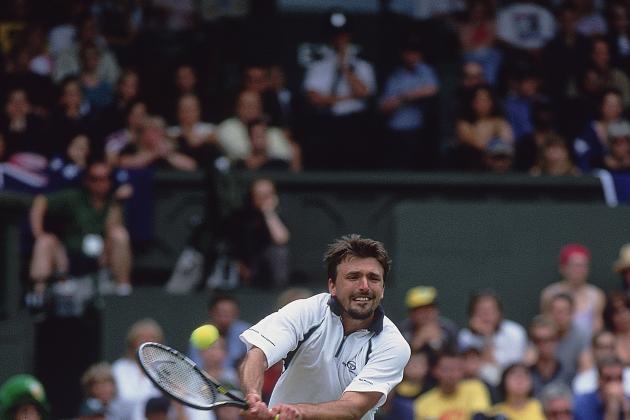 Gary M. Prior/Getty Images

The battle for the Yugoslavian peninsula would feature opposites in big-serving Croat Ivanisevic vs. super-returning Serb Djokovic. There would be little worry about either player needing motivation to play against his regional rival.
Ivanisevic would have several problems in trying to pull off this upset. He would have to serve on the slower grass and hope his left-handed bombs kept Djokovic from establishing a baseline game.
Furthermore, this was not the best Ivanisevic, but an older, injury-prone version who was pulling off a Cinderella story. This was also Novak Djokovic in 2011, who was completing one of the best seasons ever.
Huge Advantage to Djokovic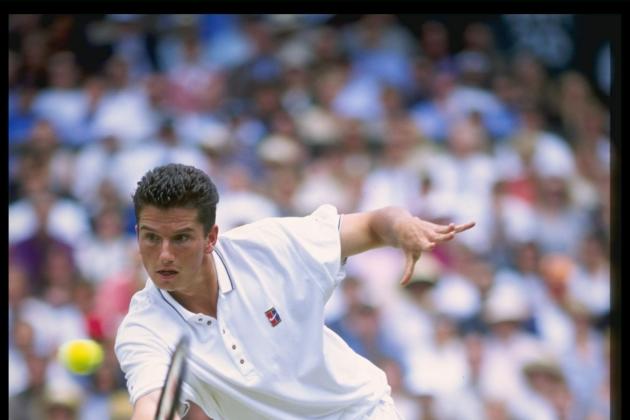 Getty Images/Getty Images

The big Dutchman Richar Krajicek rolled to the 1996 Wimbledon title, dropping only one set and sweeping former champions Michael Stich and Pete Sampras. He served and attacked, and his talent found the zone tennis fans had been waiting to see from him.
A few things to consider about the threat Krajicek would pose to Nadal. He is 6' 5" and can hit through the court. He also split four matches with lefty clay-court specialist Thomas Muster, even beating him on clay one match in 1996. Krajicek won three of seven matches against Andre Agassi, though lost all three on grass.
Nadal would have the advantage of today's Wimbledon grass, but would have a harder time generating topspin with a 1990 racket and strings. He would also have to play closer to the baseline and take chances. It would not be enough to play primarily defensive tennis, especially as Krajicek could cover the net so well. Nadal did pummel Tomas Berdych in the 2010 final, but Krajicek was much better.
Slight Advantage to Nadal, but the match could go either way.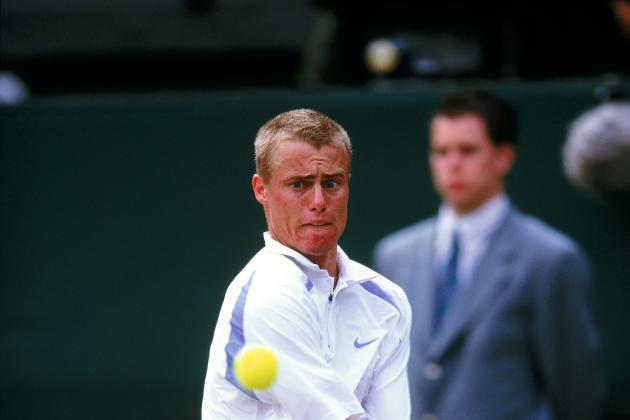 Clive Brunskill/Getty Images

The battle Down Under would pit legendary Rod Laver and his all-court aggressiveness versus the last great Aussie champion, counter-puncher Lleyton Hewitt.
Hewitt was fortunate Wimbledon's new grass allowed him to win with a baseline game, and it didn't hurt that he cruised through a very easy field that year. He was a feisty champion, but that would not faze Laver in the least.
Laver attacked with all angles and even several years past his peak gave prime time Jimmy Connors all he could handle. He would force Hewitt to play vertically and give him all manner of spins and shots. Hewitt would not be able to simply retrieve and counter.
Huge Win for Laver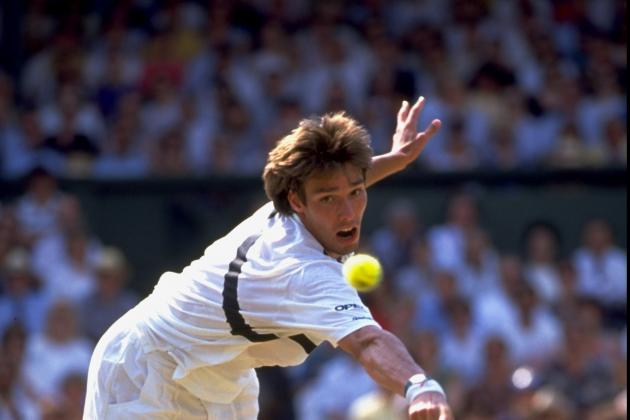 Bob Martin/Getty Images

Bjorn Borg was a convert to fabulous grass court play, due to his defensive skills and willingness to adapt his game.
It wasn't easy. The biggest improvement for him was a smart and effective serve. He used his instincts to volley, but at times it was ragged. John McEnroe said, "the surface (grass) looks after his volleys and makes them better than they are," according to a profile by Tim Spears.
Michael Stich had all the natural tools to be a great tennis player. He carried a big serve, beautiful volley and excellent baseline skills. He troubled the great Pete Sampras by taking five of nine career matches, and he defeated Stefan Edberg and Boris Becker at Wimbledon for the 1991 title.
The match played with 1990 rackets favors Stich and his superior power. The modern grass would favor Borg. In the end, the thing that most separated Borg and Stich is not so much their talent but their determination. It goes a long ways to explain why Borg won 11 Slams and Stich only one.
Slightly Solid Advantage to Borg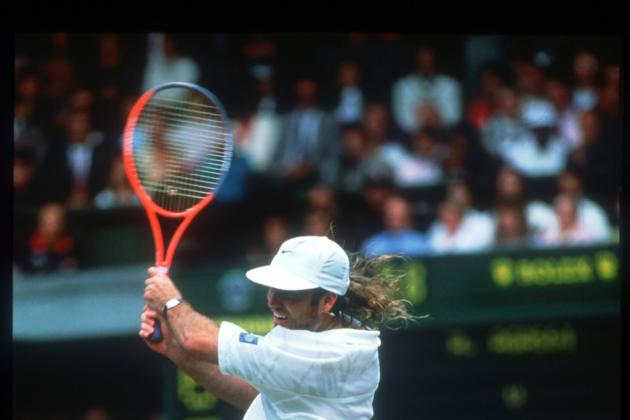 John Russell/Getty Images

The hype in this match would be second to none. They were perhaps the most popular American tennis players and each won eight Grand Slams. But while Connors was lauded to be the ultimate blue collar throwback, Agassi critics shake their heads at the way much of his career was squandered.
They don't like each other either. Agassi's autobiography, Open, expressed the disdain Connors had for the teenage Agassi. Their two U.S. Open quarterfinals meetings were filled with Connors intimidation in the "legend vs. punk" promotion Connors was all too eager to promote, but Agassi won them.
Agassi would love the modern grass to hit his groundstrokes. He would attack the inconsistent Connors forehand. Connors would hit his flat strokes and approach whenever he could. He would will himself to a five setter, but it wouldn't be enough.
Solid Advantage to Agassi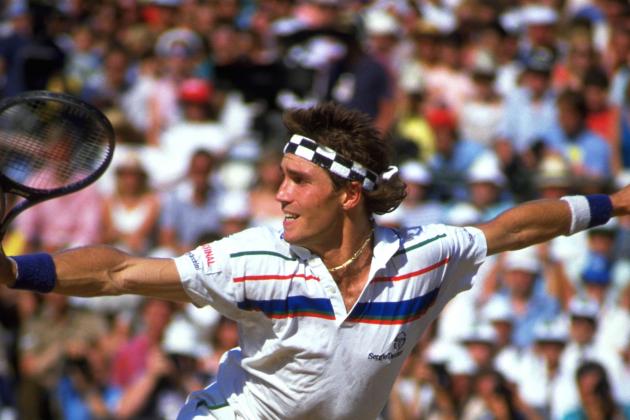 Getty Images/Getty Images

An absolutely classic matchup for tennis. They were two of the great serve-and-volley players of their time, playing angles with touch and precision in a manner that is a lost art to modern tennis.
Cash attacked and swept the great Ivan Lendl for the 1987 Wimbledon final, a stunning performance to those who were unaware of the Aussie's grass court skills and big match toughness.
Edberg's grace and style at net were more heavenly, and paid off for a better career. He had the calmness and composure to play well in big Slam finals, twice defeating Boris Becker at Wimbledon and Pete Sampras at the 1992 U.S. Open.
They had a mini-rivalry in the late 1980s, splitting their first four matches. Cash won their 1986 Davis Cup meeting with the unbelievable score 13-11, 13-11, 6-4. They met on Australian Open grass for a great five-set match in which Edberg prevailed. After his 1987 Wimbledon title, Cash dealt with a slew of injuries. Edberg kept winning to the tune of six Grand Slams and became the No. 1 player in 1991.
Solid Advantage to Edberg
Clive Brunskill/Getty Images

John McEnroe has never concealed his awe for Roger Federer. Much as McEnroe mostly kept his composure in playing Bjorn Borg, he would know that he had more than met his equal in Federer.
McEnroe's only chance would be to have them use old wooden rackets and super-fast grass. He would not win any kind of baseline trading with Federer. The old wooden rackets would deaden Federer's serve, and give a chance for McEnroe to dictate his own serve-and-volley offense without the kinds of passes Andre Agassi dealt him in the 1992 Wimbledon semifinals.
The more modern the conditions, the greater the ease for a Federer victory. McEnroe was one of the greatest players ever on grass, an artist who painted with beautiful touch and a mathematician's mind. But he struggled with the power players by the mid-1980s and Federer adds a whole host of other problems. The hype and entertainment of the match would surpass the easy Federer win.
Huge Advantage to Federer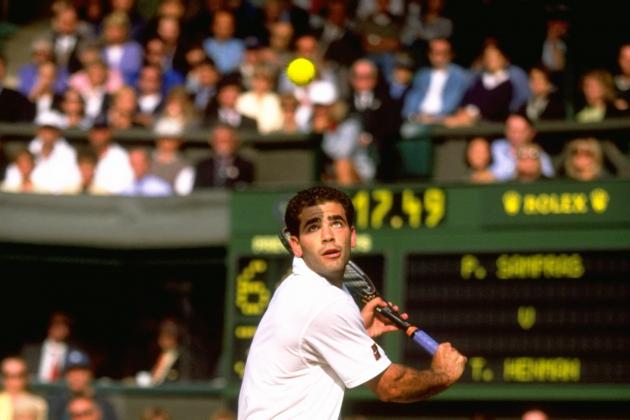 Gary M. Prior/Getty Images

The most interesting and most likely pairing for this quarterfinal would feature '95 Sampras vs. '11 Djokovic.These two players happen to like each other, Sampras a noted Djokovic admirer who proclaimed that Djokovic could break his own record for consecutive years at No. 1.
Sampras' powerful serve and net game would pressure Djokovic, but also give the Serbian some great opportunities for passing shots. If Djokovic got on a roll, Sampras would have the flexibility to pick his spots better and settle in somewhat at the baseline. Sampras loved the challenge of dueling the great baseliners of his day and beating them at their own game.
Djokovic is a unique and powerful returner with the heart and Bogartian risk-taking to paint the sidelines. He is also fit and a fighter.
In the end, five sets seems reasonable. Sampras has the greater advantage with both first and second serves to pick up easier points. He, like Djokovic, can elevate his game when challenged.
Slight Edge to Sampras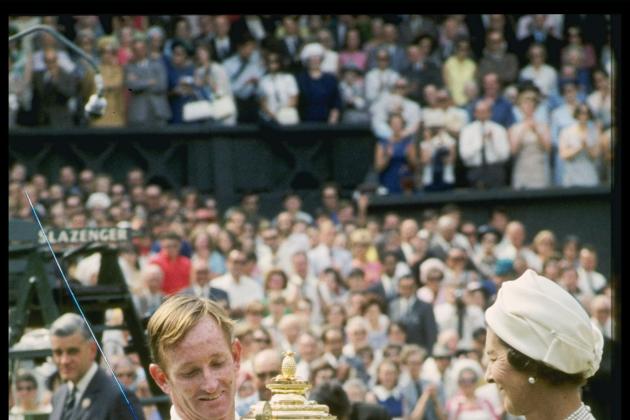 Getty Images/Getty Images

Five of the 16 players in this draw are left-handed. The two best of all, Rod Laver and Rafael Nadal would be the most titanic battle for this quarterfinal.
Modern technology and conditions are just as much a part of Nadal's success as they were to Laver's wooden racket and grass, and though Laver is often lauded as being creative and Nadal as formulaic, both were problem solvers who played with a particular bulldog tenacity and spirit. They found ways to win.
Laver and Nadal both liked pounding their forehands like a big hammer. Both liked to scramble all over the court and retrieve tough balls, all the while looking to turn it back into offense—Laver to come to net and Nadal to put away a short court winner.
We are all familiar with Nadal's toughness and resilience. It's hard to measure this with Laver who played so long ago, but his indoors match at Caesar's Palace the mid-'70s, as a 39-year-old, against a young, prime Jimmy Connors is still available to watch. Laver dug in fiercely, pulling out all the stops to scare Connors. He refused to back down and looked as if he expected to win. The greats don't concede.
Even. On grass, Laver is experienced and versatile. Nadal is more physically imposing.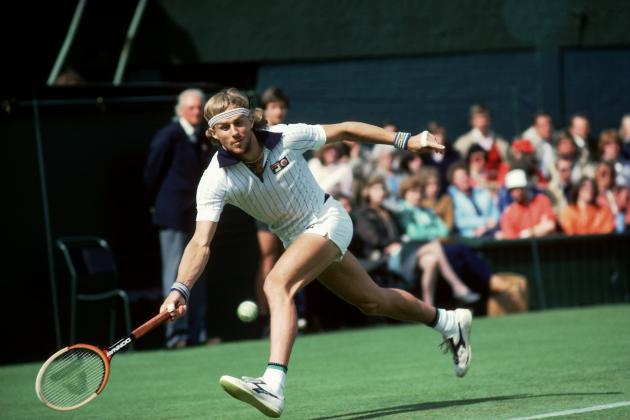 Tony Duffy/Getty Images

Bjorn Borg proved to be superior to Jimmy Connors on grass, defeating him all four times at big matches at Wimbledon. Fairly predictable.
Michael Stich vs. Jimmy Connors lacks a bit of box office appeal, and most would favor Connors for his greater mental strength and fight.
Andre Agassi defeated Stich in all six career meetings, including his finals sweep in the 1994 U.S. Open finals. Not a lot of drama with this matchup.
The best match would be Borg vs. Agassi. It would be most intriguing to see how they attacked each other. Would Borg rely on as much serve-and-volley against Agassi's passing shots?
He might love the idea of turning this into a clay-court style of match against Agassi, simply with his belief that he would be more fit and consistent to wear down the American. This does seem to favor Borg in most ways.
Solid Edge to Borg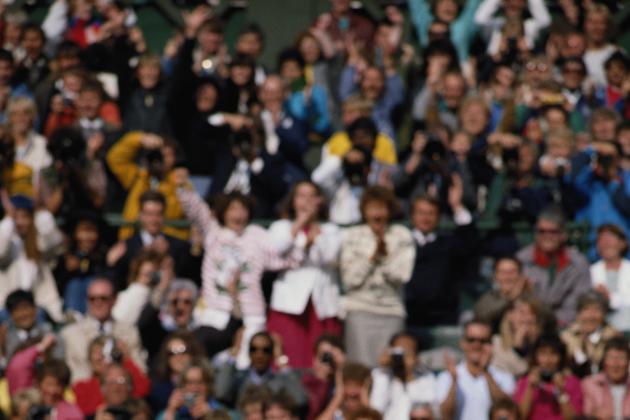 Bob Martin/Getty Images

Edberg was Federer's childhood idol. They met up at Stockholm, and this video has a minute of warmups, hardly an indicator of how they would play each other.
Could Edberg's kick serve and volley bother Federer? If not, it would be almost impossible for the Swede to pick at anything else. He would want to kick the serve high to the Federer backhand on the ad court, and try several approach shots there as well. Edberg was vulnerable to big hitters on the baseline by the early 1990s, so he wouldn't want Federer to dictate play from beyond.
Federer would have little trouble holding his serve. Unless he was making uncharacteristic errors, something unlikely against a non-baseliner like Edberg, he would be able to adapt to Edberg's variety. He would probably come away impressed with Edberg's touch and perhaps implement even more of what he saw firsthand to his own game.
Huge Advantage to Federer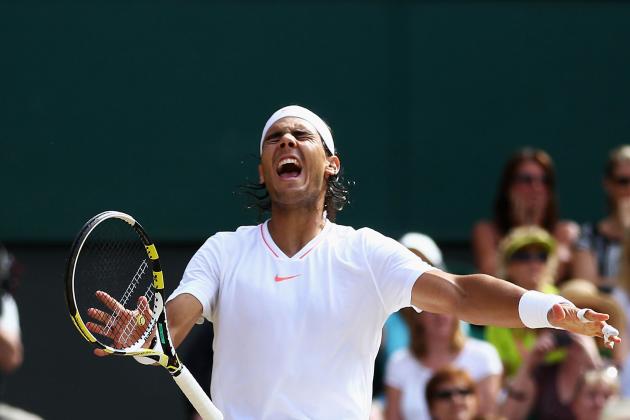 Julian Finney/Getty Images

Laver, Sampras and Nadal represent different generations and styles. Yet, their makeup all consists of unique skills, tennis intelligence and nerves of steel. Who would win?
Sampras' serve allows him to dominate a half-court game. It takes away rhythm from playmakers like Laver and baseliners like Nadal. It puts extra pressure on his opponents to hold their own server.
The concern with Laver is how well he would play against modern athletes and conditions, but there is no question he would adapt and adjust his game. Great champions can play in any era.
Nadal would not develop quite as much spin with a 1990 graphite racket and strings, but, more importantly, he would have to send back enough of Sampras' bullet serves to pressure his game. Still, it's impossible to ever count out Nadal, especially if he is labeled the underdog.
Solid Advantage to Sampras versus Laver
Slight Advantage to Sampras versus Nadal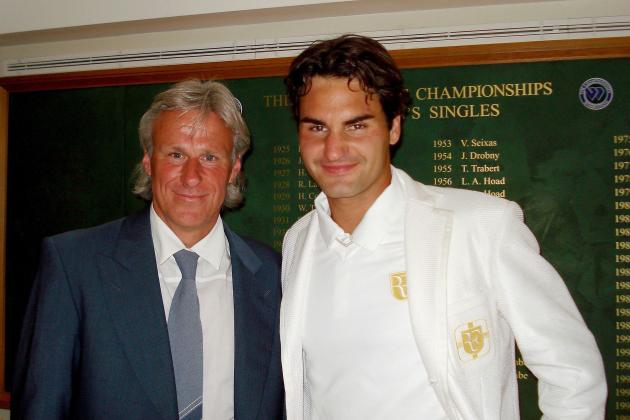 Handout/Getty Images

Bjorn Borg's five straight Wimbledon titles were matched 27 years later by Federer. As great as Borg was, it's hard to see him developing the kind of grass court package that is more suited to Federer.
If this were clay, Borg wins, but Borg overachieved on grass and had more difficulties eking out five-set matches against players with less mental strength. Tennis fans are aware of matches against McEnroe and Connors, but there were close calls against players like Mark Edmondson, Victor Amaya, Vijay Amritraj and hard-serving Roscoe Tanner.
Federer from 2004-2007 was a level above Borg's best play on grass.
Federer in Three or Four Sets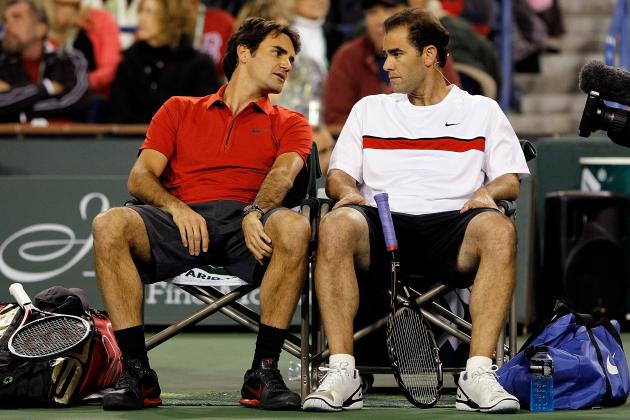 Matthew Stockman/Getty Images

Neophyte tennis fans might look at Sampras as just a name from the record books. Unless one watched Sampras' prime and dominance at Wimbledon, it's hard to appreciate his ability to continually play better in pressure situations. It's the kind of athletic DNA found in champions like Michael Jordan. He also relished big matches and perhaps gets this nod over Federer.
Federer supporters will point to his 2001 quarterfinals win over an aging Sampras, which is an interesting footnote but relevant only in showing the intangibles both players had in a tight match with one trying to hold onto fading skills and the other trying to climb the first few steps of his ladder.
Most people have already made up their mind about this match, and often it's a matter of perspective.
Great cases can be made for both players.
I would take Sampras on grass in five tight sets