Fantasy Booking WWE Payback: What Should Have Happened
WWE Payback 2013 (photo courtesy of WWE.com)
WWE's first ever Payback pay-per-view is in the bag and as with every event, the floodgates have opened and the fans can now discuss which things were great and which things were disappointments.
Every member of the WWE Universe has their idea of what they would have done differently, whether it's changing the outcome of a match or merely changing the lineup of which bouts followed each other.
Not only do I wish to see what you guys have to offer in terms of what you would have done, but I also henceforth present to you my own fantasy booking for WWE Payback.
Take note that this is a topic that relies solely on opinions, so please try to be respectful to all those who comment with their ideas, whether you think they are good or bad.
For those interested, I am going into this article with the predetermined notion that these matches would be set before I would come on board to book the event. Thus, the card stays the same, even if I would not have necessarily picked these matches to be on the lineup.
Begin Slideshow

»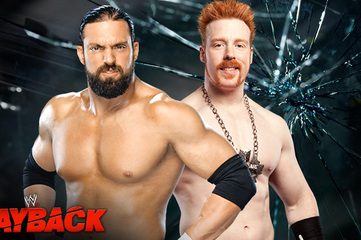 Photo courtesy of WWE.com
In my mind, this match should have existed as a vehicle to give some credibility to Damien Sandow, rather than just another victory for Sheamus.
In particular, I've enjoyed the suggestion thrown out by many people in the predictions that Sandow should have won this match by outsmarting Sheamus, somewhat proving that he was right all along.
Not much could help this match from seeming like it could have easily taken place on Monday Night Raw instead of as the start to this event, but at least a Sandow victory would have some people curious as to where the direction goes.
With Sheamus's victory, the only chatter I've heard so far is that it was yet another win for someone who didn't need it.
Match Outcome: Damien Sandow defeats Sheamus via pinfall.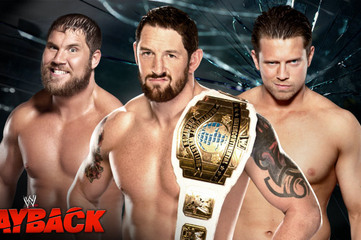 Photo courtesy of WWE.com
In all honesty, there isn't much I would change from what we saw here. I was thoroughly entertained with the match from start to finish.
Although I may not be on the Curtis Axel bandwagon yet—as I feel he hasn't progressed enough from his days as Michael McGillicutty to make me think of him as a credible Intercontinental champion and focal point of the company—I do think it was the right choice here to put the title on him.
On top of that, the finish in this match was something that we don't necessarily see that often, so I was very pleased with that.
Match Outcome: Curtis Axel wins the Intercontinental Championship via pinfall.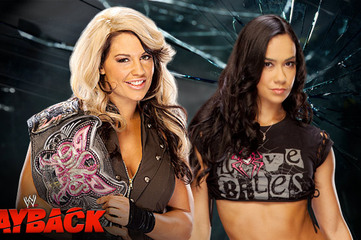 Photo courtesy of WWE.com
As with the Intercontinental Championship match, I was very pleased with this and I don't have any true complaints about it.
AJ Lee deserved to win the Divas Championship, so the end result is nothing I would change, and the quality of the match far surpassed what I originally expected.
The only thing I would get rid of—assuming that this is not a part of a bigger story plan I am not currently privy to—is the emotional outpouring from Kaitlyn.
This audience in Chicago was not the right crowd to book a pity plea for, nor was Kaitlyn the right person for the job. Kaitlyn garners no sympathy from the audience on a regular basis and Chicago is notorious for being one of the particularly insensitive environments in wrestling.
Kaitlyn's tears were met with laughter and derision, and the pep talk from the other Divas was ridiculed just as much, so that would not have been on the table.
Match Outcome: AJ Lee wins the Divas Championship via submission.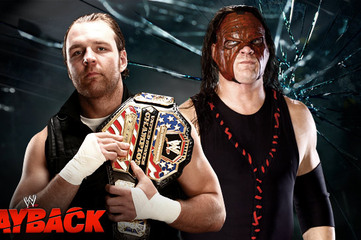 Photo courtesy of WWE.com
This match was the first of the night to disappoint me in terms of in-ring quality, and although that is not something you can simply book, I feel as though these two were almost doomed to start.
Dean Ambrose needed to retain the title, so there is not criticism on my part in terms of the choice in victor, but the count-out finish was weak in my mind.
Kane is a veteran who has come back from worse than a clean loss to someone like Ambrose. There's no real excuse for him to be protected as much in this match, considering it is on a pay-per-view instead of on an episode of Raw.
Match Outcome: Dean Ambrose wins via pinfall.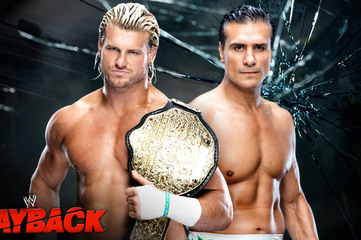 Photo courtesy of WWE.com
In perhaps the biggest and most confusing outcomes of the night, Alberto Del Rio defeated Dolph Ziggler to win back his World Heavyweight Championship.
If we are to assume that this was not done out of necessity for Ziggler's safety or anything of the sort, the concept of Del Rio winning the title baffles me.
My suspicions are telling me that this was done as a means to kill two birds with one stone. Del Rio has not gotten over as the top babyface that WWE intended him to be, nor will Ziggler stop being cheered by the audience that he has endeared himself to.
The plan might be to turn both men and hit the reset button on Ziggler's title reign, giving him a new one in the near future that will not be burdened by a month-long absence.
Even if this is what WWE was going for, I still think it was foolish. Under my booking, Ziggler would have walked out with the title after a hard-fought battle that put over his toughness despite his previous concussion injury.
Not only would Ziggler have won this match, he also would have done it with no distractions from Big E Langston or AJ Lee. The Show-Off needed to show why he was the champion and if he would have only won with the help of others (or in the case of this reality, lost this match by any means), he would have and did leave this event looking weaker than before he went into it.
Match Outcome: Dolph Ziggler retains via pinfall.
Photo courtesy of WWE.com
The appeal of having CM Punk return to his hometown of Chicago is something WWE just couldn't resist, but I feel as though this was all for nothing.
What did Punk gain by defeating Jericho in this rather slow and lumbering match?
What did this do for Jericho's career in any positive sense?
Although I didn't expect it to happen, nor would I have directly written this into the script if I had the pen in my hand, this match could have greatly benefited from a Paul Heyman betrayal.
If I'm working under the assumption that the plan is for Punk to turn babyface and eventually have a match with Brock Lesnar either at SummerSlam or WrestleMania, this would have been a good time for him to lose.
Punk would come into this match overconfident and being cheered, but come up short. The boos would echo his disappointment at himself, as well as Heyman's disappointment that his client wasn't able to deliver.
Step one of humanizing Punk for his babyface turn was to leave after his defeat at WrestleMania. Step two would be the loss of his "Best in the World" moniker and ego in this match, as well as the beginning of the end of the Heyman and Punk connection.
Match Outcome: Chris Jericho wins via pinfall from a quick Codebreaker that capitalizes on Punk's showboating to the crowd.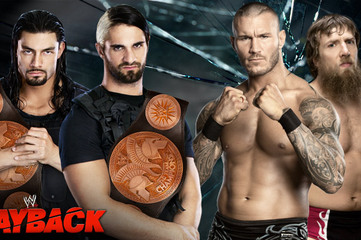 Photo courtesy of WWE.com
All in all, I was pleased with the outcome of this match and the way that it was booked. The Shield needed to retain the titles and they needed to do so by exposing the flaw in the other team: the rift between Daniel Bryan and Randy Orton.
If anything, I would have added some more problems for Orton and Bryan to have to overcome throughout the match. Outside of the inadvertent suicide dive attack on Orton from Bryan, there weren't many times where these two got in the other one's way.
Bryan could have been the focal point of the match, still trying to prove that he was not the weak link, much to the frustration of Orton, who could start to feel a bit self-conscious about what he is bringing to the team.
Overcompensation and ego leads to The Shield retaining their WWE Tag Team Championship and after the match is over with, Orton fulfills the heel turn that we seem to have gotten with Alberto Del Rio instead.
Match Outcome: The Shield wins via pinfall from a Roman Reigns spear, a subtle nod to how Seth Rollins is the weaker link of that team.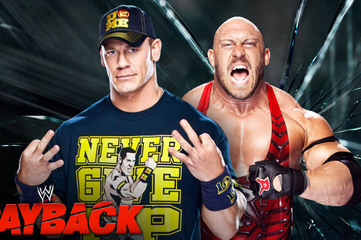 Photo courtesy of WWE.com
WWE booked themselves into a corner with this match from the start, and there is no possible way to come out of this without problems.
Ryback has been consistently booked to lose, yet we're told time and time again that he is a monster. It is impossible to believe that when he has yet to win a match on a pay-per-view in nearly a full year. All this match did was to make him lose twice on the same night to counteract his draw from Extreme Rules.
John Cena playing the part of the underdog by losing the first part of this match was a guarantee that I saw coming from a mile away, which is a shame because the predictability is only half of the reason this match suffered.
Despite all their best efforts, the members of WWE Creative have not been able to figure out a way to get the crowd to warm up to Cena like they would want them to. While many fans are convinced a heel turn is the best way to go and others just wish Cena would lose every match or be released entirely, I can humbly say that I have no true answer as to what I would do to fix this problem.
Although Ryback needs several important wins to regain credibility and a squash victory in both the Lumberjack and Tables matches here would have done wonders to make him look like a legitimate monster, it's safe to say WWE would have never been OK with that booking.
Realistically, this happened the only way WWE would have ever allowed it to happen, no matter what writer was tasked with the job.
Ideally and in the fantasy booking world, on the other hand, I would have gone with a new WWE champion and it wouldn't have been purely to spite Cena, but rather to help save the career of Ryback.
Match Outcome: Ryback wins the WWE Championship.
I'm sure many people would disagree with my choices, but those are just my immediate reactions and opinions for this particular pay-per-view's rewrite.
If that is the case and you feel as though you have an idea that would have worked better, share it with the rest of us in the comments below.
What would you have done? Would you have kept everything the same or perhaps changed everything we saw tonight?
Anthony Mango is the owner-operator of the wrestling website Smark Out Moment as well as the host of its YouTube podcast show Smack Talk. You can follow him on Twitter and Facebook for more.