UFC 161 Live Results, Play-by-Play and Fight Card Highlights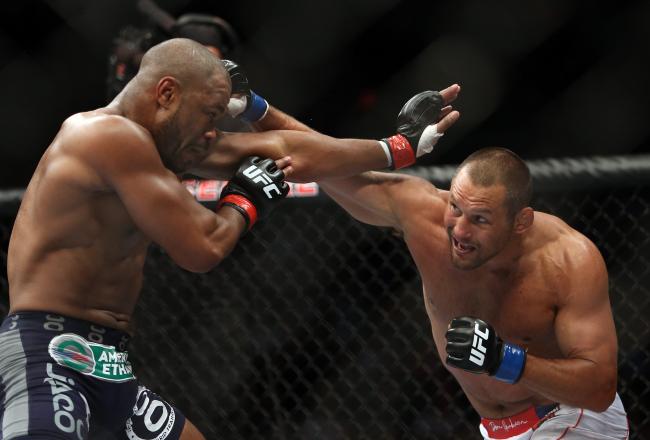 Tom Szczerbowski-USA TODAY Sport
UFC 161 is now in the books. The event more or less lived up to its billing as an underwhelming fight card, with just a few finishes and not many candidates for Fight of the Night.
But as with any card, good or bad, the outcomes produced will have an impact on the promotion moving forward.
Take a look below for a play-by-play recap of UFC 161's action, and the results from the event.
UFC 161 Main Card
Rashad

Evans def. Dan Henderson via split-decision (28-29, 29-28, 29-28)

Stipe

Miocic

def. Roy Nelson via unanimous decision (30-27, 30-27, 30-27)

Ryan Jimmo def. Igor Pokrajac via unanimous decision (30-27, 30-27, 30-27)

Alexis Davis def. Rosi Sexton unanimous decision (29-28, 29-28, 29-27)

Shawn Jordan def. Pat Barry via TKO (Round 1, 0:59)
Preliminary Card (FX)
Jake Shields def.

Tyron

Woodley

via split-decision (29-28, 27-30, 29-28)
James Krause def. Sam Stout via submission (Round 3, 4:23)
Sean Pierson def. Kenny Robertson via majority decision (29-28, 29-28, 28-28)
Roland Delorme def. Edwin Figueroa via unanimous decision (29-28, 29-28, 29-28)
Preliminary Card (Facebook)
Mitch Clarke def. John

Maguire

via unanimous decision (29-28, 29-28, 29-28)
Yves Jabouin def. Dustin Pague via split-decision (29-28, 28-29, 29-28)
Well everyone, I'm going to call it a night here.
UFC 161 is over and done with. Sometimes highly-criticized and lowly-anticipated events surprise, and turn out to provide incredible entertainment value despite a lack of star power. UFC 161, however, proved the critics right, delivering very little in the way of excitement.
But it happens. Hopefully we'll get a better show at UFC 162.
Speaking of UFC 162, we'll see you back here for live coverage of the event, including the same style of play-by-play and results you found here.
Thanks for following along and commenting.
See you on July 6.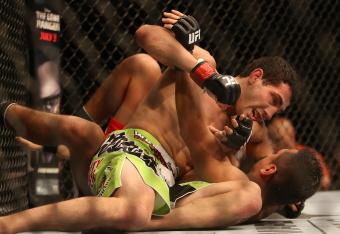 As it turns out, Roland Delorme and Edwin Figueroa won Fight of the Night. Which is fair enough. It was a legitimately exciting fight on an otherwise vanilla card.
So what's the call on the bonuses?
Knockout: Jordan (only one)
Submission: Krause (only one)
Fight: N/A???
I promise UFC 162 is going to be better!

— Tim Kennedy (@TimKennedyMMA) June 16, 2013
That's a relief....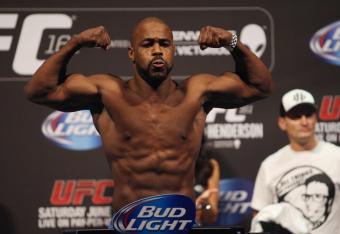 How did everyone score Henderson vs. Evans. I gave the nod to Evans, but that second round was debatable.
Still, Round 3 was probably the most decisive so it's hard not to say Evans didn't earn the W.
At least it was a competitive and reasonably action-filled outing. The same cannot be said for many of UFC 161's other matches.
The main event was very close indeed. It's got to sting for Henderson, who lost his previous bout via split-decision as well.
If you are wondering why the main event was just a three-rounder, it was because the bout was originally not supposed to be the event's headliner.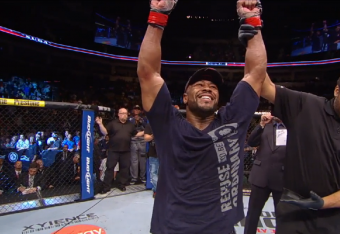 Rashad Evans vs. Dan Henderson result: Evans def. Henderson via split-decision (29-28, 28-29, 29-28)
The split-decision verdict is appropriate for a contest so close. It could have gone either way, but Evans clearly took the final frame and that is what got him the victory.
Rashad Evans vs. Dan Henderson play-by-play
Round 3 - Henderson looks to establish his jab, but Evans backs away and avoids it. Henderson lands a right, but Evans works him over in response, landing a flurry that hurts Henderson. Evans connects with a left-hook.
The pace slows now, both fighters pawing with their jabs. Evans dives for a takedown and nearly gets it, but Henderson is able to balance himself against the fence. Evans holds him there, but it's Henderson scoring with knees.
Evans briefly separates and lands some nice shots to the body. And one to the head that backs Hendo up. The fighters clinch against the fence once again, Evans taking the aggressive position. Evans scores with a right hook. Henderson is working his knees again, but Evans is making him pay with short punches.
Evans keeps the pressure up and attempts to flurry. Henderson counters, but neither guy lands much. As the round comes to a close, Evans punctuates a good round with a nice jab.
Bleacher Report scores Round 3: 10-9 Evans
Bleacher Report scores the fight: 29-28 Evans
Rashad Evans vs. Dan Henderson play-by-play
Round 2 - Evans ducks a punch and takes Henderson to the mat. The elder fighter pops straight back up, but Evans maintains control against the cage. Evans lands a nice right hand that's followed by a solid knee from Henderson.
Henderson moves forward still hunting the big punch. He clips Evans, but can't avoid being swept up against the cage. He defends, however, and is able to get separation seconds later. Evans coming forward now, blasts an overhand looper that glances off.
Evans latest takedown effort is stuffed—he isn't having much luck there—and Henderson tosses out a jab that lands. Evans lands a nice combination, but Evans lands with some short punches and an elbow.
Another close round there.
Bleacher Report scores Round 2 - 10-9 Evans
Rashad Evans vs. Dan Henderson play-by-play
Round 1 - The fighters touch gloves and initiate a feeling out process. Evans takes the Octagon's center while Henderson is circling. Evans lands a lunging jab that Henderson follows with an overhand right. Evans flurries in response. Evans charges and lands a left hand. His subsequent takedown comes up short though.
A nice combo finds its mark for Evans, who is clearly the quicker fighter. Hendo searching for a home for his right hand, but Evans backs away in time to avoid it. A takedown attempt from Evans fails against, but he takes Henderson to the fence and connects with a right.
Evans slips a right hand and lands a jab. Henderson counters with a cross and lands as well. The fighters trade stiff jabs, but it's Evans who gets the worst of it, dropping to a knee. He recovers and looks fine now, but that hurt him.
The round ends after Henderson misses with another overhand attempt.
Bleacher Report scores Round 1: 10-9 Henderson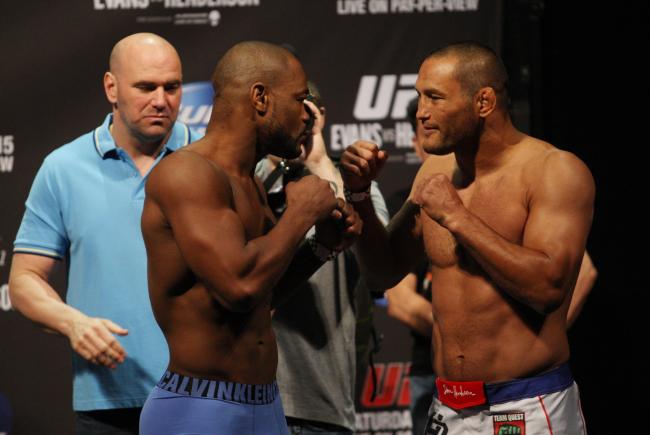 Rashad Evans vs. Dan Henderson play-by-play
Alright, it's time for the main event—a light heavyweight contest between a couple of fighters that could definitely use a win.
Once again, I'm having some issues posting Tweets. So, if you see an idiotic statement just sitting somewhere in the blog, chances are it was supposed to accompany a tweet, and would have made sense if the post had worked properly.
Next up, the main even. Henderson vs. Evans.
But, Miocic deserves recognition for his part in the outcome as well.
There is good reason to be critical of nelson for that performance.
Snowden agrees, tweeting his critique.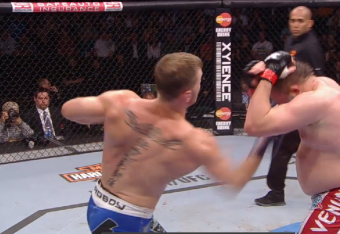 Roy Nelson vs. Stipe Miocic result: Miocic def. Nelson via unanimous decision (30-27, 30-27, 30-27)
A surprising outcome to this one, but there is no doubt that Miocic deserves credit for the victory. Nelson seemed grossly out of shape (in spirit as well as appearance), but it was a terrific showing for the Croatian.
Roy Nelson vs. Stipe Miocic play-by-play
Round 3 - Last round, Miocic snaps sweat off Nelson's face with a right cross. He adds to the damage with an uppercut and another hard straight right. Nelson is stalking now, but not landing. Miocic is though, with jabs and crosses.
Miocic fakes a shot and lands a right. Nelson lands a right of his own and comes forward. Nelson lunges in and Miocic turns and sprints away, which the fans don't appreciate. Nelson lands a nice right, but it doesn't phase Miocic.
Miocic fakes a takedown, but Nelson is so tired that is somehow still works. Miocic allows Nelson back up, riding him to the cage and landing short punches. An uppercut glances off Miocic's jaw, but he escapes danger and lands a few punches. He attacks and lands a couple stout connections.
The round ends with a flurry from Miocic, comprised of heavy punches and knees.
Bleacher Report scores Round 3: 10-9 Miocic
Bleacher Report scores the fight: 30-27 Miocic
Roy Nelson vs. Stipe Miocic play-by-play
Round 2 - A brisk leg-kick for Miocic is followed by a nice right hand and then a knee. He is just teeing off on Nelson, who continues to plod forward. A pair of jabs lands for Miocic now and Nelson explodes, but nothing comes of it.
Nelson is just getting tagged now and is bullied to the fence. Short elbows now from Miocic offer Nelson an out, but a painful one. Back in space now, Miocic is suffered on a takedown attempt, but resumes his beating of Nelson, who looks utterly exhausted. They exchange stiff jabs, but Miocic's comes with a side of knee-to-face, so he wins the exchange.
A right uppercut lands hard for Nelson and backs Miocic up. But the effective is temporary. Miocic patters Nelson with a jab-cross combo and follows with a couple extra jabs. He's upping the power now, landing hooks to Nelson's face.
Bleacher Report scores Round 2: 10-9 Miocic
Roy Nelson vs. Stipe Miocic play-by-play
Round 1 - Nelson takes the center of the Octagon, and Miocic feigns a takedown. Nelson rushes in and swings furiously but comes up with air. Now Nelson fakes a shot and looks to go up top, but misses again.
Miocic lands a stiff right hand then backs Nelson off with a combo. Nelson looks for his overhand right but missed. He hits with a leg-kick though. Miocic lands a nice combination that Nelson just eats, then backs him to the cage. Nelson separates though and eats another hard punch.
Nelson lands a body-shot, but takes another combination. Miocic is landing heavy shots, forcing Nelson to dive in for a takedown. It's stuffed, and Miocic works Nelson over some more on the way back up. Nelson attempts to launch some offense, but Miocic slips his punches and lands a couple short shots.
Nelson is lunging in and out looking for his right, but missing. Miocic is absolutely unloading on Nelson, first with punches then with elbows in close. Nelson was wobbly there, but recovered. he pins Miocic to the cage.
As the round expires Nelson lands a leg-kick and heaves on his way to the corner.
Bleacher report scores Round 1: 10-9 Miocic
Roy Nelson vs. Stipe Miocic play-by-play
The event has hardly been exciting to this point, but a slugfest between Roy Nelson and Stipe Miocic might be a good remedy for that. Let's hope.
Boring or not, it's been a good night for the Canadian fighters on the card. 6-1.
This pretty much sums up Jimmo vs. Pokrajac.
If you can't see the tweet from Dana White, it says "That fight SUCKED!!!!"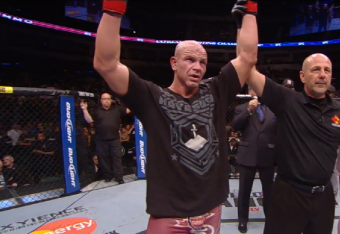 Ryan Jimmo vs. Igor Pokrajac result: Jimmo def. Pokrajac via unanimous decision (30-27, 30-27, 30-27)
Not the most thrilling bout, but a good win for Jimmo, who apologizes profusely. He also explains that there will be no robot dance because it was such a dull fight.
Ryan Jimmo vs. Igor Pokrajac play-by-play
Round 3 - Both fighters look to start with a bang, but miss with their haymakers. Pokrajac moves on, looking for a trip, and gets it, but Jimmo uses the rolling momentum to get on top. Pokrajac is looking for a kimura again, but Jimmo defends. He is attempting to ground and pound again, but the pound part continues to elude him
There's a decent punch from Jimmo. And then a not-half-bad elbow to follow. Pokrajac is trying to sneak in a guillotine and might have it. His hands are connected, but Jimmo appears calm. Eventually, Pokrajac abandons the hold and Jimmo throws a mixture of punches and elbows.
Pokrajac is able to use the fence to stand. Jimmo sticks with him though and holds his foe to the cage. A battle for position ensues with an occasional knees from both guys before Lavigne steps in.
The fight ends as Jimmo puts Pokrajac against the fence yet again.
Bleacher Report scores Round 3: 10-9 Jimmo
Bleacher Report scores the fight: 30-27 Jimmo
Ryan Jimmo vs. Igor Pokrajac play-by-play
Round 2 - A jab-leg-kick combo lands for Jimmo and he follows with a big right hand that floors Pokrajac. He pounces, attempting to finish things, but Pokrajac is able to weather the storm and stand. Jimmo takes him down immediately and works punches and elbows from the guard.
Jimmo continues to work his ground and pound—not vicious, but some shots are getting through. He postures and amps up his production a little, but lowers his balance a short time later and resumes his ground and pound lite.
Pokrajac is looking for a wrist to grab to set up a kimura. He finds it, but Jimmor is aware and defends without issue. He goes back to his elbows and Pokrajac is throwing a little now from the bottom. He lands a nice up-kick that nearly produces a triangle opportunity, but Jimmo escapes to side-control before it gets far.
Jimmo works short elbows until the bell.
Bleacher Report scores Round 2: 10-9 Jimmo
This article is
What is the duplicate article?
Why is this article offensive?
Where is this article plagiarized from?
Why is this article poorly edited?