NCAA College World Series 2013: Game-by-Game Viewing Info and Predictions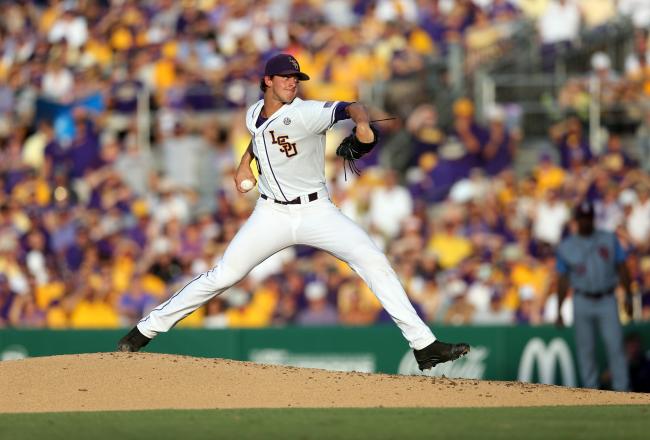 Crystal LoGiudice-USA TODAY Spor
On Saturday, the 2013 College World Series begins. Of the eight-team field, only three are nationally ranked. To say this is a wide-open field is a huge understatement.
Get ready for a 10-11 day whirlwind of collegiate baseball. The CWS is a double-elimination tournament that culminates with a best-of-three series between the two remaining teams. Here's how you can watch the games, followed by a breakdown and predictions for the opening games.
Date: June 15-25 or 26, if necessary
Where: TD Ameritrade Park (Omaha, Neb.)
Day 1 Schedule
(All times are eastern and information per ESPN)

Saturday, June 15
Game 1: Mississippi State (48-18) vs. No. 3 Oregon State (50-11) (ESPN2/WatchESPN, 3 p.m.)
Game 2: Indiana (48-14) vs. Louisville (51-12) (ESPN/WatchESPN, 8 p.m.)
Day 2 Schedule
Sunday, June 16
Game 3: NC State (49-14) vs. No. 1 North Carolina (56-10) (ESPN2/WatchESPN, 3 p.m.)
Game 4: UCLA (44-17) vs. No. 4 LSU (57-9) (ESPN2/WatchESPN, 8 p.m.)
Mississippi State Bulldogs vs. Oregon State Beavers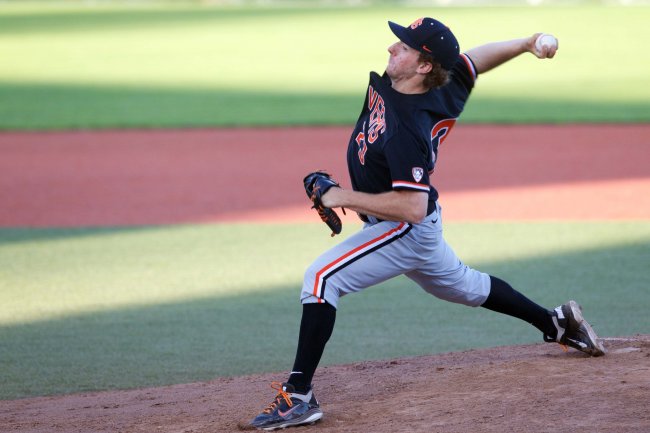 Jaime Valdez-USA TODAY Sports
The Bulldogs are clearly the underdogs in this matchup, but they shouldn't be taken lightly. Their stud right fielder and the 13th pick in the 2013 MLB draft by the San Diego Padres, Hunter Renfroe leads a formidable offensive attack.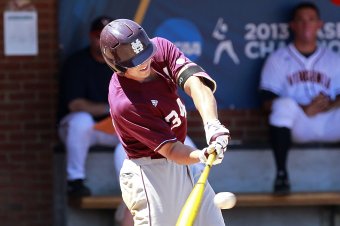 Geoff Burke-USA TODAY Sports
He was 5-for-9 with three RBI against the Virginia Cavaliers in the Super Regionals.
The Bulldogs will need their bats to answer the call against the Beavers, but their pitching will be even more important. Mississippi State's bullpen has been nasty all season. Ross Mitchell and Jonathan Holder have a combined 1.33 ERA this season.
The super duo also has 20 saves, with 18 belonging to Holder. Oregon State won't want to go into the late innings trailing because Mitchell and Holder could very well shut the door.
The Beavers' pitching staff is their biggest strength. Oregon State has the second-lowest ERA in the nation at 2.27. They are led by freshman sensation Andrew Moore.
Moore is 14-1—which is tied for the nation's best—and his 1.36 ERA is second in the nation. He's also held opposing batters to a .194 batting average.
The Beavers' hitters aren't quite as impressive as the Bulldogs' bunch, but they do have weapons. Michael Conforto and Dylan Davis have combined for 16 HR and 103 RBI this season. Their production will be key and with Moore on the mound, the Beavers may not need many runs.
Prediction: Beavers win 4-1
Indiana Hoosiers vs. Louisville Cardinals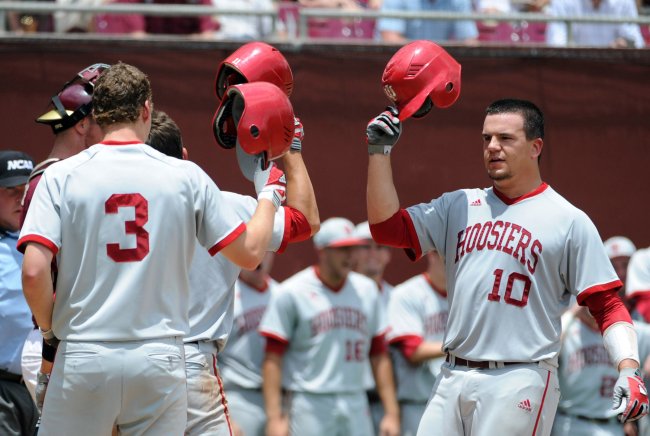 Melina Vastola-USA TODAY Sports
It seems like a long time ago, but the Hoosiers took two of three from the Cardinals earlier this season.
That regular season advantage could produce a psychological edge for the Hoosiers in this game. Kyle Schwarber of Indiana is one of the more exciting power hitters in college baseball. His 18 home runs this season make him the Hoosiers' most dangerous presence in the lineup.
That's really saying something considering the team is ranked 20th in the nation in batting average at .306. and 14th in home runs at 53. Dustin DeMuth is another major force with the bat for Indiana. The Twins' eighth-round selection is hitting .389 and helps to add another weapon to the Hoosiers' attack.
Indiana isn't all about hitting, though. Their team ERA of 2.67 is the eighth-lowest in the nation. This is a complete team that the Cardinals will have a tough time dealing with.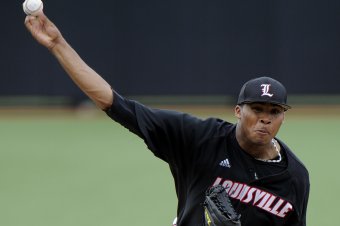 Jamie Rhodes-USA TODAY Sports
The Cardinals' only chance to win this game is to turn it into a pitchers' duel. Junior Jeff Thompson, who was selected in the third round of the draft by the Detroit Tigers will likely get the ball.
Thompson is 11-1 with an ERA of 2.00 this season. The Cards can't match power with the Hoosiers so Thompson will have to be sharp against an excellent lineup.
Prediction: Hoosiers win 6-2
North Carolina State Wolfpack vs. North Carolina Tar Heels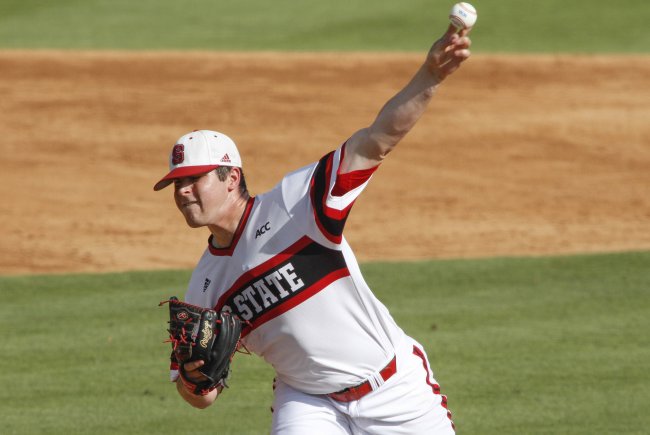 Jeremy Brevard-USA TODAY Sports
This will be the fourth meeting of the season between the two teams. North Carolina has won two of the three previous games, including an 18-inning marathon in the ACC championship.
The Tar Heels are the nation's top team for a reason. They are ranked in the top 10 in both hitting and earned run average.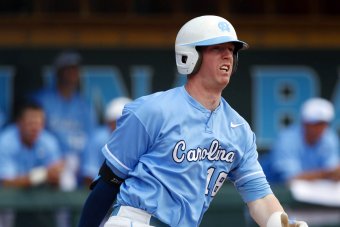 James Guillory-USA TODAY Sports
Colin Moran is the biggest bat of the bunch. He was selected sixth overall by the Miami Marlins and he could have been in the mix as a top-three pick. He's hitting .343 with 13 home runs and a whopping 88 RBI.
Moran is not only the team's best hitter, he's the glue for the entire lineup. His balanced hitting often gives the Heels the punch or timely hitting they need.
The pitching staff is led by Kent Emanuel who is 11-3 with a 2.93 ERA. He'll likely get the start against the Wolfpack, but don't sleep on do-it-all freshman Trent Thornton.
Emanuel appeared in 28 games this season—five as a starter—and he's been supplying awesome relief efforts as of late. His 1.28 ERA is the lowest on the team and the seventh-best in the nation.
N.C. State has a chance because they can counter Emanuel with a potentially dominant pitcher in Carlos Rodon. He hasn't received much run support lately, though.
Rodon shut out William and Mary on May 31, but he needed every blazing fastball as the Wolfpack's bats could only manage one run. He went 8.1 innings and allowed just three runs against Rice in the Super Regionals, but the Wolfpack needed two runs in the bottom of the ninth to force extra innings.
N.C. State eventually won, but Rodon got a no-decision for his efforts.
Rodon was simply masterful in the ACC championship against the Heels on May 25. He went 10 innings, struck out 14 and threw 130 pitches, but his team could again only muster one run.
If N.C. State is going to win this game, they will need Rodon to be nearly unhittable again. That is a monumental task against the Heels—even for Rodon, but I have a feeling Rodon's offense will finally give him the support he needs.
I smell an upset.
Prediction: Wolfpack win 3-1
UCLA Bruins vs. LSU Tigers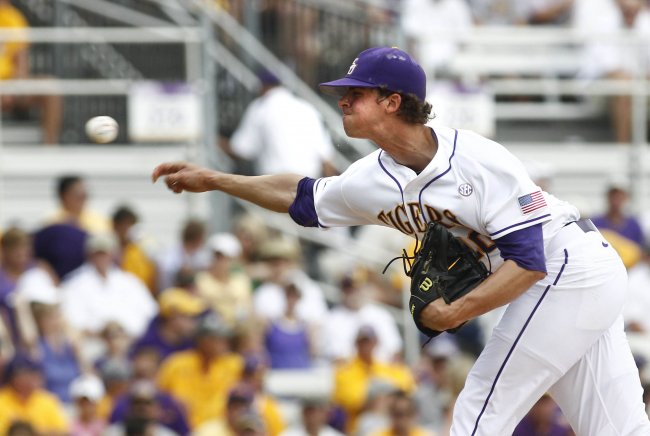 Crystal Logiudice-USA TODAY Sports
This is one of the more intriguing matchups of the early rounds, though the Tigers' blend of dominant pitching and clutch hitting has them as my pick to win it all in Omaha.
Which team looks the strongest?
Aaron Nola may not have the most powerful arm in the country, but he is the best pitcher. His performance against the Colorado Rockies' No.3 overall pick, Jonathan Gray, and Oklahoma in Game 1 of the Super Regionals was impressive.
It capped off what has been an amazing season for the man voted Regional Player of the Year.
With him on the mound, the Tigers' bats probably won't need to produce much to win. Mason Katz's .366 average and 15 home runs proves he's more than capable of leading the charge on offense.
He's a major reason LSU is ranked 17th in the nation in hitting.
For UCLA, winning this game has to come down to manufacturing runs against Nola. They must also hope San Francisco Giants' sixth-round pick, Nick Vander Tuig can keep pace on the mound. Bruins head coach John Savage loves to turn the game over to his dominant bullpen late.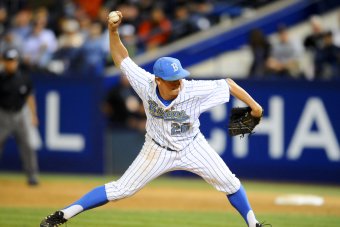 Christopher Hanewinckel-USA TODA
Pac-12 Player of the Year David Berg leads the nation with an ERA of 0.88 and he's second with 21 saves, but he hasn't looked as sharp in his last three outings. With Nola on the mound, Berg may not even get into the game.
The Tigers look awfully tough.
Prediction: Tigers win 4-0
Follow me for Sports Did You Knows, News and Spirited Opinions
This article is
What is the duplicate article?
Why is this article offensive?
Where is this article plagiarized from?
Why is this article poorly edited?