Predicting the Atlanta Falcons' Depth Chart Post-OTAs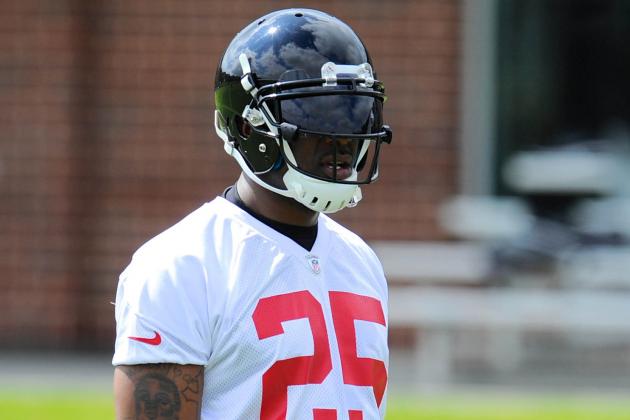 Dale Zanine-USA TODAY Sports

The Falcons are set to start their final week of organized team activity sessions today (OTAs), and by now we know what OTAs are and what they aren't.
OTA sessions aren't training camp practices, but they are valuable to NFL coaches because this is when they begin to install a lot of their schemes and work on some of the adjustments they made over the offseason.
The non-contact sessions also provide younger players with the opportunity to ease their way into NFL competition before the baptism by fire that some of them will receive when the pads come on at the end of the summer.
Against that backdrop, let's take a look what the Falcons' depth chart may look like at the conclusion of this week's final OTA sessions. This won't be a projection of the Falcons' final 53-man roster, so all players currently on the roster will be included and the depth chart will probably change at certain positions between now and Week 1 of the season.
Even still, now is as good a time as any to take a glimpse at how the Falcons' coaches may have the players' names stacked on their office whiteboard at Flowery Branch.
We begin our Atlanta Falcons post-OTA depth chart projection at the quarterback position.
Unless otherwise indicated, all analysis in this article is based on coach and player interviews found on AtlantaFalcons.com Media Lounge and reporting by D. Orlando Ledbetter of the Atlanta Journal Constitution.
Begin Slideshow

»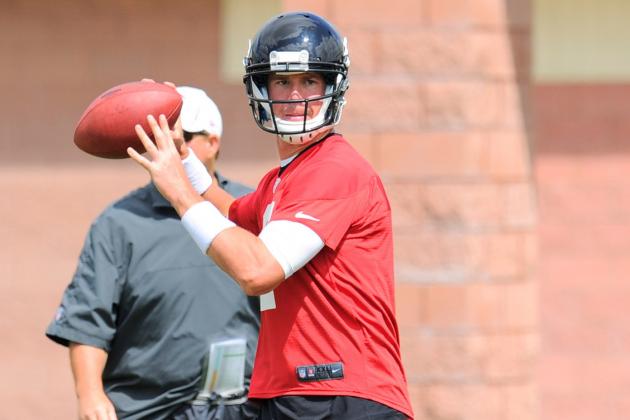 Dale Zanine-USA TODAY Sports

1. Matt Ryan
2. Dominique Davis
3. Sean Renfree
4. Seth Doege
No drama here. Matt Ryan should join the $100 million quarterback club soon, and the backup job is Dominique Davis's to lose. If Davis continues to improve, he could turn out to be a valuable trade asset for the Falcons in the future.
The only real question at the quarterback position is whether the team is going to use a roster spot on a third quarterback like Sean Renfree or Seth Doege.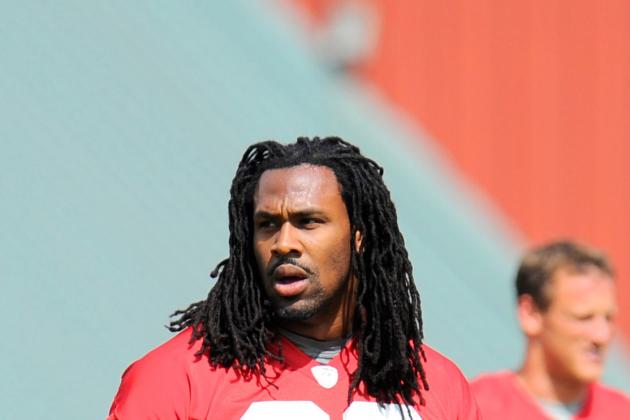 Dale Zanine-USA TODAY Sports

Running Back
1. Steven Jackson
2. Jacquizz Rodgers
3. Jason Snelling
4. Antone Smith
Fullback
1. Bradie Ewing
2. Patrick DiMarco
3. DeVonte Campbell
Running back is another position on the Atlanta roster where there isn't much drama. Free-agent acquistion Steven Jackson leads the way at running back with a very capable Jacquizz Rodgers serving as his top backup.
Jason Snelling figures to resume his role as the team's utility running back, while Bradie Ewing returns from his knee injury and heads into training camp penciled in as the team's starting fullback.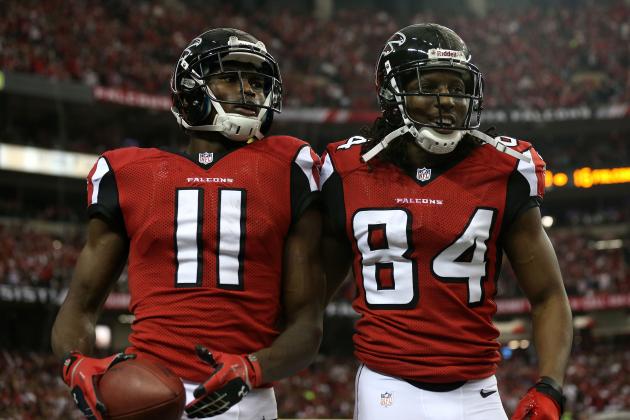 Streeter Lecka/Getty Images

Split End (X Receiver, usually lines up opposite the tight end in a base set)
1. Julio Jones
2. Kevin Cone
Flanker (Z Receiver, usually lines up off of the tight end in a base set)
1. Roddy White
2. Drew Davis
Slot Receiver
1. Harry Douglas
2. James Rodgers/Martel Moore/Tim Toone
Roddy White and Julio Jones are your obvious headliners here, but things could get a little interesting behind them. Is this the year that Harry Douglas finally gets some competition in the slot? Keep an eye on Northern Illinois product Martel Moore.
It's also going to be interesting to see whether Drew Davis and Kevin Cone are ready to demand more playing time and allow Atlanta to go with more four- and five-receiver sets.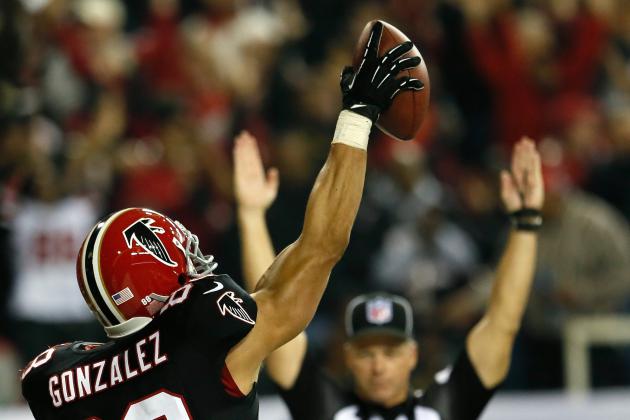 Kevin C. Cox/Getty Images

1. Tony Gonzalez
2. Chase Coffman
3. Levine Toilolo
4. Tommy Gallarda
5. Andrew Szczerba/Anthony Miller
Slight surpise here with Chase Coffman listed as Tony Gonzalez's top backup. The team spent a fourth-round pick on former Stanford tight end Levine Toilolo, but he's had to miss OTA sessions while he finishes up his studies in Palo Alto.
With Toilolo out (and Gonzalez missing the voluntary workouts), Coffman has had the opportunity to get valuable reps and go into training camp with a leg up on Toilolo, Gallarda and the rest of a group of young tight ends vying for playing time behind future Hall of Famer Tony Gonzalez.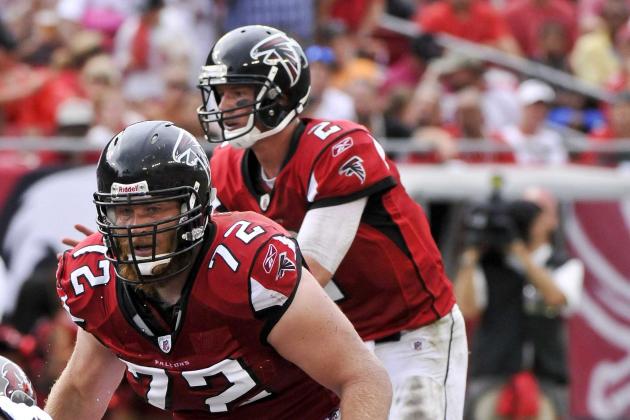 Fernando Medina-USA TODAY Sports

Left Tackle
1. Sam Baker
2. Lamar Holmes
3. Alec Savoie
4. Ryan Schraeder
Right Tackle
1. Mike Johnson
2. Lamar Holmes
3. Terren Jones
Many people expect Lamar Holmes to ultimately win Atlanta's starting right tackle job, and he certainly has the physical tools to do so, but Mike Johnson gets the edge now because of his playing experience right now. In the end, I'd expect the team to keep three tackles on the active roster.
Even if Holmes ends up beating out Mike Johnson for the starting right tackle job, I wouldn't be shocked to see him move over to left tackle if Sam Baker were to get injured. That's why I list Holmes as the top backup at left tackle.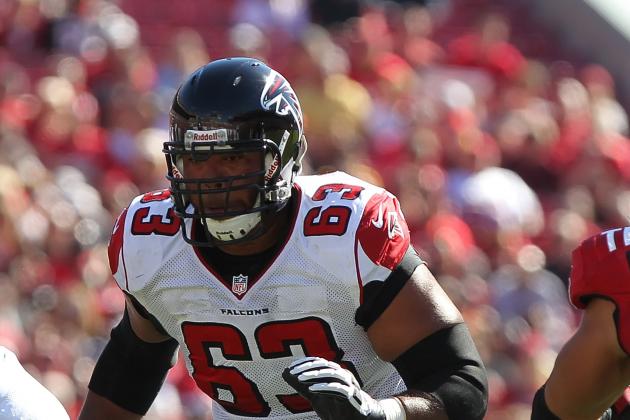 Kim Klement-USA TODAY Sports

Left Guard
1. Justin Blalock
2. Joe Hawley/Mike Johnson
3. Phillipkeith Manley
4. Jacques McClendon
5. Theo Goins
Right Guard
1. Garrett Reynolds
2. Joe Hawley/Mike Johnson
3. Phillipkeith Manley
4. Harland Gunn
Right guard is another hot spot where you could see a heated camp battle. For now, I'll give the edge to Garrett Reynolds by default because Phillipkeith Manley is said to be battling some weight issues, Peter Konz is playing mostly at center and Joe Hawley and Mike Johnson will be primarily competing for starting jobs at center and right tackle.
I expect the loser of the Peter Konz-Joe Hawley battle at center to become the team's top backup at guard.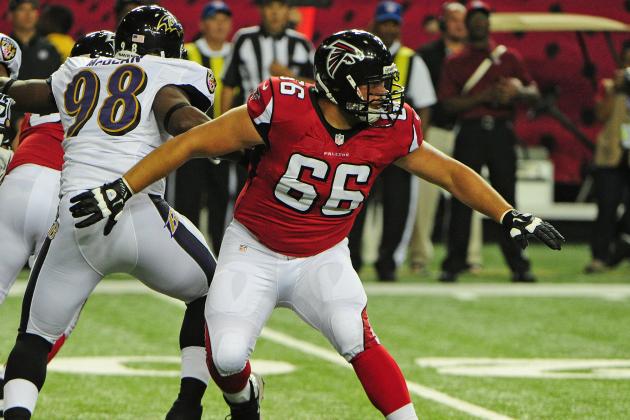 Scott Cunningham/Getty Images

1. Peter Konz
2. Joe Hawley
3. Matt Smith
Peter Konz returns to the position he played in college and will enter training camp as the favorite to take over at center after Todd McClure's retirement. Nevertheless, expect a decent push from Joe Hawley.
Ex-Kentucky center Matt Smith may find a way to sneak on to the practice squad.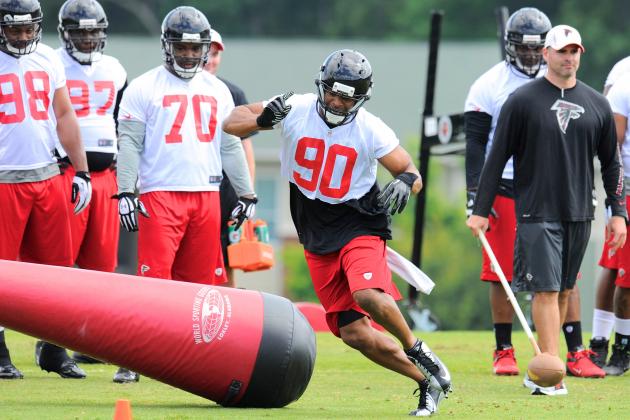 Dale Zanine-USA TODAY Sports

Right Defensive End
1. Osi Umenyiora
2. Jonathan Massaquoi
3. Stansly Maponga
4. Cam Henderson
Left Defensive End
1. Kroy Biermann/Malliciah Goodman
2. Cliff Matthews
3. Brandon Thurman
Right now it's "Osi Umenyiora and everyone else" at defensive end for the Falcons. Atlanta is hoping that some of its yound defensive ends change that once season starts.
I'll slot Kroy Biermann with Malliciah Goodman as the starting left defensive ends for now because I suspect that Mike Nolan is going to move Biermann around so much that Goodman (or Cliff Matthews) could end up getting as many snaps at left end as Biermann does. Cliff Matthews' added weight should make the battle between him and Malliciah Goodman fun to watch.
On the right side, expect Jonathan Massaquoi and Stansly Maponga to slug it out for playing time behind Umenyiora.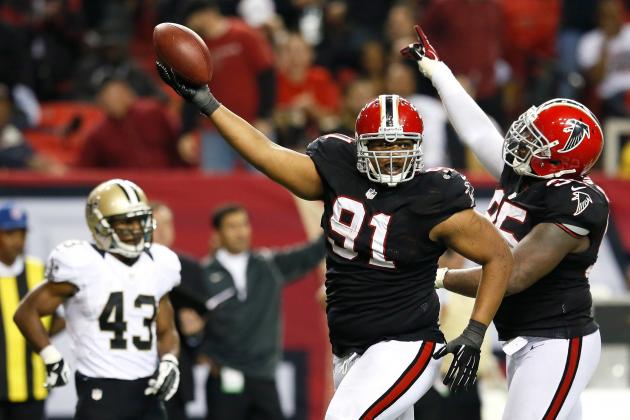 Kevin C. Cox/Getty Images

Under Tackle (Three technique)
1. Jonathan Babineaux
2. Travian Robertson
3. Adam Replogle/Neal Huynh
Nose Tackle (One technique)
1. Corey Peters
2. Peria Jerry
3. Micanor Regis
Corey Peters and Jonathan Babineaux return as Atlanta's starters, while Travian Robertson slides into the role that was vacated by Vance Walker when he signed with Oakland. In addition, this could be a put up or shut up year for Peria Jerry.
Don't be surprised if the Falcons find a way to add some veteran depth here before the season starts whether it's Richard Seymour or a late training camp cut from another team.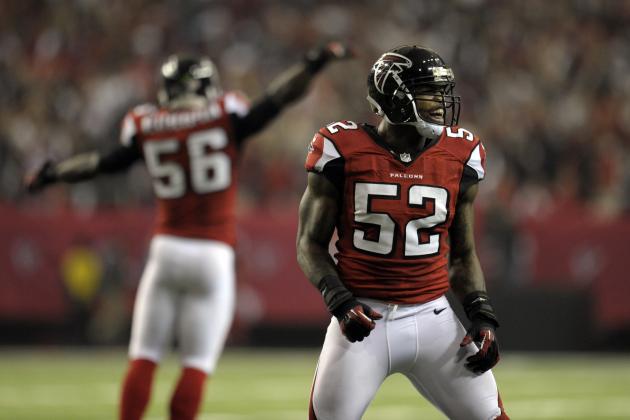 Dale Zanine-USA TODAY Sports

Strong-Side Linebacker
1. Stephen Nicholas
2. Nick Clancy
3. Joplo Bartu/Paul Worrilow
Middle Linebacker
1. Akeem Dent
2. Pat Schiller
3. Brian Banks
Weak-Side Linebacker
1. Sean Weatherspoon
2. Robert James
3. Joplo Bartu/Paul Worrilow
The question at linebacker involves figuring out which players will backup Sean Weatherspoon, Stephen Nicholas and Akeem Dent. Robert James has managed to hold on to his roster spot for five years, but the team may be ready to find a special teams ace who has more potential to contribute as a linebacker.
Pat Schiller has a year under his belt now, so he may be the leader in the clubhouse to be the team's top reserve, but Nick Clancy, Brian Banks, Joplo Bartu and Paul Worrilow will all get long looks during training camp.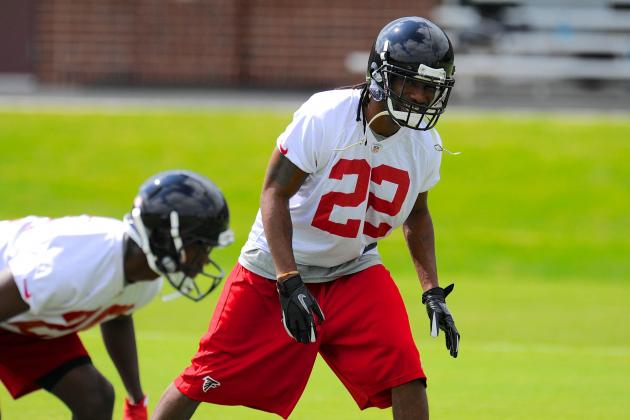 Dale Zanine-USA TODAY Sports

Left Cornerback
1. Asante Samuel
2. Desmond Trufant/Robert McClain
3. Peyton Thompson
4. Saeed Lee/Terrance Johnson
Right Cornerback
1. Robert Alford
2. Desmond Trufant/Robert McClain
3. Dominique Franks
4. Saeed Lee/Terrance Johnson
The Falcons spent a first-round pick on Desmond Trufant, but he hasn't been able to participate in OTA sessions until this week because of his obligations at Washington.
Since Robert Alford has gotten more reps (the early reports sound good), I'm going to give him the edge over Trufant right now for the starting cornerback job opposite Asante Samuel.
With that being said, I think Trufant can and will overtake him after training camp once he gets up to speed.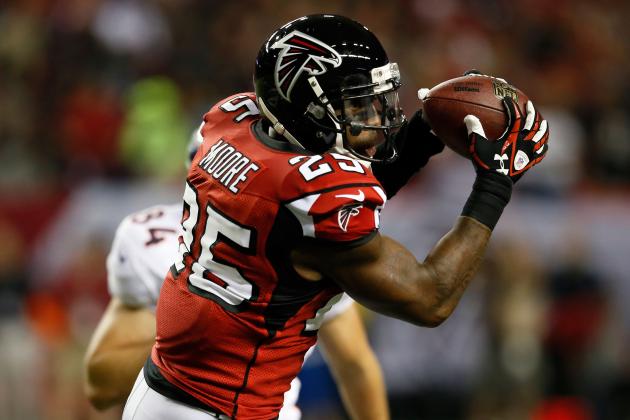 Kevin C. Cox/Getty Images

Free Safety
1. Thomas Decoud
2. Charles Mitchell
3. Shann Schillinger
Strong Safety
1. William Moore
2. Kemal Ishmael
3. Zeke Motta
4. Troy Sanders
The Falcons' starting safeties are entrenched, but there will be some competition for key backup roles behind Thomas Decoud and William Moore. Kemal Ishmael caught Mike Smith's attention during the rookie minicamp last month, and I think his tackling skills will help him standout later this summer when the pads come on.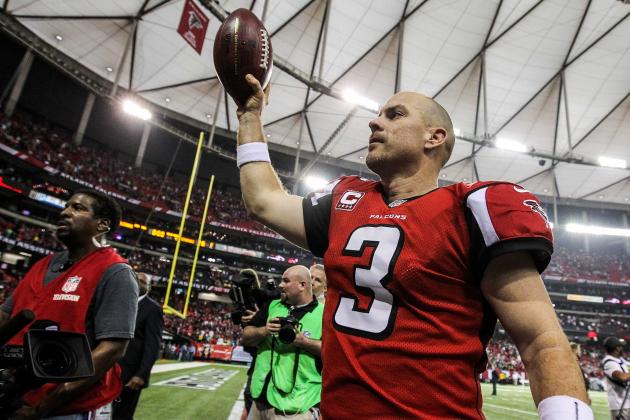 Daniel Shirey-USA TODAY Sports

Kicker
1. Matt Bryant
2. Jeremy Shelley
Punter
1. Matt Bosher
2. Sean Sellwood
Long Snapper
1. Josh Harris
Kick Returner
1. Robert Alford
2. Jacquizz Rodgers
Punt Returner
1. Robert Alford
2. Dominique Franks/Harry Douglas
Robert Alford may be one of the best pure athletes on the Falcons' roster now, so it would behoove Atlanta to find opportunities for him to get his hands on the ball. Beyond injecting Alford into the return game, don't expect too many changes here between now and Week 1 of the regular season.