Rafael Nadal, Roger Federer and the Issue of Legacies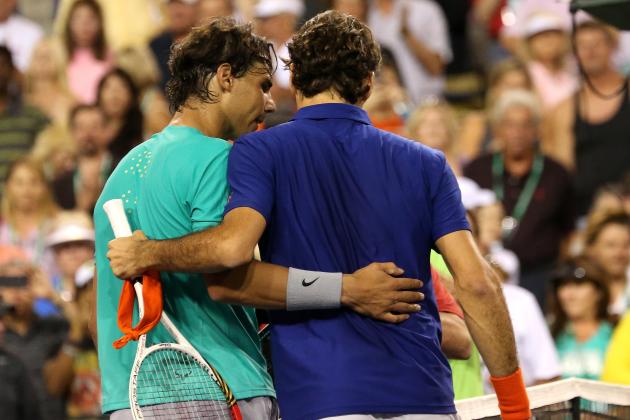 Stephen Dunn/Getty Images

It was at the 2005 French Open that the clay court reign of King Rafael Nadal began. Less than 10 years after, it may be argued that his tennis legacy already exceeds that of Roger Federer.
It was at the 2005 French Open that Rafael Nadal for the first time announced himself to the wider world of sport and began his clay court reign, which has continued to this day.
An impressive semifinal win over Roger Federer set Nadal on his way to his first of currently eight Roland Garros titles and signaled the beginning of something potentially special in the making.
In the months leading up to Roland Garros that year, the then unknown Nadal had brought back the type of excitement that had left tennis not long after fans cottoned on to the fact that neither Lleyton Hewitt, nor Marat Safin, or the likes of Andy Roddick had it within themselves to elevate their levels and push Roger Federer to his limits.
For both Nadal and Federer, it was clear from the early stages of their respective careers that both had the makings of future Grand Slam champions, but no one could have predicted how far they would go.
Begin Slideshow

»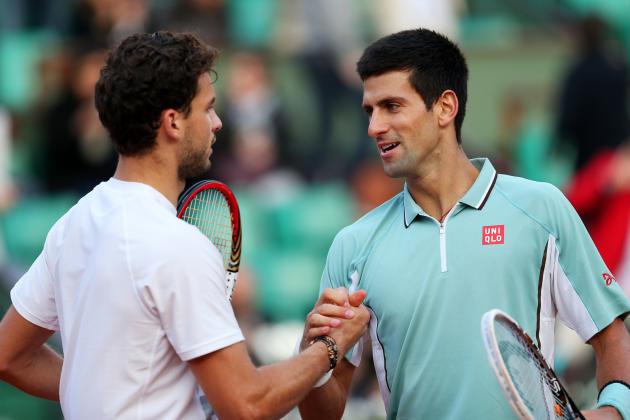 Clive Brunskill/Getty Images
Grigor Dimitrov (L) and Novak Djokovic (R)
Contrary to common thought, a tennis player's legacy is not an obvious thing.
The default tendency in tennis has been to measure legacy as the number of Grand Slam titles a player wins and in some cases to multiply personal estimation by the number of those Slam titles—with the underlying principle being, consciously or unconsciously, that the impact factor of people's lives may be summed up with a number.
Forget for a minute that that is plain disrespectful, shouldn't it be obvious that in much the same way that the result of a degree program at university is professional qualification, the result of hard work and training and sacrifices in tennis only stretches in the short term as far personal rewards, and in both cases certainly not to legacies?
It seems to me like the only proper way to judge a tennis player's legacy, from a tennis-centrist point of view, is essentially looking at the quality of the answer to the question, "What is their contribution to the tennis we watch today?"
For Jelena Gencic for example, advisor of Goran Ivanisevic and Monica Seles in their junior years and talent spotter of Novak Djokovic, who recently passed away, the answer's quality is not in doubt.
For Federer and Nadal, two matches at this year's French Open stood out in that regard: Djokovic vs. Dimitrov and Djokovic vs. Nadal.
Novak Djokovic vs Grigor Dimitrov
6-2, 6-2, 6-3 (1 hour 44 minutes)
For a match that was billed as a clash between tennis' resplendent future and its all-conquering present, we got a rather dim and grim image of that future.
My initial reaction to the outcome was one of passive-aggressive anger. Dimitrov's performance was not worth the time set aside to watch the match, but that changed as I slowly but surely saw what lay below the surface.
In many ways, one could read that defeat for Dimitrov as a critique of Federer, the man he has determinedly tried to emulate to the very last detail.
Despite Federer's greatness and Dimitrov's potential, I found it quite needling that one particular shot of theirs—that single-handed backhand—could be so prone to dysfunction at the very moment it is needed the most.
The staple argument has been that Federer's backhand only falters against the likes of Nadal, but that argument ignores that it really does makes all the difference that that weakness is more apparent against 0.0001% of the ATP, even if it is fine against the other 99.9999%.
It is as such simply because that 0.0001% are the elite—some of the greatest the game has seen. The Nadals and Djokovics of this world.
Nadal vs Djokovic
6-4, 3-6, 6-1, 6-7 (3), 9-7 (4 hours, 37 minutes)
In what was without doubt the match of the tournament, the Djokovic-Nadal semifinal at Roland Garros this year was every bit an espousal of Nadal's impact on the game.
The match had its highs and lows for both players, its share of the sublime and the ridiculous and of amazing moments and moments head-scratching discombobulation. However, throughout, without fail, the standard of tennis on show was exceptional.
Djokovic, a six-time Grand Slam winner, showed the pedigree of a champion, a would-be champion albeit, but a champion nonetheless—something I wasn't given reason enough by Dimitrov to say of himself.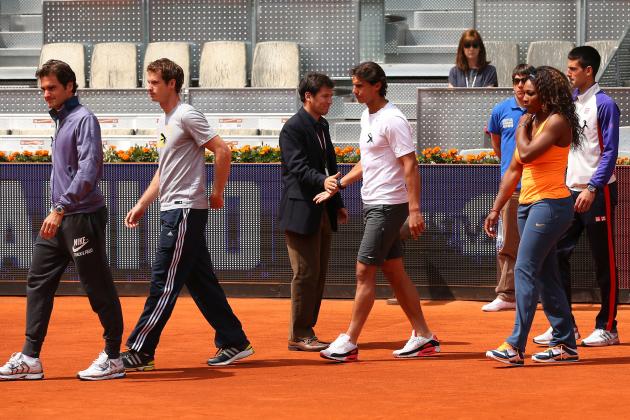 Julian Finney/Getty Images

I began watching tennis for two reasons: certainly not for what the players did outside the court (charity work, etc.), and for what I saw them do on the court.
This, to me, is the tennis-centrist point of view.
From this viewpoint, a player's legacy at any given time is his/her impact on the tennis being watched at that point in time.
We all have matches that we can point to and identify as turning points in a player's career and what is taken from these matches will vary from person to person.
With regard to Federer and Nadal, the two matches I highlighted speak volumes to me about both players' legacies.
It is my belief that Federer's issues with his backhand affect his legacy because it is a weakness that has failed to stand the test of time against his biggest rivals. It also seems like a problem that will be passed down to younger players who try to emulate him.
On the other hand, I believe the Nadal-Djokovic dynamic advances Nadal's legacy as it strengthens the argument that Nadal's modern physical/ultra-physical style of play, that Djokovic has adopted and used to great effect, has a greater impact on the tennis we watch today.