The men's semifinals wrapped up on Day 13 of the 2013 French Open, and the first match had the unmistakable feel of a final. That was probably because it was a rematch of last year's title match between world No. 1 Novak Djokovic and defending champion Rafael Nadal.
In a grueling five-set affair, the seven-time French Open winner Nadal emerged victorious by a score of 6-4, 3-6, 6-1, 6-7 (3), 9-7. It marks the fourth consecutive year Nadal will be in the final at Roland Garros:
7-time champ @RafaelNadal, arms thrust overhead, into a record 8th RG final #RG13 #RafaNole35 pic.twitter.com/18pZHpmhFl

— Roland Garros (@rolandgarros) June 7, 2013
No. 6 seed Jo-Wilfried Tsonga was bidding to become the first Frenchman to win the year's second Grand Slam event in 30 years, but he came out flat and dropped the first set to David Ferrer 6-1. He never quite recovered, losing a second-set tiebreaker before falling 6-2 in the third.
Ferrer was thrilled to finally reach his first career Grand Slam final, and he did so in commanding fashion.
HUGE win for Ferrer! #RG13 pic.twitter.com/iCjWIVqHLx

— Roland Garros (@rolandgarros) June 7, 2013
The outcome may have been more lopsided than the first match, but the intensity didn't diminish as much as one might expect due to Tsonga's nationality. Ferrer was solid, though, and his win sets up the fourth all-Spanish final in French Open history.
Let's take a closer look at how the action unfolded on Friday in Paris.
Day 13 Scores
Match
Score
Men's Semifinals

Rafael Nadal (3) defeats

Novak

Djokovic

(1)

6-4, 3-6, 6-1, 6-7 (3), 9-7


David

Ferrer

(4) defeats Jo-Wilfried

Tsonga

(6)

6-1, 7-6 (3), 6-2

Note: Statistics and results are courtesy of RolandGarros.com.
Rafael Nadal Tops Novak Djokovic in Instant Classic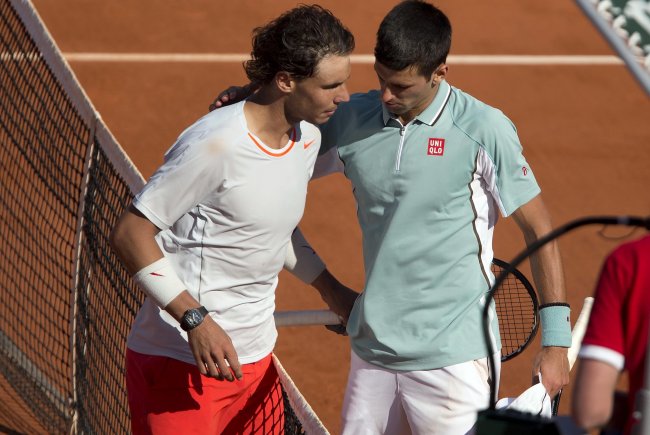 Susan Mullane-USA TODAY Sports
It's difficult to describe the type of world-class showcase that Nadal and Djokovic put on. The only leg of the career Grand Slam that Djokovic is missing is the French Open, but Nadal once again denied him the opportunity to capture the trophy.
ESPN Stats & Info highlighted just how ridiculous Nadal's run at this tournament has been as the three-time reigning champion:
Rafael Nadal has won 27 straight matches at the French Open

— ESPN Stats & Info (@ESPNStatsInfo) June 7, 2013
The task wasn't easy, though. Nadal was within two points of victory in the fourth set before Djokovic rallied to force the tiebreaker, which he dominated by a score of 7-3.
When Djokovic broke Nadal in the opening game of the fifth set, it looked as though the man who had lost just once before at Roland Garros was suddenly in trouble.
However, the relentlessly competitive Nadal was not to be denied on this occasion. He patiently ground through the grueling set before capitalizing on a break to even the score at four games apiece.
Above are highlights from the end of the fifth set, courtesy of HDGrandSlamTennis on YouTube.
Frustrated by slick court conditions and the ridiculous shots Nadal continually pulled off, Djokovic eventually lost his serve at love to close out the match. It was a rather anticlimactic end to an otherwise epic clash between two of tennis' titans.
What ultimately doomed the world No. 1 was unforced errors. Given, the rallies between these two players were frequently long, but it was Djokovic who often blinked first, and he wound up with 75 unforced errors for the match and countered those with only 54 winners.
The more efficient Nadal smashed 61 winners to only 44 unforced errors, and that proved to be the difference in what was otherwise an extremely tight match.
After the action was over, Djokovic expressed how grateful he was to be a part of such an historic occasion, but obviously he would have loved another shot in the final this time around (h/t Roland Garros):
Djokovic: "Unbelievable match to be a part of but all I feel now is disappointment." #RG13 pic.twitter.com/AEbINpFeFc

— Roland Garros (@rolandgarros) June 7, 2013
Nadal had a similar post-match reaction with regard to being able to simply participate in a showdown like this, but he could convey a bit of humor since he was the victor yet again:
Nadal: "It's very special, you don't get to play these matches every day... I enjoy the suffering." #RG13

— Roland Garros (@rolandgarros) June 7, 2013
It is a shame that someone had to walk off Court Philippe Chatrier on the losing end, but this is a match that will be heralded for years to come as one of the best semifinals in Grand Slam history.
David Ferrer's Big Breakthrough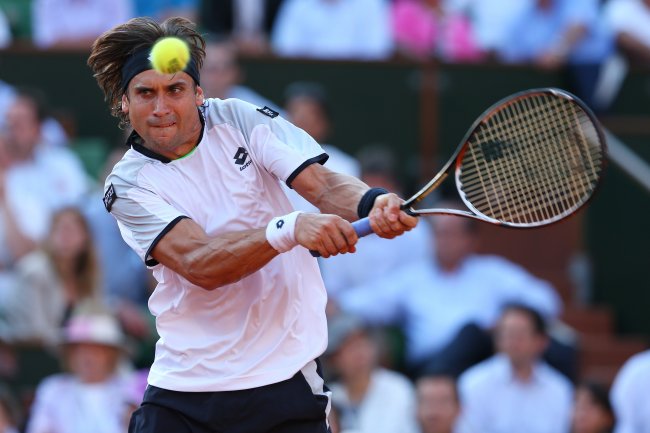 Julian Finney/Getty Images
Age 31 is rather late for a player to come into his own, but for Ferrer, after coming up empty in five previous Grand Slam semifinals, finally punched his ticket to a final in one of tennis' four marquee tournaments.
That helped Ferrer avoid unwelcome company in tennis lore, according to Sports Illustrated's Byran Armen Graham:
David Ferrer needs a win today to avoid matching Tim Henman's record of most Grand Slam semifinal losses without making a final (six).

— Bryan Armen Graham (@BryanAGraham) June 7, 2013
A lot of the thanks for Ferrer advancing, though, should go to Tsonga, who was a shell of the player who cruised through to the semis without dropping a set. That included a commanding straight-sets win over the legendary Roger Federer in the quarterfinals.
The home crowd tried to rally behind their last remaining hope for a native to win the title, but Tsonga wound up taking the air out of the audience with uncharacteristically sloppy play. Chris Fowler of ESPN observed the sulking atmosphere when Ferrer maintained his commanding run of first-set prowess:
1st set a buzzkill for this Paris crowd. Ferrer's last 6 sets here: 6-1 6-1 6-2 6-1 6-1 6-1. As Corso says: Yo, sweetheart.

— Chris Fowler (@cbfowler) June 7, 2013
Tsonga's talent suggests he should have won a Grand Slam by now, and his physical superiority was evident against Ferrer. Unfortunately, Tsonga was unable to appease the home crowd and hit 40 unforced errors in dropping the first two sets.
Fitness is the foundation of Ferrer's formula for winning, and his strategy of waiting for Tsonga to make mistakes in this match paid massive dividends.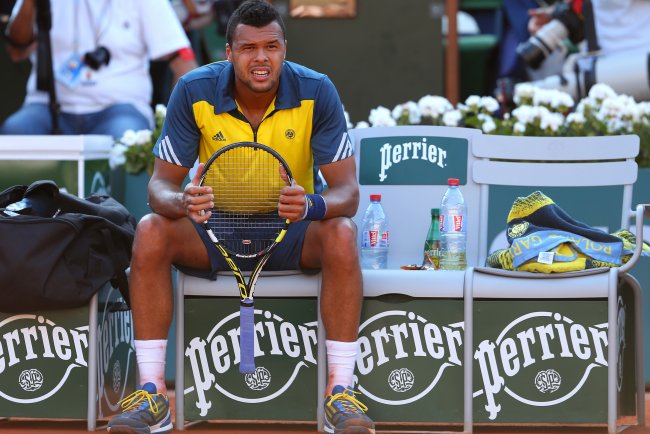 Julian Finney/Getty Images
Even when Tsonga looked as though he was getting back into the match by winning the first three games of the second set, Ferrer's persistence caused Tsonga to drop the next four games.
If his power was visibly noticeable, what stood out more for Tsonga was how far behind Ferrer he lagged in terms of court movement. For whatever reason, Tsonga simply wasn't displaying sound footwork and frequently lunged at what looked to be gettable balls.
How many sets will David Ferrer win against Rafael Nadal in the final?
Net play was especially key in this match, as Ferrer devastated Tsonga with volleys throughout, winning 17 of 22 net points compared to Tsonga getting the better of him on only seven of his 16 approaches.
In a match with perhaps the greatest pressure of Tsonga's career, he couldn't quite rise to the occasion. He managed to win a mere 40 percent of his second-serve points, too, compared to the 66 percent clip at which Ferrer won such points.
Ferrer was simply the steadier player under the microscope, but he must have an extraordinary effort against Nadal in the next match to have a chance if his history against him is any indication (h/t Roland Garros):
Nadal-Ferrer H2H: Nadal leads 19-4, with Nadal winning the last 8 in a row, all on clay, incl at RG in 2012? #RG13

— Roland Garros (@rolandgarros) June 7, 2013
It will appropriately be a David vs. Goliath type matchup when Ferrer attempts to slay the King of Clay in the final.