In the semifinals at Roland Garros, David Ferrer and Jo-Wilfried Tsonga will be battling for a chance to play for the 2013 French Open. That's kind of a big deal.
The winner will take on the victor of Rafael Nadal and Novak Djokovic, two of the favorites to take home the title. But before Ferrer or Tsonga can begin to think about who could oppose them in the final, 100 percent focus needs to be on the other. Lose focus, and you're bound to lose the semifinal matchup.
Who will advance to the French Open final?
Both enter the semifinals very hot, as neither has lost a set yet. Ferrer has been solid overall but has yet to take on someone who has the potential to give him a run for his money.
That's not the case for Tsonga, who had to defeat No. 2 Roger Federer in the quarterfinals to get here. On paper, it was a tough matchup, but Tsonga made it look easy. Both are definitely worthy of a semifinal berth, and one of them will have the opportunity to make history come Sunday.
But let's forget about Sunday's final for now and focus in on what's going to happen when Ferrer and Tsonga face each other in the semifinals. Here's a set-by-set prediction as to who will be advancing further at Roland Garros and who will be going home.
First Set: Tsonga over Ferrer, 6-3
Susan Mullane-USA TODAY Sports
Power is going to win the set for the semifinals, and that means Tsonga will come out victorious here. His serve has been flawless at Roland Garros and will make it tough for Ferrer to win many games. He's won more games in the first set than in the second or third, but he doesn't have the best games won percentage in the opener.
Ferrer: "Against Tsonga, I'll have to hit deep and to his backhand. And I'll have to serve better." #RG13

— Roland Garros (@rolandgarros) June 4, 2013
Ferrer knows what he has to do in order to top Tsonga, but his serve won't be his best friend early. It'll take some time before he's able to hit perfect serves that put Tsonga in a vulnerable position. He's been more successful as matches have gone on, and he just won't be able to put it all together in the first set.
Second Set: Ferrer over Tsonga, 6-4
The second set has been the best for both Ferrer and Tsonga throughout their respective runs at the French Open. But after falling in the opening set, Ferrer is going to do everything in his power to fight back to tie the match at a set apiece. I think there's a very good chance that he's able to accomplish that.
Ferrer: "I feel good physically, in great shape. This is important in a Grand Slam." #RG13

— Roland Garros (@rolandgarros) June 4, 2013
Ferrer's serve will be much better than it was in the first, and Tsonga could begin to commit a lot of unforced errors. Ferrer will feel much more comfortable in the second set and, once he gains a little bit of momentum, will be tough to stop. Tsonga will put up a fight but will drop the second set.
Third Set: Tsonga over Ferrer, 6-4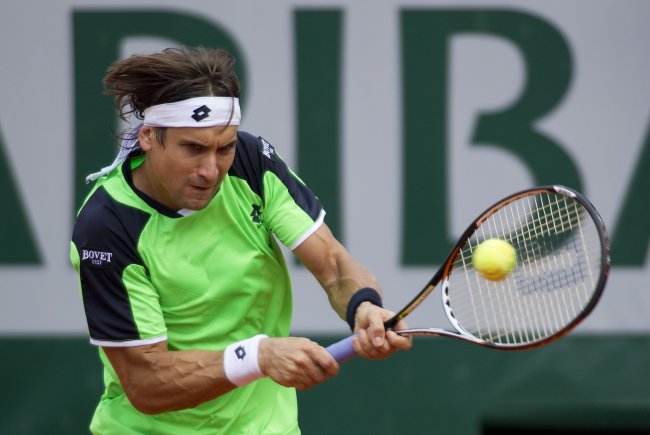 Susan Mullane-USA TODAY Sports
The third set will be determined by whoever has the more balanced game. They have to be solid on the offensive and on the defensive. A little falter could swing the match in the other player's favor, which could be detrimental in the third set of the match.
Tsonga: "I've been working hard for several months and was waiting for the rewards. They came today!" #RG13 pic.twitter.com/yZesfR5FsP

— Roland Garros (@rolandgarros) June 4, 2013
Nothing against Ferrer's work ethic, but Tsonga looks to be in better shape in terms of the ability to overcome a tough opponent—or at least that's been the case at the French Open. After allowing Ferrer to tie the match, Tsonga will barrel down. He'll take what he did against Federer and apply what worked toward Ferrer. That'll mean he's just a set away from the final.
Fourth Set: Tsonga over Ferrer, 6-4
With his back against the wall for the first time at Roland Garros, Ferrer won't be able to battle back against Tsonga. Tsonga will have so much momentum that he'll nearly be impossible to stop. Ferrer will win a couple of games when he's serving but not all of them, which will inevitably lead to his defeat.
Tsonga knows that he can beat Ferrer and has publicly stated why (per Roland Garros' official Twitter):
Tsonga: "Why can I beat Ferrer? Because I hit harder, I serve better and I've become more consistent and have improved my endurance." #RG13

— Roland Garros (@rolandgarros) June 4, 2013
Tsonga has only been in the final of a Grand Slam once in his career, five years ago when he lost in the Australian Open. But he'll make his second finals appearance this year, after taking Ferrer down in the fourth set.
Semifinal Prediction: Tsonga over Ferrer: 6-3, 4-6, 6-4, 6-4