Day 12 of the 2013 French Open was all about the women's semifinals and which superstars would be able to advance to the finals.
To start Thursday's action, No. 2 seed and defending French Open champion Maria Sharapova took down No. 3 seed Victoria Azarenka 6-1, 2-6, 6-4 to advance to the finals for the second time in her career.
Sharapova salutes the crowd. This marks the 1st time she's into a major final as defending champ #RG13 #VikaMaria13 pic.twitter.com/uLNFANC3Bc

— Roland Garros (@rolandgarros) June 6, 2013
As thrilling as the first women's semifinals matchup was, the battle between No. 1 overall seed Serena Williams and No. 5 seed Sara Errani was as one-sided as they come. While Errani is a strong player, Williams' 6-0, 6-1 victory showed that she is ready for the finals.
Game, set and match to 2002 champ Serena Williams, who beats Sara Errani 6-0 6-1 to book a place in the #RG13 final vs. Maria Sharapova

— Roland Garros (@rolandgarros) June 6, 2013
Now that the women's finals have been set, the excitement surrounding the matchup between Williams and Sharapova at the 2013 French Open will grow.
These are arguably the two biggest names in women's tennis meeting on one of the grandest stages in the world with a Grand Slam title on the line.
It doesn't get much better than this.
Day 12 Scores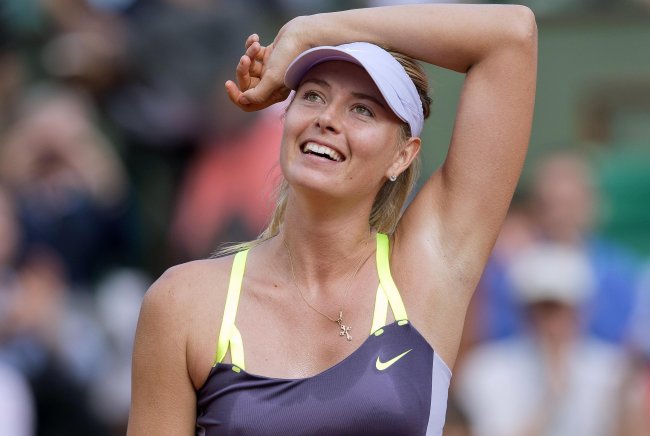 Susan Mullane-USA TODAY Sports
Serena Williams

(USA) [1]
6
6
--
Sara

Errani

(

ITA

) [5]
0
1
--
Victoria

Azarenka

(

BLR

) [3]
1
6
4

Maria Sharapova

(

RUS

) [2]
6
2
6
*Click here to view complete Day 12 results via RolandGarros.com.
Maria Sharapova Holds on to Beat Victoria Azarenka
Sharapova has utterly dominated the 2013 French Open thus far, but she faced her toughest test yet against Azarenka in the semifinals when the defending champion almost had a meltdown of epic proportions.
Azarenka was unable to capitalize on the unforced errors from Sharapova, and the Russian star managed to use her powerful serve and lateral speed to keep her opponent off balance long enough to secure the win in the end.
Now the task only gets tougher for the mainstream star as Williams awaits in the finals. As the Roland Garros Twitter account points out, Sharapova's record against Williams is poor:
Serena-Sharapova H2H: SW leads 13-2, incl. 2-0 on clay and 5-2 in finals. Maria hasn't won a match since 2004 http://t.co/C41kqpbY9o #RG13

— Roland Garros (@rolandgarros) June 6, 2013
While Sharapova deserves immense credit for dominating throughout this year's tournament (she has only dropped one set thus far), her victory celebration will be short-lived as she prepares to face the toughest player in the world.
Serena Williams Dominates Sara Errani
There are few athletes in the world that have dominated their sport the way Serena Williams has dominated women's tennis over the last decade, and another lopsided win proved that the world's No. 1 player is ready to take the French Open title for the second time in her career.
No. 5 seed Sara Errani had played well throughout the French Open and looked to be a solid test on paper for Williams. But Williams didn't allow her to gain any momentum in the 46-minute beat down.
Roland Garros revealed some lopsided statistics:
Serena's stats in that semi? You're seeing these correctly... #RG13 pic.twitter.com/1D1WOv4hD4

— Roland Garros (@rolandgarros) June 6, 2013
Williams now advances to the finals of the French Open for the first time since she won the tournament in 2002. Roland Garros caught this quote from Sharapova about Williams' dominance against her:
Sharapova on having not beaten Serena since 2005: "I would be lying if I said it didn't bother me" #RG13 pic.twitter.com/22D9nt9Xcz

— Roland Garros (@rolandgarros) June 6, 2013
Sharapova will not go down without a fight, but if Williams continues to play the way she has thus far in the tournament, the 15-time Grand Slam champion should have no problem winning another title.