French Open 2013 Men's Semifinal: Nadal vs. Djokovic Preview and Prediction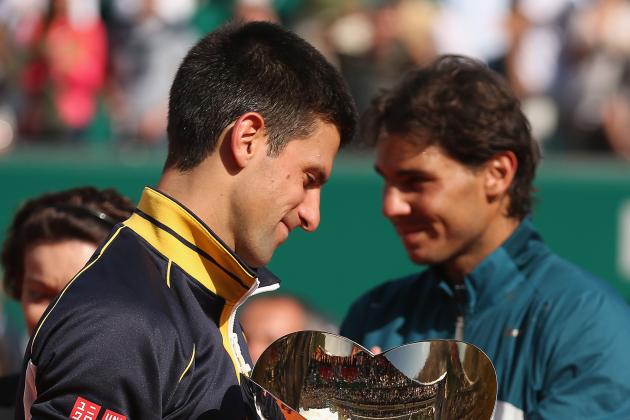 Clive Brunskill/Getty Images

Rafael Nadal has mounted a furious four-month comeback to win the 2013 French Open title. He wants nothing more than to bite the Musketeers Cup for an eighth time. But he first needs to conquer his fiercest rival and the No. 1 player in the world, Novak Djokovic.
Djokovic craves the Holy Grail of Roland Garros, the past decade's most difficult tournament to win. His dream will only be realized by battering through perhaps the greatest clay-court player of all time, Nadal.
There is only winning and misery. There will be no courageous defeat for the loser, and that's the way it should be for an epic semifinal pairing that, by any tennis fan's measure, is the real French Open finals.
This is the ultimate crossroads for their careers, two proven champions with highly decorated success and battle scars during their prime years. There will be few surprises except the unveiling of each and every important point.
How did two very different career paths come to form tennis' super rivalry? It's a fascinating coming of greatness that continues to shift in unpredictable ways.
Begin Slideshow

»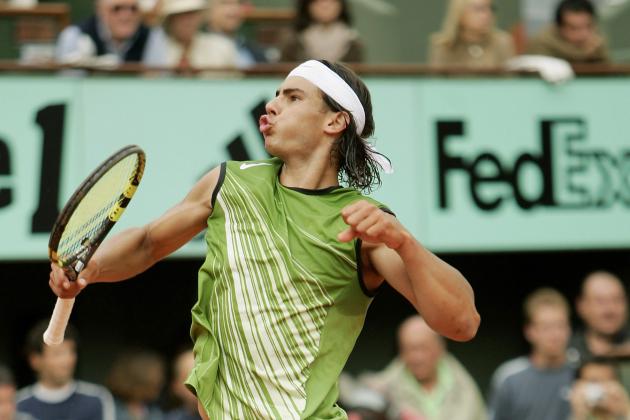 Clive Mason/Getty Images

Rafael Nadal's 2005 debut at Roland Garros was a wide-eyed, youthful extravaganza. He munched on too many chocolate croissants while his Uncle Toni warned that this would be a painful lesson.
Nevertheless, Nadal introduced a new kind of ruthless defensiveness and courage that did not bat an eye in blasting the mighty Roger Federer. His topspin was a tornado and he quickly established his steely resolve and trademark toughness.
The world of Roland Garros was his very own from the beginning, as if it were his personal backyard in Mallorca. He had risen far above the tidemark of pressure with the promise of greater tennis to come.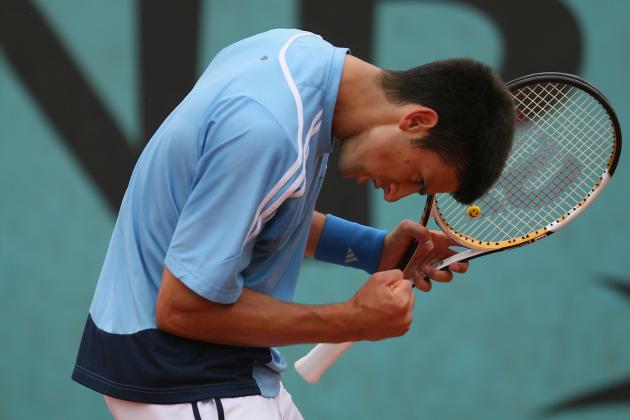 Clive Brunskill/Getty Images

It was just after his 2006 quarterfinals match at Roland Garros when Novak Djokovic picked up the glove following his defeat to Nadal. He had dropped the first two sets with identical 6-4 scores before retiring with a back injury. At the press conference, he insisted he was in control of the match.
At about the :42 mark on this press conference video, Djokovic said that "He (Nadal) is not unbeatable on clay, that's for sure." Djokovic repeated this comment a half minute later and insisted that he only needed to play his game to overcome Nadal. (Recommend: watch the entire clip including Nadal's reply.)
The value in reviewing this clip is that we know their two destinies for the next seven years. Nadal has been nearly unbeatable on clay and Djokovic has emerged as the one competitor who has consistently threatened the Spaniard on that surface for the past three years.
It's also a keen insight into what has made Djokovic a champion. He was never satisfied to play second fiddle to anyone. Rafa, I'm coming after you.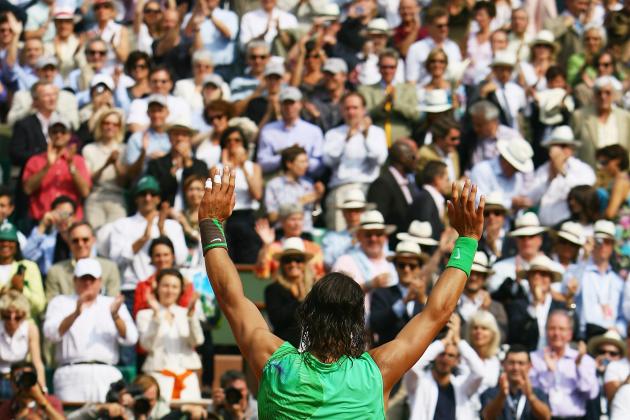 Julian Finney/Getty Images

It's likely no tennis player will surpass Nadal's legacy on clay. In 2008, he dismantled Roger Federer at Roland Garros and followed this up by capturing Wimbledon and the Australian Open.
Nadal was the undisputed No. 1 player in the world and had silenced the critics who had labeled him as a one-surface specialist. In 2010, he repeated his double European Slam with the realistic promise of one day overtaking Federer in Slam counts.
This was Nadal at the height of his powers, when Federer was slipping from his prime, when injuries and age were less of a concern for Nadal, and when Nadal had seized the entire ATP tour with his youthful prime years. Nobody could match his mental strength, resilience and talent. He capped this dynasty by ripping Djokovic for the U.S. Open title.
His dominance seemed endless and he was feared like a Keyser Soze character who would unleash the wrath and fight of otherworldly powers. This was a run of total destruction and pressure was irrelevant.
Clive Brunskill/Getty Images

Djokovic's tennis talents are a perfectly designed counter to Nadal's patterns. He is a tennis ball machine with the specific and lethal ability to crush high topspin with his backhand. He paints the sidelines with heat-seeking winners and swallows up any shallow backhand from Nadal.
And even though Djokovic won three Grand Slams in 2011 to become the best player in tennis, it's the titles he won at Madrid and Rome, on clay against Nadal, that signaled the symbolic shift in tennis.
Since, Djokovic has accomplished conceivably everything except the French Open title, but he suffered through another bitter lesson with Nadal's 2012 head-to-head resurgence on clay. It was a reminder that Nadal will not even lease his most hallowed territory.
In April 2013, he stopped Nadal's eight consecutive years of titles at Monte Carlo. The weeks that followed have been a mere formality. Only one single-minded goal remains: slay Nadal and win the French Open.
His opportunity has arrived.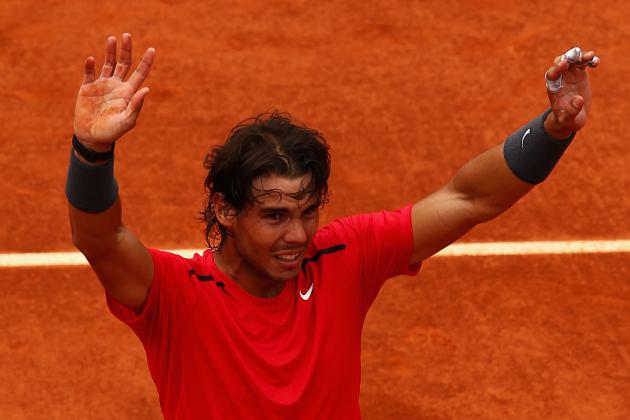 Clive Brunskill/Getty Images

By 2012, Nadal had never really faced the prospects of a decline. He had spent years chasing Federer, achieving new milestones and maturing into the top player in the world.
Following his gut-wrenching 2012 Australian Open loss, the tennis world wondered if he could fight back and restore his place at the top.
There was always his faithful red clay. He roared back with vengeance in three big victories over Djokovic and four clay titles including the French Open. There was his familiar machismo and grit, kicking at the competition and sliding to victory.
Above all, Nadal had conquered the doubts and a crisis of confidence. It was a victory of the mind. He was once again on top of the tennis world.
Then he suffered a shocking second-round Wimbledon loss to the unheralded Lukas Rosol. His exodus from tennis forced him to rehabilitate his broken body.
Since February 2013, he has answered the bell with six titles and impressive clutch play through occasional inconsistencies. He is fending off younger, taller players with designs to take what he has owned. He keeps winning because he is the King of Clay, determined to relinquish nothing and seize everything.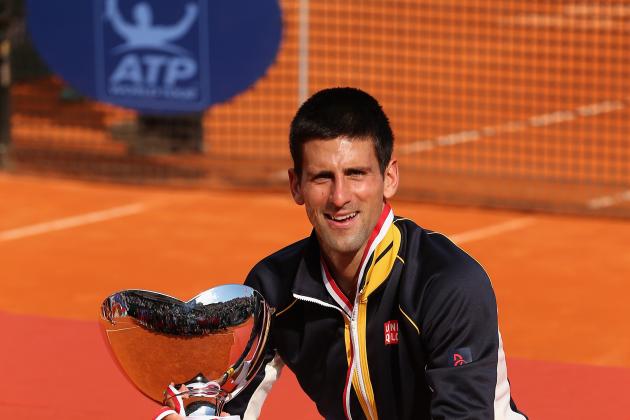 Clive Brunskill/Getty Images

The French Open title will give him his coveted career Grand Slam. This is all he asks to do right now. It would be the springboard to a third consecutive year as the No. 1 player.
Djokovic has the talent and skills to win on clay, but his ace card is his willingness to attack Nadal and stand his ground. He will not shrink from a street war, nor will he fold from mental weakness.
So much of what has created this epic semifinal is that Djokovic is in his prime years, has defeated Nadal on clay and has learned to be a champion. He has nothing else to learn, and will attempt to execute his brilliance for two more victories at Paris.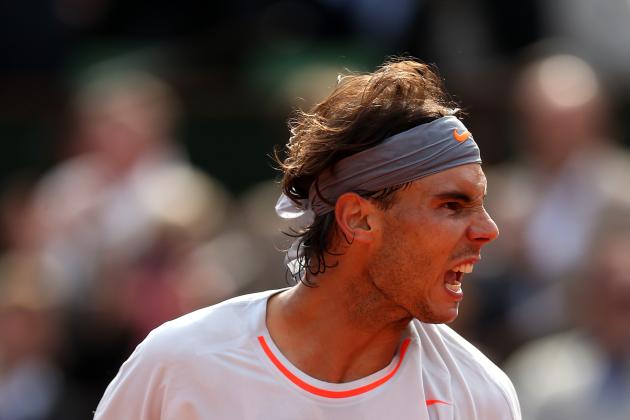 Matthew Stockman/Getty Images

Nadal has often been accused of stubbornly sticking to his game plan. It's hard to argue with the results because he, more than any player, understands his strengths and limitations. His stubbornness makes it difficult for him to steer away his high topspin from Djokovic's eager backhand, so will he be willing to change his usual strategy of pounding Djokovic's backhand?
It's clear that Nadal will need to employ some of the changeups that he flashed in Spring 2012 and establish a strong and deep backhand to attack the Djokovic forehand and stretch his rival from corner to corner.
He might keep the Serbian guessing by hitting backhands up the line rather than too many inside-out forehands that could leave a wide-open court for Djkovic.
Occasional variety and consistent depth will be crucial. Nadal must keep Djokovic from using sharp angles by mixing in center-baseline strokes.
It would also be a major boost for Nadal to get the first set and play from the lead. Although he has bounced back from multiple first-set losses in this tournament alone, he cannot afford a slow start in which he tries to figure out how he will play. He must be certain and sharp.
Matthew Stockman/Getty Images

It's become tiresome to discuss and compare the mental strength of Nadal and Djokovic. There appears to be little significant edge either way.
However, Nadal's tennis has proven to be more comfortable and great on red clay. Djokovic needs to turn the tables here. Can he turn clay into another version of his hard courts? Will he keep his footing and defense with the controlled urgency and brilliance of his very best play?
Djokovic must serve well, something that betrayed him in his relative struggles a year ago. It requires greater focus and concentration to serve smart and efficiently.
Will he look to follow up big groundstrokes with several trips at net? This was the difference in his masterful final sets to topple Andy Murray at Australia. Should he lose the first set at Roland Garros, we could see him come in to change the rhythm of the match and perhaps pressure Nadal into mistakes.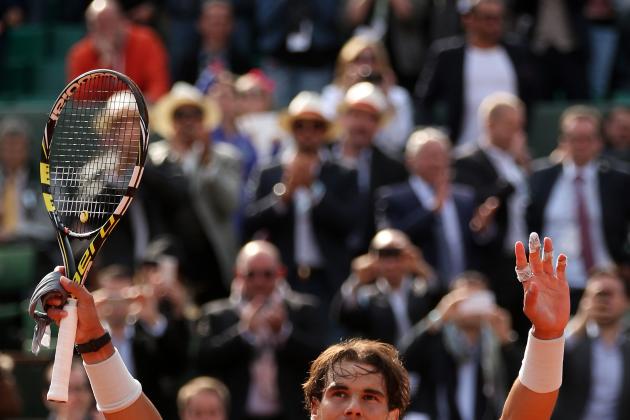 Matthew Stockman/Getty Images

The clock is ticking on Nadal's dominance at Roland Garros. It could end in hours or years. Tennis fans who love to watch special player dynasties should root for Nadal's amazing clay-court legacy. Let this legacy roll over at least another year of anticipation. Once Nadal is through winning titles here, we may never see anything close to this dominance again.
A Nadal victory would also set up a confident challenge to reclaim Wimbledon and the U.S. Open, as well as a strong return to the No. 1 ranking once again. Tennis is greater when there is a great rival to the No. 1 player. Should Nadal lose at Roland Garros, the prospects of catching Djokovic will greatly diminish.
Tennis would best be served with these two super rivals trading Grand Slam victories. Nadal is also arguably the most important and interesting player in tennis. When he is winning Grand Slam titles, fan interest in tennis is higher.
Nadal must defend Roland Garros in order to serve up even greater battles to come.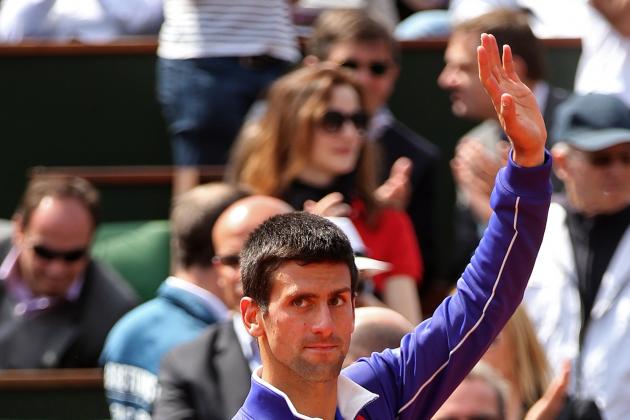 Matthew Stockman/Getty Images

Finally, tennis can claim a legitimate champion to take down Nadal on clay. Many tennis fans want nothing more than to see the Clay King crumble into defeat at Roland Garros. Losing to Djokovic would not be considered an outlier the way it was versus Robin Soderling in 2009.
A Djokovic win would tear down the walls of Nadal's iron curtain. The ATP field could once again have hope to compete and win titles here without Nadal's peak tennis to thwart them.
Djokovic would complete the career Grand Slam, but would especially create even greater excitement with the possibility of winning all four Slams in 2013. Online search engines would summon the ghost of Rod Laver and enrich us with tennis tales from the past half century.
And just maybe, Djokovic's domination could stretch into another few years of Federer-like winning. It would be another way to step out of their shadows.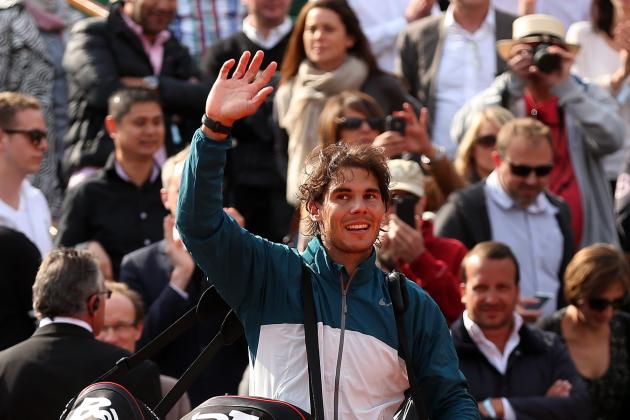 Matthew Stockman/Getty Images

Everything is set up for Djokovic to topple Nadal. He gave a glimpse of this possibility at Monte Carlo less than two months ago. He has the power and the matchup to trouble Nadal like no other player. He is the No.1 player and highly confident that he will win.
Nadal will also be ready. The early-round matchups, often dangerous, are now behind him. He knows he must be at his best to defeat Djokovic, and has always shown the ability to keep raising his game when needed. He will fight as if Planet Earth were at stake.
There is an excellent chance this match goes the distance. Five grueling sets will tax both players, and the consistency to be bold and great is a quality both players possess. Right now, it feels like Djokovic is ready to take the next step and claim the title.
However, there has been one immutable law since 2005: never bet against Nadal on red clay. Until he is defeated at Roland Garros, he is the champion.
No matter what happens we will witness history, and that is not bad for tennis.
Nadal to win 7-5 in the fifth set