Green Bay Packers: 7 Players Whose Stock Is on the Rise After OTAs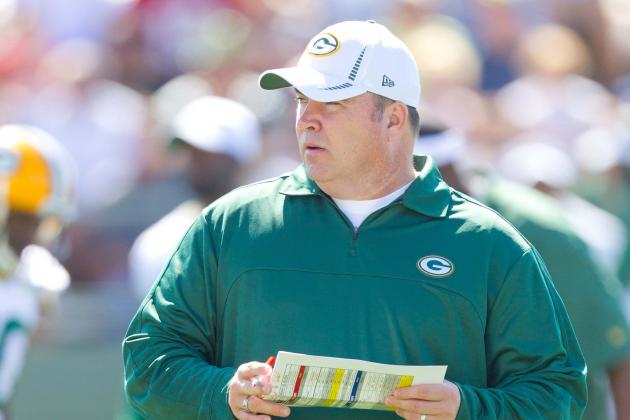 Jeff Hanisch-USA TODAY Sports

After the first minicamp the Packers had, which included rookies and second-year players, head coach Mike McCarthy talked about what was expected out of players now starting their second season with the team (via Packers.com).
We had one practice today, but that whole group as second-year players who are able to participate in a second camp, you look for them to be a cut above. If they're not, that's not a positive sign.
Based on that minicamp and the recent OTAs, there are several second-year players who look like they have most definitely improved from how they looked their rookie year.
In this slideshow, I'm going to name seven players who have improved their stock so far this offseason in Green Bay, and six of those seven players are second-year players.
Begin Slideshow

»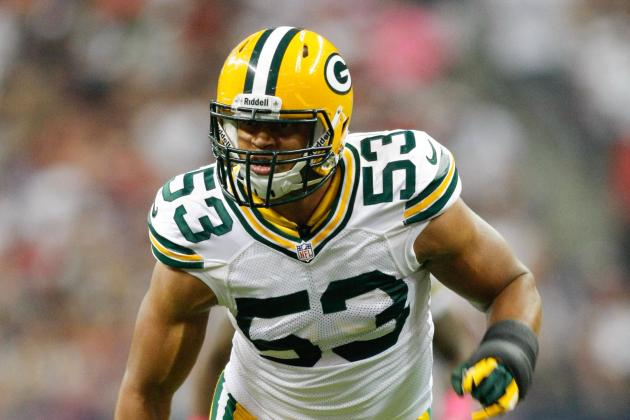 Brett Davis-USA TODAY Sports

Outside linebacker Nick Perry only played in six games his rookie year, as he suffered a season-ending wrist injury. That injury, along with a knee injury, affected his progress last season.
The Packers had high expectations for Perry last year, as the team selected him with the 28th pick of the first round in the 2012 NFL draft.
Perry did have two sacks in six games last year, but he also split time at left outside linebacker with Erik Walden.
Perry has come in lighter this season, as he now weighs 265 pounds, and he does have excellent speed for a man his size. In fact, Perry ran a 4.64 40-yard dash at the 2012 NFL scouting combine, and that was when he weighed 271 pounds.
The biggest improvement in 2013 for Perry will be his familiarity now of the outside linebacker position in the 3-4 defense, after playing defensive end at USC in college. He was just getting comfortable last year at the position when he suffered his wrist injury.
In terms of the wrist injury, Perry has been fully cleared to play. Perry explained how important it is to have full use of your hands, as he explained to Pete Dougherty of the Green Bay Press-Gazette:
We strike and we do everything with our hands. Without hands you don't have any grip to keep force and do all the things you're supposed to do with both hands. Makes you a little handicapped out there.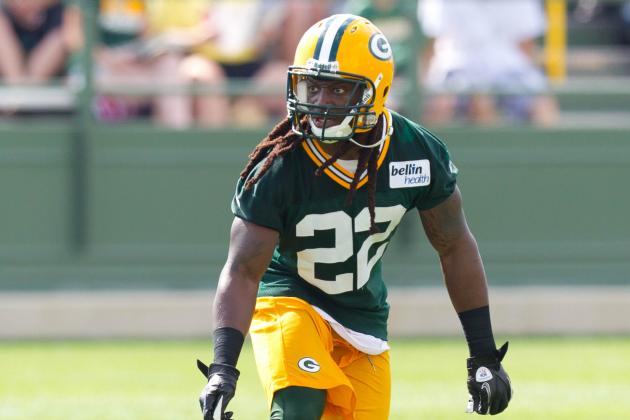 Jeff Hanisch-USA TODAY Sports

Second-year safety Jerron McMillian will have a great opportunity to become a starting safety for the Packers in 2013. McMillian received plenty of playing time his rookie year, mostly because Charles Woodson missed nine games due to another broken collarbone.
McMillian played in all 16 games and had 27 tackles, six passes defensed, one interception and one fumble recovery.
That experience should definitely help McMillian this year, as the former star at Maine explained via Packers.com.
People are smart out here playing this game. It's like chess. It's more thinking and being in the right position, and knowing where you have to be to make the opposing team make mistakes.
McMillian's chief competition at safety will come from M.D. Jennings, who also received ample playing time in 2012. But McMillian appears to be the more physical of the two players, and that will only help the cause for No. 22.
McMillian welcomes the competition in camp this year.
I know the game a little bit more. I watch film every day. Taking that jump from the rookie year to the second year is a big step, and I'm trying to take every step I can. It's something I'm ready to do.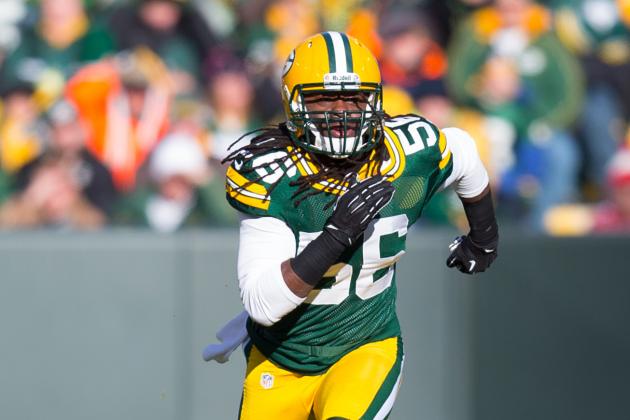 Jeff Hanisch-USA TODAY Sports

When Terrell Manning suffered a stomach virus in training camp last year, a malady which caused him to lose 15 pounds, Manning's rookie season was sort of doomed from the start.
As a result, Manning only played in five games last season. Much more is expected in 2013 from the linebacker who was considered a playmaker at North Carolina State. His stats in college bear that out.
He had 193 tackles, 27.5 tackles for a loss, 10 sacks and five interceptions in his career with the Wolfpack.
Manning has the athleticism and ability to be a very productive linebacker in Green Bay, whether he plays inside or outside. Right now, Manning is slotted to play inside linebacker, but his skill set could put him at outside linebacker should the need arise.
Manning looks healthy and ready to go in 2013, and that should make the competition at inside linebacker for the Packers very intense.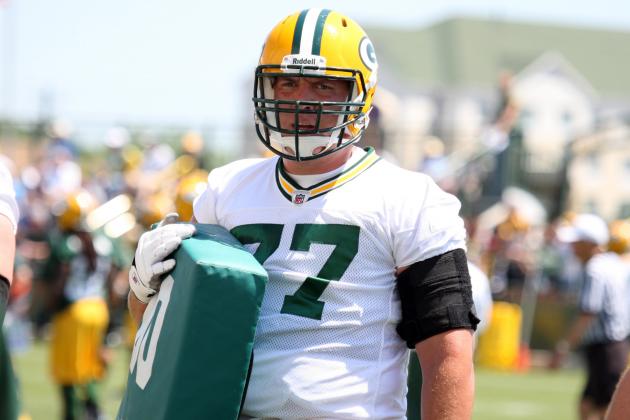 Mary Langenfeld-USA TODAY Sports

Before he suffered a shoulder injury at Florida State his junior year, Andrew Datko was considered by most scouts to be a possible first-day selection in the NFL draft, and certainly a second-day selection.
However, Datko's shoulder problems continued at FSU, and he wasn't selected until the seventh round of the 2012 draft by the Packers.
During training camp last year, it was obvious that Datko was trying to overcompensate for his shoulder problems and had issues at both left and right tackle in practice. Datko ended up on the practice squad.
But so far this year, Datko looks stronger and healthier, thanks to time spent in the weight room and with the training staff. The former Seminole is also healthier in his mind, as he related that impression to the Milwaukee Journal Sentinel:
You have to be healthy in mind before you go out there, so when you come back that mind has to be right. You see what people with ACLs, they favor the leg when they come back. It's really another process to come back from an injury. It's like what (Chicago Bulls guard) Derrick Rose went through. You might be healthy, but you might still be favoring it. Trust in your injury repair is another step in the process. I've knocked that out.
Datko will definitely get a look as one of the candidates for the starting right tackle position, plus get looks at left tackle and guard, too.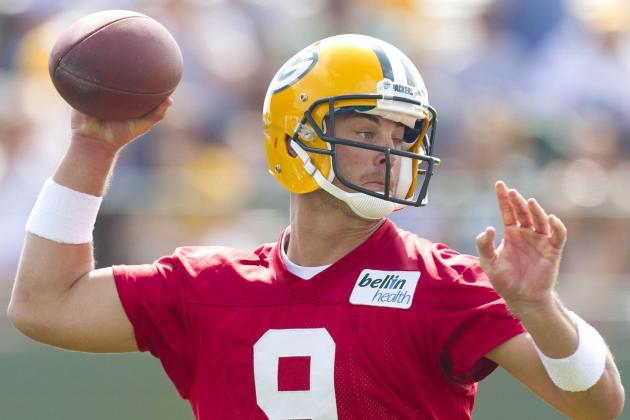 Jeff Hanisch-USA TODAY Sports

At the rookie minicamp held a few weeks ago, second-year quarterback B.J. Coleman looked impressive. Impressive enough for head coach Mike McCarthy to say a few words about his progress this year compared to his rookie year (via Packers.com):
What I had to see from B.J. is him [having] looked like he'd been here for a year, be in charge of the drills and be productive. And that was evident in all three practices. Now there's a couple things that he'll learn from. Actually, I was talking to B.J. coming off the field about a particular play in the final team period. So he's got ability. There's just some things that he's done in the past and the way he's played the position that are total opposite of the way he's being taught, so we got to get that part figured out. But I think he's definitely making a lot of progress.
Coleman spent last season on the practice squad, but he has a real opportunity to become the prime backup to Aaron Rodgers this year.
Coleman has a stronger arm and more mobility than Graham Harrell, who served as Rodgers' backup in 2012.
Time will tell, but Coleman should expect a lot of playing time in the preseason this summer to see if his progress in practice can be transferred to the field in game conditions.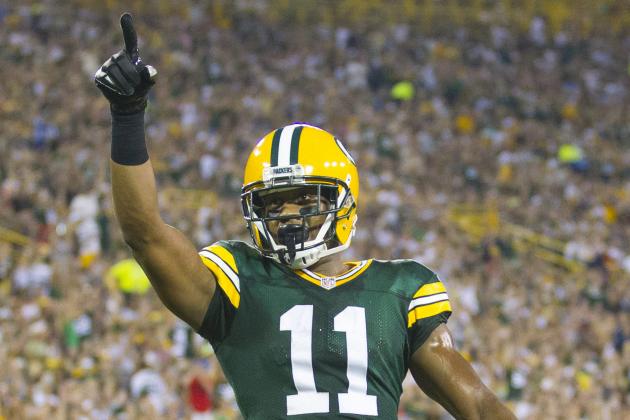 Jeff Hanisch-USA TODAY Sports

With the retirement of Donald Driver and the departure of Greg Jennings via free agency to the Minnesota Vikings, the wide receiver corp of the Packers will undergo some changes in 2013.
The Packers will continue to have the big three. I'm speaking about Randall Cobb, Jordy Nelson and James Jones. Those three players combined for 193 catches for 2,483 yards and 29 touchdowns last season.
Right now, the fourth spot on the wide receiver depth chart looks to be manned by second-year player Jarrett Boykin. Boykin was an undrafted rookie in 2012, but impressed the Packers enough to not only make the team, but also get some decent playing time due to injuries.
Boykin played in 10 games and had five receptions for 27 yards. Although he doesn't have exceptional speed, Boykin is an excellent route-runner, plus has very nice size (6'2", 218 pounds).
The former Virgina Tech Hokie is the school's all-time leader in receptions (184) and receiving yards (2,884). Boykin also had 18 career touchdown catches.
Boykin should get plenty of chances in 2013 to get more playing time for the Packers, especially when the team uses the four-wide receiver formation.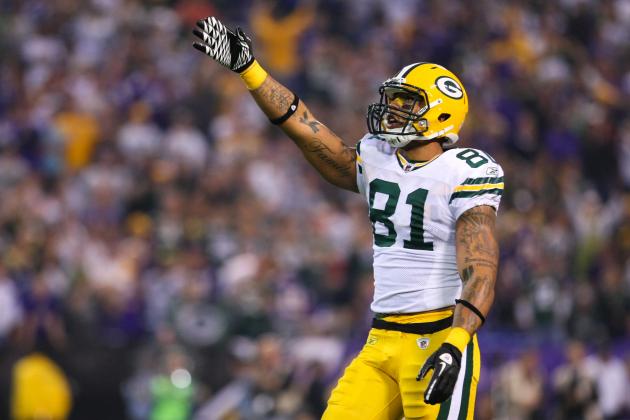 Brace Hemmelgarn-USA TODAY Sports

When Andrew Quarless was a rookie in 2010, he played in 13 games and started three games at tight end. He ended up with 21 receptions for 238 yards and one touchdown.
But in 2011, Quarless was hampered by injury issues, first with a minor knee injury early in the season and then with a devastating knee injury late in the season. That injury caused Quarless to miss all of the 2012 season.
The former Penn State Nittany Lion is considered to be the best combination of receiving and blocking tight end that the Packers have on their roster. That is why it is so good to know that Quarless appears to be 100 percent healthy in 2013, as he related to Packers.com:
I'm just thankful to be out there. It feels good to have A-Rod hitting me and looking for me and stuff like that. I'm just thankful. I'm full-fledged, everything forward right now.
Quarless has a nice combination of size, strength and speed for a tight end. It will certainly be a very competitive battle at the position, as seven players are vying for a spot on the Green Bay roster in 2013.
Probably only four, and maybe five, will make the final roster.
But Quarless is very happy to be part of the mix.
My goal for this season is just to prove to myself I can get back out there and do it. I have to take little steps. I definitely have high expectations for myself. I just have to prove I can really do it again.