10 Burning Questions Midway Through the 2013 French Open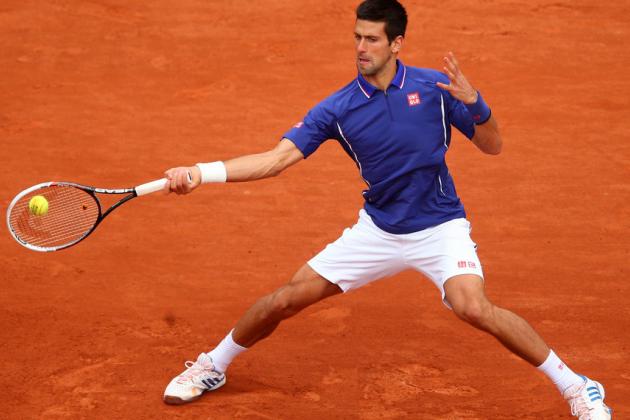 Most of the title contenders at the 2013 French Open remain in the draw, but the first week of Roland Garros already has produced some intriguing narratives. While some familiar names have soared, others have staggered but survived.
Here are 10 key issues to ponder for the men's and women's draws in the second week, based on what has happened so far. Whether you're just starting to watch the tournament now or simply looking to catch up with anything that you missed, the following questions will get you up to date.
Begin Slideshow

»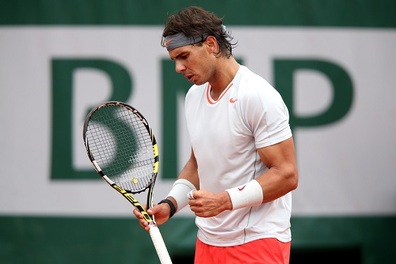 Never before in his historic run at Roland Garros had Rafael Nadal lost sets to two different opponents in the first week.
In fact, never before had he lost the first set in two Roland Garros matches before the final.
But Nadal looked uneasy and lacked rhythm early against both Daniel Brands and Martin Klizan, allowing those two underdogs to seize early momentum. He gradually reasserted his control and prevailed in four sets, but only after losing more games through two matches this year than he did through five matches last year.
These early struggles do not lack a precedent for Nadal. American giant John Isner took him to a fifth set in the first round three years ago. Then, Nadal roared back from the early scare to not lose a set the rest of the tournament.
The same pattern could happen again, as a somewhat stronger performance in the third round against Fabio Fognini suggested. On the other hand, both Roger Federer and Novak Djokovic have looked much crisper and advanced more efficiently than the man who entered the tournament as the title favorite. While he still holds that status, his rivals might be starting to salivate.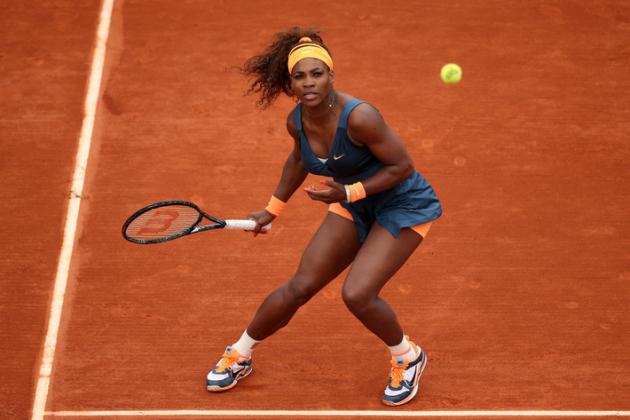 The world No. 1 has looked every inch the title favorite so far, bombarding three luckless opponents and losing only six total games in the first week. Serena's victims have played relatively well but still struggle to win games against her, so inexorable are her focus and will.
This version of Serena rarely loses when in full health, so her current career-high winning streak of 27 matches should not surprise anyone. Her aura now looms larger than it has in years, burdening opponents as soon as she follows them onto the court.
Anything can happen at a major, though, especially at Roland Garros. Former world No. 1 Dinara Safina once lost only a handful of games in her first few matches as the top seed, only to fall flat in the 2009 final against Svetlana Kuznetsova.
Serena must not grow complacent after these routs because the quality of competition will rise. But she tends to play her best against the best, owning a sparkling 25-4 record against Maria Sharapova and Victoria Azarenka, the two women most likely to reach the final from the bottom half.
Serena has not held the Coupe Suzanne Lenglen for more than a decade, a statistic that would not exist if she had always brought this level of determination to Paris.
As the video above reminds us, Djokovic ultimately buckled under the pressure of attempting to complete a career Grand Slam in last year's Roland Garros final.
In fact, he labored through nerve-jangling encounters earlier in the tournament as well, struggling to cope with the weight of history.
Djokovic probably will need to overcome both of his leading rivals, Rafael Nadal and Roger Federer, to lift the Coupe des Mousquetaires this year. Nadal in particular has tormented him here, so he would need to lay those ghosts to rest even before reaching the final.
But perhaps the thought of joining the elite group of men who hold a career Grand Slam will not burden Djokovic so onerously this year. He has advanced comfortably through the draw so far, avenging a loss earlier this clay season to Grigor Dimitrov in the third round.
Djokovic will have learned from the experience of losing last year's final, and facing Nadal before the climactic round may ease the nerves. If he is able to topple Rafa from his throne, Djokovic will have plenty of momentum heading into the second Sunday.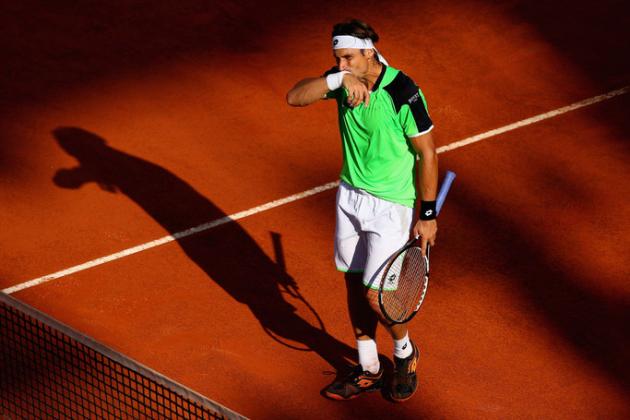 In an earlier era, David Ferrer would have won a Roland Garros title. The second-ranked Spaniard shines on clay, and he played exceptionally crisp tennis during the first week by not dropping a set.
Ferrer must feel thrilled to land in the opposite half of the draw from Nadal, who routinely breaks his heart during this stage of the season. His fellow Spaniard has won their last 16 clay matches, including two three-setters this year, but Ferrer cannot meet him until the final.
He won't face world No. 1 Novak Djokovic until the final, either.
Adding to Ferrer's good news, upsets in his section have left him in a quarter with Tommy Robredo, Nicolas Almagro and Kevin Anderson. Almagro, the most dangerous man of those three, has never defeated Ferrer and choked away a huge lead against him at the Australian Open this year. Thus, a clear path to a second straight semifinal lies open.
The bad news for Ferrer is that he probably must solve Roger Federer for the first time when he reaches that stage. To reach his first major final, this Spanish counterpuncher must overcome his lack of self-belief against elite opponents like the Swiss superstar. It will not be easy, but the sight of a hard-working unsung hero trying to conquer his demons on a grand stage should be entertaining.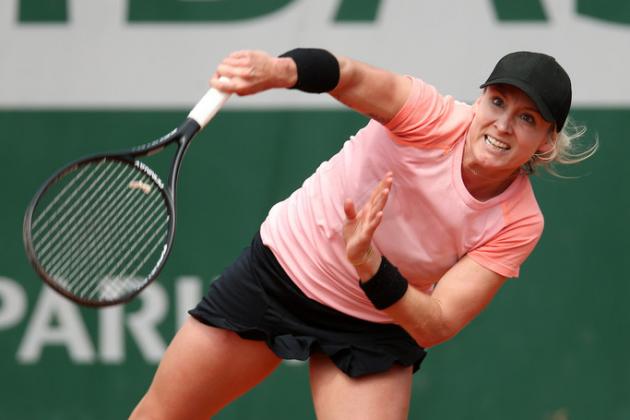 Few would have guessed that the United States would supply a quarter of the last 16 women in Paris, considering how poorly Americans usually fare on clay.
The presence of Serena Williams comes as no surprise, and Sloane Stephens repeated her second-week appearance here last year after reaching the semifinals at the Australian Open. But unseeded women Bethanie Mattek-Sands and Jamie Hampton have launched implausible runs as dark horses.
Each has knocked off a top-10 opponent; Mattek-Sands ousted world No. 6 Li Na, and Hampton stunned world No. 7 Petra Kvitova.
Now, the three Americans beyond Serena look to extend their achievements even further. The most promising of them, Stephens, faces the most challenging task in a fourth-round meeting with defending champion and world No. 2 Maria Sharapova.
Mattek-Sands and Hampton will enter their next matches as underdogs as well, facing 12th seed Maria Kirilenko and three-time Roland Garros semifinalist Jelena Jankovic, respectively. Those matches seem winnable, though, or at least as winnable as those that they have won already.
As these highlights from last year show, Paris explodes when its home hopes threaten the world's greatest players.
This year, Gael Monfils set a high standard for his compatriots when he stunned world No. 7 Tomas Berdych in a first-round epic. Although Monfils ultimately fell a point short of the second week, all ships rose with the tide. Three Frenchmen have reached the final 16 in Paris: Jo-Wilfried Tsonga, Richard Gasquet and Gilles Simon.
This year marks the first time since the 1980s that two Frenchmen hold top-eight seeds, which positions Tsonga and Gasquet to reach the quarterfinals. Both will face extraordinary tests at that stage against two of the most legendary champions in the sport's history. While Gasquet would meet Nadal, Tsonga would clash with Federer in a rematch of their Australian Open quarterfinal.
After nearly upsetting Djokovic in the same round here last year and taking Federer to a final set in Melbourne, Tsonga holds the greater hope of the two. Simon faces Federer in the fourth round. While he has two career victories over the Swiss star, Federer has controlled their recent matches.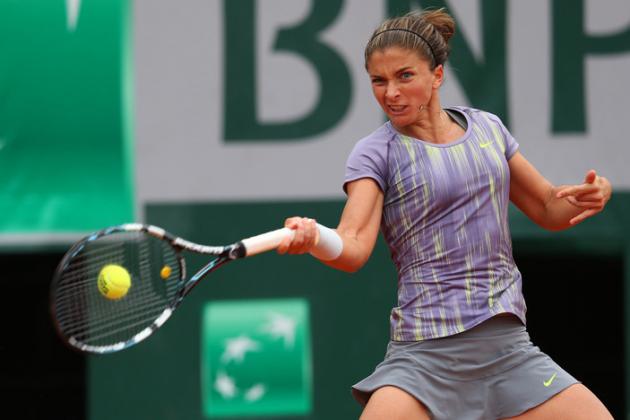 Together with Ferrer, 2012 women's finalist Sara Errani spearheads a group of players in both draws who will aim to surprise the favorites based on their superior surface expertise. This task has grown increasingly difficult in recent years, as leading contenders have learned how to produce their best tennis on clay as well.
The clay specialist sometimes seems a dying breed, as many of the most prestigious clay titles have fallen into the grasp of champions who built their reputations on faster surfaces, such as Novak Djokovic, Serena Williams and Maria Sharapova.
Many of the fourth-round matches on the women's side will pit a player with notable clay achievements against a higher-ranked opponent or an opponent with a stronger overall resume.
For example, 2008 champion Ana Ivanovic faces world No. 4 Agnieszka Radwanska, while 2009 champion Svetlana Kuznetsova meets world No. 6 Angelique Kerber. 2010 champion Francesca Schiavone sets her sights on world No. 3 Victoria Azarenka, who has the superior talent but is never more than a quarterfinalist here.
On the men's side, many of the clay specialists have landed near each other. An all-Spanish meeting between Nicolas Almagro and Tommy Robredo could set up an all-Spanish quarterfinal pitting the winner against Ferrer. Stanislas Wawrinka will aim for his fifth top-10 victory of the clay season over Richard Gasquet, which would send him to a quarterfinal against Nadal.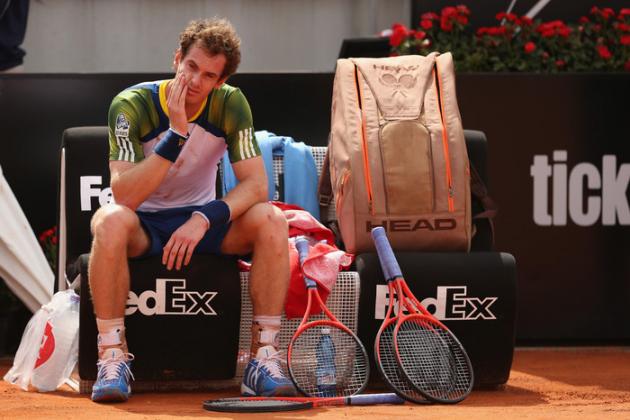 Below the leading trio of Djokovic, Nadal and Federer, the men's field displays a clear drop in quality to the likes of Ferrer, Tsonga and Gasquet.
Before the tournament began, world No. 2 Andy Murray and world No. 6 Juan Martin del Potro withdrew with physical issues (back for Murray, viral illness for del Potro). Even if healthy, neither would have ranked among the inner circle of contenders, but both would have ranked above the group of Ferrer, Tsonga and Gasquet.
Semifinalists only once and never finalists at Roland Garros, Murray and del Potro have remained the only two active men to win majors in the last decade other than the Big Three of Djokovic, Nadal and Federer.
Their titles both came at the U.S. Open on a surface far removed from the terre battue of Paris, but their experience in slaying the dragons ranked above them would have added more intrigue to the later rounds.
We may feel their absence most at the quarterfinal stage, where all of the top four seeds will find themselves favored against their projected opponents. By the semifinals, the prospect of blockbuster meetings among the Big Three will dull the blow.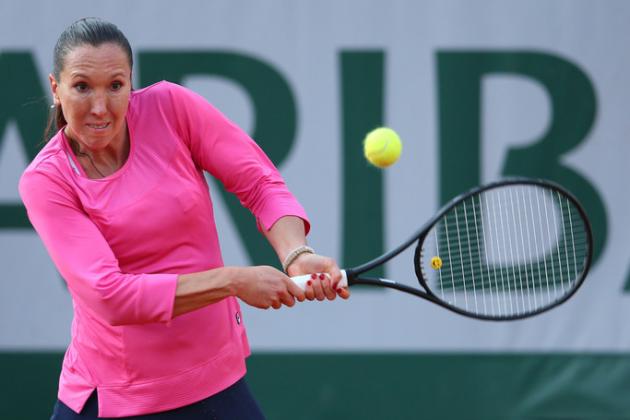 Roland Garros has a history of hosting breakthroughs by relatively unknown women, headlined most recently by Italians.
Before Schiavone and Errani combined to reach three straight finals here, however, Samantha Stosur revived her career by reaching the 2009 semifinals. A year earlier, Dinara Safina took her first step toward her ill-fated tenure at the top by reaching the 2008 final with a series of stunning comebacks.
Furthermore, every women's champion since Justine Henin won her last title here in 2007 has won this title for the first time, and three of the five women's champions in 2008-12 never had won a major before.
This year's draw features plenty of candidates for more surprise runs. Beyond the Americans discussed earlier, 2009 champion Svetlana Kuznetsova lurks in Serena's quarter and will try to repeat her quarterfinal upset of the world No. 1 that year.
Clay specialist Carla Suarez Navarro will try to outduel Errani in the weakest section of the draw, where 2008 champion Ana Ivanovic also fancies her chances. No one should discount the chances of 2010 champion Schiavone to pull of a third miracle or of former No. 1 Jelena Jankovic to reach a fourth semifinal in Paris.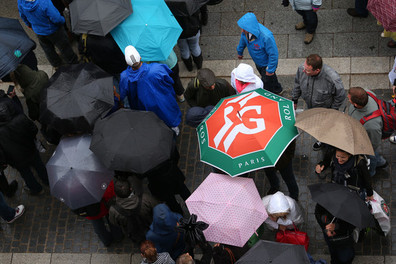 The changeable conditions of the late spring in Paris already made their presence felt in the first week. Rain significantly shortened the schedule on two days, forcing many of the players in the men's top half and women's bottom half to forgo their usual rest days.
That development had little effect on the women, who are used to playing best-of-three matches on consecutive days, but playing best-of-five matches on consecutive days posed a serious challenge for the men.
Novak Djokovic gained an edge on Rafael Nadal in that area ahead of their marquee semifinal by staying on his regular schedule. The rain likely will abate during the second week, however, which could shift the advantage back to Nadal. His game and knee prefer the warmer, drier conditions to the cold, heavy weather that we have seen so far, which favors Djokovic.