2013 French Open: Meet 7 Americans Making Their Roland Garros Debut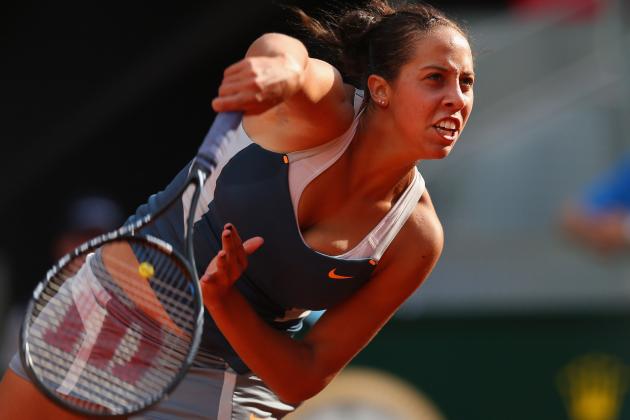 Julian Finney/Getty Images
Madison Keys swings into action.
There are 37 Americans participating in the 2013 French Open. That's second only to the 56 from France.
Despite the talk of the demise of American Tennis, the U.S. has more players competing at Roland Garros than Russia (26), Germany (28) and Spain (29).
Some, like Madison Keys, have already made a name for themselves.
Then there are those like 26-year-old Alex Kuztnesov, who put in many long hours on smaller circuits, fighting for a chance at the big time.
Keys played her way up the rankings and into the main draw.
Others clawed their way through qualifiers. Among them are the 2011 and 2012 NCAA Men's Singles Champion Steve Johnson.
They may lack mega endorsement deals. But making it to the main draw of the French Open for the first time is a monumental accomplishment for most of these players.
Begin Slideshow

»
Shelby Rogers makes her French Open debut at age 20.
Rogers was a ball girl at the 2001 Family Circle Cup, where she presented winner Jennifer Capriati with a bouquet of flowers.
Steve Johnson won back-to-back NCAA singles titles.
Johnson, 6'2", played in several clay court tournaments to prepare for his shot at the French Open main draw. It paid off.
Johnson opens against Spain's Albert Montanes, who just defeated Gael Monfils to take the title at Nice.
Denis Kudla defeated Arthur De Greef of Belgium, 7-6 (7), 6-7 (7), 6-2, to punch his ticket into the main draw at Roland Garros.
Born in the Ukraine, Kudla moved to the Northern Virginia area with his parents as a toddler.
Grace Min, 19, grew up in the Atlanta suburb of Lawrenceville.
She defeated Eva Birnerova of the Czech Republic, 6-2, 6-4, to earn her spot in the main draw.