Ranking the 10 Greatest Fictional Golfers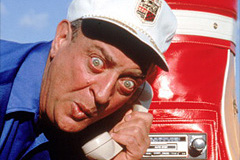 c/o CNN
Who is the greatest golfer of all time? Woods? Nicklaus? Hogan? Snead? Jones?
The best real-world golfer in history is difficult to determine.
So, let's turn our attention instead to those figures from page, stage or screen who have achieved the most within their respective narratives.
Again, the focus is on achievement. Otherwise, Al Czervik would certainly be at the top of this list.
"So what?" you say?
So let's dance!
On to the top 10 fictional golfers of all time.
Begin Slideshow

»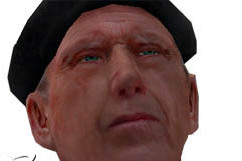 c/o IGN
Do you remember this curmudgeon from Tiger Woods PGA Tour 2003? Edwin B. Masterson IV seemed to stripe every tee shot right down the middle, and he was nattily attired to boot. Of all the ludicrous stereotypical figures in past years of the video game (Felicia "Downtown" Brown, Dominic "The Don" Donatello, anyone?), Pops stood paramount.
According to IGN, Pops is "the reigning Senior Golf Champion at the Black Rock Cove Retirement Home. This earned him a free membership at the Princeville Resort, where he now spends most of his time making the staff's lives a living hell with his grumpy attitude and general distaste for life."
Well played, sir. If Pops had taken his talents to the Champions Tour, he might rank higher in this list. Unfortunately, as he's content to beat his ball around Princeville Resort and grumble, he occupies the tenth spot on our list.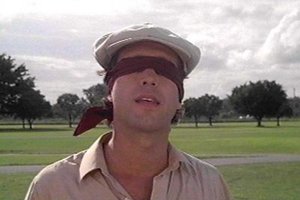 c/o Chevy Chase Central
Son of one of the founders of Bushwood Country Club, Ty Webb's "be the ball," zen-inspired approach to the game is best evidenced by this seminal scene.
The habitual slacker's talents are apparent throughout the film, even though he refuses to keep score and reportedly measures himself against other golfers "by height," rather than based on scores in a tournament.
Webb is a standout amateur and a real talent. However, he is sadly too much of a playboy and a dilettante to compete at the professional level.
However, if anyone doubts Webb's abilities or feels he shouldn't be positioned at No. 9 on this list, I have but one word for you: Nananaaananaa.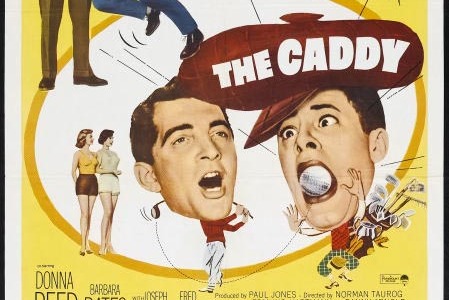 Under the tutelage of Harvey Miller (Jerry Lewis), Joe Anthony (Dean Martin) plays in and wins golf tournaments in The Caddy. Predictably, though, things don't work out and he finds himself working eventually in show business.
In the film, Miller is himself a talented golfer. It's a pity, then, that success ruined the Anthony/Miller tandem, as the combination of a great natural talent and a brilliant teacher can yield impressive results in the world of fictional golf (see: Vance and Junuh).
Forget about the 12 on the 18th hole.
In Tin Cup, Roy McAvoy went from a washed-up waste of talent to a U.S. Open qualifier. Further, Tin Cup made the cut at the toughest test in all of golf, even finishing in the top-15.
That's one heck of a fictional golf achievement!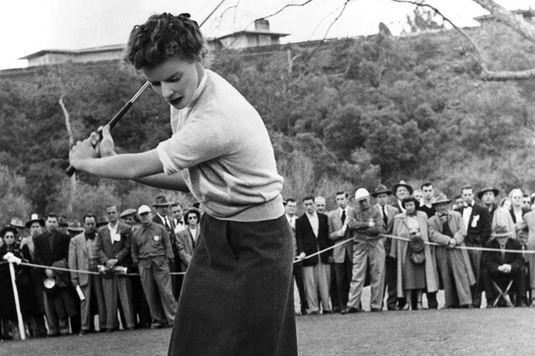 From the 1952 romantic comedy Pat and MIke, Katharine Hepburn's Pat Pemberton is one of the (unfortunately) few female golfers in fiction—sorry, Caddyshack fans, Lacey Underall doesn't really rate.
Pemberton is an all-around athlete in the Babe Zaharias mode who plays well on the professional circuit, until some less-than-savory gentlemen get in the way.
With outstanding overall athleticism and the ability to compete at the highest level, Pemberton squeezes ahead of the prickly Mr. Masterson and Mr. Anthony on this list.
The hero of Michael Murphy's classic Golf in the Kingdom, Shivas Irons, doesn't play a lot of tournament golf in the book. He does, however, have magical abilities.
A wandering mystic/golf teacher/unintelligible quote deliverer, Irons can belt the ball more than 300 yards and is exacting with his irons.
The whole magical union with the soul of golf/"true gravity" thing bumps the Scottish golfer's stock in this ranking, placing him at No. 5.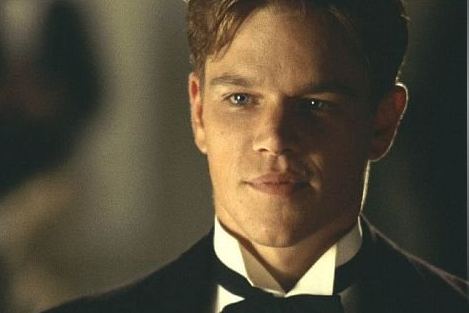 Rannulph Junuh overcomes his demons and drinking problem to tie Bobby Jones and Walter Hagan in an exhibition match in The Legend of Bagger Vance. Of course, the guidance and assistance of Bagger Vance are no small part of the downtrodden Georgian's success in the film.
Pulling yourself back from the edge of oblivion to nearly best two of the greatest golfers in the history of the game is a pretty respectable accomplishment, and one that earns Junuh the fourth spot on this list.
A multiple winner (we can assume) on the professional circuit in Happy Gilmore, Shooter McGavin is, what might be politely termed, a jackass. He is, however, also the most dominant player on tour when Gilmore arrives on the professional circuit.
We don't have the full scope of Shooter's achievements (even though we do know what he eats for breakfast). Even so, his record of winning on tour places him above those on those on this list who didn't taste victory at the professional level.
And his traditional celebration is first-rate.
The hero of Dan Jenkins's Dead Solid Perfect, Kenny Lee Puckett is the first major champion on our list. A rough-and-tumble Texan with a pure swing, Puckett could give anyone on this list a run for their money. With his reputation as a small hustler, it's likely he'd win some of their money, as well.
Although concerned more with winning tournaments to pay off multiple ex-wives than for eternal glory, Puckett, an amalgamation of Texas grit and raw ability, is on of the great fictional golfers of all time. He's also the No. 2 golfer on our list.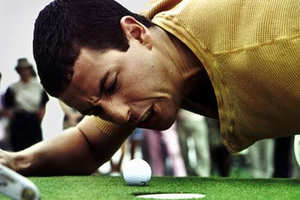 c/o Script Shadow
A multi-sport athlete, Happy Gilmore, from the film of the same name, is first on our list. Throughout the film, Gilmore goes from a furniture mover desperate for a way to help his beloved grandmother out, to the winner of the coveted gold jacket.
As a winner on tour (and a major winner) who learned to control his temper AND saved his grandmother's house, Happy Gilmore is the greatest fictional golfer of all time.